Tips and Trends
Wedding Inspo
|
August 7, 2020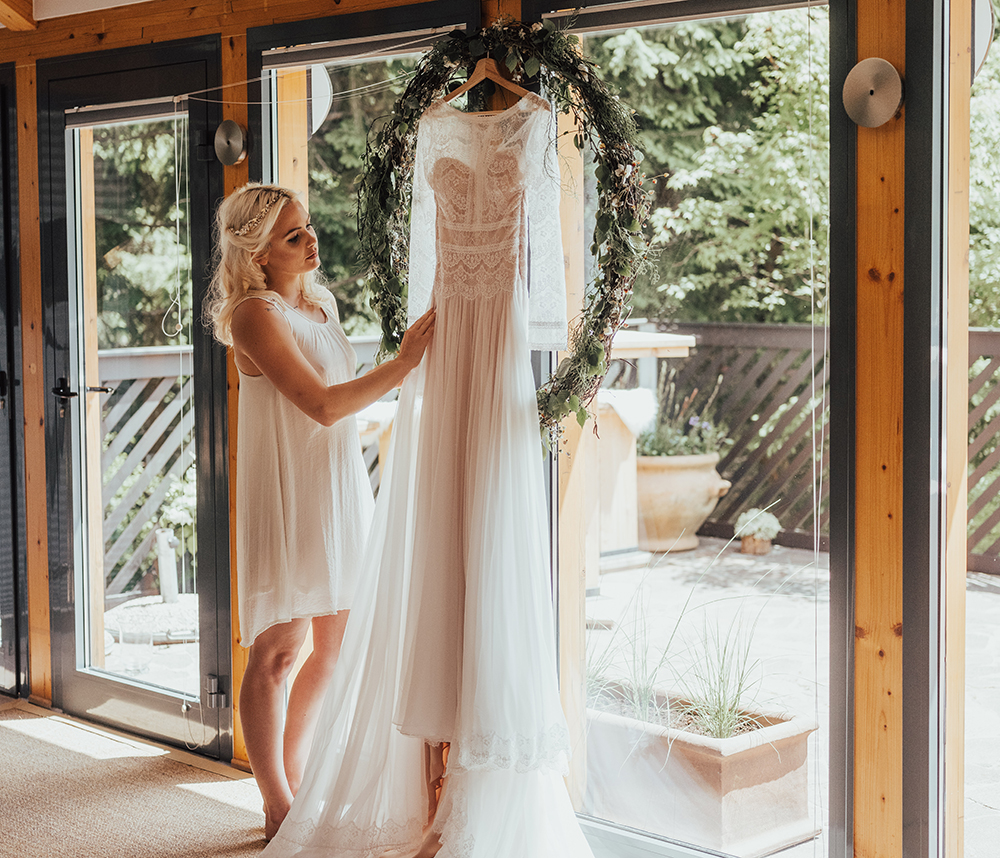 Brides, ever wonder what your wedding dress says about you? Whether it's a romantic ballgown or a sexy sheath, your wedding dress style is a reflection of your aesthetic and personality. To help you figure out what your wedding dress and bridal style say about you, we've created some questions about your ideal wedding. Mark your answers below to find out what your choices say about you! 
What is your bridal style? 
A. Unique
B. Romantic
C. Vintage
D. Everything eye-catching
E. Free-spirited and whimsical 
F. Care-free and outdoorsy
What is your wedding gown's most important feature?
A. A statement back
B. A sweetheart neckline
C. Antique lace or Gatsby beading
D. A ball gown skirt
E. Floral appliques
F. Spaghetti straps and a lightweight skirt
Your reception will include:
A. Bubbles for guests and lots of dancing
B. Soft pink peonies or roses
C. A photo booth area with antique accessories
D. Ornate centerpieces
E. Finger foods and eclectic wedding details
F. Drinks under the cabanas
On the weekends, you and your love can be found:
A. Breaking in your new heels at the hottest dance club
B. Going to dinner and a movie
C. Hosting a dinner party with your heirloom place settings
D. Attending an art gallery opening
E. Planning your next vacation
F. Finishing household DIY projects
What celebrity best matches your style?
A. Victoria Beckham
B. Kate Middleton
C. Aishwarya Rai
D. Beyoncé
E. Drew Barrymore
F. Lauren Conrad
What do you want your hair and makeup style to be?
A. A statement updo with a pop of color on your lips or eyes
B. Classic low-chignon and pink cheeks
C. Vintage victory rolls and a red lip
D. Glamorous curls with a crystal hair comb
E. A flower crown with loose curls 
F. Laid-back waves and nude lips
If You Got Mostly A's, You're Definitely a Statement Bride
You're the life of the party. You're all about free-spirited fun and good times. Your wedding is all about the party: great food, music, and friends. Your guests will spend the majority of the night on the dance floor, and so will you, so you'll need an extra fabulous wedding dress to get you through the night!
Chose Mostly B's? Congrats! You're the Classiest of Them All
You're polished, put-together, and your hair is rarely out of place. Your wedding style is classic and feminine. Stylish elegance is your signature. Classic brides tend to be born romantics and lean towards timeless silhouettes such as A-lines and ball gowns.
With Mostly C's, You're of the Vintage Persuasion
You're basically a conduit for all things Old Hollywood, and you love antique lace and family heirlooms. Your bridal style is all things glitzy, original, and one-of-a-kind. And maybe it even has some Art Deco and Gatsby-inspired vibes.
If You Picked Mostly D's, You Love Glamour
Your wedding has sparkles, sparkles everywhere. And there is nothing wrong with that! In fact, being a glamorous bride takes the cake! From glittering chandeliers to dazzling headpieces to the sparkling crystals on your dress, your wedding has major glam factors. And don't forget that signature red lip!
End Up with E's? You're a Free-Spirited Boho Bride
You're planning an effortless, super romantic occasion in an enchanted forest. Your look is relaxed, feminine, and oh-so-chic. And nothing completes the magic of a bohemian wedding like soft elegance and a little whimsy.
Picked Mostly F's? You're Probably Planning a Beach Wedding
You're the Girl Next Door. You always manage to look cute, even if you are just rocking a ponytail and baseball cap. Your wedding has something old and something new, something borrowed and something blue. A laid-back wedding dress speaks to you. There's something to be said about a beach bride who can brave the elements and the (at times havoc-wreaking) humidity of the ocean air.
There you have it! We hope you've enjoyed this quiz on what your wedding dress says about you along with your bridal style. Want to go more in-depth? Take our new bridal quiz to find the perfect wedding dress for you!
Love these real brides' wedding gowns? Visit our Store Locator to find one of these dresses at a boutique near you. Or browse our Pinterest boards and our wedding blog to see even more bridal inspiration and trends for 2020! Cheers!