Dresses
|
November 6, 2020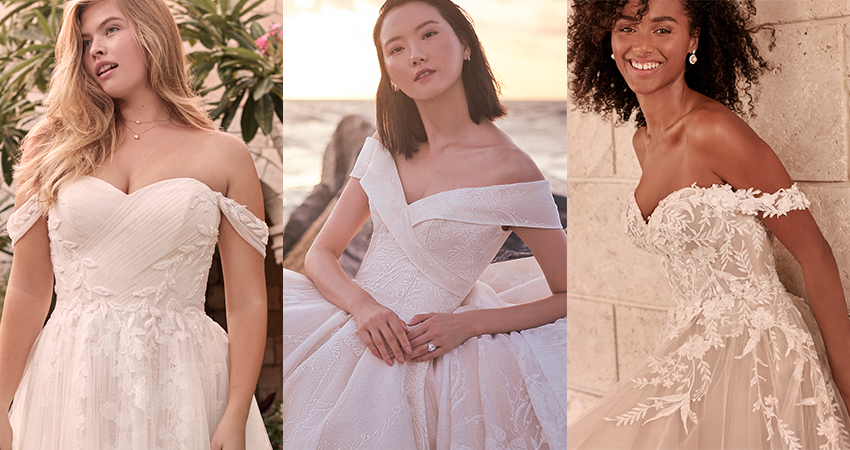 We all know dreamy ball gown wedding dresses are the Queen Supremes of bridalwear. There's nothing like a gorgeous princess wedding gown to live out your chicest fairytale aesthetic. Be it boho royalty, black-tie glam, minimalist couture, or nature-inspired goddess, we've got lots of these dreamy wedding dresses to choose from in our latest collections. Keep scrolling for highlights from our three lines!
Off-the-Shoulder Lace Ball Gown Wedding Dress with Sleeve Options: Orlanda by Maggie Sottero
Picture a classic strapless ball gown wedding dress. Now picture all the ways you can glam it up with bridal accessories. Want to add some effortless romance with off-the-shoulder straps? No problem. Fancy yourself in vintage-inspired sleeves? We've got you covered!
Have your heart set on an epic bridal veil? This ball gown was made for it. Head to an Authorized Retailer near you to experience Orlanda and all her gorgeous accoutrements today!
Dreamy ball gown wedding dresses are often plush and proper, but sometimes they're super soft and extra whimsical. This modest boho ball gown style is of the latter, featuring illusion bell sleeves (delicately beaded, almost like a starlit night) and sheer layers in the skirt (a great way to add dimension and intrigue without losing coverage).
Pamela Leigh is the perfect choice for modest brides with a chic and romantic sensibility. Plus, this ethereal bridal gown is lined with stretch jersey—fit and tailored for total comfort!
If you've got flirty, feminine, and vintage-chic style, your big-day bridal aesthetic is all about comfort, shimmer, and (of course!) the swooshy-ball-gown-skirt effect.
Get inspired with Timbrey by Maggie Sottero, a lightweight ball gown with lace bodice, bejeweled straps, and dreamy tiers of tulle and organza. This bridal style is also a fabulous option for color. It features an off-white champagne and pewter colorway option for a light and summery vibe. Divine!
Three-dimensional lace makes a very cool statement in Reeve by Sottero and Midgley—a couture ball gown wedding dress for a whimsical and nature-inspired aesthetic. Add detachable long sleeves for a formal and feminine vibe. Or keep it chic and sweet with sleeveless straps and a simple tulle bridal veil.
Either way, it's all about over-the-top florals, illusion effects, and personalization. It's everything we love about dreamy ball gown wedding dresses and fabulous princess styles.
When you've found dreamy wedding dresses to strike that perfect balance of fairy-like and formal, romantic yet sophisticated, and perfectly tailored but still easy to wear—that's when you know you've reached bridal-bombshell-superstar excellence.
For an exceptional formula, we present Thomas by Sottero and Midgley. It's an off-the-shoulder ball gown wedding dress and everything we love about classic, vintage, and contemporary bridal trends. Perfection!
It goes without saying that magic is a key component in dreamy ball gown wedding dresses. And with lovely Marlow by Sottero and Midgley, that magic comes from nature-inspired elements in sunny colorways in nude, blush, and ivory.
With a breezy disposition in illusion and layers, organic lines of lace florals and beaded shimmer, and luxe lining for an effortless fit, this sweet and sexy number is second nature!
Whatever you're envisioning for your soft and classic wedding aesthetic, you really can't go wrong with a lace bridal ball gown and an exceptional price tag.
You'll feel like a magical fairytale princess in Ellen by Rebecca Ingram—the perfect combo of style and affordability!
For the loveliest of dreamy ball gown wedding dresses, consider pearly accents, soft lace, and dreamy tulle.
Featuring beaded tulle and delicate back details, Pierce is a little boho, a little vintage, and 100% fabulous!
Tune into boho-chic vibes with Irene by Rebecca Ingram, a soft floral wedding dress in layered tulle and shimmery lace.
With an equally breezy price tag, what's not to love about this dreamy ball gown wedding dress? If you adore this style, browse more Floral Wedding Dresses for a Whimsical Celebration!
Minimalist Take on Dreamy Ball Gown Wedding Dresses: Rosemary by Rebecca Ingram
To put it simply, simple is in! Opt for striking minimalism in Rosemary by Rebecca Ingram, a crepe and tulle ball gown with timeless styling and a super flattering bodice.
And as this gown is affordably priced from our Rebecca Ingram line, there's no easier way to feel like a million bucks (for way, way less than a million bucks!).
Say hello to ruched tulle—a gorgeous way to complement your silhouette, up your gown's texture and dimension, and elevate your glam Grecian-goddess vibes.
See why this classical aesthetic comes back in style century after century? It's soft, super flattering, perfectly feminine, and a dream to wear! See more affordable styles from our Rebecca Ingram collections!
And finally, if you're in the market for demure coverage and classic styling, check out Carrie Leigh by Rebecca Ingram—a timeless statement in lace, tulle, and illusion. It's everything you need for modest simplicity, yet perfectly on trend for your chic and romantic celebration!
Love these dreamy ball gown wedding dresses and shimmery princess styles and want something especially easy to wear? Check out our top lightweight ball gown bridal styles in the link! Did you know you can personalize and accessorize any of these gorgeous wedding gowns? Head to an Authorized Retailer near you to shop your options!