Tips and Trends
Wedding Inspo
|
September 16, 2020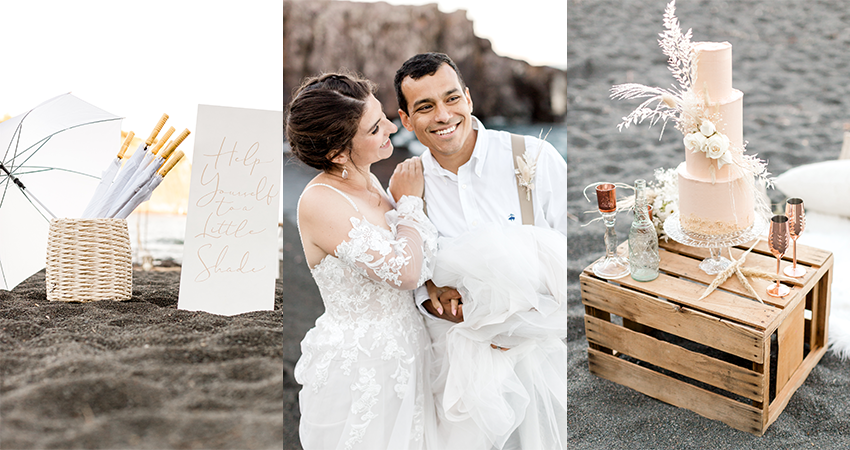 In 2020, the modern COVID elopement has become popular for brides and grooms wanting to ditch the constraints of a traditional celebration and focus on creating a more intimate and meaningful wedding experience. Without conventional wedding expectations, couples now have the freedom to wow their guests by personalizing their experience. So, to get the wedding inspiration rolling, we present this intimate COVID beach elopement shoot featuring a gorgeous black sand landscape, natural textures, and seashell accents, as well as tips on how to have a successful COVID celebration. Enjoy!
As we dive into this styled shoot (courtesy of Alexandra Robyn Photography; full list of vendors below) you'll see comments from photographer Alexandra Robyn on the vision and inspiration behind this beach elopement shoot. Scroll on!
Inspiration for a Black Beach Elopement Styled Shoot
Like a micro wedding, a COVID elopement is intended to be romantic, luxe, and personalized. But it also has the added intrigue of spur-of-the-moment secrecy. So, if you're open to the idea of a small-scale ceremony and reception in a unique location, an intimate beach elopement might be just the thing for you! We especially love the black sand backdrop for this romantic occasion.
"This pandemic has really challenged the way people think about weddings as a whole. When Jojo and Manny connected with me, I was so excited to do a styled shoot with them. We wanted this to be a sun-drenched occasion filled with the warmth and laughter of a beach day. Basically, this was a hybrid shoot—a vow renewal for the couple but in a beach elopement style setting. And we tried to incorporate as much of the personality of the couple in the shoot as possible." – Alexandra Robyn
About the Models
"There are few souls as adventurous as Jojo and Manny. Instead of becoming discouraged this year, they chose to see the good in their lives and decided to renew their love with an intimate ceremony and reception."
"Manny and Jojo are a real couple who eloped in Texas years ago. They're friends of mine, so things clicked instantly from there! Now parents to three beautiful boys, they said they had so much fun capturing their love story through this beach elopement styled shoot." – Alexandra Robyn
Choose a Meaningful Location and Incorporate Small, Yet Significant Details
Your elopement is a way for you and your S.O. to share who you are as a couple. Choose a location that is meaningful to you both or a place you can visit together in the future. For example, one of this couple's favorite memories was their honeymoon at Hawaii's Black Sand Beach.
Wanting to share this memory with their loved ones, this couple chose to host the intimate ceremony at Duluth's Black Beach. They provided umbrella wedding favors to their guests and incorporated crumb coating on their wedding cake as a subtle nod to their sandy venue. Remember, no detail is too small!
"Once we had a mood board planned, we tried to get really thoughtful with our details. We incorporated natural driftwood found along the shores of Lake Superior and actual Black Sand in the lanterns, as well as a station of beach umbrellas to keep guests shaded. It's the small details like this that really elevate a wedding." – Alexandra Robyn
Wear a Gown with a Relaxed Silhouette: Boho Beach Wedding Dress Stevie by Maggie Sottero
For an intimate beach elopement, you'll want to wear a wedding dress that can withstand the elements while also giving room for prancing, dancing, and walking through the sand. Opt for flowy, lightweight layers like tulle or chiffon. Then complete your look with a soft updo or braid to show off the bodice of your gown.
Don't go overboard with embellishments or luxe details, as you want your dress to match the size of your wedding, as well as the aesthetic of your venue. So, here's to a design that's super dreamy and ultra-romantic—Stevie by Maggie Sottero!
"Jojo tried on a few different Maggie Sottero wedding dresses at Xandy's Bridal House. We all fell in love with this boho beach wedding gown. Johanna is originally from France and has very elegant features, so we wanted to choose a wedding dress that shared those same delicate features. The lace sleeves on Stevie did just that!"
"The bodice of the dress was beautiful, the off-the-shoulder sleeves were soft and feminine, and the skirt was perfect for scooping up to twirl around in. Alexandra Olson, the owner at Xandy's Bridal House, and I both agreed it was the perfect dress for the bride!" – Alexandra Robyn
Visit our Trends pages to see more casual and boho wedding dresses!
Casual Groom Attire with Suspenders and Slacks
For this styled shoot, the groom sported a casual white dress shirt, grey slacks, and trendy suspenders. A contrasting boutonniere completed the look, which was the perfect complement to an intimate and casual beach elopement.
"The groom has such a classic sense of style. We wanted to keep it simple to reflect the Black Sand Beach aesthetic and went with suspenders and slacks with a nice button-down. Manny happens to love Brooks Brothers, so his outfit is from there." – Alexandra Robyn
For more groom's attire ideas, visit our post: One for the Boys: Trends for Grooms Wedding Attire!
A Sand-inspired Wedding Cake
Excited to cut the cake for your seaside elopement? Opt for a simple yet chic design in a sunset-hued concoction with wave-like texture! This unique tiered wedding cake is easy to configure for an outdoor reception and looks gorgeous against a sandy landscape, rocky cliffs, or ocean sunset.
"The cake was crafted by Hey There Cupcake and was designed to mimic the sandy venue. The thing I loved the most was the graham cracker crumb coating decorating the bottom of the cake and the fresh floral arrangement on top." – Alexandra Robyn
Intimate Beach Elopement Reception Featuring Candles and Gold Accents
For an intimate reception, focus on simple, yet striking contrasts. Once you have your romantic details, palettes, and displays set, create a contrasting backdrop. We're swooning over this wooden sweetheart table featuring glasses, candles, and gold accents against a black sand backdrop.
"After the beach elopement ceremony, we had a small reception for Jojo and Manny's children and close friends. There was a champagne toast and cake cutting for the group. The rest of the reception, however, featured a sweetheart table for just the two of them." – Alexandra Robyn
"One of the most unique parts of this beach elopement styled shoot was the private, COVID-friendly reception. We wanted guests to feel the intimacy of the day with as much laughter and warmth as possible. And once the cake was cut and the sun began to set, we lit the candles on our sweetheart table and had a completely private wedding reception. It was a great way to spend the sunset together." – Jojo, the bride
Working with Experienced, Talented Vendors
"Andi Jo Photography helped with all of the planning and did a great job helping me coordinate with our favorite local Duluth Vendors. I couldn't have done it without her and her creativity! Hey There Cupcake always graces my photo shoots with the best cakes, and she simply outdid herself with this three-tier sand-inspired wedding cake. She is so creative and talented it wows me!"
"The Vault is one of Duluth's best decor and styling companies. All the decor was styled through them, and they did a fantastic job incorporating the Black Sand Beach's natural beauty with our vision board."
"Glow with Dej was our hair and makeup team. They always have every bride glowing from the inside out! They gave Jojo a natural look that really accentuated her natural features. Finally, Oak and Lily Studios arranged the gorgeous bouquets, centerpieces, and ceremony details. We loved all of the white and creams against the contrasting black sand." – Alexandra Robyn
Capturing the Little, Meaningful Moments
"I am a very detail-oriented photographer. I could get lost in finding tiny details—whether that be focusing on the way the skirt of the bride's dress billows in the wind or the way the couple's fingers intertwine without being told.
My favorite part of any wedding day or photo shoot is always the moment I get to pause and imagine the moment from their perspective. I change my angles to try to "see" what they would be seeing. My favorite photo from the day is when Jojo is hanging on Manny's shoulder telling him how handsome he is and how I got to be right there to capture his bashful laugh." –Alexandra Robyn
We hope you've fallen in love with this modern COVID beach elopement featuring a boho beach wedding dress, a sand-inspired cake, and meaningful details. To see the full feature of this styled shoot, visit the photographer's website here.
Then, get inspired with more wedding dresses, style ideas, and general party fabulousness with these related posts:
Beach Wedding Inspo for an Ocean-Inspired Celebration
An Intimate, Boho-Chic Backyard Elopement During Covid
11 Wedding Dresses for 11 Destination Elopements
Casual Beach Minimony at Shaw's Cove, Laguna Beach
Vendor Credits
Concept: @alexandrarobynphoto; Photography: @alexandrarobynphoto & @andijophotography; Cake: @_heytherecupcake; Makeup: @glowwithdej; Decor: @thevaultduluth; Rings: @thejewelerryan; Signage: @hawthornleeplanning; Retailer: @xandysbridalhouse; Florals: @oakandlilystudios