Real Weddings
|
July 1, 2021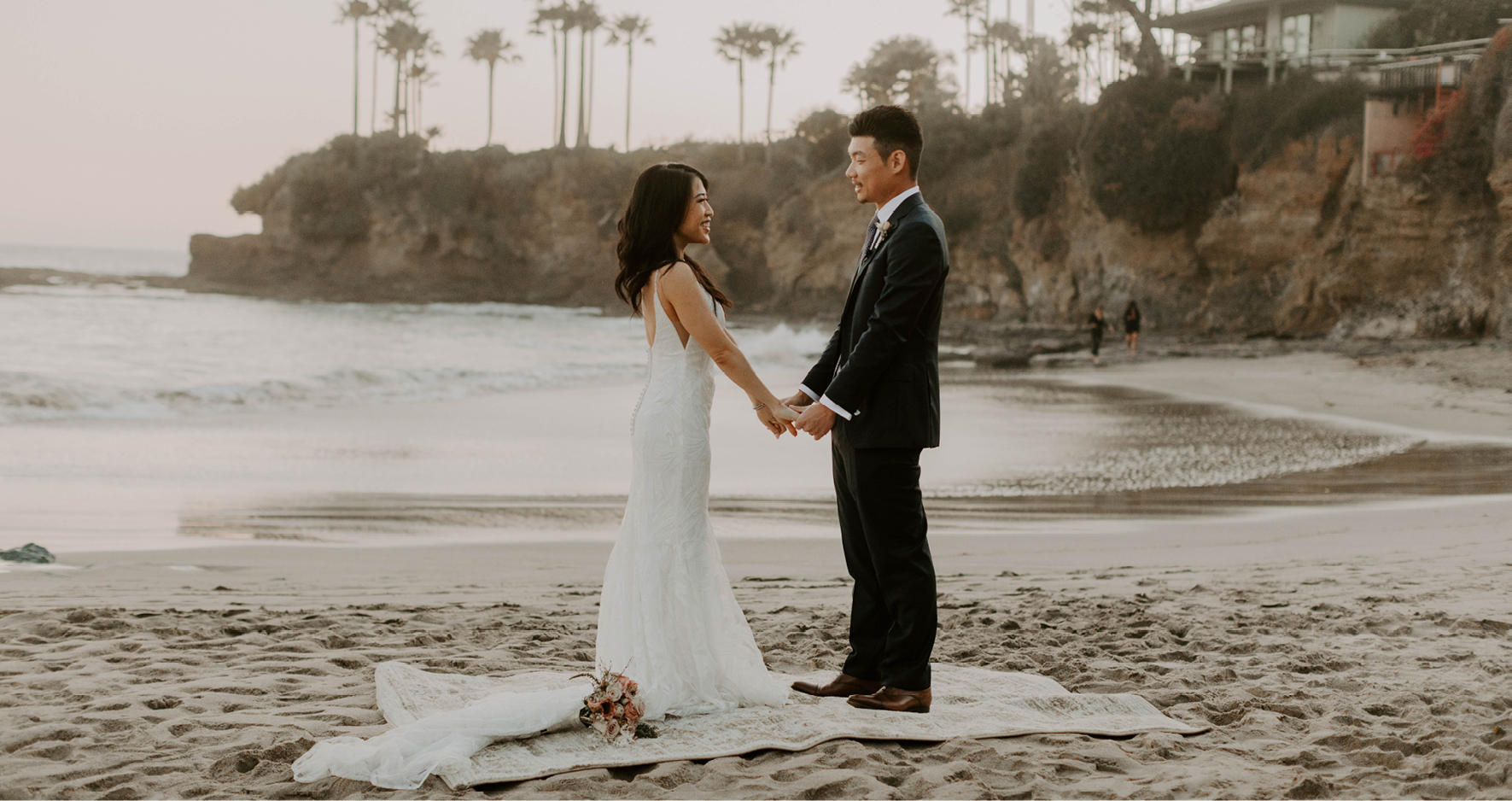 This casual beach wedding at Shaw's Cove is giving us all the feels! Featuring relaxed beach vibes, a laidback wedding dress, and an intimate ceremony, this minimony has it all. We're so excited to share highlights from Kari and Jay's Laguna Beach wedding captured by Amazonas Photography to inspire your own beach wedding vision. Keep scrolling!
Meeting Through Mutual Friends
Kari and Jay met 8 years ago through mutual friends and have been dating ever since. Since Jay is an avid golfer, for his proposal, he planned for their trip to Terrenea Resort in Palos Verdes for Kari's birthday.
Their friends came up to play a couples' round with them for fun at the small 9 hole course. On the last hole, Kari got to put the ball in the hole, and when she went to pick up the ball, there was a pleasant little surprise inside the hole. She then (of course) said yes!
For her casual beach wedding, Kari wanted to wear something classic, flirty, and elegant, and something that would look timeless in her wedding photos. When she saw Elsie by Rebecca Ingram, it checked all those boxes!
This laidback bridal gown is the perfect medium of casual and formal with a relaxed sheath silhouette and beaded spaghetti straps. And the sequin lace motifs in the form of palm leaves make it the perfect memorable statement for a seaside celebration!
Subtle Detailing and a Dramatic Bridal Train
Kari said she got so many compliments on her wedding dress. And we can see why! Although the details on Elsie by Rebecca Ingram are subtle, they come together in an unforgettable ensemble of glitz and glam. Plus, the low cut back and statement bridal train really give this gown that wow factor.
And the best part about this unique beach wedding dress? It's super affordable if you're planning a wedding on a budget. To see more affordable wedding gowns, check out our Rebecca Ingram collections.
Relaxed Modern Groom's Attire
For an easy look to match their beachside wedding location, Jay opted for a relaxed deep blue suit with modern detailing. Paired with a patterned tie and lightweight boutonniere, his groom's attire looked extra classy!
This trendy suit + tie combination would also work for a vintage soiree, ball room dance party, or a rustic celebration. For more groom wedding attire inspiration, check out our blog: 2021 Trends for Grooms Wedding Attire.
Laidback Beach Bridal Look
For her hair, Kari went for a relaxed and not overdone aesthetic. Her friend (who also happens to be an amazing hair stylist) drove to Laguna Beach to do her hair. Kari said the soft and relaxed curls were the perfect touch to their casual beach wedding vibe and really complemented her wedding gown.
Kari did her own wedding makeup and went with a natural, smoky palette and nude lipstick. We are loving this glam and versatile hair and makeup vibe and think she looked absolutely gorgeous for her wedding day!
Elegant Wedding Dress Accessories
Now for a little bridal accessory inspiration! For her wedding accessories, Kari wore a delicate Swarovski crystal necklace to match the sparkle in her dress.
Then, she completed her elegant and timeless look with trendy white Jimmy Choo shoes! Did we mention we're obsessed with the beaded ankle strap detailing?
Mid-Century Boutique Hotel
For their beach minimony, Kari and Jay stayed at Joaquin Hotel, a super cute and unique boutique hotel nestled above Laguna Beach. If you're planning a Laguna Beach wedding, this place is a must stay. We love its mid-century modern, boho vibe!
Just one walk away from Shaw's Cove, Kari said it was the perfect place for them to get ready for their ceremony: "We liked the location and the feel of the hotel because it was no stress—just relaxing, and all about us."
Exchanging Vows Before the Ceremony
Wanting to eliminate any factors of being outdoors on the beach, Jay and Kari exchanged their wedding vows in their hotel room right before the ceremony. Kari said, "I'm so glad we did because when we walked down to the beach, it was pretty loud and cold; I probably wouldn't have been able to hear or feel anything!"
Intimate Ceremony at Shaw Cove, Laguna Beach
Kari and Jay's intimate wedding ceremony looked like an absolute dream. They laid out a stylish, mid-century modern rug out on the sand to stand on. The officiate was one of Jay's close high school friends who had come up from San Diego for the wedding, and his girlfriend was the witness.
Kari said it made her feel super comfortable having their really good friend as the officiant, and that it made the moment all the more special!
Cake Cutting Picnic on the Beach
After their ceremony, Jay and Kari popped a bottle to celebrate and then (being huge dessert fans), they had a little cake cutting picnic on the beach as the sun went down. How romantic!
For their casual beach wedding cake, Kari and Jay went with a simple yet chic monochrome cake featuring vanilla frosting and piped white flowers. They picked it up from Magnolia bakery, where one of Kari's friend had decorated it. Kari said, "I hadn't had their signature hummingbird cake and it was SO good!"
A Special Aspect of the Wedding Day
Kari and Jay had their closest friends and family call in to a voicemail box they had set up, so they could listen to their messages and words of advice. Kari said, "It was such a fun little touch to the day and so good hearing things that probably wouldn't have been said at an actual wedding!"
Going With a Beach Minimony Instead of a Larger Wedding
Kari told us that she and Jay decided to give up the idea of a big wedding for a few reasons, and they're so glad they did in the end! She said, "The day was so fun and enjoyable and we got to focus on celebrating us! It sounds so self centered, but knowing me, I would have been an anxious wreck if we had 200 guests present."
Including Cute Rescue Dog, Bogey
We think a super sweet and unique aspect of Kari and Jay's casual beach wedding is that they chose to include their adorable dog, Bogey, a mini poodle, pug, and chihuaha mix. Kari said, "We rescued him during the pandemic, so naturally, he's a big part of our family now!"
Bridal Photoshoot at the Sand Dunes
Who ever said you had to take your bridals before the big day? We certainly didn't! To avoid the crowds on the weekend of their wedding, Jay and Kari decided to save their bridal shoot for after their celebration.
A week after tying the knot, they snuck away with their photographer to the sand dunes to capture their newlywed bliss. We're loving their chic, desert aesthetic, plus the sweet pictures with little Bogey!
Advice for Brides-to-Be
Kari's advice for brides-to-be is: "On your wedding day, don't forget the true essence of what your wedding is all about! That way you'll be able to stress less and enjoy it more. And, for anyone on the fence about having a small wedding or minimony—do it, and unapologetically! You will not regret it!"
We are so honored to have been a small part of Kari and Jay's gorgeous, intimate wedding day. And we hope you've enjoyed this casual beach wedding inspo filled with gorgeous, laidback details. For more real wedding inspo, check out our related blog posts:
Classic Vineyard Wedding Featuring a Modern Satin Wedding Dress
Intimate Lakeside Wedding with Chic and Modern DIY Details
9 Gorgeous Multicultural Weddings That Will Make You Swoon
Vendor Credits:
Photographer: @reamazonas
Hair: @carolbagwellstudio
Flowers: @theconservatoryflorist
Wedding Cake: @magnoliabakery
Hotel: @hoteljoaquin
Groom Attire: @suitsupply, @etonshirts, @charvet_official
Wedding Dress: @maggiesotterodesigns