Wedding Inspo
|
September 2, 2021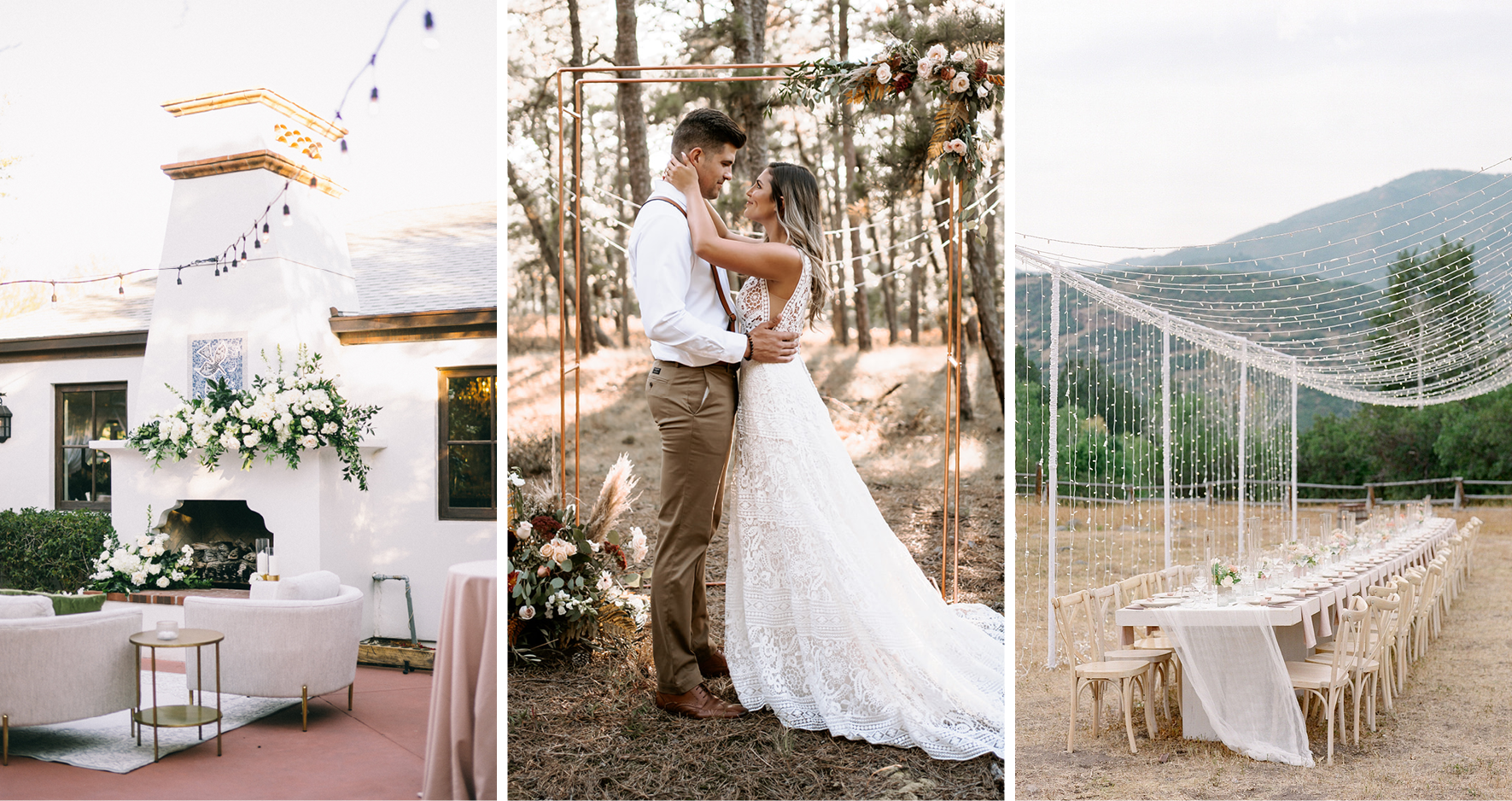 In celebration of all things bright, balmy, and beautiful, we've rounded up our dreamiest outdoor wedding ideas inspired by our real brides! Find everything you need for a stylish, functional, and nature-inspired reception aesthetic below.
Plush Outdoor Seating for Outdoor Lounge Space
PC: Jaimee Morse Photography
One of the easiest ways to spruce up an outdoor cocktail hour? Add lounge seating! Whether you're setting up in a secret garden or warehouse courtyard—couches, poufy loveseats, and velvet ottomans are sure to make a chic and inviting spot for your guests to mix and mingle.
If you love this outdoor wedding idea, check out some event rentals in your area, or (if you're feeling scrappy) you can DIY a plush lounge setup with furniture from friends and family. Add side tables for drinks and floral arrangements; hang some bistro lights or lanterns for a cozy evening vibe; and throw in a few pillows with your reception palette—you'll have gorgeous photo ops all night!
Natural Woven Place Mats for Outdoor Table Setting
PC: AMV Weddings
If you're setting up an outdoor tablescape for your reception dinner, you might find traditional wedding décor looks a little heavy for your easy-breezy theme. To play up your summery surroundings, opt for table settings with natural textures, rustic motifs, and soft palettes, á la these sweet woven place mats. We love this vintage-meets-modern table décor; pair your rustic table settings with sky blues, crisp whites, and metallic neutrals to achieve this chic and effortless summer vibe.
Hanging Lights Over Outdoor Reception Tables
PC: Heather Nan Photography
If you're planning an outdoor wedding reception, you'll likely be missing out on some standard lighting effects. To bring the "golden ballroom" vibe outside, look to simple but high-impact lighting options, from fairy and bistro bulbs to LED candles and stylish hanging lanterns. This string-light installation is relatively easy to install or rent from an events company; it's practical yet enchanting; and it looks totally gorgeous in the twilight and dark. Your guests will love sitting under their banner of starlight.
If you're feeling crafty, you might be able to DIY this light installation with your wedding party! The concept is fairly simple: frame with PVC pipe and connectors, wrap the columns in chiffon or tulle, then drape string lights over the canopy. (If you're using plug-in lights, you can disguise the outlets along the PVC pipe and run to a hidden extension cord.) Check out online tutorials for more.
Love this pink wedding palette? Find more warm-weather inspo in this post on wedding colors for summer!
Rustic Arch with Lights and Floral Installments Outdoor Wedding Idea
PC: AMV Weddings
If you're having an outdoor wedding ceremony, a rustic ceremony arch can be one of your most versatile yet high-impact décor pieces. Check out this copper frame with lush florals for inspo: It's lightweight and easy to install outside, but so elegant and romantic for your vows. String up lights to add some dimension and enchantment, then (if practical) repurpose the setup for guest photos during your reception. So chic!
Black and Ivory Table Settings for an Elegant Vibe
PC: Sun and Sparrow Photography
For outdoor wedding ideas with a bit of a stately vibe, look to polished décor paired with lush, organic textures—a mix of timeless, gilded pieces and romantic, nature-inspired flourishes that looks straight of a Jane Austen novel. We're totally inspired by this Victorian-meets-rustic tablescape for an outdoor banquet; the black and ivory looks sharp and sophisticated, but the fruit and white florals add a touch of "undone" glamour. See more in from this regal styled shoot in the link; your guests will swoon over the details!
Sweetheart Table with Wicker Chairs Outdoor Wedding Idea
PC: AMV Weddings
A gallery of outdoor wedding ideas wouldn't be complete without wicker chairs! This sweetheart table setup is ideal for a garden, lakeside, or courtyard wedding venue—super easy to personalize and style for photos. We especially love this wedding's use of oversized tropicals and greenery for table décor; the bigger the florals, the better they show up in your spacious outdoor surroundings.
Wondering what a sweetheart table is? It's where you and your betrothed sit for your banquet! This adds a formal yet stylish touch to your reception dinner and makes an unbeatable photo op, especially if you get your hands on some of these vintage high-back wicker chairs.
DIY Outdoor Wedding Bar
PC: Erika Diaz Photography
DIY outdoor wedding ideas are all about placing key stations in your open-aired venue, from lounge areas and photo backdrops to drink and food displays. One easy station to set up is the bar; all you need is a sturdy platform and a little embellishment!
If you're sourcing your own alcohol but hiring a little help, talk to your bartender about what they'll need for optimal outdoor setup. In addition to any bar ingredients you may be in charge of, your bartender will typically request a couple of insulated containers, bags of ice, some dump buckets, a cutting board, bottled water, and a garbage can—the basics for making outdoor cocktail service a breeze.
Simple Outdoor Wedding Cake for Summer
PC: Move Mountains Co.
An outdoor banquet may be a feast for the eyes, but it's no picnic to set up and protect from the elements. Our favorite garden-foodie details are all about simplicity and functionality, AKA pretty things that won't collapse in outdoor conditions. Get inspired with this elegant two-tiered cake with simple embellishment.
As one of our fav outdoor wedding ideas, this cake's shape is divine; the frosting is subtle yet sophisticated; and the topper is playful—a sweet and stylish way to one-up your inclement weather. (Browse more gorgeous wedding cakes for your theme and vision in the link.)
Parasols to Shade Guests for an Outdoor Wedding
PC: Alexandra Robyn Photography
We've all been there: We roll up to an outdoor reception in July, it's barely past 2:00 pm, and the wedding party is running late. The one thing you could definitely use for the next twenty blazing minutes? A parasol, of course!
This couple had the right idea to give their guests a little reprieve at their beachside venue. To add this to your wedding vision, you can purchase matching umbrellas or mismatch cute styles from friends and family, then add a cute sign and (of course!) ask your guests to take lots of photos. So chic!
Donut Truck for Fun Outdoor Reception
PC: Rachel Laxton Photography
It's no wonder food trucks are an outdoor wedding staple: They're exactly right for mobility, functionality, and presentation in open, airy spaces. Our pick for sweet fun? A donut truck with bright colors and quick service—easy for guests to line up and grab their desserts, and undeniably stylish for reception photos. (Check out more from this whimsical real wedding in the link.)
Chalkboard Seating Chart for Outdoor Reception
PC: Erika Diaz Photography
You can't deny the power of signage as one of the best outdoor wedding ideas to put in your backyard or venue space. To corral your guests and mark your borders, opt for cute, functional A-frames made with chalk paint and simple accents. This seating chart adds a charming touch to a lawn or greenspace banquet area. Plus, it's easy to DIY and repurpose for a future soiree.
Swanky Fireplace for Modern Outdoor Reception Space
PC: Jaimee Morse Photography
If you've got your hands on a swanky outdoor venue, you might be lucky enough to have a gorgeous hearth to zhoosh up with wedding fabulousness. Get inspired with this built-in fireplace and midcentury styled shoot set in Palm Springs; it's major glam vintage inspo for a chic yet timeless vision.
DIY Wood Wedding Arch with Macramé Outdoor Wedding Idea
PC: Move Mountains Co.
Love boho wedding trends? Macramé is another fab accent for outdoor celebrations; it's easy to source (new or secondhand), hang, and style for an array of groovy wedding aesthetics. Check out this wedding arch for inspiration. It's one of our favorite outdoor wedding ideas!
Hippie Van for Unique Wedding Portraits
PC: The Wild Hearts Collective
An outdoor wedding offers plenty of options for couple and guest-photo scenery, from scenic vista backdrops to wildflower meadows and stately gardens. If you're looking for a unique way to add whimsy to your surroundings, consider renting or borrowing a vintage hippie van in your favorite color; it's perfect for couples' photos, lounging, a DIY bar setup, or a photo booth. (Check out more super cute indoor and outdoor wedding ideas in the link!)
Outdoor LOVE Sign for Backyard Reception
PC: Erika Diaz Photography
Finally, for big-impact décor that's easy to rent and install, look to oversized marquee letters declaring (what else?) LOVE! for all to see. These can be sourced in nearly any city and make a great backdrop for garden photos. You won't regret the investment!
There you have it—gorgeous outdoor wedding ideas inspired by our real brides and their stylish celebrations! To keep the inspiration rolling, check out our tips for planning an outdoor wedding (best times of year, rates to expect, setting a theme and budget—all that good stuff). If you're planning an outdoor wedding to minimize COVID exposure (great idea for the foreseeable future!), check out our rundown for hosting an intimate backyard ceremony, from planning to tent rentals to paring down your guest list. As always, happy planning and have your best day ever!