Tips and Trends
|
July 30, 2020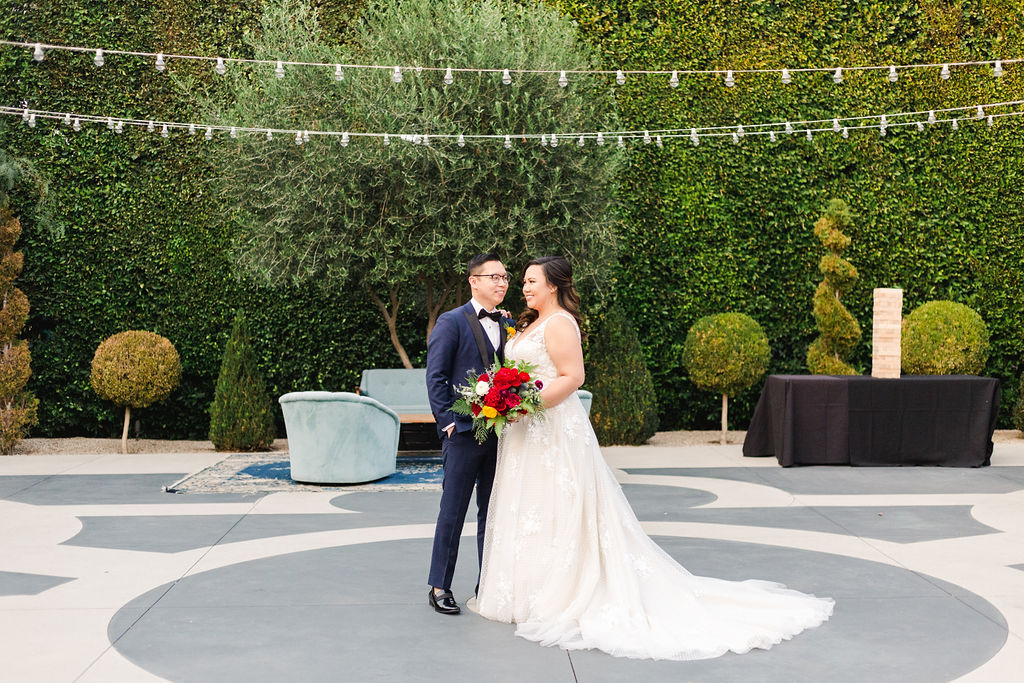 You may have noticed that backyard ceremonies and receptions are becoming the big wedding trend of 2020. This more relaxed and intimate celebration has become a great alternative for brides and grooms who have decided to scale back their original wedding plans due to COVID-19. And while having a backyard wedding has many benefits, it's important to consider all of the planning and logistics involved before you let go of your original venue.
When Should You Opt for a Backyard Wedding?
When is the right time to pull the plug on your original plans? That decision will differ from couple to couple, but there are a few key variables to consider that will help you come to an agreement on the best course of action.
As of right now, gathering restrictions vary from state to state. New York State, for example, is allowing weddings of either 50 people or 50% of the venue's max occupancy– whichever is smaller. On the other hand, California, for example, has increased restrictions with indoor operations and gatherings across the board. You and your sweetheart should consider whether or not you are comfortable with the real possibility of having to cut down your guest list significantly.
Next, be honest with how you would feel if your guests were required to wear masks. Though your state or venue may not have a strict mask policy now, those rules could change if there happens to be a local or state-wide spike in confirmed cases. Are you comfortable with guests wearing masks in your wedding pictures and videos?
Some couples are open to making the most of it and are choosing to view their wedding day as a captured moment in our modern history. Others just want to have a wedding day that feels normal. Either viewpoint is completely valid and understandable, but this is a discussion that should be had between you and your fiance to decide what you both want.
How to Start Planning a Backyard Wedding
Don't forget about other aspects of your wedding day that may be affected such as dance floor restrictions, hair and makeup salon closures, and bridal shop/alteration restrictions. Even if there are no restrictions on these services now, that could change in the future.
Since wedding planning is stressful enough without a global pandemic, we've compiled a list of helpful planning tips to keep you as stress-free as possible before your big day!
Have a Backup Plan for the Outdoor Festivities
No matter where or when your backyard wedding will be held, it is important to work through the "what if" scenarios. For example, you will want to have a "Plan B" for your outdoor ceremony and reception if mother nature is not in your favor.
Be prepared with popup tents in case of rain and blankets or space heaters if your celebration will go late into the night and the weather gets cold. It's best to have a backup plan just in case!
Additionally, if you're planning to tackle food and beverages yourself, it is a rule of thumb to buy more than what you anticipate going through. You will be glad that you are left with more than you needed (leftovers!) instead of scrambling on your wedding day because you didn't prepare enough.
While it's relatively easy to determine how much food you will need, it's always trickier to guess how much your guests will drink. If you start running low on alcohol and mixers before the night is over, make it easy on yourself and your guests by avoiding an emergency grocery store beer-run and use an alcohol delivery service app instead. Don't forget to include a few snacks in your order for a little late-night treat!
Social Distance and Provide Sanitation During a Coronavirus Wedding
As much as you want to gather with and embrace your loved ones on your wedding day, remember that everyone's comfort levels will be different. Putting in the effort to minimize your guest's risk of getting sick is crucial to their comfort.
Start by placing seating and tables six feet apart when possible. And if you can, try grouping people with their own households or families to lessen the chances of new exposure.
Be sure to provide plenty of opportunities for hand washing or hand sanitization and try to opt for single-use ware including plates, cutlery, and canned beverages. Bonus points for biodegradable or compostable ware over plastic! For further information on keeping your guests safe, review this guide from the Centers for Disease Control (CDC).
Consider Catering Options for a Social Distancing Wedding
Many venues limit what you can and cannot do when it comes to catering, whereas a backyard wedding allows you to customize your food options so you can be as creative as you'd like!
In the light of the pandemic, however, it may make the most sense to serve plated food instead of offering buffet-style options. Consider renting out your favorite local food truck (for dinner and dessert) to keep things unique while simultaneously keeping guests safe. This could also be a good option if you're looking to do your wedding on a budget.
Think About Parking and Bathrooms Accommodations for Guests
Avoid wedding-day confrontations and complaints from neighbors by figuring out your guests' parking situation as much in advance as possible. Start by communicating with your neighbors about your backyard wedding plans so they know what to expect.
If the area around your home is scarce when it comes to parking, consider asking your neighbors if their driveways and parking spaces can be utilized for the day. To save space, ask your guests to carpool where possible.
Depending on how many guests (and bathrooms) you have, providing the proper restroom accommodations may be tricky, especially if you don't want people tracking in and out of your house.
Though there aren't many options outside of hiring port-a-johns or a restroom trailer, you can limit the need for bathroom use by keeping your wedding day as short and sweet as possible.
Normally, it would be common courtesy to provide a basket of toiletries in the bathroom. However, it may be best to avoid any shared products that can spread germs.
Make a Plan for Clean Up After a Backyard Wedding
Even though your celebration will be scaled back, it's important to remember that even a small group of people will produce a lot of waste over the course of a day, so you'll need plenty of recycling and trash bins to collect it all. Designate a few friends and family members to monitor the trash bins throughout the day and to help clean up after the celebration.
Or if you can, hire someone to take care of the clean up for you. Spending hours picking up is the last thing you and your new new-spouse will want to do the night of or day after your wedding.
There are so many benefits to having a backyard wedding, especially in light of COVID-19 and the consequent restrictions. You can customize the space how you want (without venue rules and restrictions), stick to your own timeline, create a more relaxed feel, and also save some money. You may also find that going this route is more meaningful than you could have ever imagined, like this couple did in their intimate backyard elopement!
So, if the restrictions and uncertainty of your original plans are keeping you up at night, it may be worth considering saying "I do" in the comfort of your backyard!
For more wedding planning tips, visit our blog to see how to plan your dream wedding. Then, check out our 5 COVID Honeymoon Ideas for Couples During the Pandemic! And don't forget to read all about what a micro wedding vs. a minimony is on our blog. Cheers!