Tips and Trends
Wedding Inspo
|
August 13, 2021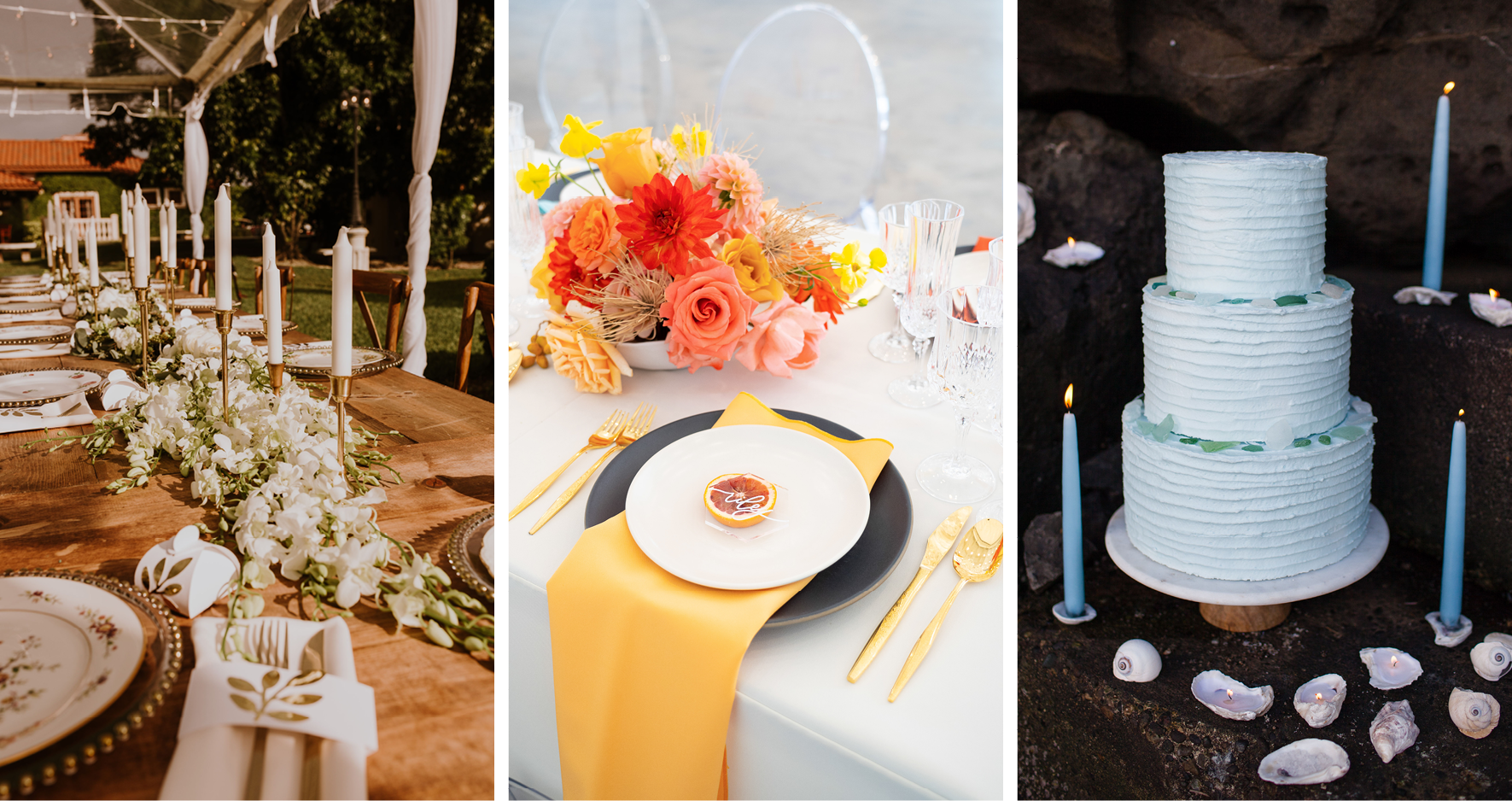 Summer weddings call for bright palettes, sun-drenched ceremonies, and outdoor celebrations at dusk. If you're in the throws of planning your own summer soiree, you're probably looking to incorporate bright pinks, bold blues, and vibrant yellows for your color scheme. But don't be afraid to also incorporate other hues such as deep greens and versatile neutrals, which can feel just as summery. Scroll on to see how you can integrate these super hot and trendy summer wedding color palette ideas into your warm-weather celebration.
What are good summer wedding colors?
What are good colors for a summer wedding? Well, early summer wedding colors tend to be light and airy, while late summer wedding colors tend to be earthy and moody with a slight inspiration from fall. However, it really depends on the vibe you're going for. Classic color combos for summer weddings include:
Blush and Eucalyptus Green
Vibrant Jewel Tones
Light and Airy Pastels
Navy Blue and Light Blue
Peach, Yellow, and Pink
Champagne with Greenery
Now that we've covered these classic summer wedding color combos, let's dive into some trendy and unique variations with these seven wedding color palettes for a summer celebration.
Bay Leaf Green + Off White + Wood Tones
PC: Erika Diaz Photography
For a classic outdoor wedding, go with a summer wedding palette that features both boho and rustic elements. Play with textures and tones in your napkins, table settings, and wooden décor. And while you're at it, add hanging fairy lights and off-white candles to your reception space, while incorporating green and brown shades. Lastly, we suggest pairing your venue aesthetic with a farm or woodland forest backdrop for a chic and sophisticated vibe.
Faded Pink + Blush + White + Beige Accents
Faded blush is the most versatile neutral color, which means it makes an appearance at weddings year round. To bring this soft and romantic shade right into summer, accent it with light pink, dusty beige, and for a high-contrast combination, bright white. We have to say, this blush, pink, and beige summer wedding color palette with a hint of greenery is a chic and romantic combo for hazy-lazy summer afternoons in the great outdoors. To see more of this mountain wedding, click here.
Bright Yellow + Flamingo Pink + Citrus and Color Block Accents
Peterson Design and Photography
For a bold and modern take on summer wedding colors, consider a color block and citrus wedding theme. This vibrant watercolor cake and flamingo pink + yellow floral arrangement make for high-impact photos, while French macarons offer delectable pops of shape and color and slices of citrus with acrylic name tags create a tangy aesthetic for your reception tables. All together, these contrasting hues allow you to create the perfect chic and splashy party aesthetic for your warm-weather soiree.
Lavender + Deep Green + Pink and Blue Pastels
PC: Rachel Laxton Photography
Because love is in the air and lavender blooms all summer long, go with a light and airy summer wedding color scheme featuring purple, blue, and pink pastels. This whimsical summer palette reminds us of late spring and is perfect for a May or June wedding. Since pastel hues aren't groundbreaking for summer, keep them subtle so they offer just a touch of color. The lavender roses in this ground arrangement and pinks and purples in this bridal bouquet were soft and looked so romantic against the deep greenery. This real wedding also featured a donut truck and an international buffet; to see the full gallery, click here.
Sea Green + Gold + Navy Blue + Palm Leaves
PC: Lindley Battle Photography
Who said jewel tones are for fall celebrations only? This greenhouse wedding venue with mid-century modern furniture and bohemian accents says otherwise. We're digging the sea green walls, navy blue tiles, gold roses, and palm leaves. Plus, we can't say no to this two-tier minimalist wedding cake and ultra-colorful geometric cake stand. It's the perfect summer wedding color combo for an edgy, contemporary bridal aesthetic.
Burnished Yellow + Champagne + Eucalyptus Green
PC: Hannah Mac Photography
Evoke a field of Cosmo blooms at golden hour with this burnished summer wedding color palette. The late summer wedding colors in this sophisticated palette are muted enough to feel subtly contemporary, and the chic accessories and florals add a modern flair. To pull off this new-age summer wedding color combination, simply keep your bouquet light and loose to evoke wildflowers and add in hints of greenery to reminisce a green meadow.
Ocean Blue + Sky Blue + Seashells and Pearls
PC: Claire Eliza Photography
Want to incorporate both light and dark shades into your wedding day décor landscape? Opt for a deep ocean blue backdrop with accents of sky blue. Then toss in off-white seashells for your reception décor and pearl accessories for your invites to create the most magical nautical color palette. You'll have a summer wedding color palette fit for the finest ocean-inspired celebration! For more beach wedding inspo and to see this palette's full gallery, click here.
Summer Wedding Color Palette Tips
We hope you've enjoyed there trendy and popular summer wedding color palettes! Make sure to Pin the ones you love and share them with your wedding planner. And remember, when incorporating these summer wedding colors into your own fab celebration, don't be afraid to mix and match for a personalized aesthetic. Happy wedding planning!
Related Blog Posts:
7 Winter Wedding Color Palettes for a Chic Celebration

9 Cozy Fall Wedding Color Palettes for a Seasonal Celebration