Tips and Trends
|
August 10, 2021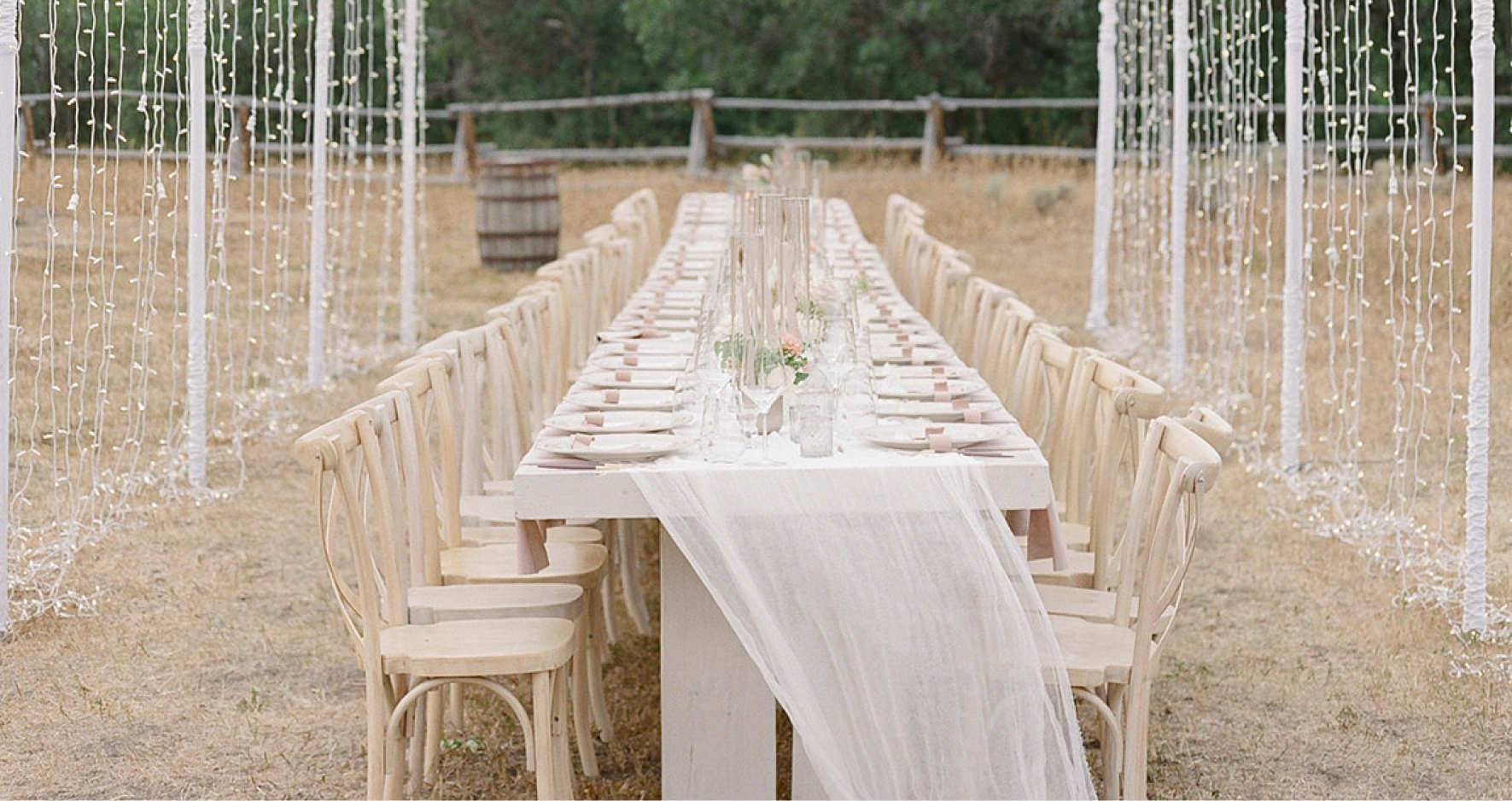 There's no denying it—there is something so magical about an outdoor wedding—the fresh air, the perfect backdrop of earth and sky, and a finale of twinkling stars that rivals your sparkler sendoff. It's no wonder why outdoor weddings are so popular! Outdoor weddings grew in popularity during the COVID-19 pandemic, but this chic and classy (and never tacky!) type of wedding is here to stay. Outdoor weddings are affordable (especially backyard weddings) and the open air creates unforgettable experiences for you and your guests. You may be wondering—how do I plan an outdoor wedding? We have tips and tricks, along with answers to other questions you may have on planning an outdoor wedding below—so keep scrolling!
What is the best month to have an outdoor wedding?
The best month to have an outdoor wedding depends on your location and climate! In the U.S., early summer and early fall months, such as May, June, September, and October are popular times to have an outdoor wedding because of the mild weather. These months also have the least risk of distributive weather. But, if you have your heart set on an outdoor winter or spring wedding, never say never! Get creative with tents, fire pits, and warm accessories for your guests like scarfs, wraps, and mittens.
What is the best time of day to have an outdoor wedding?
PC: Erika Diaz Photography
Typically, outdoor weddings start in the early evening and go into the night, so from 5 p.m. onward is fair game. This timeframe has several pros because cooler evening temperatures (especially in the summer) can be more comfortable, golden hour in the evening is optimal for photos, dancing under the moonlight is ultra-romantic, and having dinner as part of the reception is traditional. BUT—who says a morning ceremony with a brunch reception can't be just as fabulous? Your wedding is all about what YOU want.
Are outdoor weddings cheaper?
Outdoor weddings tend to be cheaper than indoor weddings since many outdoor weddings are held on one's private property (hello backyard wedding!), or public property like a park or beach. However, be mindful that commercial outdoor venues, such as estates, vineyards, and greenhouses can cost as much as indoor venues.
How do I decorate for an outdoor wedding venue?
PC: Jaimee Morse Photography
When planning an outdoor wedding, take your decorations into consideration. Stick to your desired aesthetic but be mindful of how these decorations will handle the outside weather. Ensure all decorations are carefully secured. Don't let an unexpected gust of wind ruin your hard work! Keep reading to see more outdoor wedding decoration tips.
What should my backup plan be if it rains or the weather is bad?
Be sure to select an outdoor venue that can also easily accommodate an indoor ceremony and reception if need be due to rain or other inclement weather. Discuss this with your venue when you book and ask to walkthrough the indoor venue to make sure you can also picture your big day there. And if you're planning a fabulous backyard wedding, ask yourself if the home has enough space inside to accommodate your guests. You can always get creative with moving furniture, utilizing a tent, etc.
This is one of the most important tips on how to plan an outdoor wedding, so don't forget to create your weather backup plan long before your big day. And remember—rain on your wedding day is good luck!
Tips for Planning an Outdoor Wedding
Start planning early.
PC: Heather Nan Photography
The earlier you start planning for an outdoor wedding—the better! Planning early makes sure there isn't any last-minute loose ends to tie up close to the wedding and that you have everything in place in case bad weather occurs, etc. This also ensures you get your top-pick vendors and venue on your desired date. If it's in your budget, consider hiring a wedding planner, since the logistics of an outdoor wedding can be trickier.
Pick a season or month where there isn't a lot of variability or chance of rain.
As mentioned above, early summer or early fall are your best bets for mild weather when planning an outdoor wedding. There is less of a chance for unpredictable weather, which means less stress for you in the long run. Wedding experts say that January, February, and March are the trickiest months to host an open-air celebration.
Later summer months, July and August, present similar risks. Because of the heat, popup thunderstorms could happen if you choose to have a wedding during this timeframe. But, if your heart is set on an outdoor wedding during the months mentioned above, there is no obstacle that planning and creativity can't fix! Be sure to have a backup plan and tell guests to dress accordingly for the weather.
Choose your wedding theme.
PC: Jaimee Morse Photography
This is when your Pinterest board will come in handy! Choosing your wedding theme will help you narrow down venue, decorations, music, etc. There is no right or wrong way on how to plan an outdoor wedding theme, just follow what your heart wants!
A few wedding themes that work well with outdoor venues are:
Garden Party
Cottagecore
Rustic Bohemian
Farmhouse Chic
Enchanted Forrest
Beachy
Decide what your budget is.
Nailing down your specific budget will help you determine your venue and guest count. Then, after these factors are accounted for, you can figure out how the rest of your budget will be distributed between food, entertainment, flowers, decorations etc. For example, if you have a backyard wedding at your parent's home, then you save on venue costs and can splurge on those extravagant floral arrangements you've been dreaming of! For more wedding budget tips for planning an outdoor wedding, click here.
Create good lighting for your photographer and videographer.
PC: Kristina Wild Photography
Plan for your photographers to take the most photos around golden hour for magical results. Ensure that your altar set up is in good, bright lighting. Typically, you want the sun to be facing you versus having the sun behind you. If your outdoor wedding venue is not in a well-lit area (we're thinking a gorg, lush forest for an ethereal ceremony), ask your photographer and videographer if they can bring extra lighting for photographs and videos.
Make sure you have electricity available at your venue.
Confirm with your venue that you have access to electricity so you can have a DJ for dancing the night away, a microphone so your maid of honor's heartfelt speech can be heard by all, and lights for when the sun goes down. This is a detail that can be overlooked when thinking about how to plan an outdoor wedding, so make sure to put it on your checklist!
Consider food options that work well in the outdoors.
PC: Jaimee Morse Photography
When building the menu, consider food that works well outdoors. S'mores for dessert anyone?! Outdoor weddings allow you to get creative with food. Think woodfired pizza ovens, barbeques, veggies right from the garden, and more!
Food trucks are a popular catering option that works great for outdoor weddings. Pick your favorite food—sushi, mac and cheese, barbeque, tacos, you name it—there is surely a food truck that can serve your guests. Plus, food trucks offer a super cute photo op!
Decorate for the outdoors.
When decorating for an outdoor wedding, take advantage of the natural scenery! Hang fairy lights around tree trunks and branches, use the natural aisles of a garden for your procession, or do a simple altar in front of a magnificent look out. Make the natural space charming by adding furniture, lights, photographs, and personal mementos.
Have bathroom options for guests.
PC: Partographia Photography and Videography
Ensure your guests are comfortable and accommodated by having clean and sanitary bathroom options available. There are lots of options to choose from, depending on your budget. Make sure to have the restrooms away from main areas, but not hidden. If necessary, have signs that point guests in the right direction. This may not be the most glamourous detail of how to plan an outdoor wedding, but it is surely a necessary one!
Protect guests from bugs.
We all know how annoying bugs can be, so come up with solutions to protect your guests from pests! Hire a local business to get the grounds of your outdoor venue professionally treated 4 days prior to your wedding. Also, there are natural repellants you can incorporate into your outdoor wedding. Light citronella candles, hang lavender, or diffuse tea tree oil.
Find a way to stay cool outside if you're planning a summer wedding.
PC: Alexandra Robyn Photography
Beat the heat in creative ways if you're planning an outdoor wedding in the summer. Offer handheld paper or electric fans, be sure water and other refreshing drinks are easily available, choose heat-resistant furniture (think wicker and chairs covered in lightweight fabric), provide multiple areas of shade, and notify guests to dress accordingly. Also, avoid the hottest times of day by choosing an early morning or later evening ceremony and reception.
Monitor the weather a few days before.
Your weather app will become your best friend on the days leading up to the wedding. Fingers crossed the forecast calls for clear skies and mild weather. And if it doesn't, don't fret! This is why having a Plan B for an outdoor wedding is crucial. Talk to your wedding planner, gather your bride tribe for emotional support, work out logistics, and keep a level head if you want to move forward with Plan B. The big day is sure to turn out just as magical as originally planned.
Be mindful of sound during evening activities.
PC: Move Mountains Co.
Be a good neighbor by monitoring sound levels if your celebrations carry into the nighttime hours. Especially be mindful of noise if you are hosting a backyard wedding or if your venue is close to a residential neighborhood.
Once again, congratulations on your upcoming nuptials! What an exciting time it is! Al fresco celebrations are always a gorgeous, elevated affair, but can come with their own unique challenges. If you keep these tips in mind, planning an outdoor wedding is sure to be a breeze.
For more tips on how to plan an outdoor wedding, click here. And, for outdoor wedding inspiration, click here to check out this real bride's Vineyard Wedding! Plus, see these trending summer wedding color palettes now!
After your big day and honeymoon are over, be sure to tag us in your wedding photos on social media. And, to help other #MaggieBrides, submit your photos and a review here. Happy wedding planning!