Dresses
|
October 20, 2020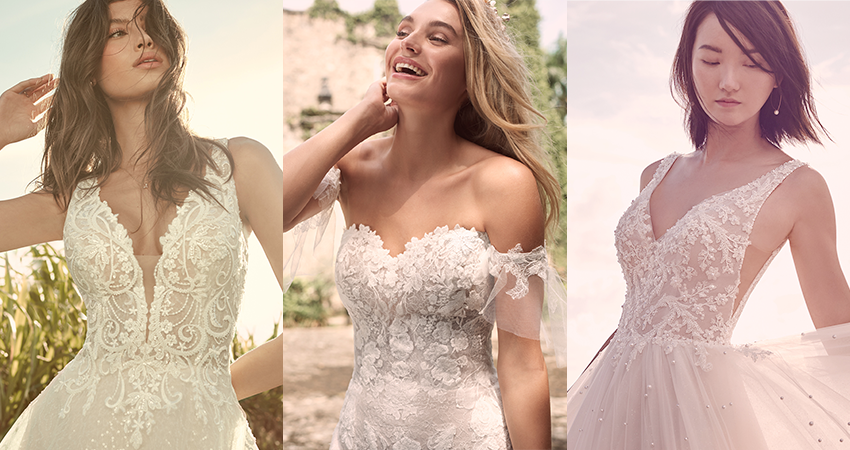 If you've already found your perfect wedding dress, you're virtually guaranteed to look amazing in your portraits. But certain fabrics, silhouettes, and details can give your bridal portraits that extra dose of fabulous! Keep scrolling to see some big-picture inspiration and our top 30 wedding dresses that look great in photos. Enjoy!
Wedding Dresses That Look Great in Photos
Browse the gorgeous wedding gowns below to begin curating your perfect bridal look that will look stunning in your wedding photos!
Satin Wedding Dresses for Sheen
Our satin wedding dresses are optimal for sheen and shine, while our Mikado bridal gowns offer stunning structure for your dazzling photo ops. See the gowns below for some satin and Mikado wedding dress inspo!
Tulle Wedding Dresses for Romancing
There's nothing that says modern fairytale like a whimsical tulle wedding gown. The styles below feature lace motifs over tulle, sequins over sparkle tulle, and tiered tulle finished in horsehair. So chic!
Illusion Lace is Made for the Camera
A wedding dress with a statement back of illusion lace and delicate motifs? Yes, please! Or, opt for illusion in the neckline, sleeves, and side panels. You really can't go wrong, as the illusion effect on our gown is multiplied on camera.
More Crystals and Sequins = More Sparkle
If there's one thing we love more than wedding dresses that look great in photos, it's sparkly wedding gowns that look great in photos! Check out the styles below featuring Swarovski crystals, beaded sequins, and pearl tulle.
Minimalist Wedding Dresses Make an Impact
A super modern silhouette in a premium fabrication is a homerun for photos. Consider one of these minimalist satin or crepe wedding dresses for your bridal portraits!
Vintage Wedding Gowns for Antique-Inspired Vibes
There's little explanation necessary when talking about vintage wedding dresses. Featuring Art Deco beading, fringe, vintage lace, and Renaissance-inspired beauty, these bridal gowns are sure to take your wedding portraits from fine to fabulous!
Love these wedding dresses that look great in photos? Find these swoon-worthy gowns at a Authorized Retailer near you!
For tips on wedding photography poses, check out our Top 10 Wedding Poses for a Swoon-Worthy Photography Session blog. And, if you're still looking for a photographer, see our post: How to Choose a Wedding Photographer to Match Your Wedding Vision. Cheers!