Dresses
Wedding Inspo
|
February 15, 2022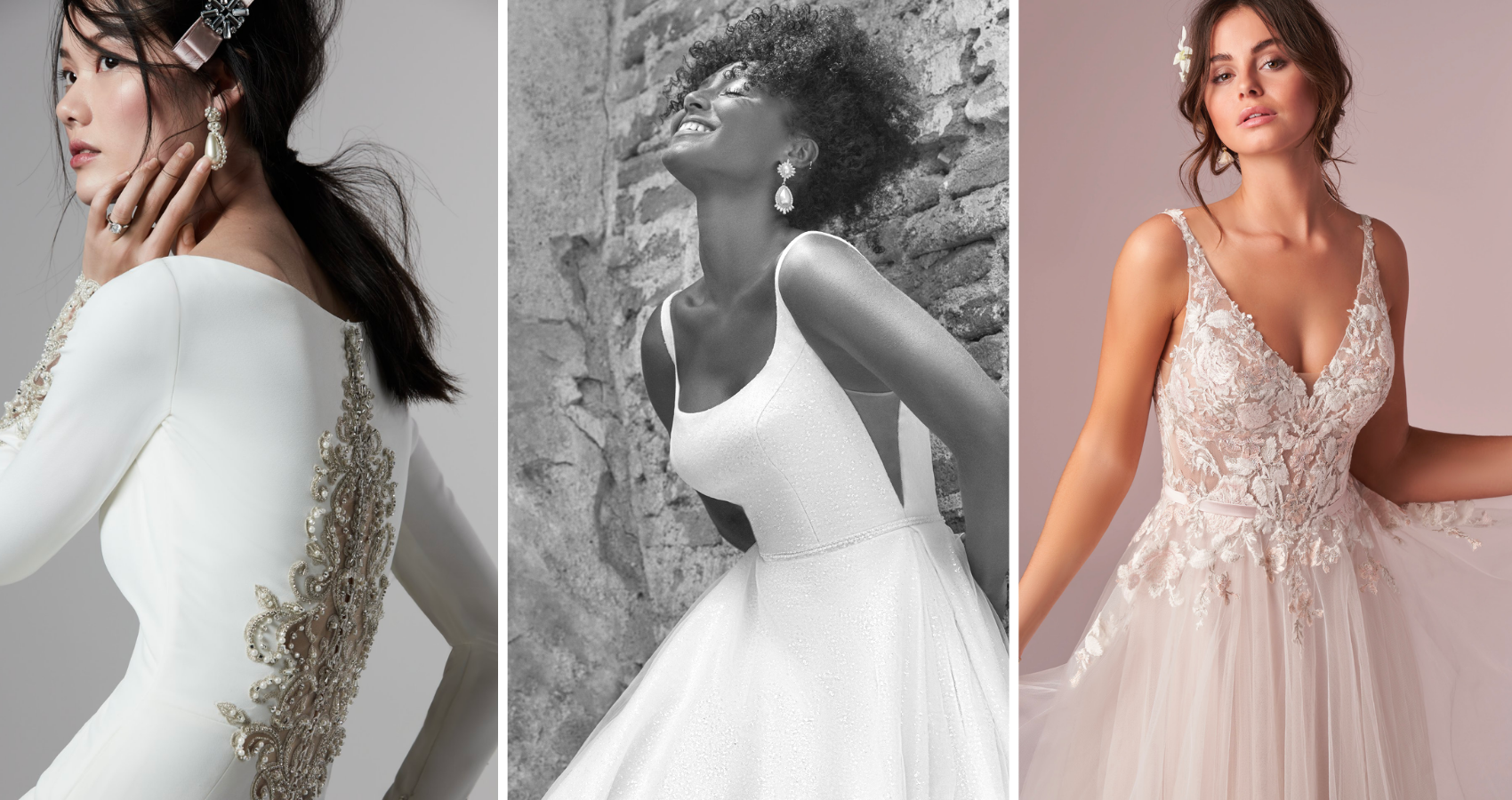 Are you someone who marches to the beat of your own drum? Someone who likes to go off the beaten path? Or a bride who is looking to take more of the non-traditional path for your wedding day? Then you're in luck! Because there are few things we love more than gorgeous and uniquely detailed wedding dresses to add an extra dose of drama and glamour to your wedding day.
That's why we compiled a list of ten of our favorite detailed gowns for our unique and individual brides to be inspired by (all found at one of Authorized Retailers by the way!!). Keep reading to find the detailed wedding dress of your dreams!
What's that saying… business in the front, party in the back? Well, when it comes to Maggie Sottero wedding gowns, that's a saying we live and breathe by. Nothing says "unique," like a back detailed wedding dress.
Esther by Maggie Sottero is one of our favorite detailed wedding gowns. This sexy, shimmery mermaid gown will have your guests oohing and awwing as you walk down the aisle towards your partner. With a sexy low-back with intricate lace, illusion tulle, and romantic buttons, it doesn't get much more detailed than this gown. AKA perfect for our unique brides looking for a back detailed wedding dress.
P.S. You can personalize Esther for your love story by purchasing a matching veil to truly make this look individual!
Aston by Sottero and Midgley is another one of our favorite detailed wedding dresses. Truly an embodiment of "business in the front, party in the back," Aston boasts a gorgeous, clean crepe front with a crystal-embellished illusion back. Romantic and daring Swarovski crystal swirls on the back of the gown and on the sleeve cuffs is truly a detailed wedding gown for the detail focused bride.
Interested in more of our bridal gowns with intricate backs? Check out this blog to get some more ideas!:
You know what says detailed wedding dresses? Uniquely detailed, romantic lace. That's why we love Kiernan by Sottero and Midgley! For brides who don't want to stray too far from the traditional look, but are craving some unique details, this is the gown for you. This classic princess A-line wedding gown has layers of gorgeous lace with sparkly tulle throughout.
Additionally, this vintage inspired gown also boasts a delicate lace back and stunning portrait neckline. Craving some more lace? No problem! Along with many of our other gowns, you are able to personalize this look for your love story by adding romantic lace sleeves.
This is just one of our vintage-inspired detailed wedding dresses though. For more beautiful bridal dresses, check out our blog to get inspired!:
Sigrid by Rebecca Ingram is another detailed princess-inspired bridal dresses. While Kiernan leaned more towards a traditional bridal look, Sigrid is anything but traditional. With gorgeous sparkly tulle, and intricate garden-inspired lace, this gown will not only make you want to run through a forest but run down the aisle as well!
What we love about A-line wedding dresses is how versatile they are. No matter the style, vibe, or look you're hoping to achieve there will always be an A-line gown that matches that vision. For brides looking for unique, detailed wedding dresses we propose looking at Minerva by Rebecca Ingram.
If you're looking for a unique wedding gown with some magical details, Minerva is the gown for you. With fairytale lace, a classic v-neckline, and textured illusion motifs, your partner will continue finding unique details to stare at throughout your wedding day.
Whereas Minerva is made for nature-inspired weddings, Richardson by Sottero and Midgley is the perfect gown for a metropolitan based ceremony. This flirty and elegant A-line wedding dress has unique wedding dress details of a faux leather lace skirt, crepe bodice, and plunging v-back. Along with that, this gown has a detachable belt in order to personalize the gown for your love story!
Interested in more dramatic and unique A-lines? Make sure to check out our collection below!:
Simple and detailed might not seem like two words that go together, but when it comes to Symphony by Maggie Sottero we couldn't imagine it any other way. This modern ball gown has subtle, dazzling details like its sparkly and sequin tulle, open square back, and side cutouts. This intricate wedding dress will truly harmonize with your wedding day.
PC: Red Bar Photography
Mallory Dawn by Maggie Sottero is another one of our gorgeous, detailed ball gown wedding dresses. Not only does this gown have detailed scalloped lace that would make any Disney Princess jealous, but its illusion v-back with buttons will make you immediately want to scream "yes!" when you try it on.
Kevyn by Sottero and Midgley is all about the details. This sexy, lace, halter fit-and-flare wedding dress has unique details that you will find your eyes dragging to throughout the wedding day. Coming in all-over ivory and nude colors, this Aldora crepe gown will create a perfect hourglass figure for any bride looking to make a statement on their big day.
PC: Nate Shepard Photography
Last but not least, Zander by Sottero and Midgley is one of our favorite beautiful bridal dresses. This is one of our many black wedding dresses that only emphasizes the intricate details on the gown. Zander is a breathtaking choice for the unconventional bride with its 3D floral lace motifs, tulle layers, and breathtaking open back.
For more black detailed wedding dresses make sure to check out our Colorful Wedding Dresses Page!
Although we only listed ten uniquely detailed wedding dresses, there are many others to choose from! Taking our Style Quiz will give you a great head start before you head to one of our Authorized Retailers to find the gown of your dreams. No matter what uniquely individual dress you choose though, all that matters in the end is that it feels like you because that's who your fiancé fell in love with. Happy shopping!
For other blogs like this, explore the links below:
10 Unique Wedding Dresses For A New Year And New You
How To: The Ultimate Guide To Different Color Wedding Dresses For Your Big Day
How To Find The Best Wedding Dress Styles For Body Types Of Every Shape And Size
P.S. Get some more detailed wedding dress inspo by watching our TikTok below!: