Events and Boutiques
Tips and Trends
|
October 1, 2023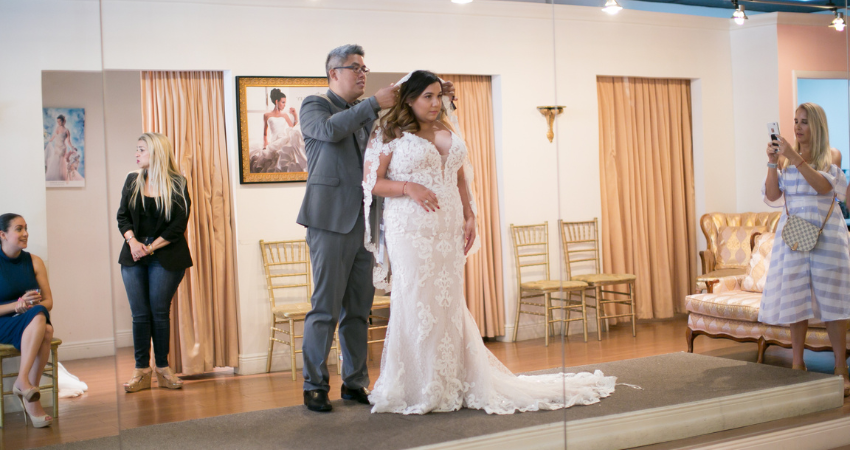 Planning your dream wedding is an exciting journey, and one of the most thrilling aspects is undoubtedly finding the perfect wedding dress. While the traditional dress shopping experience at a bridal boutique is already an adventure in itself, there's an even more exhilarating way to discover your dream gown – by attending bridal trunk shows. Keep reading to find out what types of Maggie Sottero events are offered, and more importantly, why they are so valuable in your journey to find your dream dress.
Before we dive in, take our style quiz to help give you some inspo before your bridal appointment!
What is a trunk show?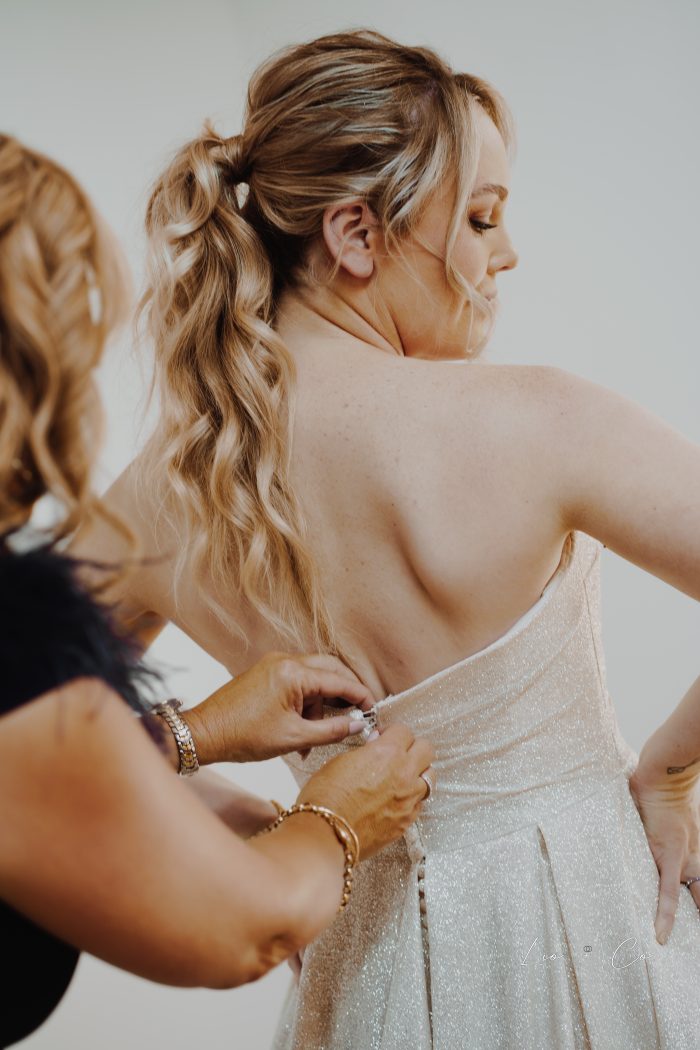 PC: Lio and Co Weddings
Maggie Sottero is proud to partner with our Authorized Retailers around the world to offer one-of-a-kind experiences for you to say 'yes to the dress' at. Bridal events highlight different styles of gowns to showcase the newest seasonal collections, or even test new designs that are not even in production yet to get feedback from within the marketplace! They are usually collaborative events where you can meet with wedding vendors, network with other brides-to-be, or get a one-on-one appointment with a member of our design team to help you find your dream dress from the latest collection.
Different Types of Wedding Dress Retailer Events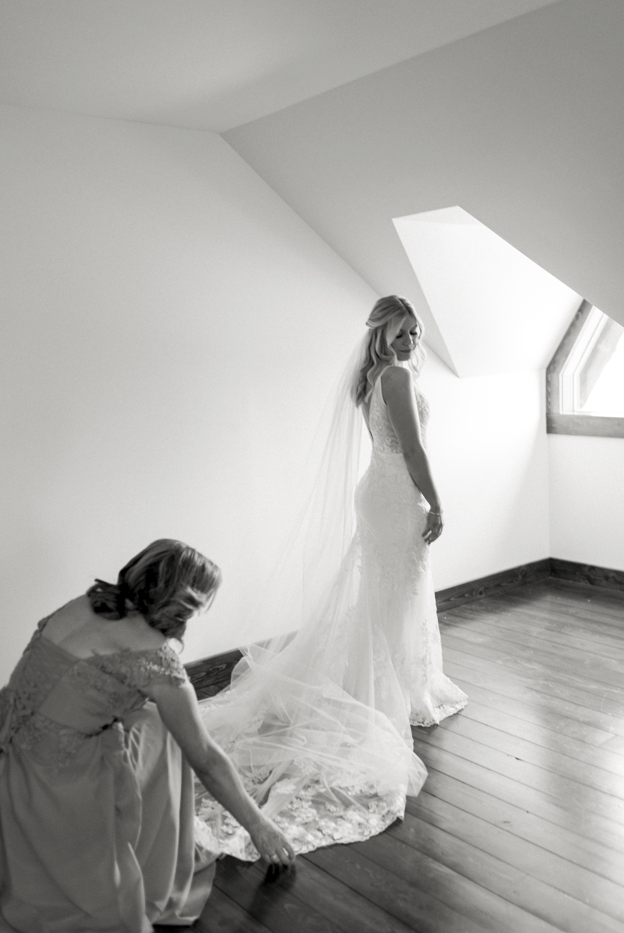 PC: Unknown
Have we piqued your interest? Let's take a look at some specific types of Maggie Sottero bridal events or wedding dress trunk shows you don't want to miss.
First Look Event
This event allows you to try on the newest styles fresh off the runway-literally! These are the first samples, often worn only by models on the runway, and are shipped straight to a retailer near you from the newest collection. Extra samples are brought into the store that aren't normally available giving you more inventory to choose from. This means you can choose your wedding dress before it is even available in stores! It's your chance to be a trendsetter in bridal fashion.
Unveiled Event
We want to hear from you! At an Unveiled Event, we bring fresh, new designs that no one has seen before to hear your feedback. These events are an essential part of the design process. Brides just like you help decide what styles make it into the upcoming collections. What makes this type of event unique? You could leave the boutique with a one-of-a-kind design that you fell in love with if it doesn't make it into collections down the line AND have the chance to work closely with our elite designers!
Curve Event
Calling all our beautiful, curvaceous brides! Want to have a curated selection of stunning gowns hand-picked just for you and your curves? This event highlights our best styles in sizes 18 and above from our expansive collection of dresses with design features that will have you feeling as fabulous as you look!
Pop Up/Store Event/Designer Weekend/Trunk Show
These events are synonymous with fun and excitement and are dedicated to showcasing best-selling gowns from any three of our labels. With additional inventory to try on in-store and the possibility of exciting extras like discounts, vendors, and more, these events are not to be missed when searching for your dream dress!
Our goal is to make dreams a reality for every Maggie Sottero bride. We believe every bride deserves to feel exceptional on their big day, whatever their style, budget, timeline, and wedding vision, and these events are a perfect way to choose the wedding dress that's perfect for you.
How to Prepare for Wedding Dress Trunk Shows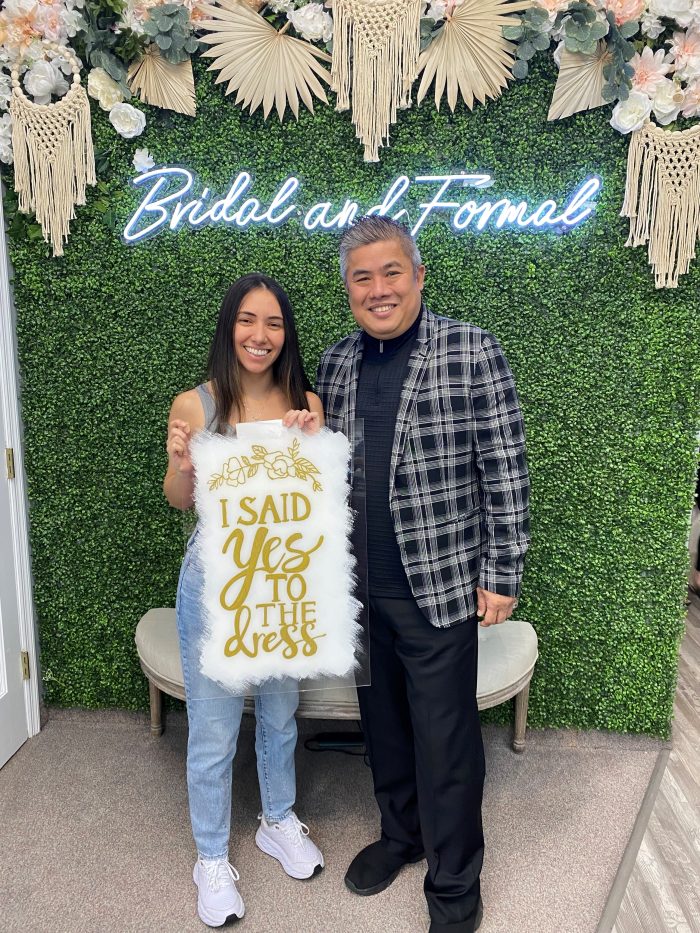 PC: Unknown
Now that you're eager to attend these events, here are some essential tips on how to prepare:
Know Your Style
We know, you might be a little overwhelmed because you've never gone wedding dress shopping and you have no idea what to expect. Lucky for you, we can help! A good first step is prior to your appointment take our Style Quiz to at least understand what type of styles fit your wedding ambiance. Whether you're looking for a glamorous ballgown to match your elegant celebration or a simple and chic wedding dress for a National Park elopement, you can find any of these types of styles at these events.
Essentials to Bring to Your Appointment
The next thing to consider is what to bring with you to your appointment. In case you need some guidance, we have provided you with a starter checklist below:
Bridal undergarments
Appropriate heels
Hair ties and clips
Water
A healthy snack
Champagne (if allowed)
Feminine products, just in case
Set a Budget
Finally, one of the most important things to remember is to set your wedding dress budget in advance. While some trunk shows may offer discounted products, it's best not to rely on this when shopping for your dream dress. Make sure to read up on how to have a successful bridal appointment before your special day to relieve some stress.
In the thrilling journey of wedding planning, finding the perfect wedding dress is undoubtedly an experience you will never forget. Trunk shows and other bridal events offer a unique and exhilarating way to discover your dream gown. From expert advice to direct interaction with designers, these events are an essential part of your bridal experience.
So, don't miss out on the excitement! Make sure to search for bridal events near you so you can make these special memories with the people you love. Your dream wedding dress is waiting to be found; these events are your ticket to bridal bliss!
BLOGS LIKE THIS: