Tips and Trends
|
October 19, 2018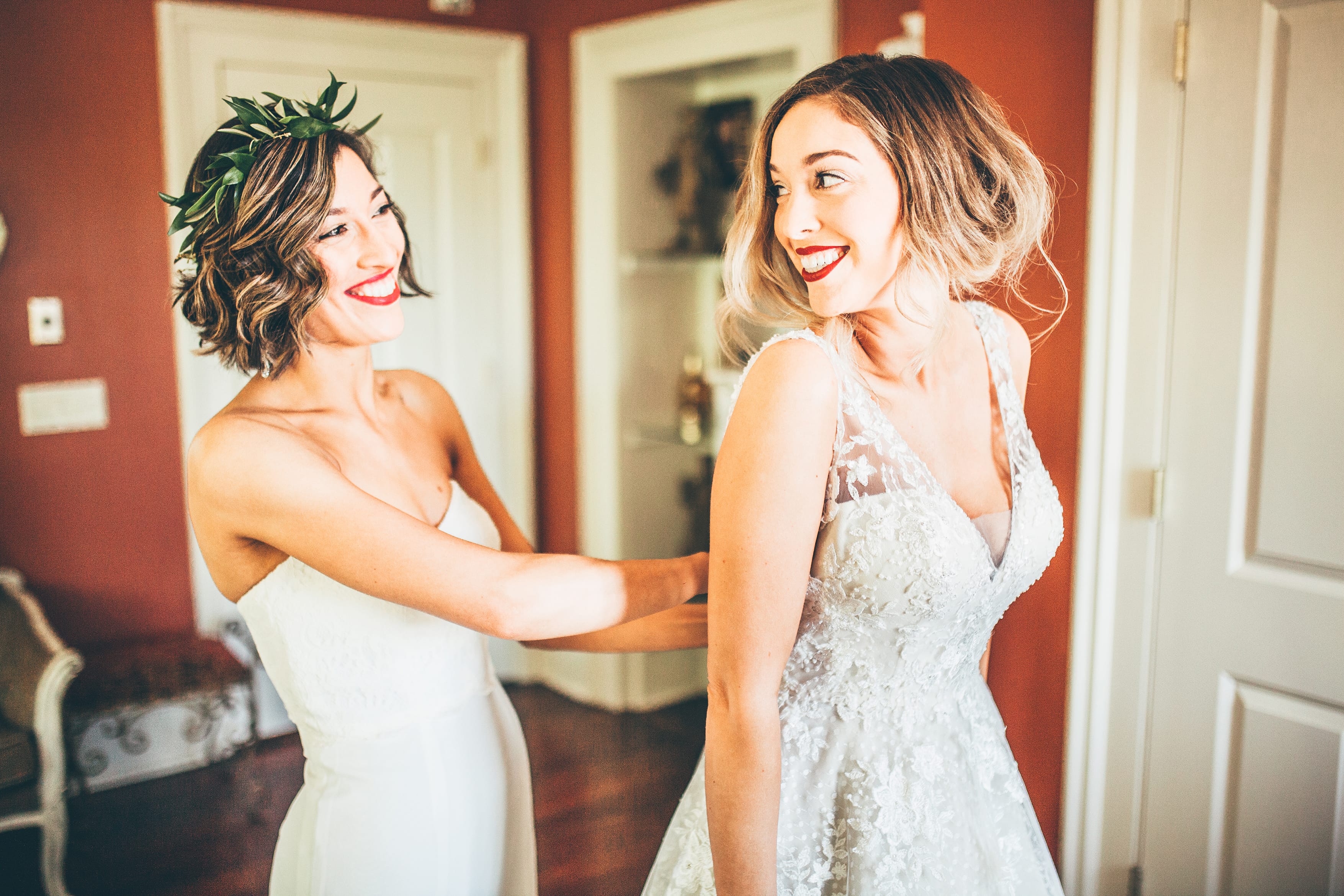 WEDDING DRESS SHOPPING: WHERE THE MAID OF HONOR FITS IN
In Western cultures, the history of the modern wedding gown can be traced back to the Middle Ages, when a bride was expected to dress in a way that represented her family and social status in good light. Brides who could afford it were draped in expensive furs and embellishments, and dresses were typically blue or multicolored. It wasn't until 1840 that Queen Victoria set the precedent for a white wedding by wearing an off-the-shoulder gown decked out in lace and florals. The trend caught on, and white and off-white dresses remain the standard of European and American weddings today.
Whatever the wedding dress style or color, one of the most exciting but stressful parts of planning a wedding for a bride-to-be is finding the perfect dress that matches her aesthetic and personality. This process can be overwhelming, but the bride can always enlist a little help from family and friends to make things easier and more meaningful.
That's where you come in.
Here are our maid of honor etiquette tips to help make dress shopping less like an ordeal and more like a joyful celebration!
Maid of Honor Etiquette Tip #1: Shop for the Wedding Dress
As the maid of honor, etiquette dictates you accompany the bride-to-be to shop for dresses, if possible, and put the finishing touches on the bride's look for her wedding day. You've known the bride for a long time and can offer the best second-opinion when it comes to her unique style and layout for her wedding.
As the maid of honor, be available to shop for wedding dresses with the bride. Be prepared for multiple trips, and treat each occasion as an opportunity to advise and streamline rather than bombard or clutter. Be sensitive to the bride and sales venues by bringing a small group of supportive family and friends; a wedding is a festive occasion and loved ones are usually thrilled to help out, but it's important to respect the time and space of everyone involved!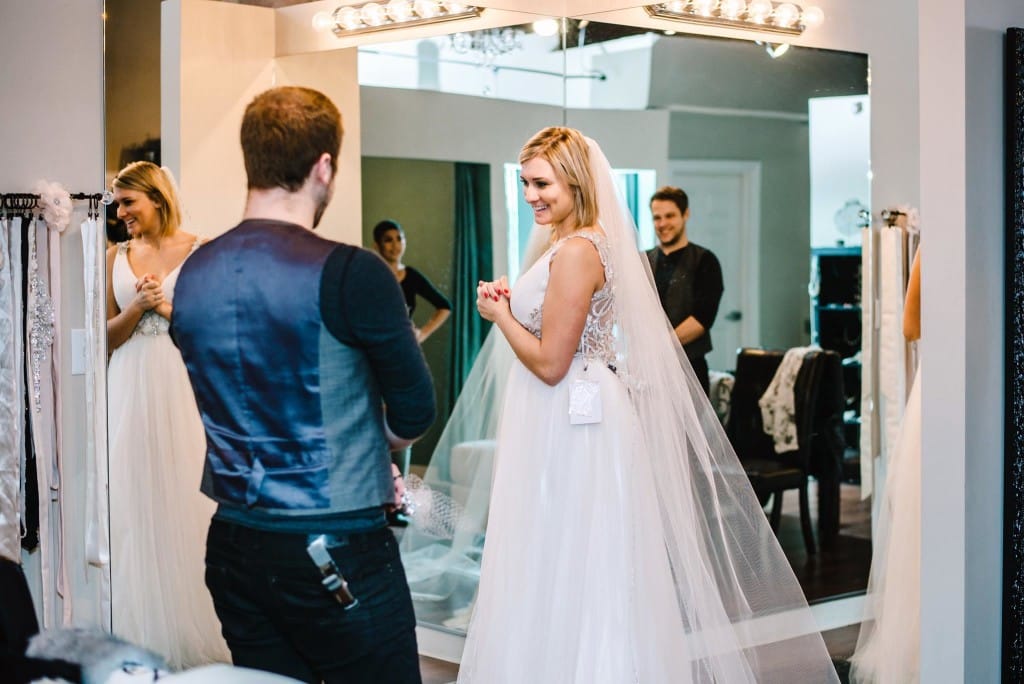 Photo via Bridal Closet
Maid of Honor Etiquette for Wedding Dress Shopping
Maid of Honor Etiquette Tip #2: Be the Wedding Dress Photographer
As long as it's alright with the store manager, taking photographs of dresses is an easy way to organize which wedding dress style the bride likes and to show options afterward to friends and family not in attendance. If you can't take photos, keep a log of brands and style numbers to refer to later that includes descriptions of each dress.
Photo Credit: Dipp Photography
Maid of Honor Etiquette Tip #3: Attend Wedding Dress Fittings
Your job isn't done once the bride finds her perfect gown! You'll attend dress fittings and help the bride coordinate her shoes and undergarments to match her personal style. The bride will rely on you as maid of honor, to give your honest feedback during fittings. Most importantly, you'll learn how to help the bride in and out of her dress amidst the bustle of her wedding day.
GIVE ADVICE
After all, this is why the bride wants you there! Do some research with the bride before going to her first dress shop so you both have a better understanding of what styles to look for. You'll see each dress from all angles; be honest about your point of view and help the bride find the dress that fits her style and personality. Encourage her to try on a variety of silhouettes to see what looks best on her unique body. She may end up falling in love with a wedding dress style she hadn't previously considered!
Maid of Honor Etiquette Tip #4: Attend Wedding Dress Fittings
ASK QUESTIONS
It's important to know how much freedom you and the bridesmaids have. The bride may select your dresses or leave it up to the bridesmaids and you. Respect the bride's vision and requests. After all, it's her day!
Photo Credit: Michael A. Marcotte Photography
You may also be involved in coordinating the bridesmaids' looks based on the bride's vision of her wedding party.
UNDERSTAND YOUR OPTIONS
Depending on the bride's parameters, you might be free to pick the dress or skirt for each bridesmaid or offer a choice of one to two colors. Maybe the bride wants her bridesmaids to choose their own dresses and simply match their accessories. Whatever options the bride gives you, keep in mind the number of bridesmaids and be sensitive to their individual budgets.
Help the bride find inspiration for colors that match her vision for her wedding and select hues that flatter the bridesmaids' skin tones. At the end of the day, you want every bridesmaid to feel confident in front of wedding guests and photographers!
ORDERING ETIQUETTE
Once you've helped the bride research options and find the perfect gown, help ensure she has plenty of time for her dress to be delivered in time for her wedding. It typically takes three to four months for a gown order to arrive, and possibly another four to six weeks for alterations. Similarly, plan on a five- to six-month cushion for bridesmaids' dresses so everyone has ample time for returns, styling, and alterations. It's best to coordinate a dress fitting for you and the other bridesmaids well in advance of the wedding.
COSTS TO CONSIDER
As a bridesmaid or maid of honor, plan on paying for your dress, shoes, and accessories unless the bride has explicitly offered otherwise. As the wedding day approaches, be sure to budget the cost for getting your hair and nails done, and don't forget the proper undergarments for the dress. Advise the bridesmaids in the wedding party that bra and underwear lines should not be visible.
All in all, the shopping experience should be fun for you and the bride! The key to making it less stressful is preparation, patience, and, most importantly, having a big smile when the bride finds her perfect dress. Best of luck and happy shopping!