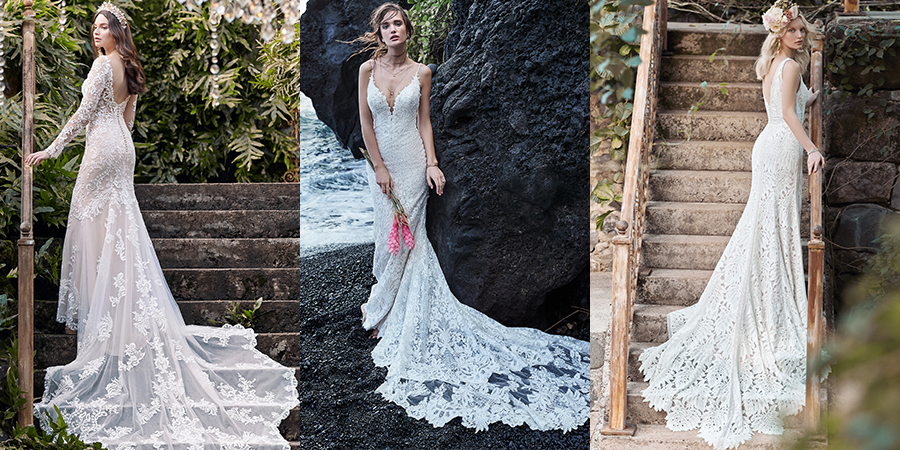 If you're aiming to feel extra glam on your big day, consider a wedding dress with a long train—a uniquely iconic and super romantic feature that takes your bridal look from elegant to truly fabulous! We've picked some of our top long train wedding dresses from our new collections to give you some major wedding inspiration. These beauties range from lace embellishments to double-illusion trim, and petal-shaped hemlines to decadent overlays. Your perfect train treatment awaits!
Floral Lace Sheath Wedding Gown with Petal Train: Burke by Maggie Sottero
There are plenty of lovely bohemian elements in our latest Maggie Sottero collection, á la this fetching palm and floral lace pattern in our long train wedding dress, Burke.
This floral lace sheath wedding dress is forest nymph meets Hollywood starlet, with a touch of boho intrigue to boot.
Lace Sheath Bridal Dress with Extended Train: Canterbury Marie by Sottero and Midgley
There's a lot to love in this textured, dimensional, and shimmery lace wedding dress, so why stop at a floor-length skirt? We say extend the lace all the way down the aisle to a petal-shaped train in double-illusion trim.
Consider Canterbury Marie for your most romantic of occasions!
Long Train Wedding Dresses with Geometric Lace: Erin Marie and Erin Lynette Marie by Maggie Sottero
The math here is pretty simple on these strapless wedding dresses. The geometric lace motifs glide ever so nicely into an extended illusion lace train.
Opt for Erin Marie for classic romance, or try Erin Lynette Marie for a tad more coverage in the neckline and back. (A gorgeous choice for curvy and/or busty brides!)
Minimalist Wedding Gown with Long Train: Anissa by Maggie Sottero
For an eye-catching and elegant train statement, nix the accouterments and focus on fabric. This slinky, shimmery, and perfectly-tailored satin is sure to dazzle your wedding party, photographer, and the most naturally stylish of wedding guests.
Try Anissa for all your minimalist needs!
Long Train Wedding Dresses in Crepe and Lace: Bracken and Bracken Lynette by Sottero and Midgley
Crepe meets shimmery lace motifs in this unique cold-shoulder wedding dress—a dazzling combo for aisle-walking, portraits, and dancing alike.
Our Bracken wedding gown features a low V-back for chic romance, and Bracken Lynette features a little more coverage and lining in the bodice and back.
Nature-inspired Sheath Wedding Dresses With Extended Train: Keenan and Keenan Lynette by Maggie Sottero
Lots of gorgeous and fascinating things are happening in this unique and nature-inspired lace, so it's only fitting you show off a long illusion train trimmed in bold lace as well.
Keenan features a deep illusion lace V-back, while Keenan Lynette offers more support with an illusion scoop back.
3-D Floral Lace Wedding Dress with Long Train: Cruz by Sottero and Midgley
If you're loving the 3-D floral lace trend, you'll be smitten with how this wedding dress's illusion train complements the butterfly-inspired motifs along the bodice and sleeves.
Add illusion bell sleeves for extra fabulousness, or keep it chic with a sleeveless bodice. Either is a breathtaking choice on Cruz for your stylish and sophisticated celebration.
Long Train Wedding Dresses with Petal-shaped Train: Giana and Giana Lynette by Maggie Sottero
Nature-inspired lace motifs adorn this relaxed fit-and-flare wedding dress, cascading into an oh-so-enchanting train in illusion and embroidery.
Both Giana and Giana Lynette showcase their long trains in sexy formfitting silhouettes, while Giana Lynette features a bit more coverage and tailoring along the neckline and back. Perfection!
Sleeved Wedding Gown with Long Train: Lydia Anne by Maggie Sottero
When it comes to the front of this elegant wedding dress, illusion sleeves and side bodice cutouts are a sight to behold. But from the back, it's the long illusion lace train that truly steals the show. You'd be hard-pressed to find a more sophisticated, flattering, and perfectly-feminine design.
(Bonus! The sleeves on Lydia Anne are removable, which makes for an easy change-up between ceremony and reception looks.)
Vintage-Inspired Sleeved Gown with Long Train: Emiliano by Maggie Sottero
Off-the-shoulder sleeves, a low-low back, and an illusion train treatment are dreamy and divine in Emiliano by Maggie Sottero.
This romantic off-the-shoulder sleeve wedding dress is a show-stopping choice for your garden venue, ballroom reception, or vintage-themed dance party.
Princess Ball Gown Wedding Dress with Whimsical Train: Xavier by Sottero and Midgley
You love romance and shimmer, and couldn't picture yourself in anything less than a princess ballgown for your happily-ever-after.
(Psst—Xavier's long wedding dress train is simply the whimsical extension of your fairy tale-inspired sensibilities!)
Simple Wedding Dress with Long Train: Anthony by Sottero and Midgley
Love a simple yet enchanting design? There are several mermaid-esque elements going on in this chic and stylish minimalist bridal gown. From the silk-like crepe fabrication, to the illusion cutout halter-back, to that luxe fishtail-inspired skirt, Anthony "wows" in every design aspect.
There you have it—the most fabulous long train wedding dresses from our latest collections! Once you've found your show-stopping wedding gown, head to our rundown of veil lengths and styles to complete your personalized wedding day look.
You'll also find more ordering options and gown variations in our post on Wedding Dress Customization and Personalization. This blog post outlines our options for sister styles, coverage variations, accessories, overskirts and trains, motif packages, matching veils, and more. Maggie Sottero's wedding dresses and accessories make it easy to create a romantic, personalized, and captivating bridal look—whatever your body type, wedding vision, and budget. Happy shopping!