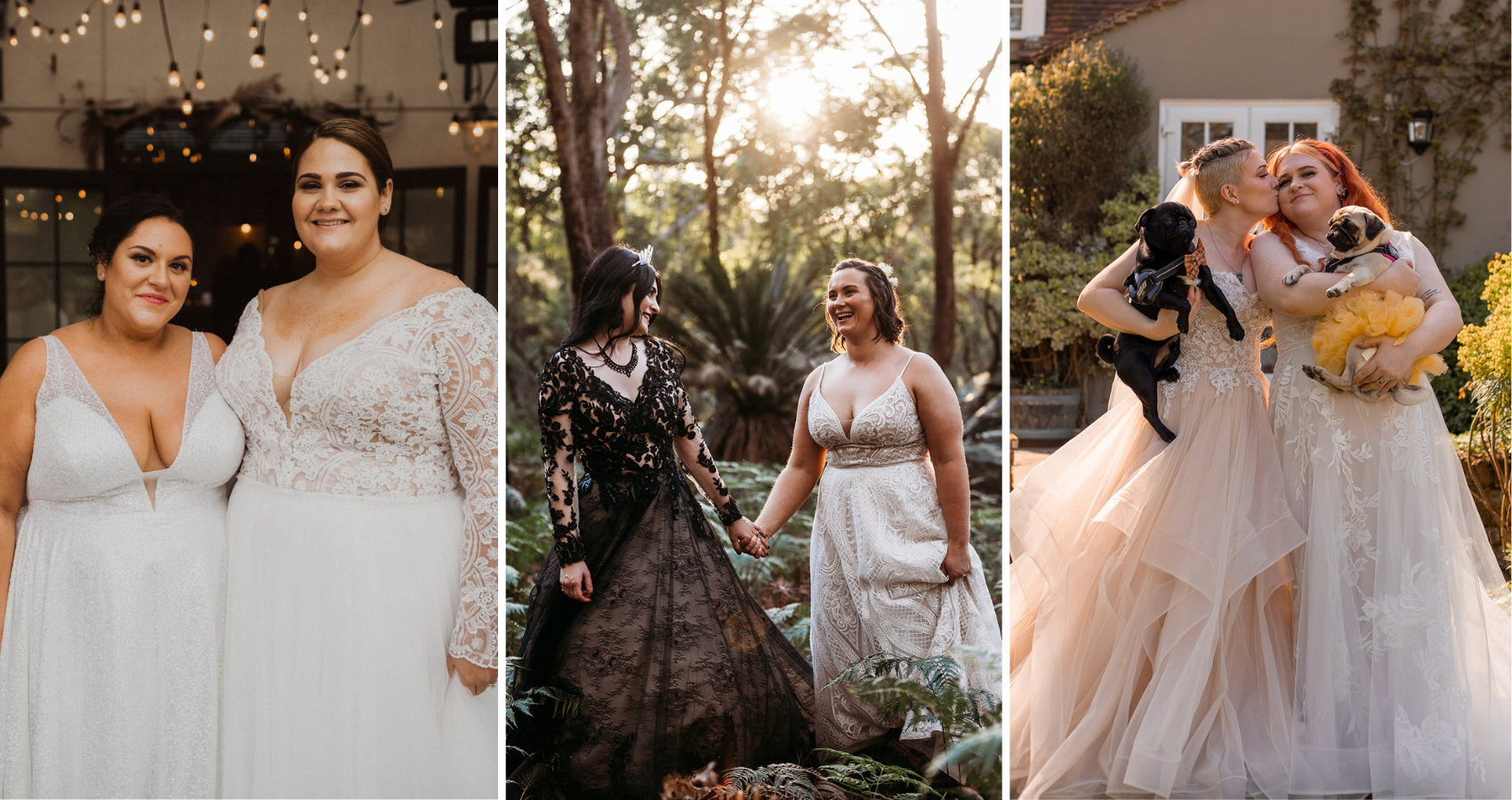 Happy pride month brides! At Maggie Sottero, we stand for love and love for ALL! We aim to promote the happiest of occasions and celebrate every beautiful love story – no matter a bride's identity, style, body type, or vision. We also strive to promote LGBT wedding vendors, friendly and owned, to celebrate the LGBTQ+ community in the bridal world!
That's why we are SO excited to share one of our real brides' love stories, and a few top-ranked LGBT wedding businesses in the bridal world. Before you get to all the LBTQ+ wedding inspo make sure to sign up for our exclusive #MaggieInspiration text messages to be in the know on all things bridal!:
What is Pride Month?
First of all, what is Pride Month? Pride is celebrated around the world in June because of the Stonewall Uprising in NYC in 1969. With dozens of laws against the LGBTQ+ community happening at the time, law enforcement took any chance they could to harass the gay community – especially at Greenwich Village's Stonewall Inn (a popular gay bar at the time).
The LGBTQ community, led by Marsha P. Johnson, a black transgender woman, fought back on June 28, 1969, by rallying together and protesting the injustices they were experiencing. After a ton of work, the first official Pride parade began in New York City a year later! After that, Pride was celebrated around the world. From rainbow flags to sparkly outfits, it has become a loved celebration over the years.
35 years later, on May 17, 2004, Marcia Kadish and Tanya McCloskey were the first legally married same-sex couple in the United States! Love really does prevail!!
Now while there are hundreds of amazing LGBTQ-owned and friendly wedding vendors out there, keep reading for a collection of some top Pride-friendly and owned businesses in bridal!
LGBT Wedding Photographers
PC: Margan Photography
One of the best ways to support the LGBTQ+ community is by supporting businesses that are allies and owned by members of the community! Your wedding photos are such an incredibly important part of your day, so make sure to use a professional who understands your journey!
PC: Alexa Nahas Photography
While these are just a few inclusive wedding photographers, there are a ton more out there. So find someone ready to capture your love story! Just take a look at our Real Bride Submissions to see some more wedding photographer inspo.
Floral Arrangements
PC: Margan Photography | PC: Natasha Shapiro Photography
Flowers are the symbols of your love story, so make sure your florist is as in love with love as you are (and are inclusive!).
The Bride Candy, owned and run by Christopher Plaza, is the first on our list of LGBTQ+-owned florists! Starting as a wedding planner, Christopher eventually transitioned to floral design and has described his style as "timeless, elegant, whimsical, and romantic." Psst… He is also a Platinum Vendor for Equally Wed Modern LGBTQ+ Weddings!
Not only is EcoWilde (ran by Emily Neumann) an inclusive florist but they are also sustainability-centered! This LGBTQ+ wedding vendor specializes in experiences that "emphasize community, collaboration, and cooperation" through the gorgeous creations they make. Along with Bride Candy, they are also a Preferred Vendor for Equally Wed Modern LGBTQ+ Weddings!
Located in the Palm Springs/Coachella Valley area, Prism Floral Design is another amazing and inclusive floral designer! According to their website, they are inspired by the members of their creative community, but particularly the "BIPOC and queer folk out there every day fighting for their right to be seen, heard, accepted, and downright LOVED for who they are!"
Psst… Make sure to read our blog all about the different meanings of flowers to better plan your bouquet!
LGBTQ+ Wedding Planning
PC: Natasha Shapiro Photography
Your wedding is the most important and intimate moment in your life, so the person planning it should "get you." Whether you are part of the LGBTQ+ community or are looking to support LGBTQ+ wedding businesses, look at some of these top-tier wedding vendors!
These amazing LGBTQ+ wedding planners are just the tip of the iceberg though! Make sure to keep an eye out for other inclusive wedding planners through your own research!
LGBTQ+ Bakeries
PC: Genesis Photography | PC: The Red M Studio
It's like what Marie Antoinette said: "Let them eat cake!" Keep reading for some LGBT wedding cake businesses that will make your day extra sweet!
Based in San Diego since 2019, Violet Cake Co. is the first on our list of LGBTQ+ friendly wedding cake designers! Not only is the owner and head baker, Malissa, an artist, but she is also a lover of all things beautiful. Her goal is to make a cake that reflects you and your love story.
Sugar Beats Bake Shop in Kansas City is another LGBT wedding vendor that strives to create beautiful wedding cakes that serve the LGBTQ+ community! Psst… This self-taught baker is certified LGBTQ+ friendly!
While cake may be delicious, it's not everyone's cup of tea! That's where Try Pie Bakery in Iowa comes in! This LGBTQ+ friendly business and social enterprise focuses on engaging young women in their futures. Not only do they make delicious desserts, but they create inclusive experiences!
LGBTQ+ Wedding Officiants
PC: Alexa Nahas Photography
Last, but certainly not least, getting married is nothing without an officiant! While there are hundreds of officiants out there ready to marry you to the love of your life, it can be a breath of fresh air to have someone who aligns with your beliefs and lifestyle!
First up is Rev. Elizabeth A. Murphy, a "queer and queer-affirming officiant." This LGBT wedding officiant aims to co-create a wedding ceremony that fits who you are, and uplifts and celebrates the values and beliefs you hold!
Second on our list is Marry You In Hawaii (perfect for our destination couples)! Not only do they offer unique styles of weddings for each couple, but they hold "warmth, respect, experience, and professionalism" to the highest degree! Psst… They also do vow renewals and are a Certified LGBTQ+ Inclusive officiant for Equally Wed Pro!
Last, but certainly not least, is The Running Reverend, Rev. Melissa Ashmore located in the Dallas/Fort Worth area in Texas. Melissa is an ordained Christian minister who happily officiates LGBTQ+ weddings as a member of the community herself! Psst… If you are a Spanish-speaking LGBT couple, you can request a Spanish-speaking colleague through her!
While we've done the research for you for some of the best LGBT wedding vendors out there, don't just take it from us! Up next is a Real LGBTQ+ Bride's Love Story and the inclusive vendors they used!
A Real Brides Love Story
PC: Chloe Richardson Photography
Introducing our lovely real brides Helena and Cerys Bump! Wearing Anastasia by Maggie Sottero (sadly discontinued, but check out Norvinia by Sottero and Midgley, Mavis by Rebecca Ingram, and Yasmin by Maggie Sottero for similar styles!), and Priscilla by Rebecca Ingram, these beautiful brides had a gorgeous ceremony full of sunflowers, love, and a puppy or two.
"In December 2017, I (Helena) noticed this girl with blue hair just standing on the stairs at college. For some reason, I just fell in love straight away despite never having met her. She was beautiful of course but it wasn't even that. It was almost like a light bulb moment. I just knew from the moment I saw her face I was going to marry her. Having previously suffered from anorexia nervosa, I was in a dark place. I knew she was the light at the end of my tunnel though. In January our mutual friend introduced us and that was the day, I met the love of my life and have never felt so comfortable and felt at peace meeting someone before. It almost felt as if every struggle and loneliness I had been feeling no longer mattered. I was finally home."
PC: Chloe Richardson Photography
"Within one week we had made it official after going on a 'romantic' date at the local Nandos. Here she discovered my hyperactive characteristics and still wanted to kiss me. She accepted all of me and not just parts of me. Adding to the cliché, within four months we had moved in together and began building our lives together. After two years of living together, we were watching 'Don't tell the bride', and with one look at each other knew this is what we both wanted for the rest of our lives. To be on the sofa together watching awful reality TV until we are old and wrinkly! The next day we went into town together to pick out our rings!"
PC: Chloe Richardson Photography
"Fast forward to a COVID pandemic and many lockdowns, our wedding day had finally arrived. The 16th of April 2022, the day we became Mrs. and Mrs. Bump. We were both wearing Maggie Sottero dresses. Mine was the Anastasia in blush and Cerys wore Pricilla by Rebecca Ingram (ivory over misty mauve). They were the most beautiful dresses and will forever hold a special place in my heart as being the dress I wore as I married my best friend. We are both quite insecure people. Growing up LGBTQ+ you often question what you are allowed to wear and how you are supposed to act in public which massively contributes to these insecurities. However, the confidence we both felt in our dresses was intense. They both accentuated our beautiful curves and allowed us to embrace our femininity. We were glowing."
We don't know about you, but Helena and Cerys' love story with each other (and their wedding gowns) brought a tear to our eye (or two!)! Make sure to take a look at their vetted LGBTQ+ wedding vendors below!:
Wedding planning is hard enough, so we're glad we could provide you a list of inclusive LGBTQ+ friendly and owned wedding vendors to help you with your special day (as well as a real bride's love story to inspire yours)! To see more LGBTQ wedding inspiration, visit this page. And don't forget to submit your wedding galleries so we can feature you on our social media! Cheers to your best day ever!
More Blogs for Inclusive Wedding Tips and Tricks:
Pride Wedding Ideas Inspired by LGBTQ Couples and Their Weddings
Celebrating Black History Month: 7 Black Owned Businesses For Brides To Support
20 Wedding Cake Ideas and Designs to Inspire Your Wedding Vision