Real Weddings
Tips and Trends
|
June 28, 2021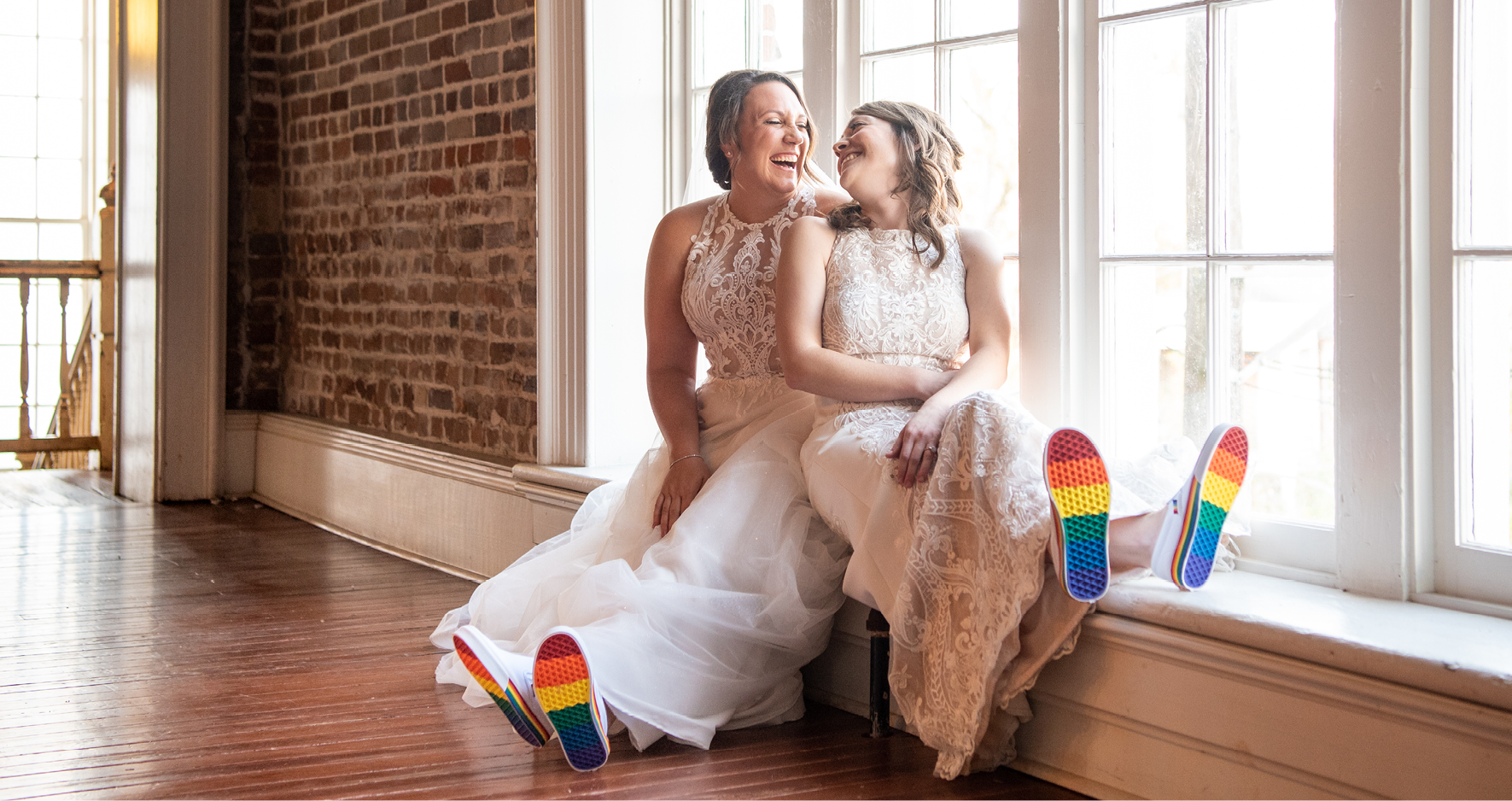 At Maggie Sottero, we stand for love and love for ALL. We promote the happiest of occasions, but we can't celebrate fully until EVERYONE has equal ground to do so. We strive to celebrate every beautiful love story, no matter a bride's identity, style, body type, or wedding vision. That's why we are SO excited to share these real brides' love stories and their LGBTQ weddings, as well as give you some pride wedding ideas for a fun and fabulous celebration! Scroll on!
Have Double Proposals
We love the double proposal trend because it's an exciting and intimate time to really surprise your partner the same way they are planning to surprise you. Plus, double proposing is an empowering way to rethink the way romance is "supposed" to look!
When real brides Kia and Annie went on a trip in 2019 to Japan, Kia had a feeling it was going to be the trip where Annie popped the question. They were going to spend a few days at Tokyo Disneyland, and since Kia loves all things Disney, so she took a wild guess that Annie would propose to her there. Not wanting to lose the race, Kia planned a surprise proposal at the top of Skytree Tower in Tokyo the day before their trip to Disneyland!
Annie (of course!) said yes but had to hide her frustrations because she had been planning to propose to Kia the next day at Disneyland, (which she did anyway!).
Keep Your Wedding Attire a Surprise
To build up excitement before your big day, consider keeping your wedding attire a secret from your S.O. This is one of our favorite pride wedding ideas because it creates a sense of suspense between you two that can make doing a first look even more fun and exciting!
PC: The Red M Studio
For their LGBTQ wedding, real brides Auburn and Taylor kept their wedding dresses a secret from one another. Even though neither one knew which dress the other had picked, they somehow still managed to pick dresses from the same designer (Maggie Sottero!).
Auburn chose Ardelle by Rebecca Ingram, an elegant and timeless halter neck wedding dress. And Taylor picked Kevyn by Sottero and Midgley, a sexy halter neck sheath wedding dress. Auburn said her favorite part of their wedding day was during their first look when it was just the two of them and she got to soak in how beautiful Taylor looked, knowing she would get to spend forever with her. How romantic!
Contrast Your Wedding Attire
Another fabulous and romantic pride wedding idea is to wear contrasting colors and/or styles for your wedding clothes. For example, these brides wore different colored wedding gowns for their unique fairytale wedding.
Annie wore Roxanne by Sottero and Midgley in ivory, and Kia wore Zander by Sottero and Midgley in black. The long trains, subtle sparkle, and intricate lace work were stand out features of both gowns. And we're loving how both dresses complemented each other perfectly while working with the overall feel of the day.
Don Matching Denim Jackets
Wanting to match your spouse-to-be for your wedding day? There are lots of fabulous, fun, and chic ideas for how to pull this pride wedding idea off, but we especially love the idea of matching denim jackets. (Extra points if they're personalized!)
PC: Natasha Shapiro Photography
Real brides Soleil and Sabrina donned their matching denim "wifey" jackets at their LGBTQ wedding after the ceremony for a cute and unique photo op. How sweet!
Wear Rainbow-Soled Wedding Shoes
An LGBTQ wedding trend that has recently gained popularity is wearing matching rainbow-soled shoes. This pride wedding idea provides a fun way to share your LGBTQ pride and identity on your special day together.
PC: The Red M Studio
We're swooning over these rainbow-soled sneakers that Auburn and Taylor wore for their wedding celebration. And we especially love how happy they look together!
Make Your Wedding Theme Match Your Relationship
Think of your wedding day as a chance to share your personalities and relationship with your guests. What are some unique things you and your partner love doing together? How would you describe the personality and feel of your relationship? Is there any special food you two enjoy together? As you are wedding planning, keep these questions in mind to determine exactly what type of vibe and feel you want for your special day.
For example, Annie and Kia went for a quirky, vintage fairytale vibe. The chairs for their ceremony were all mismatched, there were teapot flower arrangements, Persian rugs laid out for dancing, and food trucks galore to feast on. All in all, they said the whole day was absolutely perfect, especially for them.
Feature Signage About Your Love Story
Did you and your partner meet in a unique way? Is there something special about your love story? If you answered yes to either of these questions, consider sharing those fun and romantic details of your love story at your wedding!
PC: Natasha Shapiro Photography
This LGBTQ wedding idea can help guests feel included in your story and celebrate your love. Soleil and Sabrina featured this cute chalkboard sign about their epic love story at their wedding reception for guests to see and appreciate!
Wear "Love is Love" Masks and Rainbow Masks
PC: The Red M Studio
If you are having a socially-distanced wedding with masks, celebrate the notion that love always wins with "Love is Love" masks for the wedding couple!
And don't stop there! For another fun pride wedding idea, provide your guests with rainbow masks to wear throughout your ceremony and reception. We promise your wedding portraits will be super cute and colorful!
Feature a "Take a Seat, Not a Side" Wedding Sign
Be loud and proud about your love with a clever wedding ceremony sign like this one. Kia and Annie's wooden signage for their wedding said, "Take a seat, not a side. Either way it's for a bride."
There are several variations for what your signage could say, so feel free to come up with something unique to your relationship and love story!
Have a Brightly-Colored Wedding Cake with Rainbow Layers
Surprise your guests with hidden rainbow filling or layers inside your wedding cake. This is one of many pride wedding ideas that is sure to delight guests once you cut the cake!
PC: The Red M Studio
For their wedding reception, real brides Auburn and Taylor had rainbow layers added to the center of their wedding cake but didn't tell anyone about the surprise. Of course, everyone ended up loving it!
Have Matching Bridal Bouquets
If you and your partner are going to have wedding bouquets for your LGBTQ wedding celebration, choose matching or complementing florals for each arrangement.
PC: Natasha Shapiro Photography
Real brides Sabrina and Soleil chose to feature big blooms, boho accents, and greenery for their complementing bridal bouquets. And we love how their flowers went with Mallory Dawn by Maggie Sottero, a sleeved princess wedding dress that's a little sweet, a little sexy, and a whole lot of romantic!
Incorporate a Family or Cultural Tradition
Weddings are all about bringing people together. Including a family, religious, or cultural tradition into your wedding can be a great way to celebrate your identity with your spouse-to-be, friends, and family.
Annie and Kia incorporated a traditional Greek Orthodox ritual within their wedding ceremony to pay homage to Kia's Greek heritage. It was essentially a "crowning ceremony" where crowns were placed on the bridal couple's heads. The crowns were attached by a ribbon, signifying their union. The brides then took a short walk around the alter to represent their first steps together as a married couple. We absolutely love the symbolism and intimacy of this tradition!
Have a Glow Stick Send Off
Sure, sparklers are a popular way to have a send off at the end of the night, but we say make it colorful! Give yourself an epic send off with rainbow glow sticks.
PC: The Red M Studio
Real brides Taylor and Auburn had their guests wave glowsticks for their wedding send off, and it totally looked like a blast!
We hope you've enjoyed seeing these pride wedding ideas as much as we have! To see more LGBTQ wedding inspiration, visit this blog post. And don't forget to submit your wedding galleries so we can feature you on our social media! Cheers to your best day ever!
Browse Related Content:
20 DIY Wedding Ideas and Inspiration from Real Weddings
14 Super Cute Wedding Ideas for a Unique Celebration
Hispanic Wedding Traditions: Celebrating Our Real Brides for Hispanic Heritage Month