Wedding Inspo
|
June 1, 2023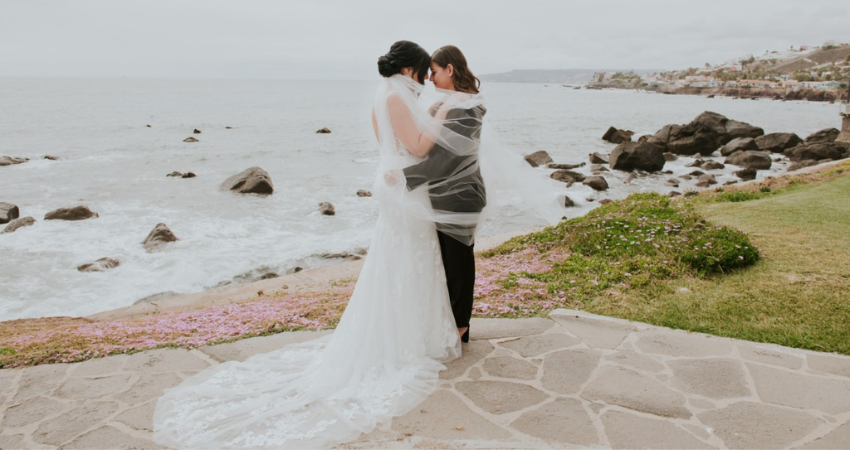 Happy Pride Month everyone! At Maggie, we love celebrating love and love for ALL and it's important to celebrate it all year round, however, we do want to bring attention to some of the world's most famous LGBTQIA+ couples and their gorgeous wedding aesthetics as we start off this month of love. From rustic chic to a last-minute Vegas elopement, we have an aesthetic for every bride who is looking to be inspired by some of their favorite stars! Keep scrolling to learn a little bit more about their love stories and aesthetics as you gear up for your wedding day.
Famous LGBTQIA+ Couples & Their Wedding Aesthetics
Melissa Etheridge and Linda Wallem: Ranch Chic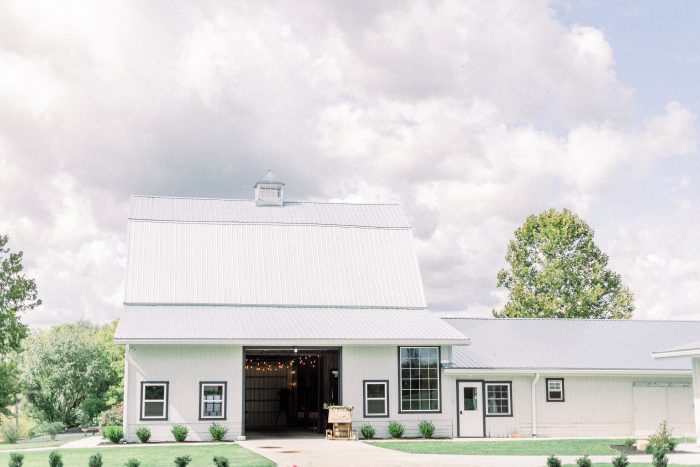 PC: Hayley Moore Photography
Starting off this amazing list is none other than singer-songwriter Melissa Etheridge and actress, writer, and producer, Linda Wallem!
After coming out in 1993, Etheridge has always been an advocate for LGBTQA+ rights. Not only did she win a GLAAD Award in 2006 and has only spoken out in favor of the LGBTQA+ community, but she also formed the coalition of Uprising of Love – an organization that supports LGBTQA+ activists in Russia.
After meeting in the early 2000s, Melissa and Linda had a classic friends-to-lovers romance before getting engaged and married in 2014 in San Ysidro Ranch in Montecito, California. The gorgeous couple said their vows surrounded by red and purple florals and ended the night with Melissa serenading her new wife! While you and your partner have your own love story to lead, you can find plenty of inspo in this rustic chic wedding!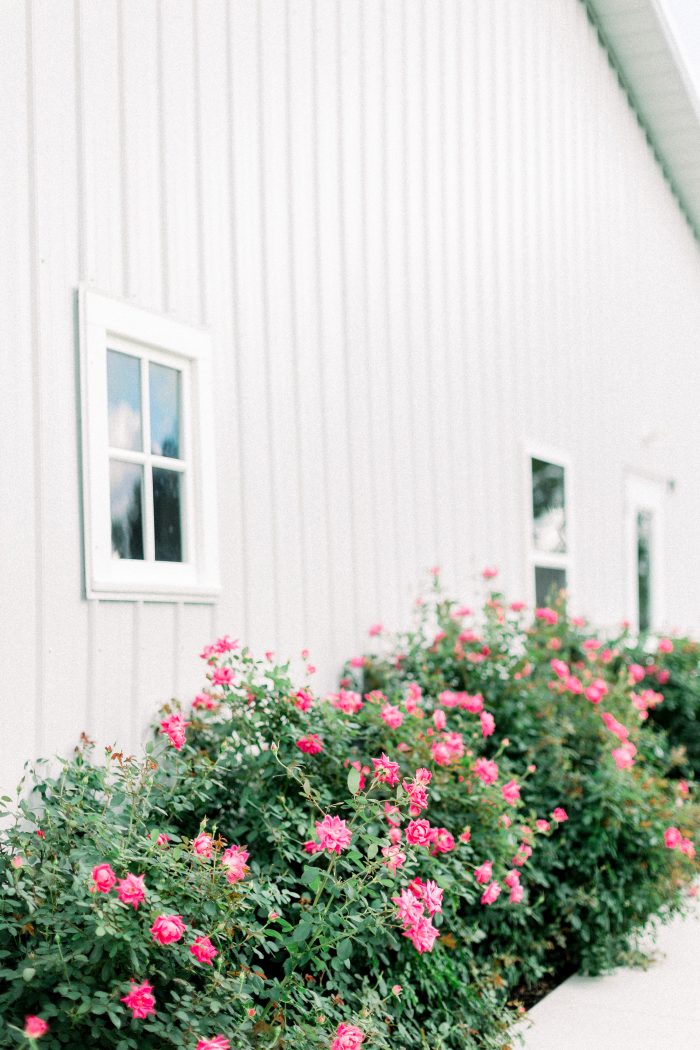 PC: Hayley Moore Photography
To have the ranch wedding of your dreams consider having the following details for your big day:
Surround your venue with gorgeous in-season wildflowers in every color under the rainbow (make them rose and violet if you really want to stick with Etheridge's vision).
Host your wedding outdoors in a garden, ranch, or greenhouse venue with tons of boho rustic influences in your décor. Think earthy elements like eucalyptus, fairy lights, and natural linens.
Include many personal touches throughout your wedding like writing your own vows, having childhood photos scattered throughout your reception area, marking your tables as the important places in you and your partner's journeys, and dancing to a meaningful song between the two of you for your first dance.
If you're looking for a wedding dress to match this aesthetic (or Linda Wallems gorgeous floral gown!), take a look at these bridal options!: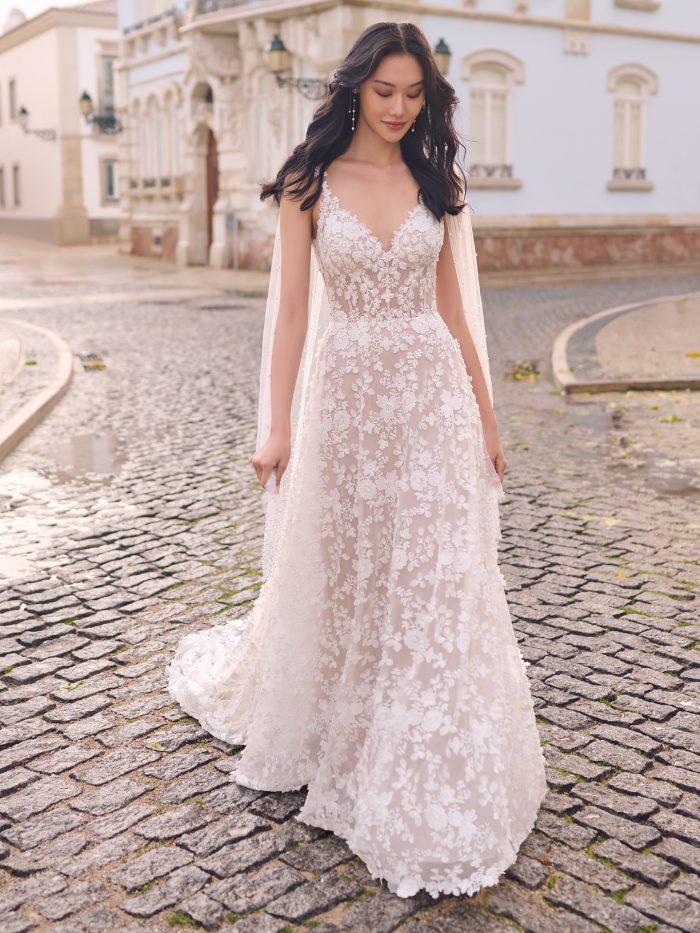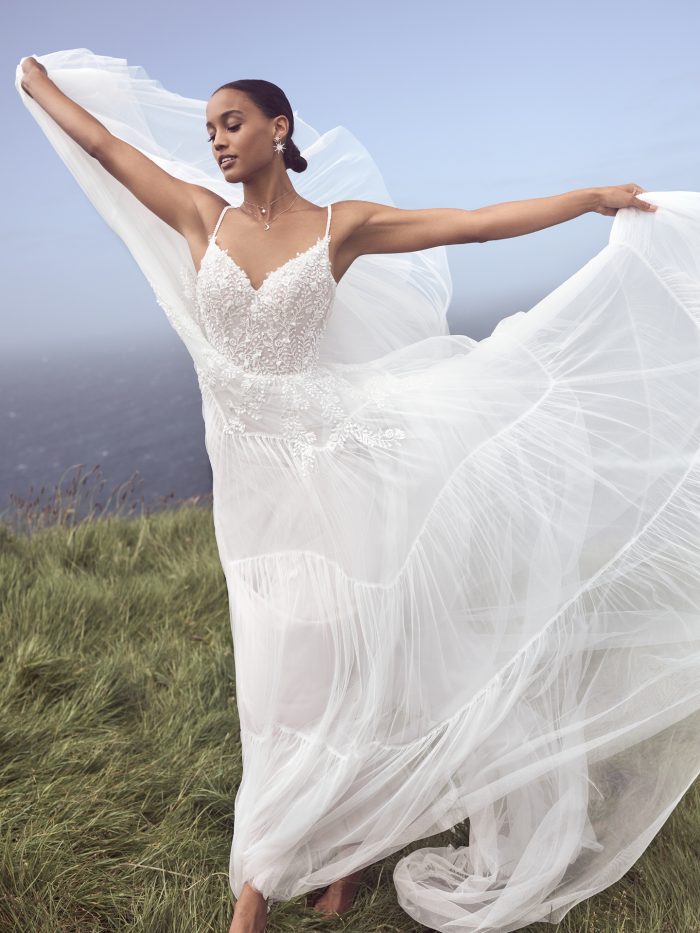 Ladonna by Maggie Sottero: Nothing says rustic chic like a 3D floral A-line wedding dress. With a classic V-neck, low back, and illusion bodice with exposed boning you'll blow your guests away with your romantic style! Perfect for the boho garden wedding of your dreams.
Harlem by Maggie Sottero: If you're looking to channel more of your royal side for your wedding, look no further than Harlem. This off-the-shoulder ballgown features an illusion lace bodice with exposed boning, a classic sweetheart neckline, and full skirt that will perfectly sway as you glide down the aisle.
Harriet by Rebecca Ingram: Nothing quite says bohemian romance like a Rebecca Ingram gown! Harriet is a stunning choice for a bride who wants a little bit of glam with her bohemian wedding. With 3D beaded floral appliques and a tiered tulle skirt, you'll wear the romance right on your skirt for your wedding day!
Psst… If you'd like to see more of our floral wedding dresses, make sure to read our blog to see more gowns and their matching accessories!
Keep reading to see more aesthetics and learn about more LGBTQIA+ couple's love stories!
Samira Wiley & Lauren Morelli: Unique Summer Soirée
If you're looking for more of a designer event over an intimate bohemian celebration, take inspiration from power duo Samira Wiley and Lauren Morelli!
After meeting on the set of Orange is the New Black and supporting each other as they navigated their identities, they fell in love and got married in 2017 in a chic celebration full of color and tropical touches!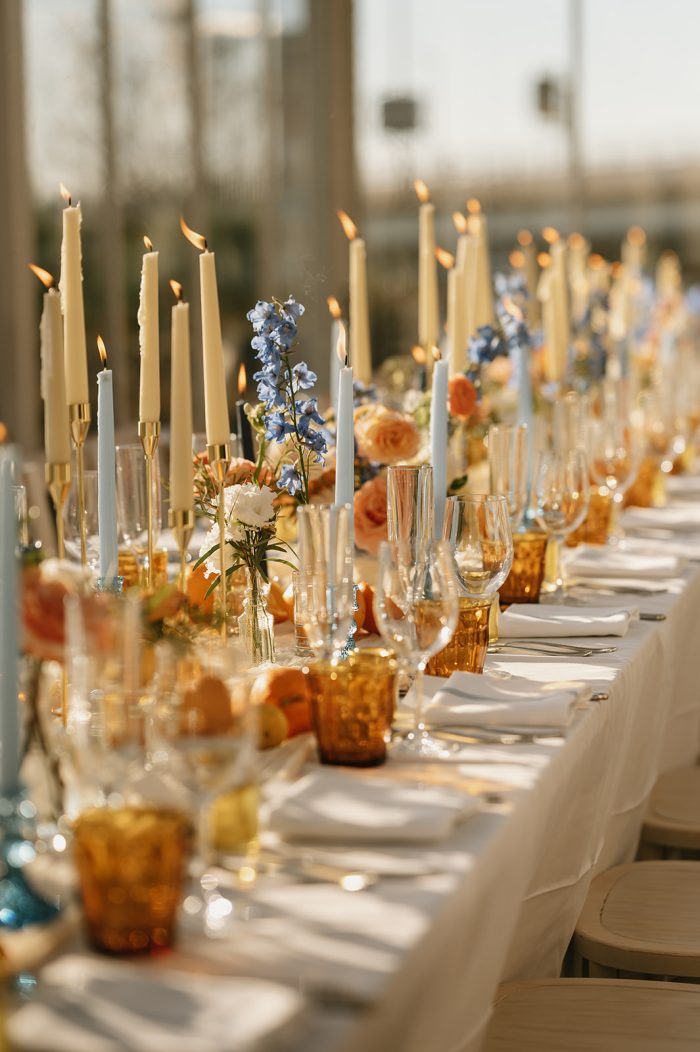 Samira and Lauren's wedding combined modern elegance with an eclectic use of color. From their Save the Dates full of rainbow confetti, to the colorful parasols that their guests used, to the mismatched colorful glassware, pops of color were found all around the wedding! However, as colorful as their wedding was, they also had touches of elegance that tied the event together. If you're looking to have a similar vibe to your wedding, consider the following ideas:
Thrift your glassware to have a mismatched, vintage feel to your wedding.
Decorate your table with simple plates and silverware and then use colorful floral centerpieces to draw the eye in.
At Samira and Lauren's wedding there was a whopping 13 pounds of confetti and we absolutely love how that'll translate to your photos! Whether you're looking for a rainbow color palette or something a little bit more on the neutral side it'll be a hit amongst your guests.
Make your wedding a CELEBRATION, not just a gathering. Have lots of music of fun music throughout the night that reflects you and your partner's taste, from walking down the aisle to shaking your booties on the dance floor.
Consider hosting your wedding in a Spanish-influenced venue with lots of gorgeous mosaics, use of citrus, and chic details.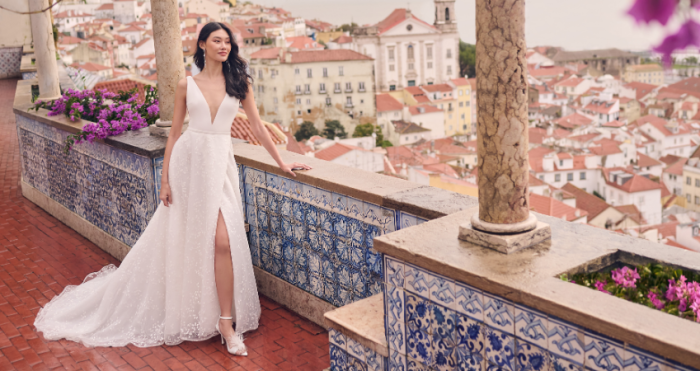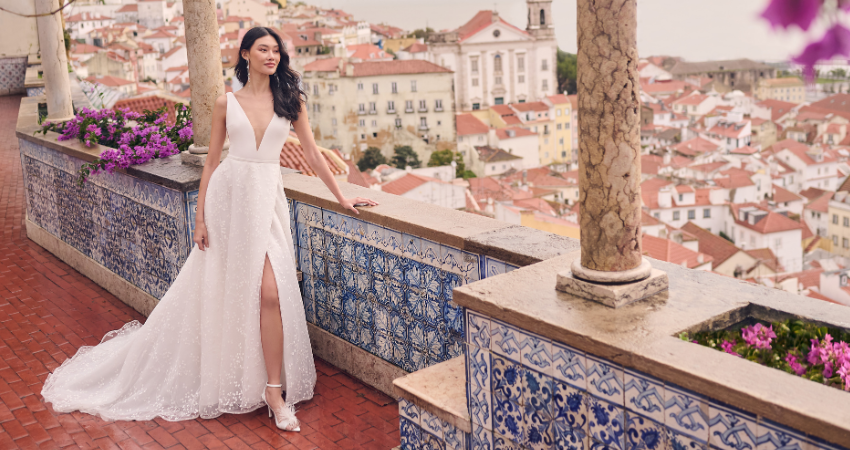 When it comes to your bridal look, consider something elegant with a twist to match your unique aesthetic. Our first choice is Brannagh by Maggie Sottero. This chic wedding dress is all about combining elegant styles with unique and fun details. With a crepe V-neck bodice with vintage-inspired buttons, you'll get the modern, elegant look you crave but when it comes to the skirt you get something a little bit more unique. Featuring a small floral overlace and a thigh-high slit you get the best of both worlds in this dreamy gown!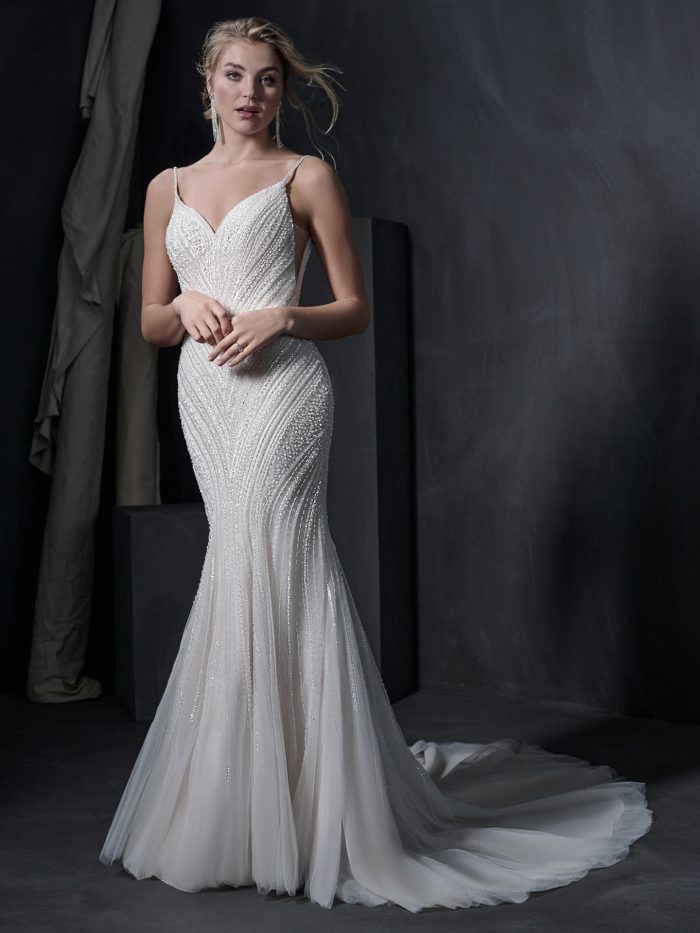 Another gown option is Boston by Sottero and Midgley. This wedding dress screams old Hollywood-glamour with its all-over beading and fit-and-flare silhouette and is the perfect choice for a bride who wants to make an elegant and unique statement at your wedding.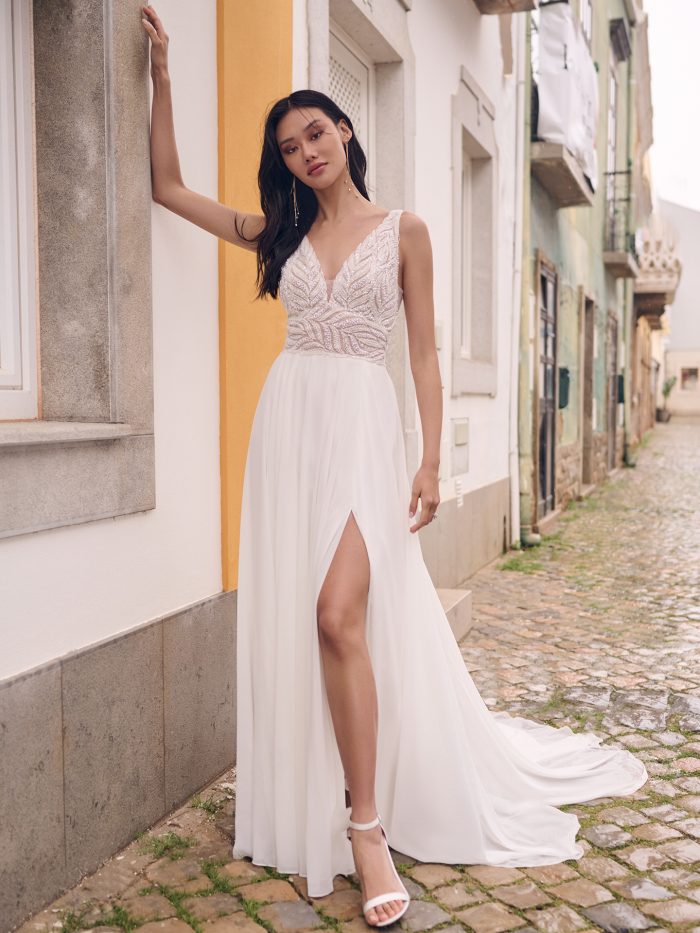 Our third option is another beaded wedding gown with a twist. Say "hello" to Maurelle by Maggie Sottero! This romantic chiffon gown features an all-over beaded bodice with a low V-neck, and a flowy skirt with a to-die-for side slit. Elegant, comfortable, and perfect to match those pops of color you love!
Terrina Chrishell and G-Flip: Fun-Loving Elopement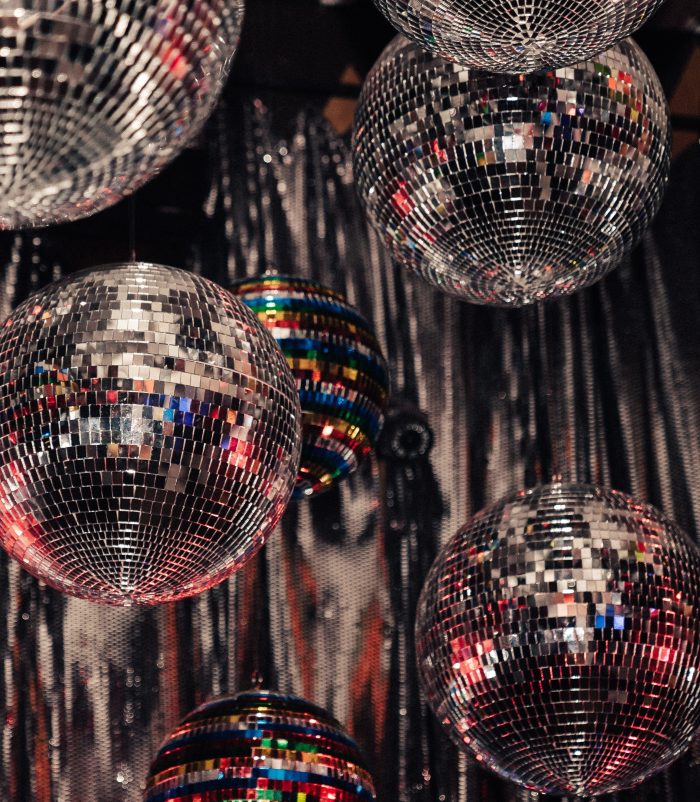 PC: will Greer | Matthew LeJune
If you're a more spur-of-the-moment couple who wants a fun-loving, casual wedding then take a look at Terrina Chrishell and G-Flips Las Vegas elopement! The couple tied the knot after almost three years of dating in a non-traditional, Las Vegas elopement! Las Vegas weddings are all about embracing cheesiness and Terrina and G-Flip's was no different!
With non-traditional wedding attire, a red velvet carpet, and even an Elvis impersonator, Terrina and G-Flip tied the knot in May of 2023 and later got their wedding vows tattooed! This aesthetic is easy, fun, and full of love. AKA, the perfect aesthetic for casual couples looking to get married!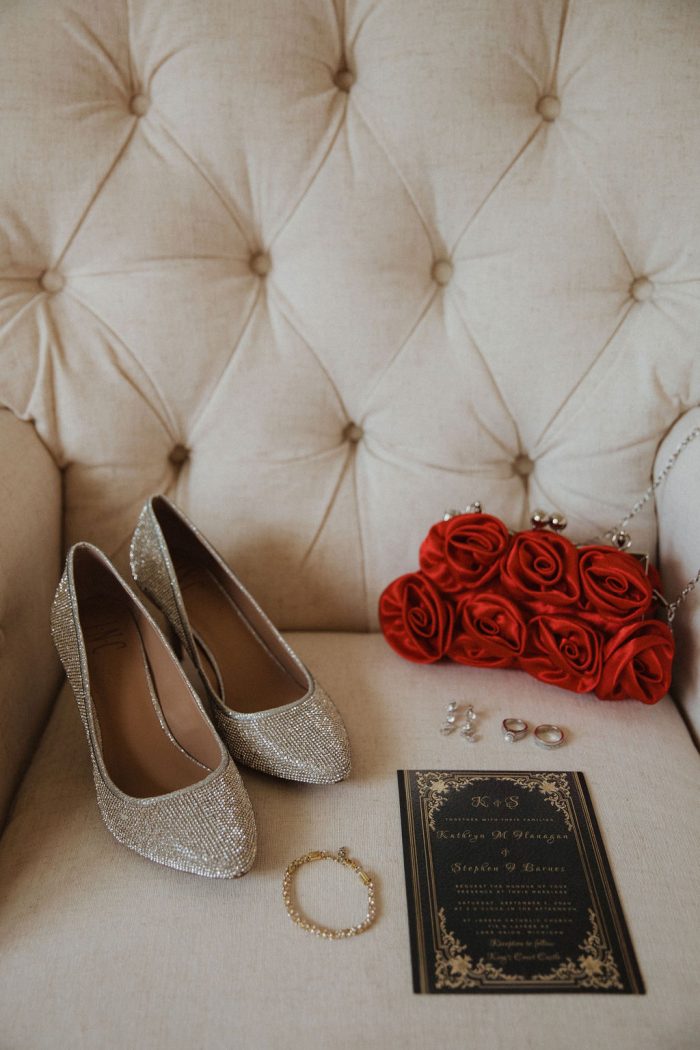 Our first suggestion is simple: lean into the cheesiness! Decorate your venue with white and red roses with plenty of baby's breath, disco balls, cheesy love songs, a champagne tower, a vintage-inspired cake, and a velvet red carpet as you walk down the aisle. Along with the cheesy vibes this wedding day gives us (in the best way of course), is how casual and fun the aesthetic is.
To make your wedding day casual and fun, consider having a smaller guest list, a food truck for your reception, and a photo booth for guests to lean into the fun and ease.
For gown suggestions, think about the following wedding dress ideas: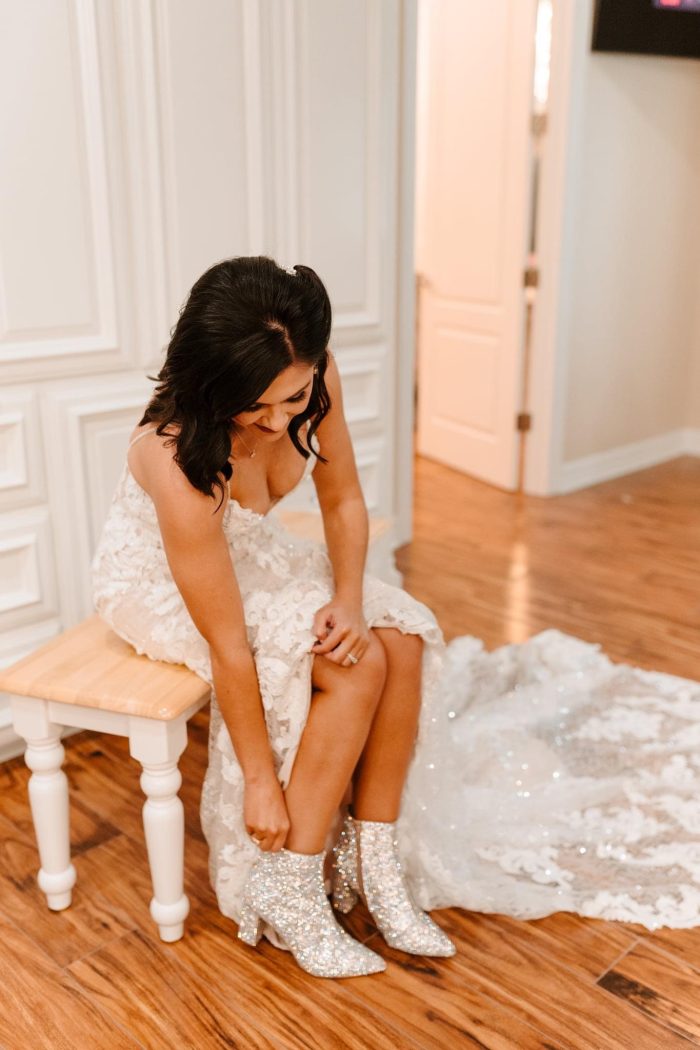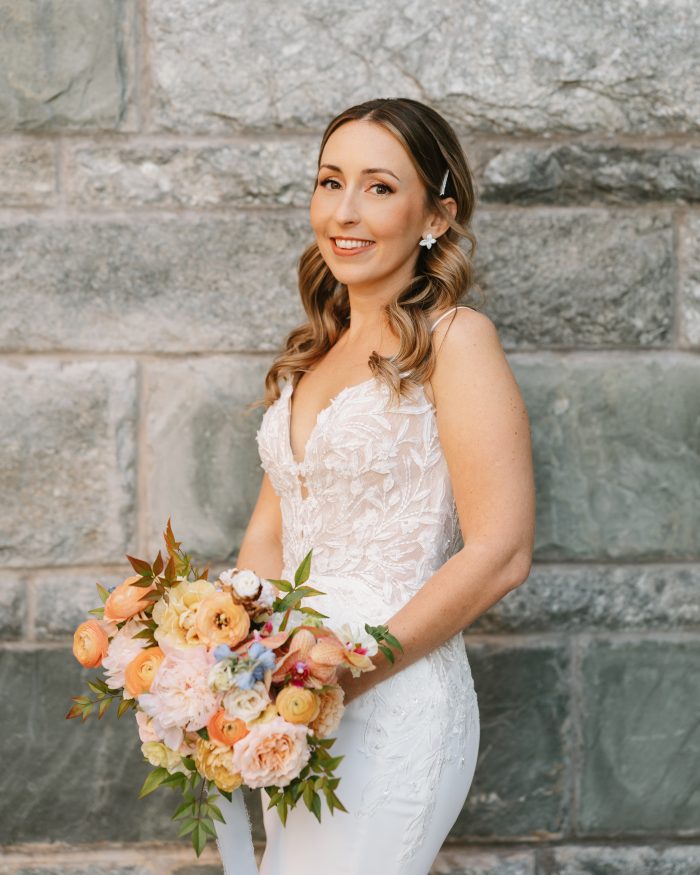 Tuscany Royale by Maggie Sottero: This gown is romance with a twist. With head-to-toe lace and a plunging sweetheart neckline, it's everything a traditional wedding dress should be! However, when you consider its illusion bodice you get a sexy surprise!
Alda by Rebecca Ingram: Alda by Rebecca Ingram is all about sexy and fun details from its casual crepe skirt to its illusion lace bodice. Psst… This gown is one of our exclusive Quick Ship wedding dresses which means it'll be available in a faster-than-normal timeline! Perfect for couples looking to elope.
Topaz by Sottero and Midgley: Nothing says Vegas like a fully beaded sexy gown! We can picture this gown perfectly on the strip, and we urge you to consider some sparkly gloves to go with it!
Ashlyn Harris and Ali Krieger: Modern Villa Romance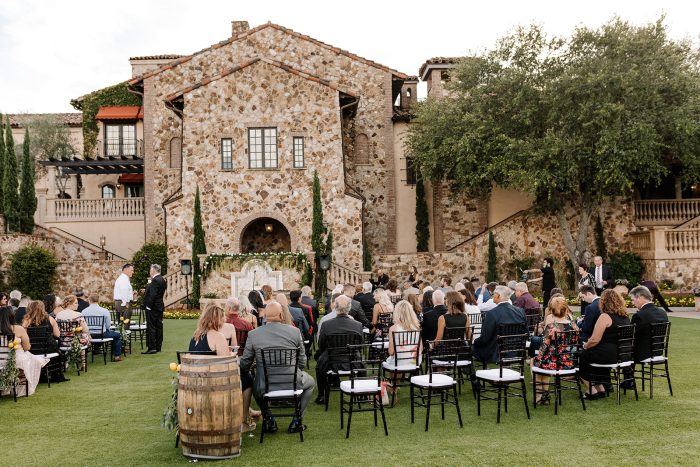 PC: Jessica Jones
Classic, unique, and expressive are three words that we would use when describing soccer stars, Ashlyn Harris and Ali Krieger's, nuptials. Held in the Vizcaya Museum and Gardens in Miami, Florida, the LGBTQA+ couple didn't only want to get married at this gorgeous venue, but to also express themselves fully and align themselves with brands that spoke to their love stories, community, and selves. And after almost 10 years of dating, the USWNT players got to do just that!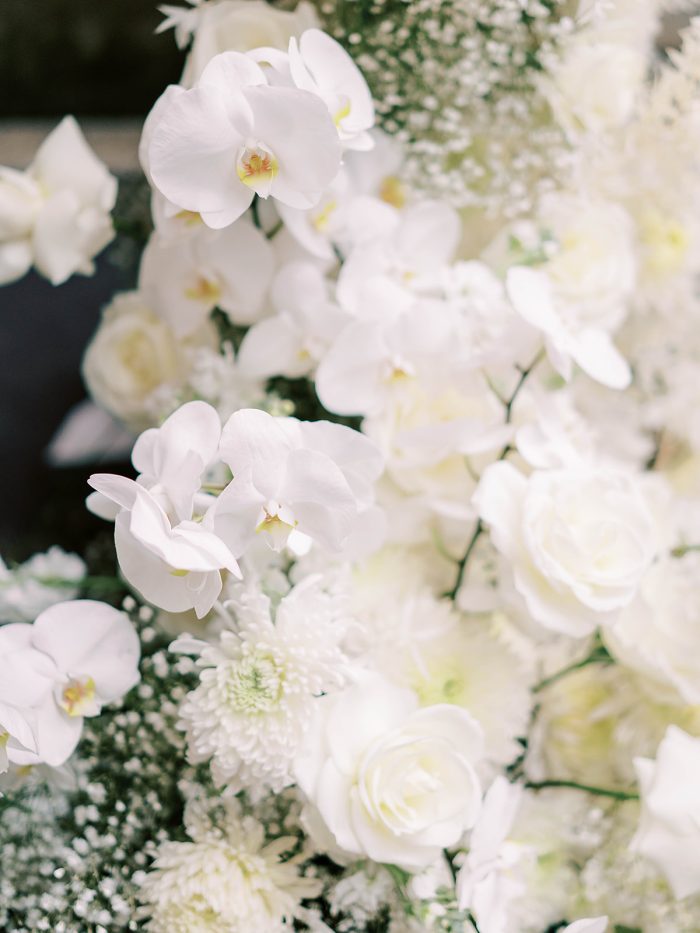 PC: Elizabeth Austin
Ashlyn and Ali have done a ton to represent and speak for their community – from speaking out for trans youths' rights, advocating for mental health care, and playing a major part in the battle for equal pay. When it came to planning their wedding, they had the same levels of thoughtfulness.
If you're gathering some inspo for your wedding, first and foremost, make sure this wedding 100% feels like you and your partner. From their modern white orchids throughout the venue, to the LGBTQIA+ icons-inspired table seating, this wedding was 100% them! For your inspo, think about incorporating these elements into your wedding:
Mediterranean influences from the venue location, to the flowers, to the food, and to the cocktails!
Thoughtful research into your vendors that goes past simply comparing prices. Look into their sustainability practices, how they give back to their community, and how they will fit into your wedding day aesthetic.
Consider having a second look for your wedding! Both Ashlyn and Ali changed out of their ceremony outfits into a second look for their reception.
Make your reception a party! Hire a top-notch DJ with a spectacular light show who is ready to get your guests movin' and groovin'.
When it comes to bridal gowns that match this LGBTQIA+ couples aesthetic, here are a few options for you to choose from: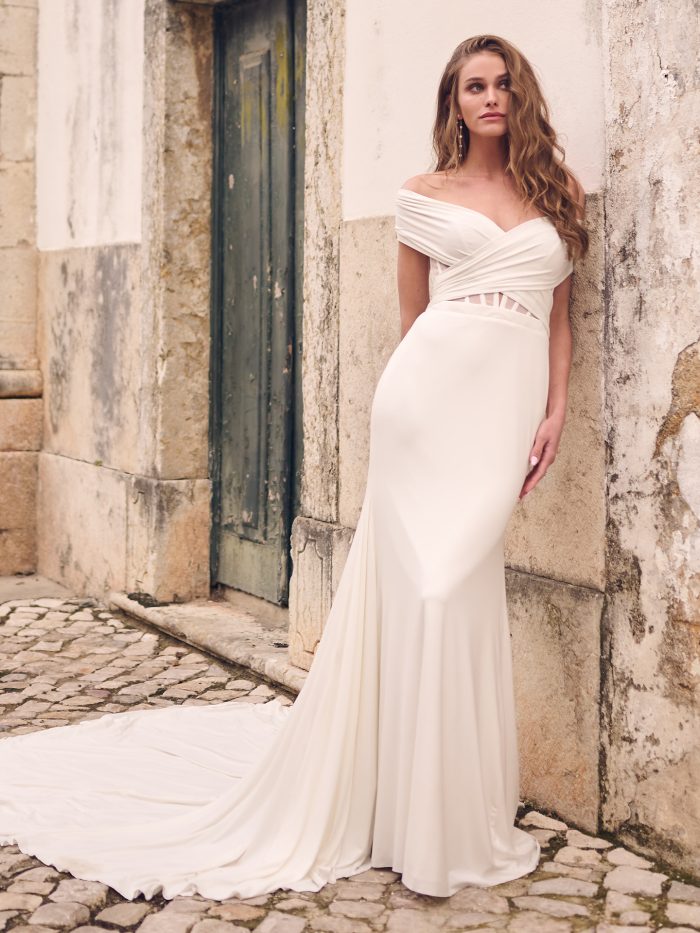 Bodie by Maggie Sottero: Is there anything better than luxury crepe and an exposed bodice to match a modern and elegant wedding aesthetic? How about a wedding dress that functions as a 2-in-1 look? With gorgeous draping that can make your look anywhere from a strapless wedding dress with a bow, to an off-the-shoulder gown with a long train, you're in for a treat with this unique wedding gown!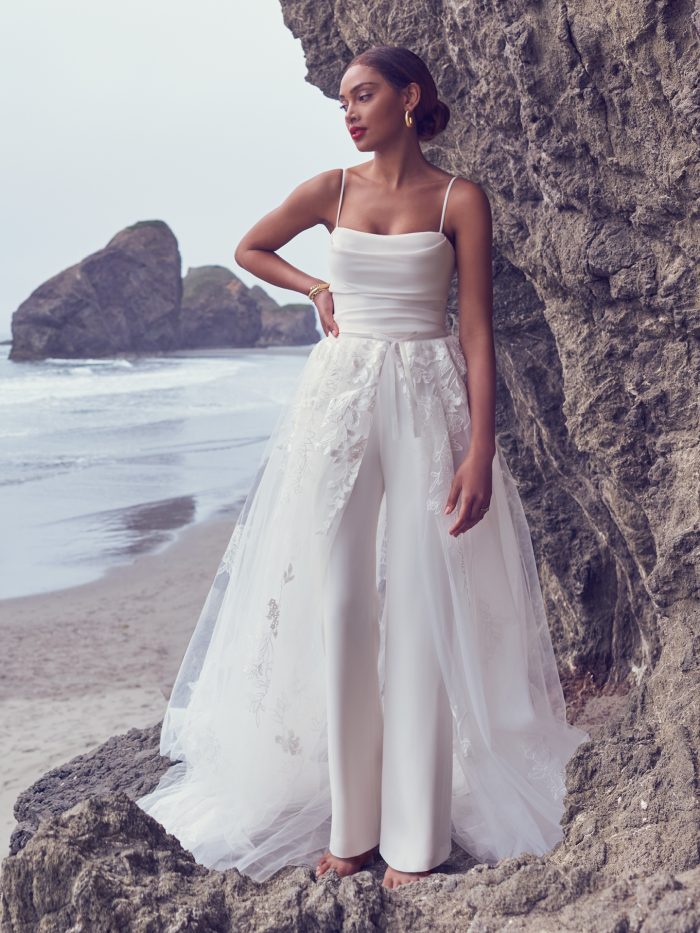 Gibson by Sottero and Midgley: Ashlyn and Ali's wedding looks were all about fluidity and self-expression. If you're looking to have the same vibe for your bridal look, consider wearing a chic jumpsuit over a bridal gown for your wedding look! Psst… if you'd still love a bit of feminine flair within your look, pair it with one of our many gorgeous overskirts that you can wear down the aisle and take off at the reception.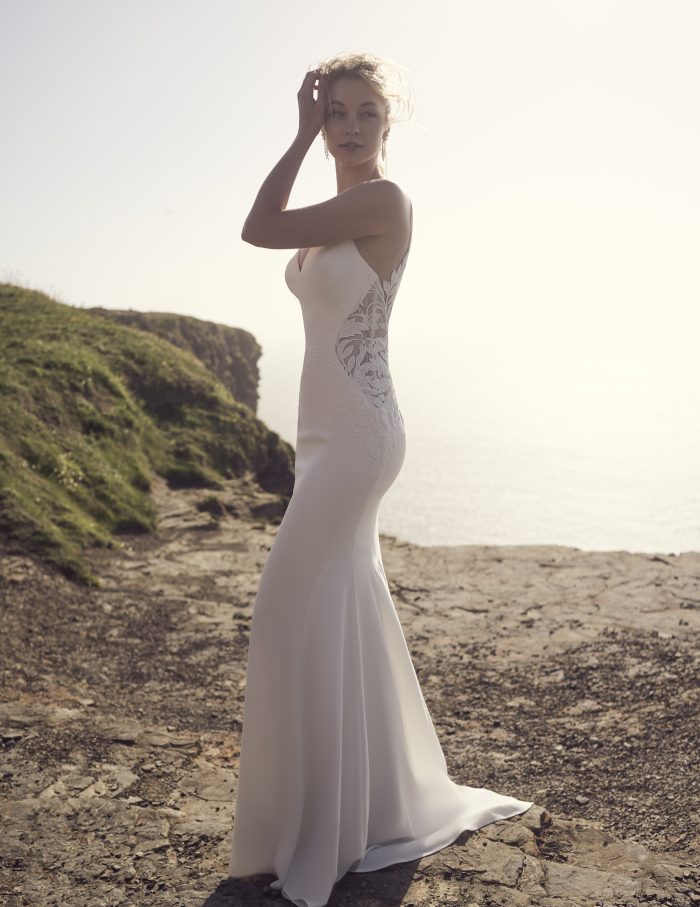 Dionne by Rebecca Ingram: Sexy, elegant, and modern are three of the many words we would use to describe this fit-and-flare wedding dress. With sexy floral cutouts and a daring back, this wedding gown is begging to be worn to the modern celebration of your dreams!
Billy Porter and Adam Smith: Glamorous City Celebration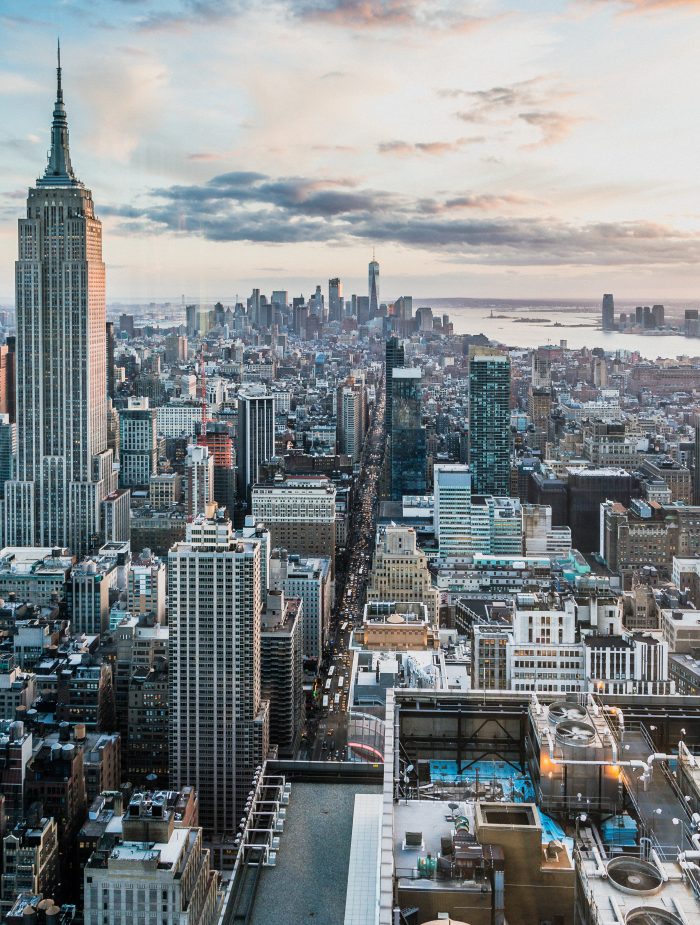 PC: Sam Trotman | PC: Amand Owen Photography
We couldn't feature a list of LGBTQIA+ couples and their aesthetics without talking about the glamorous Billy Porter and his husband Adam Smith! The two men got married in 2017 in a last-minute, but glamorous, affair under the Obama administration and decorated their intimate wedding in chic white florals, tall candlesticks, and tied it together with an elegant white and black cake with bowties and vintage his and his cake toppers.
Though it was an intimate penthouse wedding with performances from each of the grooms, nothing will be less than dazzling and glamourous when it involves the Essence cover star. If you're looking for a glamorous city wedding we suggest taking inspiration from the Billy and Adam.
Find a venue with stunning city views and have your guests come in a black and white color palette, or simply in black tie formal wear! For the décor, less is more. Decorate your wedding venue with simple, but elegant, white florals with pops of greenery and utilize elegant linens and a chandelier or two.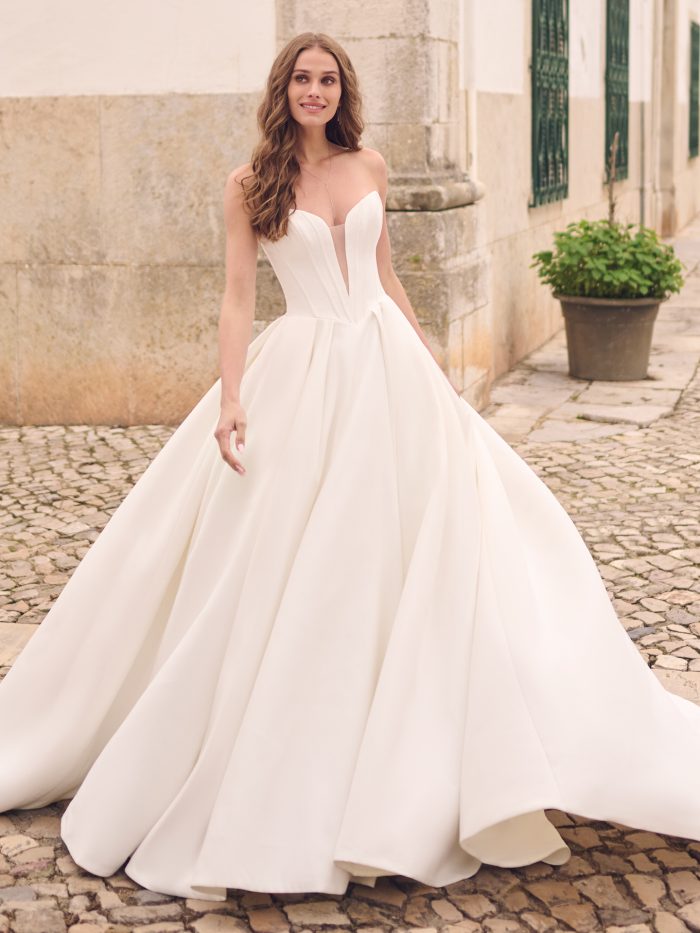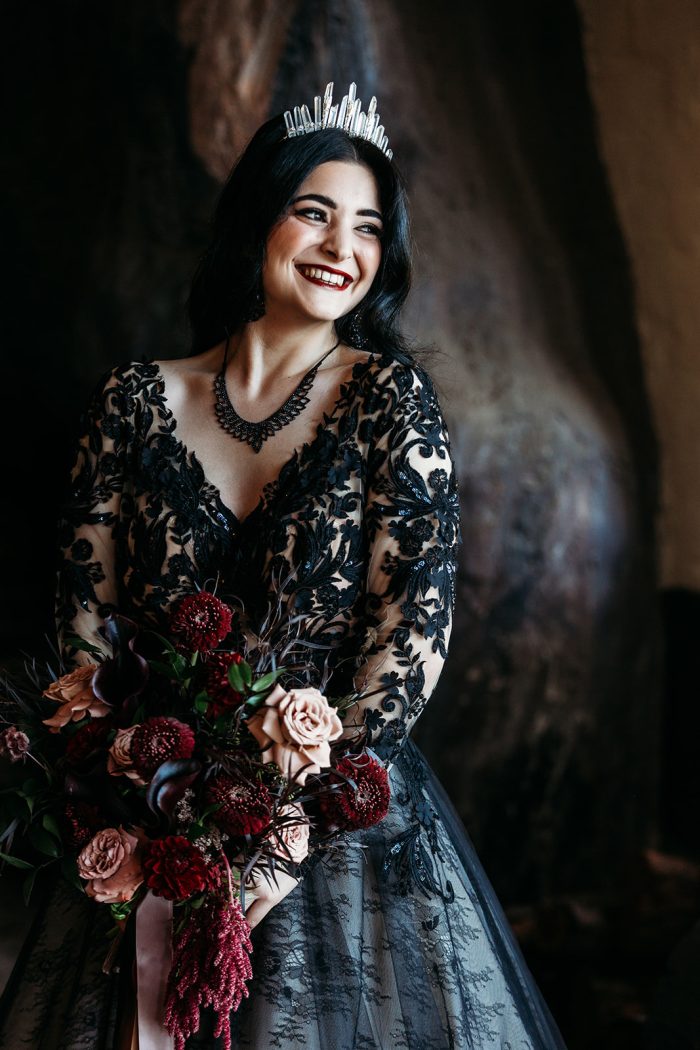 PC: Margan Photography
For weddings gowns that go splendidly with this aesthetic, turn to the satins and luxury laces. Our picks? Derrick by Maggie Sottero, Zander by Sottero and Midgley, and Clover by Rebecca Ingram . Between the three of these gorgeous wedding dresses there is glamorous thigh-high slits, elegant and unique colorways, and state of the art ruching!
While all of these famous LGBTQIA+ couples give some amazing inspo for all your upcoming weddings, we want to call our one a little closer to home! Say hello to Anabel and Michelle, and their sunny and tropical wedding aesthetic!
Anabel and Michelle: A Real LGBTQIA+ Couples Love Story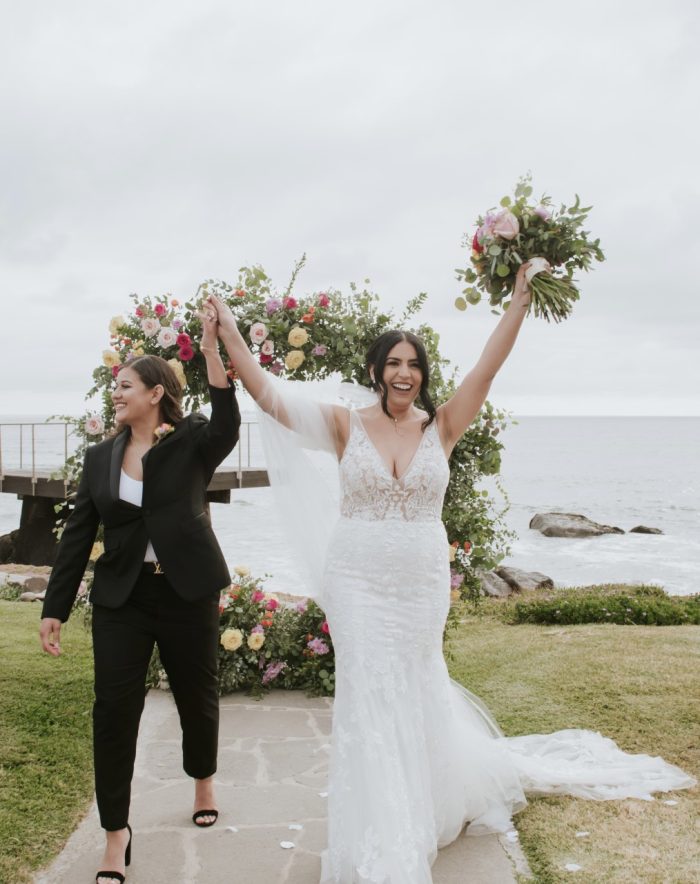 Meet Anabel and Michelle! After meeting on a girls night out, these two lovebirds tied the knot with a backdrop of the sea, fresh florals all around, and their family and friends around them. Keep reading to hear about their love story and aesthetic choices from them with an exclusive interview!
What is your proposal story?
Michelle proposed to me at her surprise 30th birthday party! Little did I know she already knew about the surprise and she took advantage of the opportunity of already having all our close friends and family there! She walked in with a mariachi band and a beautiful bouquet of red roses and popped the question.
How did you choose your wedding dress and what were the most important aspects when selecting it?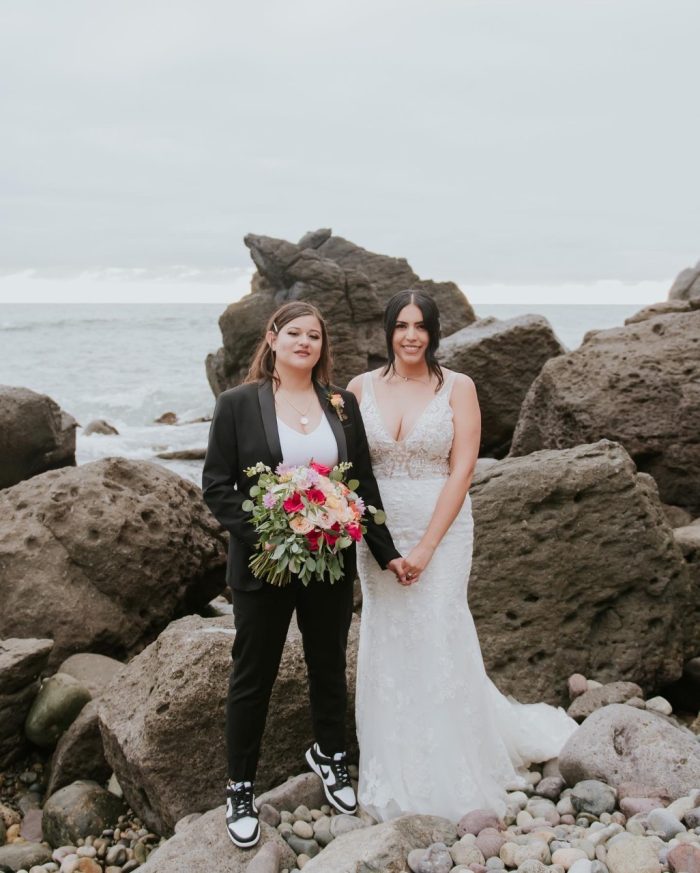 I saw my dress on Pinterest and called every bridal store in Las Vegas who carried Maggie Sottero to see if they had it. I went into the only store who carried it in Las Vegas and as soon as I tried it on, I knew it was the one. The most important aspect when selecting it was for it to be comfortable to wear all night! I also wanted it to have straps and a semi low back.
What Maggie gown did you end up saying yes to and why? What were your favorite details of the gown?
I ended up saying yes to Greenley by Maggie Sottero because it checked marked all my boxes! In my opinion, it was the perfect dress for a spring beach wedding. My favorite details of the dress were semi low cut back, the beautiful floral lace throughout the dress and the unlined bodice little button details on the back!
What was your favorite part of your wedding day, and why?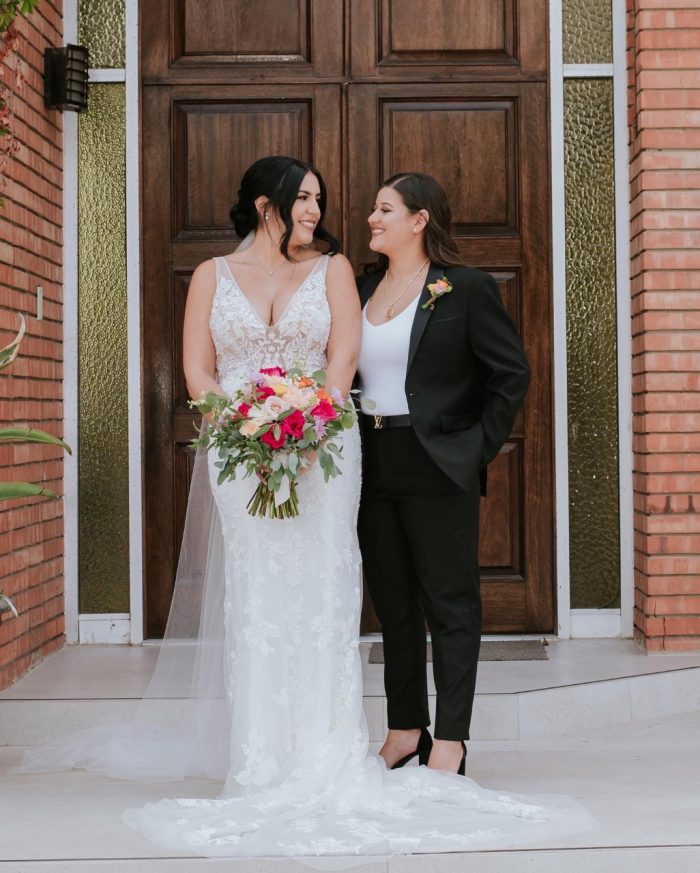 We got married in Ensendada Mexico in a beautiful beach ceremony which was so gorgeous. But, my favorite part of my wedding was the probably the reception because everyone we loved came together and danced the night away celebrating our love.
What advice would you give to other LGBTQIA+ couples who are planning their weddings?
My advice to any other LGBTQIA+ couples planning their wedding is to do whatever you and your partner want to do and makes both of you happy! Don't think you have to stay traditional. Don't try to please anyone. And whoever loves you will show up for you.
All photos courtesy of Dania Zaragoza
Happy Pride Month again, brides! We can't wait to see what aesthetics and gown you end up choosing for you big day. Make sure to submit your photos below so we can see your beautiful weddings and read more blogs like this for additional inspo.
More Blogs Like This:
Pride Wedding Ideas Inspired by LGBTQ Couples and Their Weddings
Maintaining Body Positivity In Your Bridal Appointment
How To Support LGBT Wedding Vendors For Your Big Day
Cheers!!!