Dresses
Events and Boutiques
|
May 1, 2020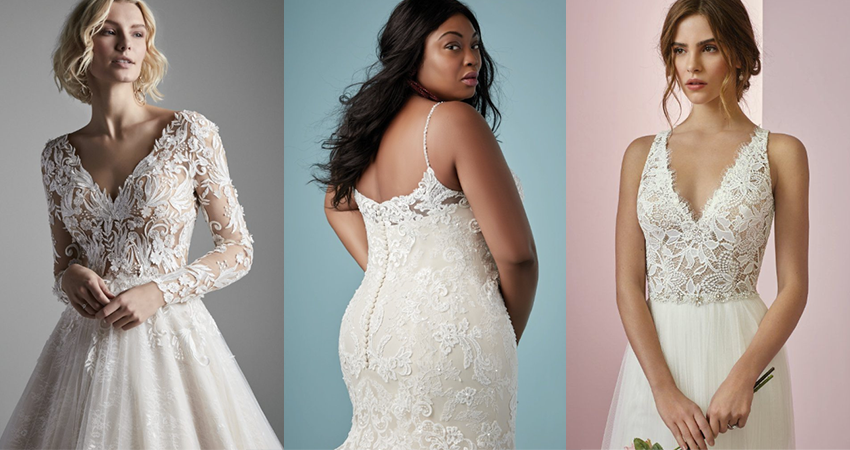 Since the novel coronavirus (COVID-19) became a global pandemic, many brides are asking: Will there be wedding dress delays resulting from the coronavirus? How is the virus affecting the bridal industry as a whole? To address these concerns, we have gathered frequently asked questions from brides about how coronavirus is affecting wedding dress deliveries and how Maggie Sottero is rising above the chaos of COVID-19.
Are wedding gowns affected by coronavirus?
Many sources have said that the coronavirus can live on surfaces for up to three days in the right conditions. We understand that this information makes people nervous when talking about products shipped from China. At Maggie Sottero Designs, we want to assure you our gowns are handled with extreme care:
Deliveries from China often take up to 10 days in transit, meaning even if germs live on surfaces, coronavirus would not survive the journey from China.
Our partners' in China number one priority is the health of their employees. This means they are taking extreme measures in health and safety by administrating tests multiple times a day and sanitizing all employees before they go in to work, as well as sanitizing the facility and ensuring employees take extreme care with hand washing.
Is my Maggie Sottero wedding gown delivery affected by coronavirus?
We are not experiencing any wedding dress delays due to coronavirus, and have not missed any wear dates. In fact, we are in a positive position with our inventory where we can confidently state that we will not miss any brides' wear dates going forward.
If I've already placed an order, when can I expect to receive my gown?
At the time you placed your order with your local boutique, they gave you an expected delivery date. In the event of delays or changes, we would first communicate to your retailer who would then contact you. We don't anticipate any delays on wedding dress shipments, but should that be the case, your retailer will provide you information accordingly. We're also in constant communication with our partners in China and our retailers in order to provide timely updates. No news is good news!
If I haven't ordered my wedding dress yet, should I be worried about it arriving in time for my wedding.?
Maggie Sottero Designs has been cautious and proactive about the coronavirus outbreak since day one. We have had a business continuity plan in place for years and have started off with a very strong foundation. With that said, your retailer is your best resource! You can inquire with your retailer about expected delivery dates, and they will provide you the most up-to-date information pertaining to your order. We update a web application daily that your retailer can access for details on the gown's delivery date.
My wedding is this summer, but I haven't received my dress yet. Is it delayed?
One last thing to consider is that we ship gowns based on priority of wedding wear dates. For example, brides with wear dates in April will receive their dresses before brides who have a wear date in June. But if you are still nervous about getting your wedding dress on time, you can talk to your local boutique who can provide the most up-to-date information. This is a practice we implemented prior to the COVID-19 pandemic, so no need to worry if your dress hasn't arrived yet!
We hope these answers have helped resolve some of your concerns about how the coronavirus is affecting wedding dress deliveries. In the case of short engagements and wedding dates just a few months from your time of fitting, we actively keep our favorite and most popular wedding gowns in stock in the U.S.A. and across our global warehouses. This in-stock inventory includes gowns across all our collections: Maggie Sottero, Sottero and Midgley, and Rebecca Ingram. Below, we've highlighted some of these popular wedding gowns currently in stock near you. Enjoy!
Scalloped Lace Ball Gown: Mallory Dawn
Sexy, romantic, and utterly feminine, Mallory Dawn by Maggie Sottero is a transformative gown to behold, but even better to wear IRL. This unique long-sleeve ball gown wedding dress features scalloped lace motifs and long illusion lace sleeves with keyhole details. Does it get any better than this?
Sexy Lace Cap-sleeve Wedding Dress: Chauncey
The floral motifs are basically in their natural habitat on Chauncey. This sexy lace cap-sleeve wedding dress by Sottero and Midgley shows the chicest way to layer a neckline, bodice, and statement back.
Plus Size Fit-and-Flare Wedding Dress: Glorietta Lynette
It's all about you feeling confident in a perfectly tailored + elegantly draped bridal gown. That is why we encourage trying on Glorietta Lynette. This plus-size fit-and-flare wedding dress by Maggie Sottero not only fits like a dream but is also designed for brides who love effortless romance.
Lace Ball Gown Wedding Dress: Zander
Lacey perfection? Check. Ball gown extravagance? Check. We present our ideal ivory wedding dress with lace for days and a ball gown skirt for the most romantic statement. Zander by Sottero and Midgley is perfect if you're going for Victorian drama and unconventional gorgeousness. And the best part? The nude illusion on the bodice gives it that veiled-unveiled kind of look.
Lace Sheath Wedding Dress: Tuscany Lynette
"Effortless" and "glamorous" are contradictory? Not so. Those not convinced are invited to try on Tuscany Lynette, a romantic lace sheath wedding gown featuring a sheer bodice and textured layers. And for those wanting to add their own personal twist, this dress comes with a few small lace motifs for minor neckline alterations
Off-the-Shoulder Satin Wedding Gown: Josie
Made from Huron Mikado, this satin fit-and-flare is the vintage gown for your "something old." Why, you might ask? The fabric and silhouette on Josie are simply classic. And the off-the-shoulder sleeves make for a truly timeless statement.
Affordable A-line Wedding Dress: Connie
Planning a relaxed and rustic-chic celebration? Get inspired by Connie. This affordable rustic wedding dress by Rebecca Ingram features a lace bodice, dreamy tulle, and a hint of sexy in the back.
Want to see some more gown options? We've got you covered! Browse more of our U.S.A. stock and gowns with quick-deliveries here! And if you want to stay updated on how the coronavirus is affecting wedding dress deliveries and the bridal industry, follow us on Instagram @maggiesotterodesigns as we will continue to monitor the situation and keep transparent communication with all of our brides.