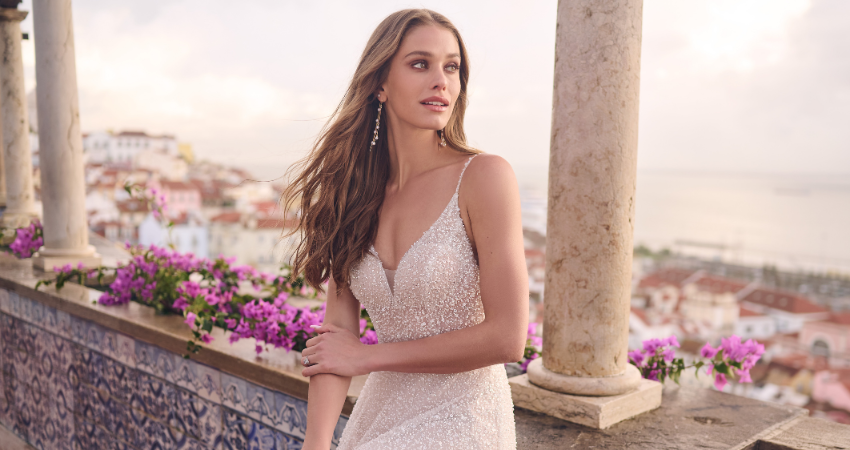 Are you dreaming of a wedding dress that adds a touch of sparkle and glamour to your special day? Look no further than beaded wedding dresses! With intricate beading and delicate embellishments, they effortlessly capture the essence of femininity and elegance. From subtle and understated to bold and dramatic, there is a beaded wedding dress designed for every bride's unique style. So, embrace your inner goddess and let the beads light up your wedding day with their magical charm! Before you start scrolling though, make sure to take our Style Quiz below to find out even more about your bridal style.
Long Sleeve Beaded Wedding Dresses
Beaded wedding dresses are the epitome of femininity and joy, exuding a sense of romance and optimism. The delicate beads intricately woven into the fabric add a touch of elegance and sparkle, illuminating the bride's every step down the aisle. These dresses not only enhance the bride's natural beauty but also create a whimsical and enchanting ambiance, leaving the guests in awe.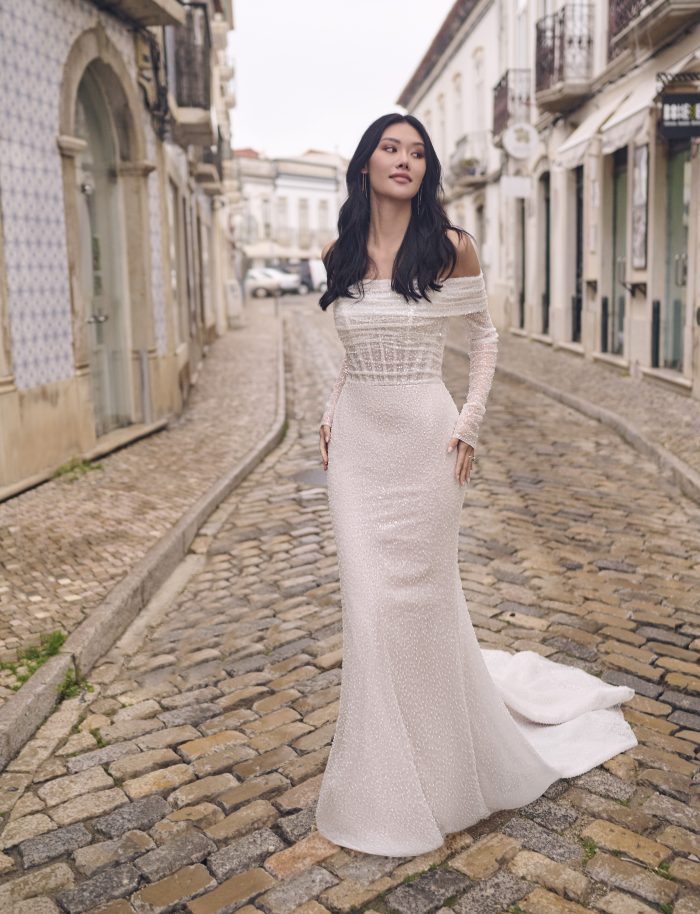 Our first pick? Drew by Maggie Sottero! Every bride deserves to feel like a princess, and this beaded wedding dress is the perfect choice for those who love all things feminine and romantic. This gown features beautiful all-over beading and an illusion corset lined with luxurious satin lining. This gown also has one of our favorite personalization options for a gown. If you'd like to add a bit more coverage and romance, consider adding its detachable off-the-shoulder jacket!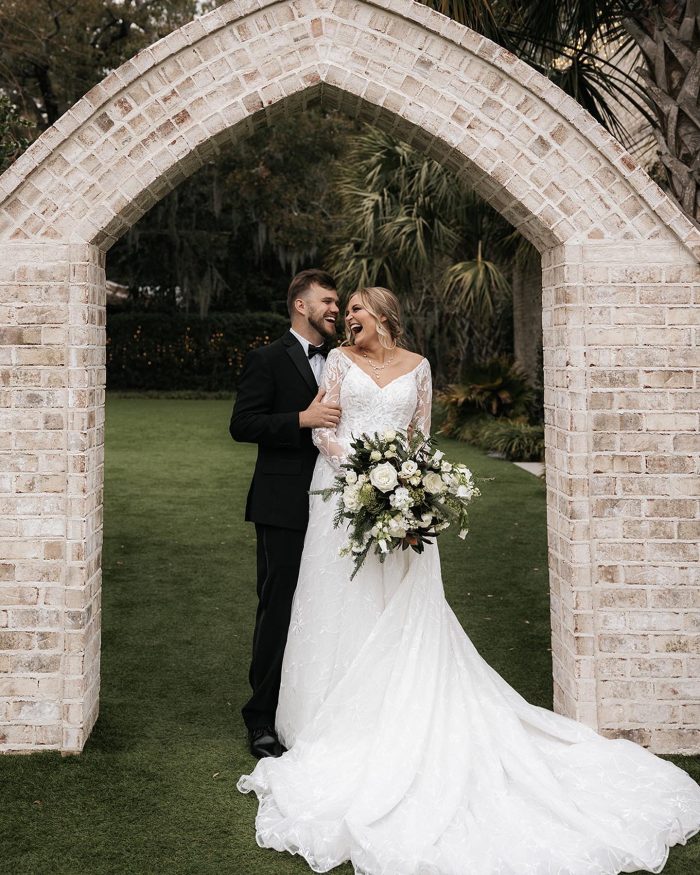 PC: Fontana Lane
Seneca by Sottero and Midgley is another long-sleeved beaded option for brides who want a timeless and elegant choice for their wedding. The intricate beadwork adds a touch of glamour and sophistication to the overall design. With its long sleeves, this dress provides both coverage and style, turning heads as the bride walks down the aisle.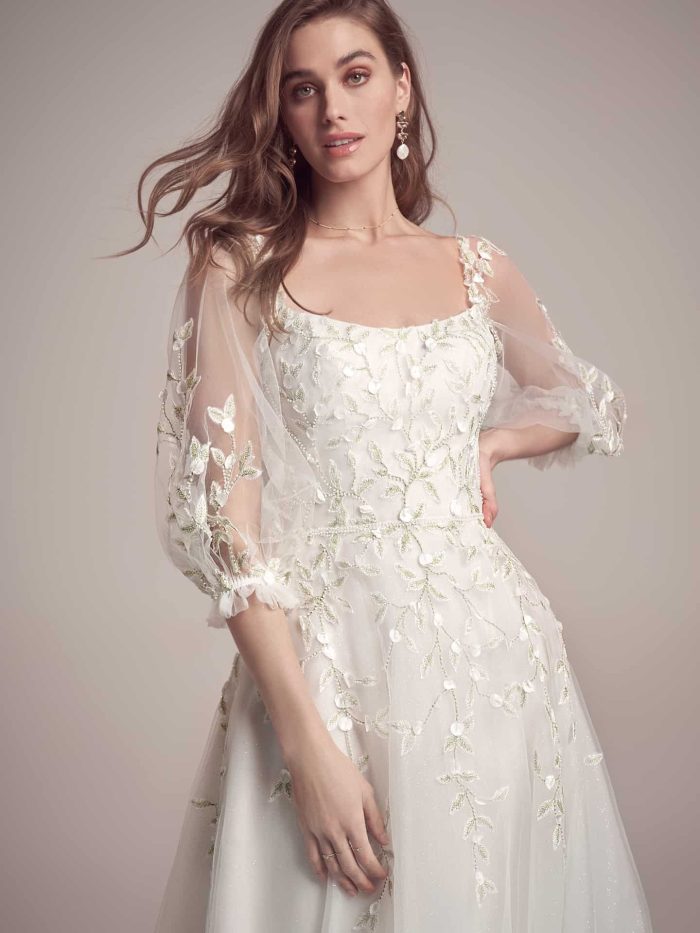 Another whimsical beaded wedding dress is Louisa by Maggie Sottero! With beaded vinery, a low V-back, and a straight neckline, we can't get enough of this cottagecore option.
Psst… If you don't want to wear the sleeves the entire time, these chic bishop sleeves are detachable and oh-so-dreamy!  
Sexy Beaded Wedding Gowns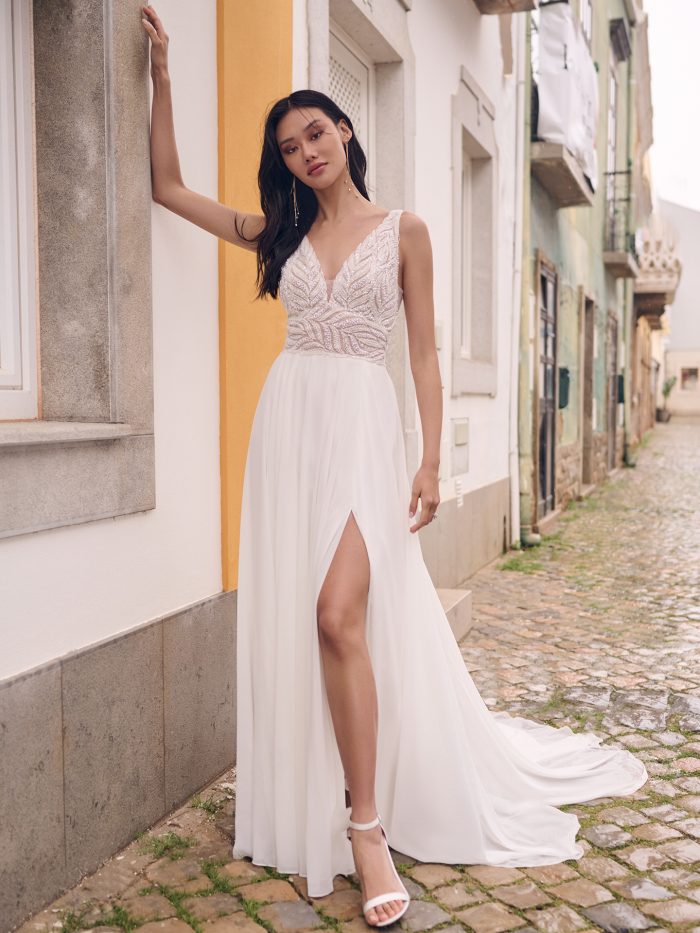 If you want something soft yet glamorous, look no further than Maurelle by Maggie Sottero. We love this open-back beaded wedding dress with a thigh-high slit and deep V-neck. Love the subtle sexiness in this gown? Look at more of our gowns with side slits in the skirt by reading our blog!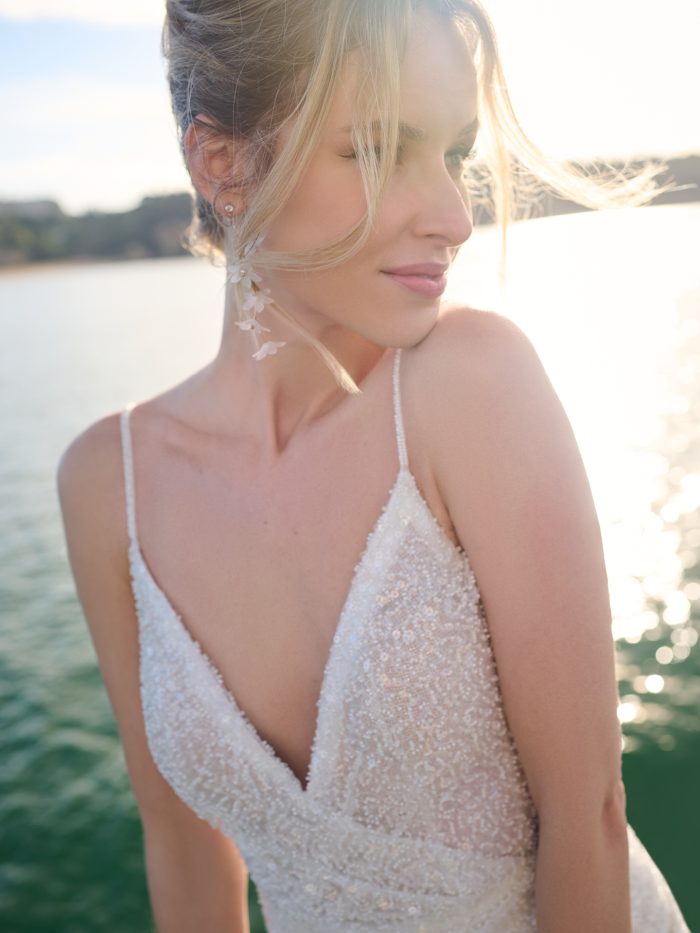 Another sexy beaded gown with a thigh-high slit option is Topaz by Sottero and Midgley! We can't get enough of this ethereal gown. With its illusion beaded bodice, surplice V-neck, and dainty straps you'll catch the light with every movement, creating a mesmerizing effect that will leave everyone in awe on your big day.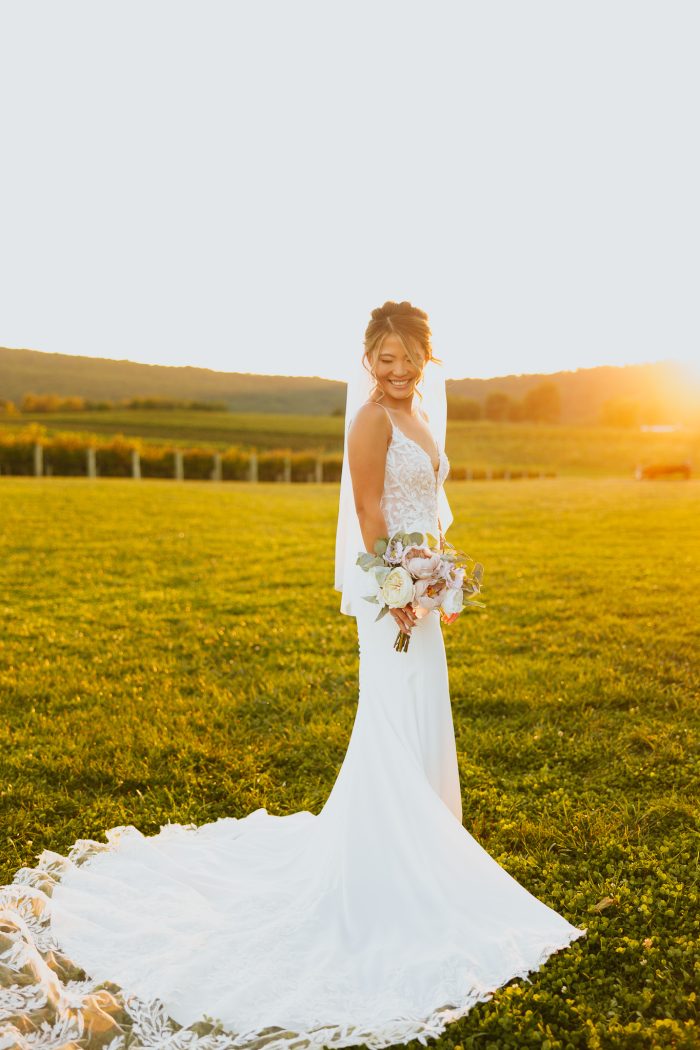 PC: Justin Kunimoto
Timeless and classic, Alda by Rebecca Ingram is a nod to tradition while still embracing modern femininity, making it a perfect choice for brides who want the best of both worlds. We love how classic the crepe fabric in the skirt makes this dress feel, with the illusion beaded bodice creating a sensual look for your wedding day. If you want to add even more drama to your look, consider adding its detachable train personalization option!
Read our blog to see more fit-and-flare wedding dress options!
Princess-Inspired Beaded Dresses
Does anything say royalty like intricate beading? Every bride deserves to feel like a princess, and a beaded wedding dress is the perfect choice for those who love all things feminine and romantic.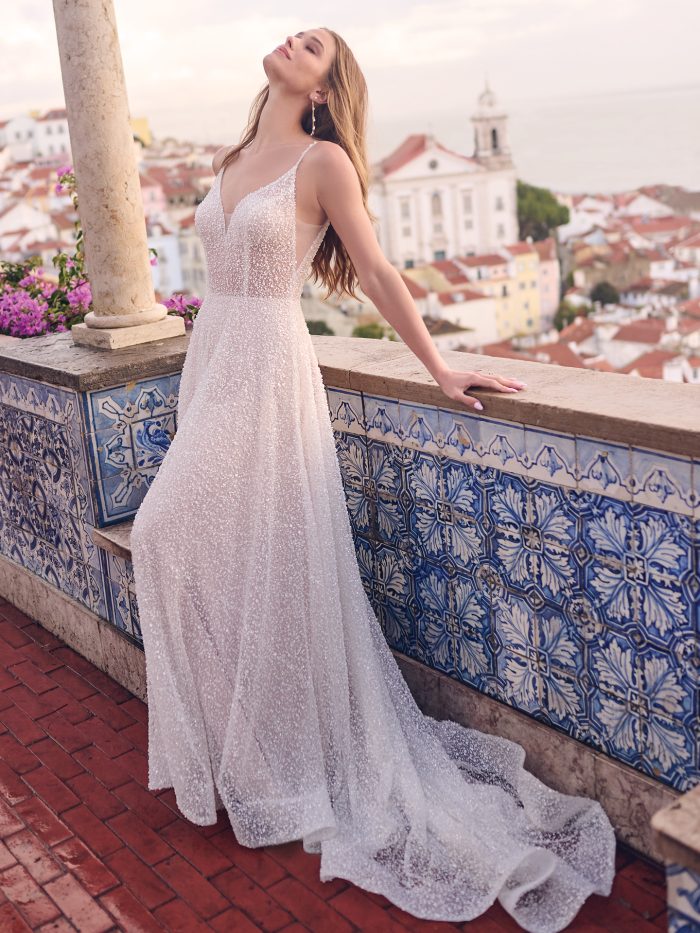 Abrienna by Maggie Sottero is a gorgeous choice for brides who want to channel their inner princess. With all-over beading, a flowy skirt, and sexy side cutouts you will be the belle of the ball in this A-line beaded wedding dress!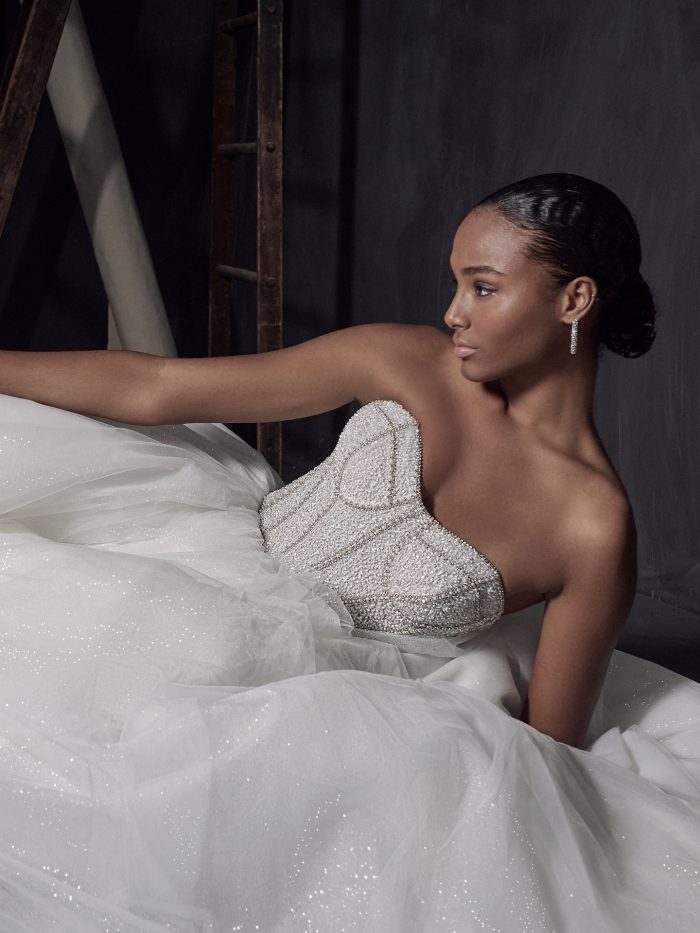 Channel Cinderella in our beaded wedding dress, Elton by Sottero and Midgley. We can't get enough of this sparkly and glamorous ballgown. The beads not only add beauty but also create a lovely texture, giving the dress a three-dimensional charm that draws the eye and makes you feel absolutely radiant. We absolutely love the beaded illusion bodice and strapless sweetheart neckline that this gown has. If you're more of a fan of satin instead of tulle though, look at Sister Style, Elton Lane by Sottero and Midgley!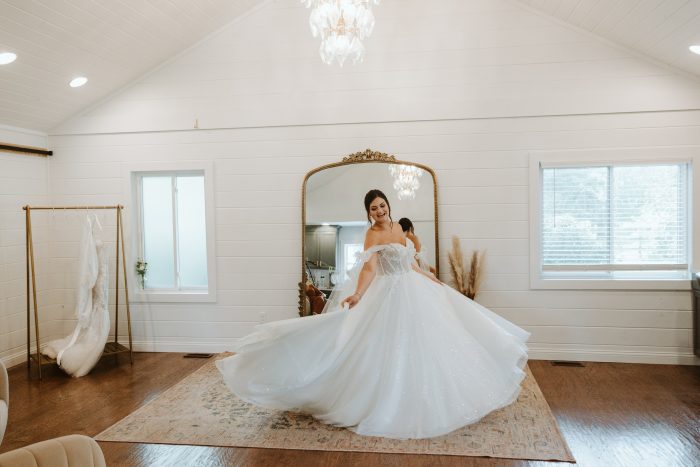 PC: Meredith Washburn Photography
Nothing quite says royalty like beaded tulle over glitter tulle – with more sparkle comes more love! Fall in love with delicate lace, an illusion bodice with corsetry, a sweetheart neckline, and off-the-shoulder straps with trendy bows. Shasta by Sottero and Midgley will make your most magical dreams come true as you walk down the aisle toward your one true love! Don't believe us? Read some of the reviews our Real Brides have said:
"I felt like an absolute princess in this gown and did not want to take it off! It flattered me in all the right places. The detachable sleeves were so perfect for two different looks!" – Kristen Capistrano
"I felt like a showstopper in my gown! When we were walking around the city for photos people kept stopping to tell me I looked gorgeous. All my guests are raving about my gown, it was amazing!!" – Jen Sutton
"I felt like royalty in my gown! It was modern and sexy with the exposed boning creating a corset-like feel with still having that classic ball gown moment as well." – Shelby Bukowski
Beaded Wedding Dresses with Lace
If you're in love with lace and intricate beading, then you'll love our gowns that have both!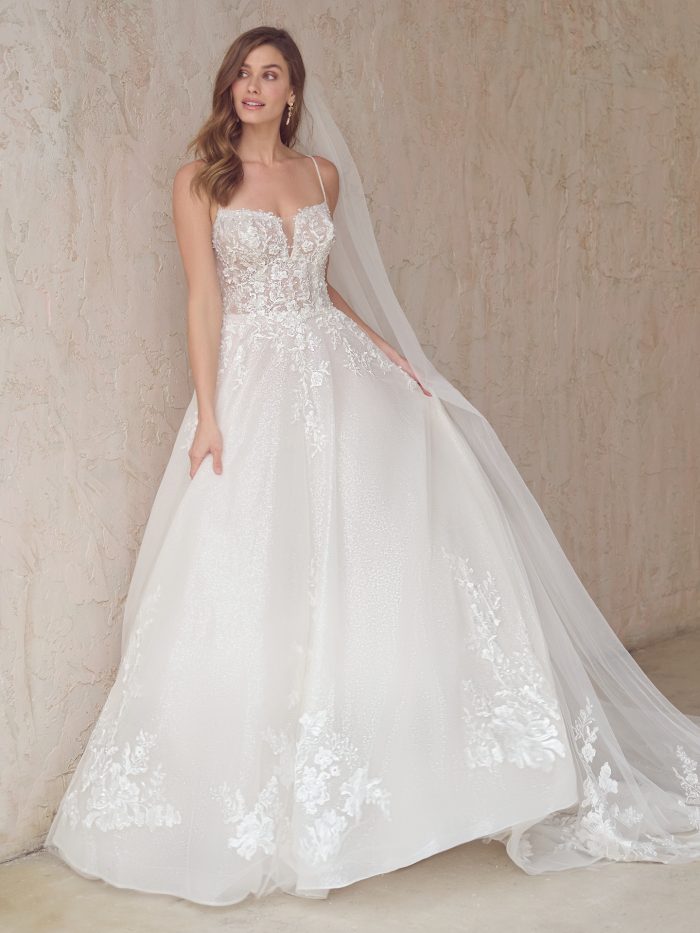 Casey by Maggie Sottero is another one of our beaded wedding dresses fit for a queen. This lacey ballgown wedding dress doesn't just feature sparkly tulle and a V-neckline, but it also has beaded appliques and a matching chapel-length veil.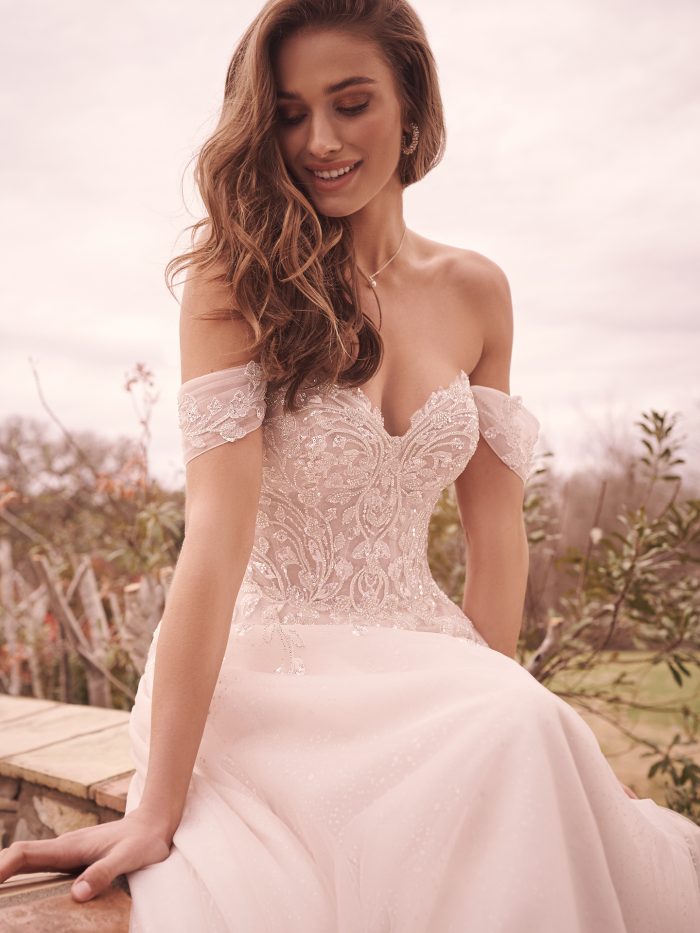 Last, but certainly not least, is Artemis by Maggie Sottero. Picture yourself walking down the aisle, the delicate beads shimmering under the soft glow of the lights, with all eyes on you and your stunning princess-inspired beaded gown. It's giving timeless elegance and dreamy romance with its leafy pattern, sweetheart neckline, and detachable off-the-shoulder cap-sleeves!
If you're looking for a mermaid beaded wedding dress Lennon by Maggie Sottero is an excellent choice for one of our gorgeous brides-to-be! We love the formfitting silhouette of this sexy gown paired with the low neckline and off-the-shoulder cap-sleeves.
Psst… This is one of our many Quick Ship wedding gowns for brides on a tighter timeline than normal!
Beaded wedding dresses are truly stunning and luxurious options for brides-to-be. The intricate beadwork adds a touch of glamour and elegance to any bridal gown. From subtle and delicate designs to bold and intricate patterns, there is a beaded wedding dress to suit every bride's personal style and preference.
To find one of these gowns IRL make sure to look for an Authorized Retailer near you by clicking the button below!
More Blogs Like This:
Colorful Wedding Dresses for a Unique Bridal Look
15 Off-The-Shoulder Wedding Dresses and How To Style