Dresses
Tips and Trends
|
January 20, 2022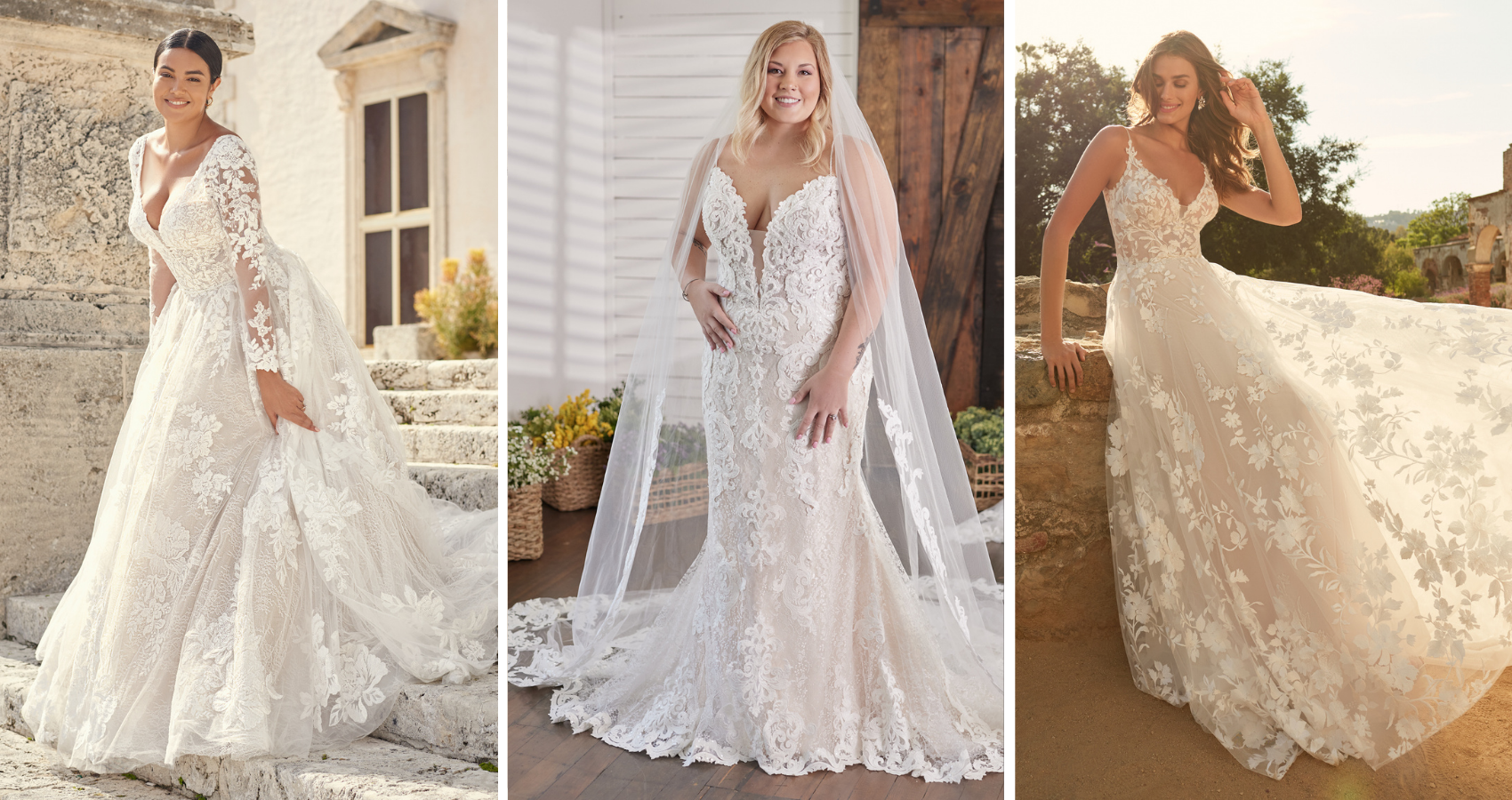 Today's post is dedicated to three very important questions in your journey to finding the perfect wedding dress: How do I figure out my body type? Which silhouettes work for my body type? And most importantly, What kind of dress makes me feel like my best self? And lucky for you, we have everything you need to ace your dress-shopping fit strategy below!
Before heading to your first bridal appointment (check out which Authorized Retailer is near you!), it's a good idea to get to know your general measurements and how they comprise your natural body type. There are tons of different wedding dress styles for body types out there and no bride fits neatly into one shape or another. However, basic categories can be useful to understanding your proportions and narrowing your wedding gown search. It will also help you stay more body-positive going into your appointment by knowing what to expect!
By combining the tips and tricks below (and taking our Style Quiz), you'll be able to confidently go into your appointment to find the wedding dress that feels like your best self! Ultimately, remember that no matter what we say, the most important thing is about feeling beautiful in whatever dress you choose!
Wedding Dresses for Hourglass Figures
If you're still unsure if you have an hourglass figure or not, think of celebrities like Marilyn Monroe, Beyonce, and Ashley Graham! These hourglass ladies have a few things in common when it comes to their body: full breasts, defined waist, and full hips.
How To Find The Best Wedding Dress For Your Body: Brides With Smaller Chests
Wedding Dress Styles For Body Types: Brides With Petite Body Types
Wedding Dresses for Brides with A Pear Shape
Unsure whether you have a pear-shaped body type? Take some inspiration from famous brides like Kim Kardashian, Kelly Clarkson, and Jennifer Lopez!
How To Find The Best Wedding Dress For Your Body: Wedding Dresses for Tall and Slender Brides
Wedding Dress Styles For Body Types: Athletic Body Type
Wedding Dress Styles For Body Types: Brides With A Fuller Chest
Some stunning celebrities with fuller busts and apple shaped bodies to take inspo from are Jennifer Hudson, Angelina Jolie, and Drew Barrymore!
More questions to consider when looking for the best wedding dress for your body type
Here are some more questions to ask yourself while shopping for your dream wedding dress (find an Authorized Retailer near you!). What makes you feel comfortable for your day job? What makes you feel sexy for a special occasion? It's a delicate balance of both when getting dressed up for your wedding.
You want to feel like yourself on your big day without playing it too safe. Think about wedding dress styles and aesthetics that make you feel like the best version of yourself—but still true to your individual personality.
Also, can you let go of some insecurities and listen to feedback from your close friends, family, and stylist? Every bride has things they like and don't like about their body. It's important to find a gown that fits these preferences, but you can't let your inner critic dominate your decision-making. We're willing to bet your loved ones—and most importantly your sweetheart—have a much more glowing perception of your gorgeous features than you do! In the end, remember to find a gown that feels the most like you.
To find some gorgeous wedding dress inspiration, check out our Pinterest and save our pins for later!