Tips and Trends
Wedding Inspo
|
October 6, 2020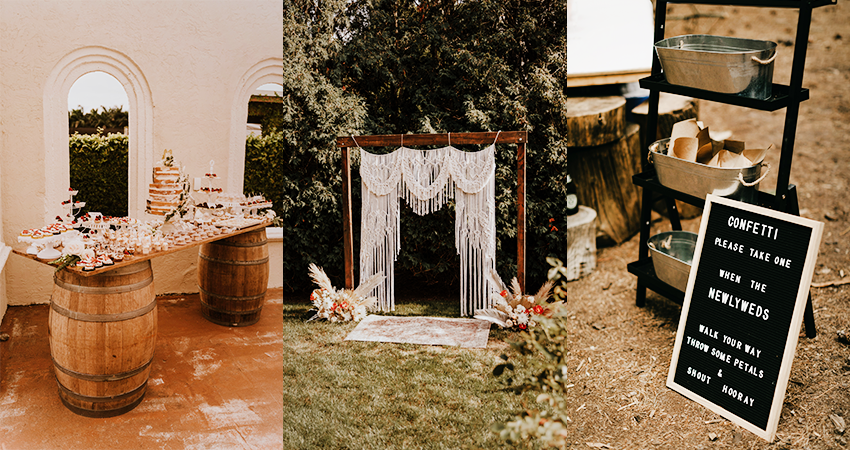 What's a romantic and personalized wedding vision without a little DIY? Take it from our crafty brides and creative couples, it's easier than you might think to boost your style and celebration without turning to costly rentals and top-dollar wedding professionals. So without further ado, here are 20 DIY wedding ideas and inspiration from real weddings—each designed for elegance, versatility, and simple execution! Plus, at the end, we've included tips for do-it-yourselfing. Scroll on!
Light Up the Dance Floor!
PC: Kristina Wild Photography
Boho and festival weddings are all but destined for enchanting fairy-light effects, be it tea candles on the banquet table or starlight on the dance floor. An easy way to DIY your reception mood? Hang your own bistro bulbs, lantern strands, or string lights over your main party area—minimal assembly required!
And speaking of festival weddings, get your chic on with our gallery of colorful, relaxed, and DIY wedding ideas designed for a casual and bohemian party vibe.
Honeymoon Fund Box Craft Idea
PC: Erika Diaz Photography
DIYing your wedding details is a great way to save money, and it's even better when DIY wedding decorations help pool cash for your honeymoon as well! Get inspired with these elegant honeymoon fund box ideas—a sweet and personalized way to invite friends and family to pitch in for your dream vacation.
DIY Hashtag Sign
PC: Erika Diaz Photography
Love puns and name mashups? Display your perfect wedding hashtag with a DIY sign at your reception. It's the easiest way to crowdsource your wedding gallery! There's plenty of need for DIY signage at your wedding, from menus and placeholders to reception "street" posts and inspiration. If you or your S.O. have a flair for typography, take some time to DIY a chalkboard hashtag sign!
DIY Candles in Glass for Table Settings
PC: Alexandra Robyn Photography
Crafty lighting makes a lovely accent for your buffet or table settings, and glass votives are especially easy to zhush up with ribbon, paint, and florals. Plus, these DIY wedding decorations are easy to pack in and out of your venue with the help of your wedding party.
Cute Wedding Donkey to Carry Booze and Treats
PC: Lindsey White Photography
Looking to cute-ify your beverage service? Hire a friendly furry friend of choice from a local petting zoo or entertainment service! Check out this whimsical bohemian wedding gallery for more donkey-themed inspiration.
Homemade Tissue Boxes for "Happy Tears"
PC: Muara Jane Photography
So, you've got a couple of happy-criers on your guest list. Give them a sweet gesture with DIY tissue boxes personalized to your love story!
Wooden Barrels for Dessert Table Legs
PC: Erika Diaz Photography
A great way to save cash on venue rentals? Take stock of antique or collectible items from your friends and family—anything that can be repurposed for DIY wedding decorations! We're loving these wooden barrels positioned as banquet table supports, an easy and inexpensive way to add personality to your rustic-chic party.
DIY Wood Wedding Arch with Florals
PC: Lindsey White Photography
Take your floral carpentry skills next-level with a DIY wedding arch in wood and blooms. The photo ops alone are worth the trip to Lowes or the Home Depot!
Lanterns for Table Settings
PC: Apollo Fotografie
Cost-effective and simple to assemble, lantern displays are sure to add romance and sophistication to your all-night celebration!
Homemade Tacos for Casual Wedding Reception
PC: Kristina Wild Photography
Whatever the size and scope of your reception, food and drink can easily turn into pricey ticket items. To save moolah on a relaxed minimony or intimate micro wedding, nix the catering and go for a DIY taco spread—a thrifty and delicious way to show off your home-cooking!
Cute Letter Board for a Snazzy Schedule
PC: Kristina Wild Photography
A DIY letter board is a versatile addition to your wedding reception and can easily be repurposed for parties and projects down the line!
DIY Wedding Wreath
PC: Rachel Laxton Photography
An elegant wedding wreath is one of our favorite DIY wedding ideas for any time of year. We're smitten with the idea of watercolors for spring, bold blooms for summer, jewel tones for fall, and bright citrus for winter—pretty palettes to strike your season and fancy!
DIY Wedding Ideas for a Beach Celebration
PC: Alexandra Robyn Photography
Traveling to get married at the seaside? Your packable DIY wedding decorations are all about natural materials and lightweight texture. You might build a driftwood box for envelopes and wedding advice notes, or whip up a cute cake stand to emulate your outdoor surroundings. Everything is going to be easy-breezy-gorgeous for your big day, just like this destination beach elopement!
Otter Pops for Casual Summer Wedding Reception
PC: Kristina Wild Photography
Looking for easy-as-heck DIY wedding ideas? Pick up Otter Pops the week before your big day, assign someone to freeze and deliver, and kick back to enjoy your sweet and summery soiree!
Sparkler Sendoff
PC: Taylor Jones Photography
DIY wedding ideas need not be limited to craft items and décor. You'll also do well to invest in overall atmosphere and fab reception experiences. For instance, a sparkler sendoff is a relatively inexpensive purchase, but with big payoff for your guests and photographer!
Mason Jars for Snacks on Dessert Table
PC: Erika Diaz Photography
And lastly, don't neglect the money-saving power of packing in your own snacks and snack receptacles. Mason jars are popular for good reason—they're cheap, versatile, and practically perfect for a buffet or dessert table!
Rustic DIY Wedding Ideas: A "Find Your Table" Board or Seating Chart
PC: Magdalena Studios
Just like signage and calligraphy pieces, a DIY seating chart (especially when inspired by personalized memories and references to the couple's love story) is a great way to add flair to your rustic-chic reception décor.
Photographs of Parents' and Grandparents' Weddings
PC: Kristina Wild Photography
This DIY wedding idea is more on the sentimental side of things. If you wish to honor loved ones who are no longer here, or honor your parents' or grandparents' marriages, consider placing photographs of them on your reception table. Your relatives will love being able to look back on these memories at your wedding reception!
Loose Petals for Wedding Ceremony
PC: Jaimee Morse Fine Art Photography
Wedding freebie alert! Florist items like bouquets, boutonnieres, and floral centerpieces can get a tad expensive, so DIY your rose-petal confetti by collecting from your own backyard.
DIY Mr./Mrs., Mr./Mr., or Mrs./Mrs. Sign
PC: Taylor Jones Photography
Last but certainly not least, show off your newlywed status after the ceremony in style with these elegant and romantic décor additions. So chic!
Tips for Stress-free DIY-ing
Loving this rundown of DIY wedding ideas and easy + affordable décor inspiration? Here are a few pointers to keep your DIY efforts sweet and successful:
Know your limits. Saving money is great, but enjoying the process requires a balance of effort, budget, time, and emotion. A table lighting display is an easy place to start your DIY, but a massive floral chandelier might be better left to the experts.
Many hands make light work! Enlist the help of your wedding party to tackle your DIY list in good company.
Have fun! A great party is about friends and family, not bells and whistles. DIY projects should accent and complement your planning, not hijack your whole engagement.
Opt for simple and high-impact to keep DIY items from looking cheap. Review your basic elements of design, such as repetition, contrast, harmony, and light.
Inspired to host your next DIY sesh with friends and family? Explore more super cute wedding ideas on our blog, and dive into more tips and trends with our post on intimate celebrations, minimonies, micro weddings, and elopements.
Whatever the size, scale, budget, and aesthetic of your dream celebration, these DIY wedding ideas and DIY wedding decorations are sure to be a hit! Happy crafting!