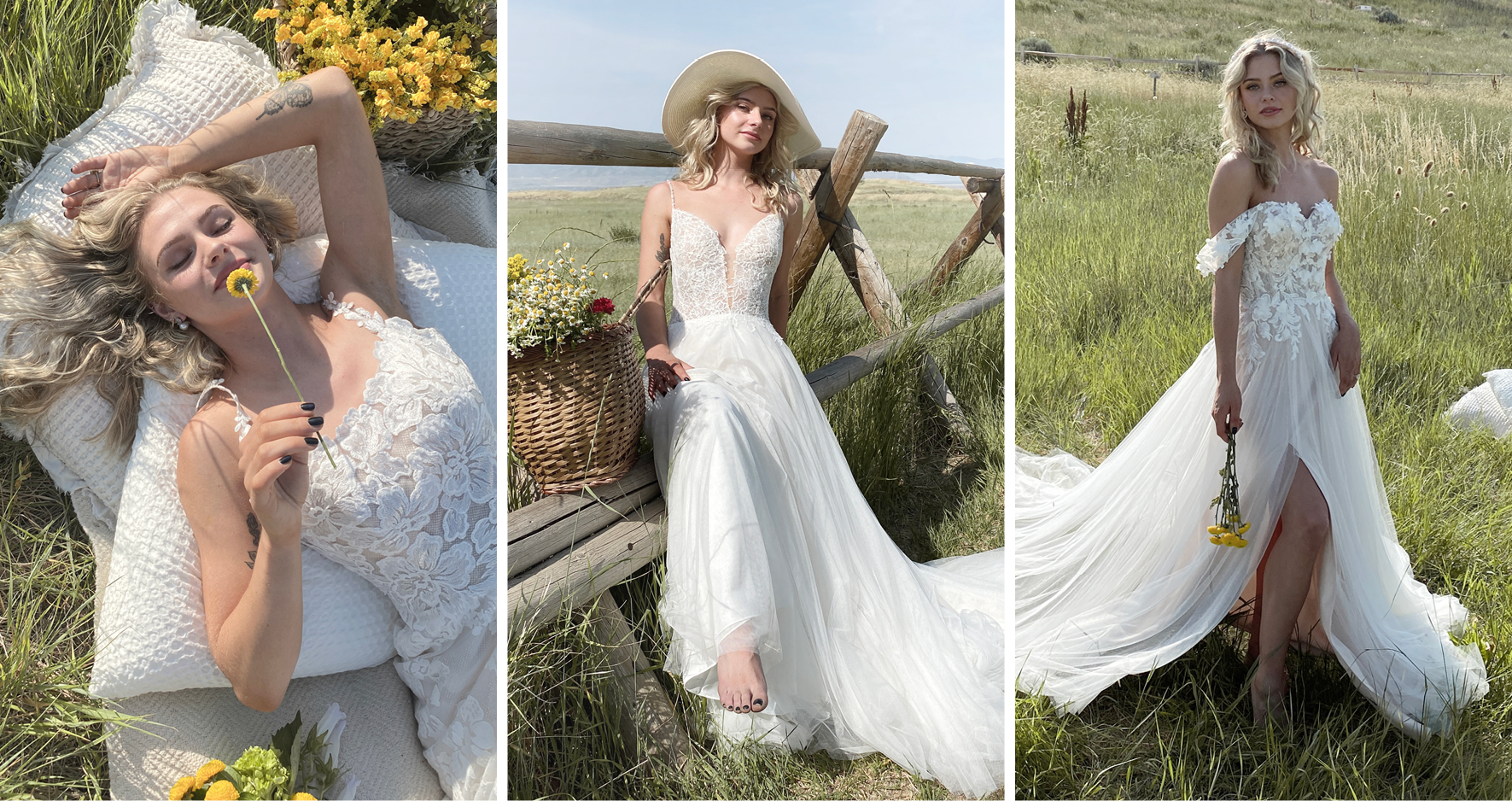 Let's talk about one of the biggest trends in bridal fashion right now—the cottagecore wedding dress! This highly romantic, bohemian aesthetic is here to stay for 2021 and 2022. A quick lesson—cottagecore refers to an ethereal, romantic, simplistic "cottage" lifestyle (think baking bread, picking flowers, homemade crafts, antique home décor, tending to your garden, and sunset picnics).
This trend manifests into bridal fashion through floral lace, whimsical skirts, hues of ivory and soft blush, flattering necklines, lightweight fabrications, and vintage-inspired details. We have lots of cottagecore wedding dresses to choose from. Scroll on to make all your cottagecore dreams come true!
This romantic A-line wedding gown has three pillars of cottagecore fashion: floral lace, sparkle tulle, and bishop sleeves. Stevie by Maggie Sottero was made for running through meadows and saying "I Do" to your betrothed.
More highlights of this cottagecore wedding dress include the plunging illusion V-neckline, beaded bodice, beaded spaghetti straps, and horsehair hem finish. There are several personalization options available for this cottagecore bridal gown, including adding buttons down the back for a vintage-vibe and changing the sparkle tulle to plain tulle in the skirt.
Cottagecore is all about appreciating the beauty in nature, and with Paige by Maggie Sottero, you can do just that. This flutter sleeve bridal gown reminds us of beautiful butterfly wings. The beaded embroidery wondrously winds down and across the textured glitter tulle, mirroring the luscious secret garden where you'll exchange your vows.
This cottagecore wedding dress is as light as a dream, airy as a feather, and as romantic as a handwritten letter. Even better, the available personalization options ensure this bridal gown is perfect for you. Change up the layers in the skirt, extend the train for some drama, or add buttons down the back!
3-D elements bring you more into the story, and with Zareen by Maggie Sottero, this is an epic tale of love and romance. The lace floral motifs are practically blooming right in front of our eyes as they trail down the bodice and skirt, encapsulating the magic of early summer.
The blush hue of this cottagecore wedding dress is wondrously feminine in all the best ways. The A-line silhouette is flattering, and the strapless bodice allows you to show off some of your gorgeous décolletage. Visit a Maggie Sottero Authorized Retailer near you to find this dress!
Square necklines remind us of delicate, Victorian-era nightgowns, so it's no wonder why Sawyer by Sottero and Midgley has made this cottagecore wedding dress list. The oversized floral motifs make this ball gown wedding dress utterly romantic and effortless.
Add the lush lace long sleeves or opt to show off your shoulders by going sleeveless. You can also personalize this gown to match your cottagecore fancy by changing up the layers in the skirt. So dreamy. Love this wedding dress? Visit an Authorized Retailer near you, and learn how to personalize this dress!
With a name like Iris, this lace illusion long sleeve wedding dress has to be on this list. Iris by Rebecca Ingram is perfect for any cottagecore bride on a budget. A pre-requisite to wearing this gown is a promise to twirl the night away. Just look at those whimsical layers of tulle!
Add a hand-picked flower crown and sparkly teardrop earrings to up the romantic boho feel for a cottagecore wedding. The scalloped neckline and back are totally flattering and perfect for living out your cottagecore fantasy!
Picture it now—gliding down an aisle made from vintage rugs laid on the ground of a lush forest while you wear this princess wedding dress. With a unique bodice and dramatic ball gown skirt, Orlanda by Maggie Sottero is our go-to for a fabulous forest cottagecore wedding.
This gown's design details include beaded lace motifs over tulle, a sheer lace bodice lined with organza, a sweetheart neckline, and an illusion lace back. Choose between beaded off-the-shoulder cap sleeves, long illusion lace sleeves, or strapless!
Valona by Sottero and Midgley is truly an ode to shimmer and fairytale celebrations. With oversized sparkly motifs and a lush ball gown skirt, we're feeling princess in an enchanted forest vibes. Also, it's worth mentioning that the elevated texture of the layers of lace and sequins makes our hearts sing.
Personalize this cottagecore wedding dress by choosing between several sleeve treatments—long illusion lace sleeves, fun and flirty cap sleeves, or no sleeves. Other personalization options include changing up the layers in the skirt, extending the train, and adding buttons down the back. There are so many beautiful options, because a modern princess deserves nothing less.
Nature-Inspired Lace Cottagecore Wedding Dress: Nia by Rebecca Ingram
Brb, we're just writing a love letter to this nature-inspired bodice. Just look at the intricate embroidered lace of Nia by Rebecca Ingram! And get the perfect amount of sexy with the touch of exposed boning. We also love how effortless the off-the-shoulder sleeves are.
If you want to feel like an ethereal woodland fairy at your cottagecore wedding without breaking the bank, this affordable cottagecore wedding dress just may be the one! Simply add wings, the airy tulle skirt will do the rest. Find this wedding dress at your local Maggie Sottero Authorized Retailer today!
Crepe Off-The-Shoulder Bateau Neckline Bridal Gown: Bevan by Maggie Sottero
Sometimes accessories transform a look into cottagecore gorgeousness. We're thinking a bouquet of wildflowers, homemade jewelry, vintage shoes, a family heirloom brooch, or a nature-inspired hairpiece. With Bevan by Maggie Sottero, this simply elegant wedding dress can be transformed into the cottagecore aesthetic by adding beautiful illusion long-sleeves with 3-D flower details or tulle jacket with bishop sleeves and floral accents.
The key to accessorizing for cottagecore is to focus on thoughtful, nature-inspired pieces. Bevan offers a sophisticated blank crepe canvas to let your imagination wander!
This cottagecore wedding dress is reminiscent of wildflowers in a woodland meadow. Mirra by Maggie Sottero is undeniably whimsical and makes a striking, feminine statement with beaded floral 3-D accents. Plus, the A-line silhouette is perfectly flattering and airy.
Also take notice of the exposed boning (because who said fairytale can't be sexy?), sheer bodice, and detachable off-the-shoulder cap sleeves. A matching veil with 3-D florals is also available to complete this cottagecore wedding look.
Vintage Shimmery Bishop Sleeve Cottagecore Bridal Gown: Joanne by Rebecca Ingram
Joanne by Rebecca Ingram is a wonderfully unique, vintage-esque bishop sleeved wedding dress inspired by romantic melodies and epic declarations of love. The textured tulle is lush and gives this cottagecore wedding dress an edge.
The beaded trim along the bodice adds just the right amount of sparkle. And a plunging ruched illusion V-neckline adds an artistic flair. To summarize, Joanne is the perfect addition to any cottagecore celebration and has a fabulously affordable price tag. What's not to love?!
Rounding out our list is Greta by Rebecca Ingram, a breezy bohemian cottagecore wedding dress. This A-line comes with sexy bodice details and flirty feminine detachable bows. Plus, beautiful beaded and sequin motifs mimic springtime blooms.
Embrace the beauty of nature in this breezy affordable bridal gown. A bouquet with lots of greenery would pair beautifully with this cottagecore wedding dress. We're getting goosebumps just thinking about how beautifully this skirt would flow in the wind at an outdoor ceremony!
More Cottagecore Wedding Inspiration
We don't know about you, but we're ready to escape to the romantic world of cottagecore—the endless wildflowers, running barefoot through a lush meadow, homemade gifts, antique accents, letters of love—everything that encompasses this way of life! Cottagecore is all about slowing down and enjoying the moments in life, which is a perfect mantra for your wedding day!
If you're craving more cottagecore wedding inspiration (I mean, can you ever really get enough?!), then head to our friends over at the Knot. Click here for more cottagecore ideas.
Cottagecore is all about the thoughtful, intricate details, and once you land on a cottagecore wedding dress, you'll need to complete your bridal look with accessories! Visit our blog for a list of accessories to pair with your cottagecore wedding dress.
Finally, indulge in more cottagecore beauty by taking a look at this whimsical styled shoot with lots of greenery and colorful florals.
If we've sealed the deal on your desire for a cottagecore wedding dress, create a Pinterest board with your favorite gowns from above, along with other cottagecore inspo pics. Search handmade gifts, wax-sealed invitation, wildflower centerpieces, twinkle lights, books for handwritten vows, floral cocktails, and outdoor venues.
Next, book an appointment with your local Maggie Sottero Authorized Retailer! They have lots of cottagecore wedding dresses and are eager to help you find the perfect one for you! At your appointment, show your stylist your curated Pinterest Board to get the conversation going!
And when your cottagecore wedding day arrives, be sure to tag us @maggiesotterodesigns in your gorgeous images. May all your cottagecore dreams come true in a Maggie Sottero gown. Happy shopping!
Related Content:
70s Wedding Dresses for Your Vintage-Inspired Celebration