Tips and Trends
|
May 28, 2021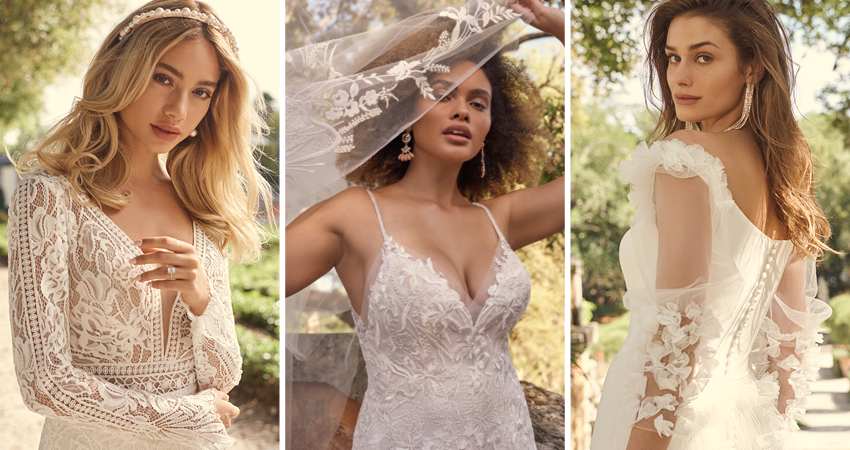 Unique, versatile, and stylish boho wedding accessories are officially here for 2021! We're so excited to showcase these ultra-covetable collections inspired by our latest wedding gowns. And we can't wait to see them styled on our real brides in the coming seasons. You can use our website to browse our full selection of wedding veils, crowns, overskirts, earrings, detachable sleeves, and trains on our website, but below we have 13 of our favorite boho bridal accessories to get you started. Scroll on to find your match!
Let's start with an exceptionally whimsical bridal statement: a luxe and over-the-top pair of floral bishop sleeves matched with a dreamy tulle bridal overskirt. These 3-dimensional accessories create a look that's equal parts romantic and sophisticated, modern and vintage, and soft and striking. It's definitely not a look for the fainthearted, but whatever way you decide to style your florals, venue, and wedding party, your bridal look will be extraordinary.
These floral bridal accessories pair beautifully with a variety of wedding dresses, but they look especially elevated when styled with a simple yet graceful silhouette. We really love Bevan by Maggie Sottero, an elegant crepe wedding dress to inspire a laidback-meets-glam aesthetic and pair effortlessly with all your boho wedding accessories.
Your head-to-toe wedding look needs a fab bridal crown! The Calaveras tiara is designed for a little whimsy, a pop of color, and a soft yet one-of-a-kind statement. We're smitten with these gilded floral motifs and pearl accents—the chicest combo for boho brides and vintage celebrations.
The Calaveras bridal crown pairs beautifully with both simple and deluxe wedding gowns, but we're partial to the chic and effortless effect of Ohara by Maggie Sottero. These two items paired together create an eye-catching balance of bold and feminine aesthetics. It's the perfect look for a summer wedding with coral, bronze, and greenery-inspired palettes. We love to see it!
One of our favorite new boho bridal accessories? This pair of earrings featuring metallic, jewel, and stone accents in a vintage-inspired tier motif. These earrings offer a luxe and stylish alternative to your run-of-the-mill bridal jewelry. And they're available in three distinct colorways to complement your venue, season, palette, wedding gown, and skin tone.
The wedding dress style that caught our eye to pair with the Alanis earrings is Sedona by Maggie Sottero. The luxe lace and textured tulle create a romantic yet elevated boho vibe, while the strapless sweetheart neckline gives you the perfect décolletage for a pair statement drop earrings. It's a breezy look designed to shimmer and shine!
If you're flirting with the idea of wearing a unique wedding veil on your big day, here are two irresistible boho wedding accessories that just might seal the deal. The fingertip-length variation of Lavinia is sweet, vintage, and ultra-romantic, while the cathedral-length variation makes an exceptional statement in color and illusion. Both are made with beautiful 3-dimensional floral motifs for a summer-chic design.
The wedding gown you see here is called Sondra by Maggie Sottero, a sweet and simple silhouette with a classic bodice design and full-sweep hemline. This kind of soft and minimalist fabrication looks divine when paired with the structure and color of these unique bridal veils.
If you've got your eye on a luxe lace wedding gown, there's not much you need to make it shine for your big day. We suggest adding a light and ethereal bridal accessory, á la this simple tulle bridal overskirt with a shimmery belt and illusion sweep.
One of our favorite lace motifs is on Dasha by Maggie Sottero, a vintage-inspired wedding dress with a sexy-chic silhouette. This style is stunning on its own, but a tulle bridal overskirt adds the dreamiest layer of dimension and movement—an irresistible accessory for wedding portraits and aisle walks.
Put the "royal" in "Tuscany Royale" with this stunning wedding dress train treatment! This textured lace and soft illusion are designed for no less than a luxe and stylish "boho princess" vibe. We recommend wearing this detachable bridal accessory for your ceremony and bridal portraits, then removing it for your reception to make dancing and socializing as effortless as, well, that slinky lace wedding gown that caught your eye.
Our Tuscany style comes in several gorgeous variations, including the regal Tuscany Royale, modest Tuscany Lane Leigh, and ultra-flattering Tuscany Marie. Shop these iconic variations at an Authorized Retailer near you.
There's something oh-so-dreamy about a cold-shoulder design. It's simultaneously sexy and demure, modern yet nostalgic, and playful yet couture. Of all our boho bridal accessories for a vintage wedding aesthetic, cold-shoulder sleeves are the most chic and captivating choice for boho babes and fairytale fashionistas.
One boho bridal dress we love is Stevie by Maggie Sottero, a wedding gown designed with several sleeve variations but that looks especially foxy with these cold-shoulder bishop sleeves. There's nothing like it for a fierce and ultra-feminine aesthetic.
We think "divinely inspired" best describes this heavenly halo of pearls and wrapping; it's certainly fit for a chic-boho-angel vibe! These types of effortlessly boho bridal accessories are especially suitable for couples who love a little "zhush" without going overboard on the baubles and trinkets.
The Brianne bridal crown is designed for both classic and modern wedding dresses, a chic and versatile accent piece to complement all manner of lace, crepe, satin, and illusion fabrications. For a posh boho vibe, we suggest pairing with a luxurious style like Drita by Maggie Sottero. The bold lace flourishes on this wedding gown go beautifully with Brianne's chic pearl motifs and simple band design.
We have two words for you: BUTTERFLY. LACE. We've used it to make an entire wedding gown and matching boho bridal accessories so you can feel like the chicest fairytale princess bride on your best day ever. Check it out with the exquisite Rubena by Maggie Sottero bridal gown!
This unique wedding dress has a stunning and whimsical vibe on its own (The lace motif! The neckline! The illusion back!). But the matching sleeves and bridal veil are designed for an over-the-top statement in pattern and shimmer. Sleeve-wise, this flutter cut makes a perfect "winged" silhouette—a divine choice for summery bridal portraits and breezy outdoor venues.
Psst… this unique wedding gown is actually from our affordable Rebecca Ingram line! Check out our full collection for unique motifs, flattering silhouettes, soft shimmer, and trendy embellishments at exceptional low prices. The line also features more veils, overskirts, trains, sleeves, and jackets to mix and match with your dream wedding dress.
OK, so a shimmery lace wedding gown doesn't need much to feel like magic on your big day. But if you've got an extra chic, whimsical, and feminine aesthetic, you might be destined for some boho bridal accessories and a shimmery veil. Consider this head-to-toe Waverly look by Maggie Sottero for a perfect dose of girly-glam!
The Waverly bridal veil is all about lace placement. Motifs dance over the tulle in soft and effortless cascades, then gather near the train for a nature-inspired "walking barefoot in a summer meadow" effect. This wedding veil pairs beautifully with Waverly by Maggie Sottero (of course), as well as other soft lace styles, princess silhouettes, and relaxed boho designs.
If you're looking for something a little vintage and a little whimsical, consider this unique bolero jacket in soft illusion tulle. It's an unexpected choice for your romantic wedding look, but the style vibes are extraordinary. Think Rita Hayworth meets 2020s indie babe.
This bridal jacket is designed for its namesake, the Clarette wedding gown. But it can easily be styled with any wedding dress with a strapless neckline. The bishop-sleeve cut looks best with the romantic lines of a sweetheart bodice, but would also pair with a straight, V, or plunging neckline in a variety of fabrications and embellishments. Perfection!
Another unique wedding accessory with illusion details, the Sedona bridal jacket shows off your back and décolletage without losing your demure bohemian style.
These puff sleeves complement the soft A-line silhouette of its namesake wedding dress by Maggie Sottero. And they also make for perfect coverage in a fall or winter celebration! Ooh-la-la!
Nature-Inspired Cathedral Length Wedding Veil: Rabia by Maggie Sottero
If a nature-inspired wedding dress like Rabia by Maggie Sottero has caught your eye, it's only logical you shop for equally dreamy and inspired boho wedding accessories in lace and illusion florals.
One of our latest favorites is this blooming bridal veil featuring lush floral flourishes. There's nothing like it for an intimate celebration in the garden.
More On Boho Wedding Accessories
If this gallery of dreamy boho wedding accessories has you giddy to book your next bridal appointment, head to our Store Locator to find a boutique near you! We've also devoted a whole post to our brand-new (not to mention gorgeous, stunning, and one-of-a-kind) bridal crowns from the Al'Este x Maggie Sottero collaboration. (Think bridal headbands, Art Deco embellishments, and glitzy jewel accents.
Any of these bridal accessories would pair effortlessly with our boho wedding dresses in lace, crepe, illusion, and satin.) Then, learn how to accessorize a strapless wedding dress. As always, happy shopping!