Dresses
Real Weddings
|
February 14, 2023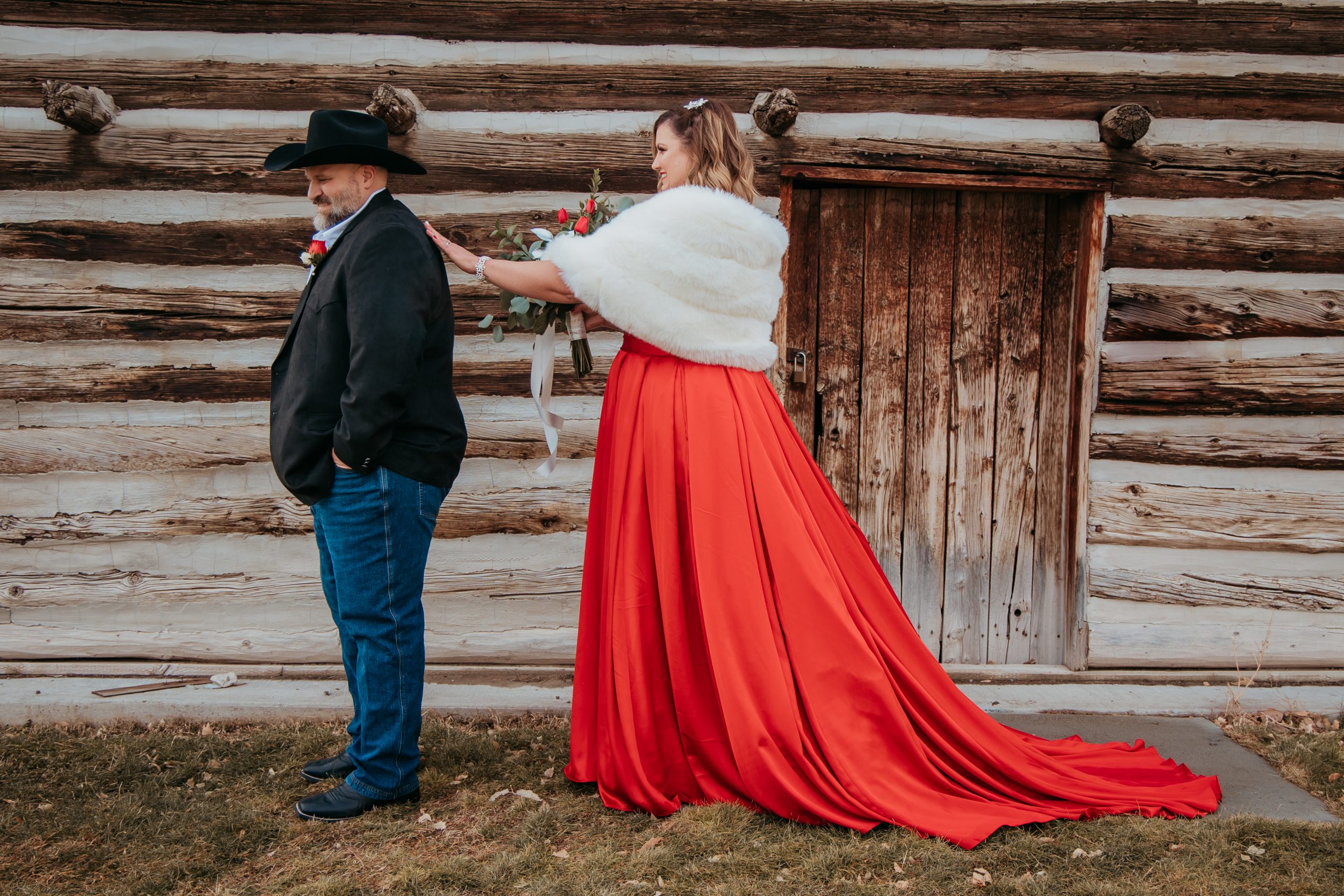 What's more romantic than saying "I do" on Valentine's Day? Wearing one of our bridal Valentine's Day dresses of course! For all you brides who love everything rosy, romantic, and extra, keep reading to see our favorite Valentine's wedding dresses with a testimony from one of our Real Brides who wore RED!
But first, find an Authorized Retailer near you to make an appointment to get one of these gorgeous gowns!
What are Valentine's Day Dresses?
First of all, what are Valentine's Day dresses? If you're a bride who wants to feel like Cupid on her wedding day, we suggest ditching the diaper and bow and arrow for your wedding and opting for a gown that has something like this below instead:
Something in a pink or red hue.
A wedding dress with romantic details like soft ruffles, classic laces, elegant beading, and a sweetheart neckline (wink, wink).
A gown that takes maximalism to the max! Think couture bows, voluminous skirts, and sparkles all around.
Don't just take it from us though! Meet Racheal: one of our Real Brides who wore the daring Scarlet by Maggie Sottero in Valentine's red. Keep reading for all the must-have tips on how to rock an unconventional color choice on your big day!
PC: Autumn Lane
Why did you choose to wear a red wedding dress rather than go with the traditional colorways of white and ivory?
"As soon as I put on the red (which is the perfect shade of red by the way) I just knew nothing else would compare. This was my second wedding, so I did not feel a need to conform to any wedding standards. I chose what spoke to my soul."
What was your favorite aspect of wearing Scarlet by Maggie Sottero and how did the fit make you feel?
"This dress made me feel beautiful… and the red made me feel sexy. It highlighted everything I loved about my body."
How did you accessorize this gown?
"I knew this dress was amazing and the shoes had to pop, especially with the slit… To accessorize, I added rhinestone boots and a matching fur shawl for warmth since it was in the middle of winter. I also added some snowflake jewelry items as well."
PC: Autumn Lane
How did your partner, bridal entourage, and guests react to you choosing a red dress?
"They LOVED it. My now husband was shocked and even cried a little. He is a stoic and strong man and seeing that little bit of emotion was huge! And our children just kept telling me how pretty I looked (coming from teenagers it meant a lot). My dress was red, and everyone wore black and white. It was perfect!"
Do you have any advice for brides who are thinking of going untraditional but are nervous to take the jump?
"This is your day, do what feels right for you and your soon-to-be spouse. It might not be what others envision for you, and that is ok. What makes the two of you happy? This is a new chapter in your life and should reflect the two of you."
We couldn't have said it better ourselves! If you've been inspired to wear an unconventional wedding color, keep scrolling to see our other Valentine's Day dresses to fall in love with!
Pink & Red Valentine's Day Dresses
First up is our romantic, airy, and PINK wedding dress, Nerida by Sottero and Midgley. This gorgeous wedding dress is not only a unique wedding dress color, but it's also full of romance and matches those gorgeous Valentine's Day colors that we hold dear.
Full of airy details, off-the-shoulder bishop sleeves, and a classic sweetheart neckline, you're sure to say "I do!" to this beautiful gown!
To see more beautiful wedding dress colors read our blog for all the bridal inspo!
Want something colorful with a little bit more shimmer? Consider wearing Florie by Rebecca Ingram. Practically spun with fairy dust, this rose gold gown has a ton of personalizations to make this gown as unique and special as you are:
With a sweetheart neckline and classic A-line silhouette, this is a perfect gown for brides who want a bit of color without going overboard.
Alera by Sottero and Midgley is another one of our Valentine's Day-inspired wedding dresses in an unconventional bridal color! Similarly, to Scarlet, Alera is one of our all-red wedding gowns designed to make a statement.
This full satin gown features a straight, romantic neckline, full voluminous skirt, and buttons down the back – the ideal romantic gown to wear on the most romantic day of your life! Want some added drama? Consider personalizing this wedding dress with its detachable Mikado bow.
Romantic Valentines Bridal Gowns
Minerva by Rebecca Ingram is full of romantic details that are perfect for a Valentine's Day loving bride like yourself! Made with airy tulle with floral lace motifs, a sexy V-neckline, and illusion bodice, this beautiful wedding dress is ready for you to say "I do!"
Don't just take it from us though! Hear from some of our Real Brides who chose this beautiful Valentine's Day dress for their big day:
"Best I have ever felt, so comfortable!" – Lindsay G.
"The whole dress was stunning but the detail down the back and train just blew me away. Nothing like any other dress I've ever seen." – Amy P.
Do you want a wedding gown that was practically stitched with love? Then Leandra by Maggie Sottero is the gown for you!
There are a ton of things to love about this 3D floral A-line wedding dress, but our favorite parts? The personalizations available with this gown to customize the gown for your loves story:
Change the 2nd layer of tulle to sparkle tulle.
Shorten the train to make it more casual.
 Do you love the look of this romantic floral wedding dress? Read Maggie Sottero's blog to see our other floral wedding dresses to choose from!
Maximalist Bridal Gowns for Valentine's Day
Another thing we love about Valentine's Day-inspired wedding dresses? That you get to be as extra as you want! Bring some maximalist elements into your wedding day by choosing Valentines-inspired wedding gown, Bannock by Sottero and Midgley.
This sexy and haute couture princess-inspired wedding dress is the perfect wedding gown to walk down the aisle in on your wedding day! With a voluminous tulle skirt, and illusion beaded bodice, it's made perfect with a gorgeous open back!
Feel like taking up the maximalism another notch? Add a layer of sparkle tulle onto the skirt!
Last but not least is the colorful and floral maximalist wedding dress, Kenleigh by Sottero and Midgley!
This unique mermaid wedding gown is perfect for a Valentine's Day loving bride like you! Embrace your curves in this beaded and lace gown with an illusion back, plunging V-neck, and ruffled skirt.
Psst… If you want to personalize this dress more for your love story, add buttons down the back for a more vintage vibe!
Embrace love this season by shopping some of these Valentine's Day dresses by finding an Authorized Retailer by clicking the button below, and make sure to tell someone that you love them today!
More Blogs Like This:
Seven Types of Lace to Know While Shopping for a Wedding Gown
Winter Wedding Ideas & Gowns for a Chic Celebration
10 Dreamy Spring Wedding Dresses For A Beautiful And Fresh-Feeling Wedding