Tips and Trends
Wedding Inspo
|
March 21, 2022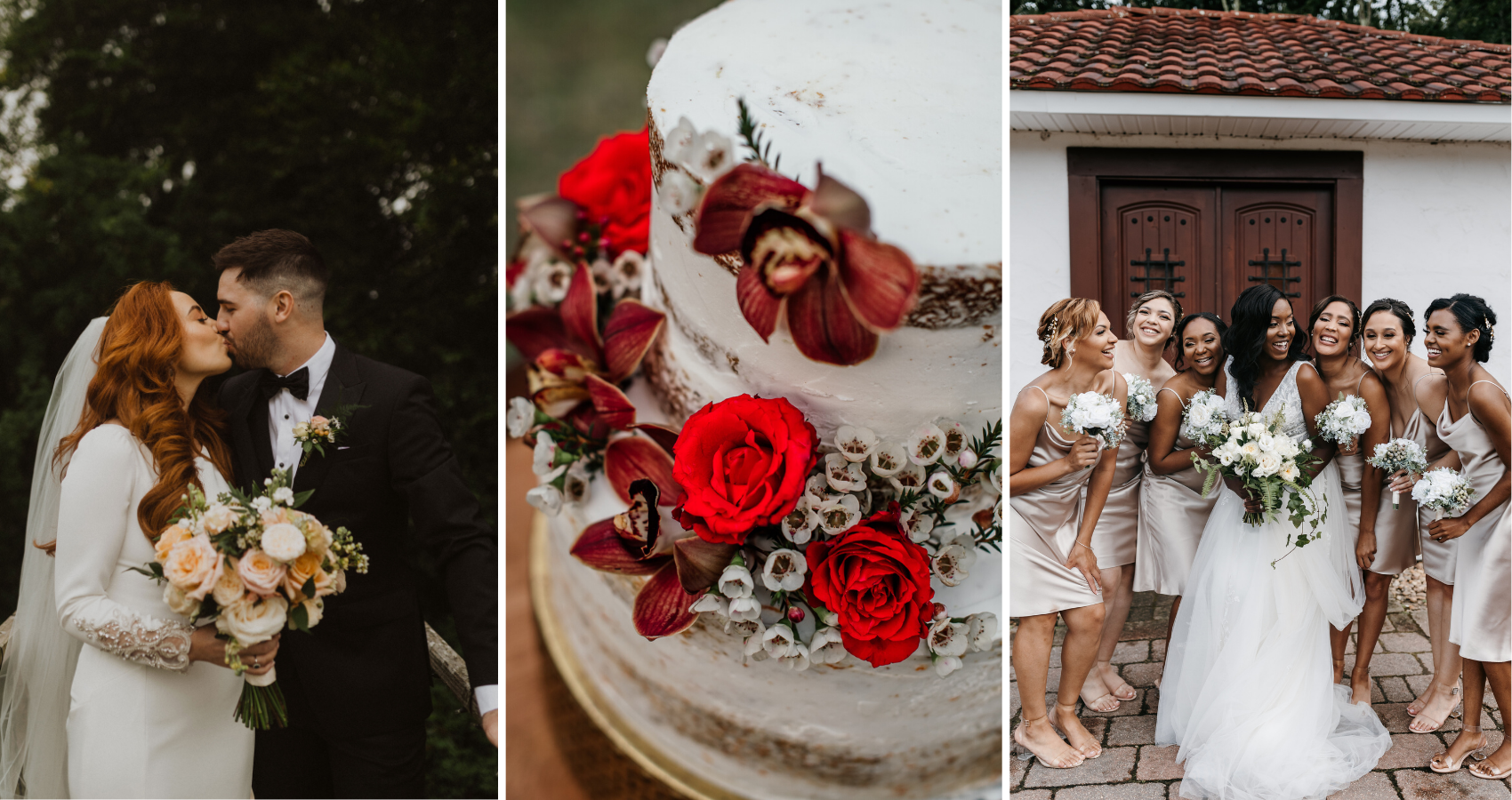 After fool's spring and second winter, then mud and rain and pollen season, comes SPRING! AKA REAL SPRINGTIME! The sacred three weeks of the year when the sun is shining (not too much) and the leaves are budding (just right) and all the happy couples are frolicking around and (yes!) getting married! If this happens to be you—you're planning a bunny hop for April or sweet soiree for May. Get inspired with these 5 spring wedding colors inspired by our real brides. From classic watercolors to bold, summer-forward jewel tones, and everything in between, find your wedding colors inspired by a gown from our Style Quiz (and then find your gown at one of our Authorized Retailers).
Along with these spring color trends, we've also included gorgeous inspo for affordable wedding dresses in each of our palette categories. If you want to know more about our wedding gowns, #MaggieInspiration from our real brides, more wedding color ideas for spring, and all things bridal, make sure to click the link below and sign up!
Ways to Play with Spring Wedding Colors:
Use your florals as the main attraction for spring colors for weddings, including bouquets, centerpieces, table runners, wreaths, arches, and photo backdrops.
Match or complement with the bridal party attire. Black and neutrals work well with a bold bridal spring wedding color palette, soft pastels add whimsical flourishes, bold tones turn up the style and expression—you know the drill!
Use your venue to your advantage. Soft, rustic backdrops work beautifully with both light and rich color schemes, while deep, intense venue colors pair best with neutrals, luxe shimmer, and complementary jewel tones.
Don't limit "best wedding colors for spring" to pastels. They're pretty, but they're by no means your only option. May wedding colors can be all about moody blues and dark black hues, for example—not just soft pink and daffodil yellow.
Integrate wedding colors into your invites, place cards, stationery, signage, and favors.
Don't forget the food! Florals and flourishes are perfect for the banquet table, food truck, dessert trays, and drink dispensers.
Don't be afraid to mix and match. Overly manicured spring colors for weddings have slowly lost their hold. Brides today are more about personalized details and organic aesthetics. It's the best way to make a celebration feel truly yours.
Spring Wedding Colors: Botanical Sage & Ivory
PC: Courtney Pecorino
First up are the neutral classics: a lovely sage and soft ivory, inspired by that first glimpse of greenery after a mellow spring snowstorm. This combo is chic, sophisticated, and versatile—not to mention an effortless choice for your florist. (You can easily source these hues yourself, or a professional vendor can give you a range of stylish options to fit your budget.)
These floral hues are also a top choice for reception décor and spring wedding colors 2022. The pairing is beautiful on table runners, centerpieces, wedding arches, and more.
This bride is wearing Tuscany Lynette by Maggie Sottero. Just like its spring wedding color palette, this bridal dress is elegant and feminine… a timeless choice for your April or May wedding colors.
Colors for a Spring Wedding: Sunset Inspired Peach & Orange
PC: Tamar Hope Photography
Peach and orange hues are often associated with tropical beach weddings. Make them work for a spring celebration by lightening the saturation and experimenting with delicate floral flourishes. This bride's soft, rounded arrangement is such a gorgeous focal point for her portraits!
Speaking of arrangements, it's important to consider how the shape and structure of your florals changes the look and feel of your palette. Traditional rounded bunches look classic and formal, while looser, handtied arrangements are more edgy and boho. A selection of peach and orange will look soft and elegant in the former, while the same combo will appear more wild and romantic in the latter. Whatever strikes your fancy, be sure to think about how this structure appears in photos, matches the rest of your venue and décor, and complements your wedding dress.
PC: Tamar Hope Photography
This bride paired her traditional arrangement with a black-tie wedding gown, Aston by Sottero and Midgley. This style is a gorgeous combo of new and vintage details… The silhouette is sleek and sexy, but the jeweled embellishments evoke old-school glamour. Moody April wedding colors: found!
It's an eye-catching design that looks stunning with more formal wedding details, from the lush bouquet to the red-carpet accessories. (And the statement back is nothing short of divine.)
Spring Wedding Colors: Dreamy Violets & Blues
PC: Rachel Laxton Photography
Ok, so we'll totally admit, a lot of wedding colors for spring are all about the pink and yellow vibe. It's all too easy to neglect the gorgeous cool spectrum of blue, purple, violet, and magenta… a surprising and ultra-romantic choice for watercolor bouquets and artistic flourishes.
This bride chose a gorgeous blue and lilac palette for her spring celebration. We love the monochromatic effect going on here… It's a little sweet, a little moody, and 100% chic. It's also such a luxe trend for bridesmaid gowns. These ladies look positively radiant in their iris-colored frocks, a leading trend for spring wedding colors 2022.
This is another gorgeous hue for outdoor venues. The purple pops against trees and greenery, and it's a lovely flourish for placeholders, party favors, tablecloths, and more. (And the groom's blue suit is so sharp and unexpected!) You heard it here first: This amethyst wedding palette is sure to stand out in a sea of spring pastels.
PC: Rachel Laxton Photography
Another detail we love in this wedding gallery is the unique bridesmaid bouquets. These hoops are a whimsical flourish, perfect for fairytale themes and outdoor celebrations. They're also a lovely choice for DIY brides; just plan to run a floral committee in the days before your wedding.
This bride is wearing lace ball gown wedding dress Mallory Dawn by Maggie Sottero. This style is top-rated for its flattering construction, romantic embellishments, and timeless versatility. Check out the page's 5-star reviews for all the gushy deets!
Spring Wedding Colors: Luxe Neutrals & Onyx
PC: Micaela Grace Photography
Ok, so we've hit warm whites, pastels, and watercolors. Next up is the bold and polished spectrum of shimmery neutrals and ultra-luxe black. We love this bride's choice to combine black groomsmen suits with matte silver bridesmaid dresses.
This combo looks irresistible in photos, works beautifully with the backdrops, and we're totally convinced those ladies will be wearing their gorgeous slip gowns for future parties… It's Old Hollywood glamour meets modern muse. We love April wedding colors that defy expectation!
PC: Micaela Grace Photography
The thing we love about this wedding palette is how luxe and expensive it looks, even if you're working with a budget for venue, accoutrements, and attire. This bride is wearing one of our affordable wedding dresses, for example—Raelynn by Rebecca Ingram.
This dreamy lace A-line bridal gown is all about a classic silhouette and soft embellishments. It looks so divine as the focal point of the wedding party's black and metallic attire. It's gorgeous to accessorize. It's budget-friendly. It will look timeless for decades to come… What's not to adore?
Unique Color Palette: Cheery Gold, Ruby & Gray
PC: Wilmatowell Photography
For a spring palette inspired by all things bright, beautiful, and blooming, look to reds and greens. This palette is typically paired with fall and winter palettes, which makes it an extra delectable choice for spring. The crimson reminds us of new birds flying back for warm weather. The green is elegant. The browns and magentas add a sophisticated contrast. We vote this is very much a spring wedding vibe, indeed.
This bride chose to wear her hair loose and lush for her celebration. We love this vibe for spring… It matches the joy and adventure of the season, but still looks romantic as a formal bridal style.
PC: Wilmatowell Photography
Love this bridal portrait? This flattering wedding gown is Kevyn by Sottero and Midgley. This lace is so chic IRL… there's some illusion, some shimmer, and plenty of curve-enhancing design. This is one of our top bodycon styles from our latest collections. It's chic, comfortable, and effortless to style.
These colors for a spring wedding are also so elegant for the banquet table. These cake florals are delectable!
More Spring-spiration
Have your eye on any of these wedding gowns for your upcoming party? Head to one of our Retail Partners to shop silhouettes, personalizations, accessories, and more. Many of our styles can be ordered with different fabrics, embellishments, sleeve styles, and skirt variations. Book your appointment to find something truly yours!
You can also work with a stylist by bringing in your favorite wedding gowns from Pinterest. Make sure to pin these gowns for later! We've also got plenty of gorgeous inspo to send in our Newsletter, and plenty more on the blog, including:
As always, happy shopping and best wishes! Whether you're getting married in the next couple of months and looking for some last-minute inspo, or you're getting ahead on a wedding for next year—these are the best wedding colors for spring to match your mood, theme, and season. Bring on spring!