Wedding Inspo
|
March 24, 2020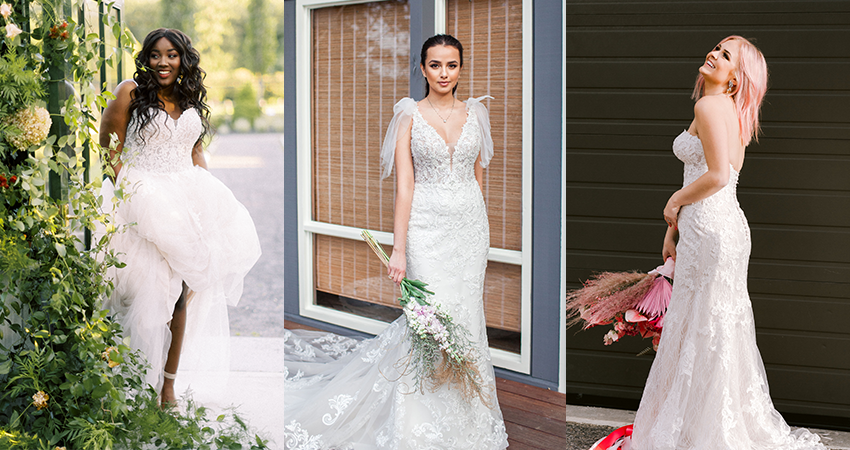 You've booked your venue and pinned your favorite wedding trends—now it's time to talk palettes. From classic and muted to bold and beautiful, wedding colors have the power to set a party mood, tell a love story, and express your personality in a major way. Keep scrolling for a selection of pretty watercolors, classic palettes, and bold contrasts to find out what your wedding color scheme says about you!
(FYI, we've matched these wedding color schemes with gorgeous dresses from our Maggie Sottero, Sottero and Midgley, and Rebecca Ingram lines to get the style inspiration rolling. If you've already chosen your wedding gown, see how it matches up with our aesthetic inspiration in our rundown of What Your Wedding Dress Says About You in the link!)
Your Wedding Palette: Deep Reds, Emerald Greens, and Shimmery Golds
Here's our summation: you've got classic taste but bold sentiments. You love the formality of true hues and timeless combos, but you add romance and intrigue with deep and earthy tones. Red and green is a fabulous choice for a fall or winter celebration, while gold adds a touch of luxe shimmer to any seasonal concoction.
Opt for emeralds and deeper reds to keep from looking Christmas-y (unless that's your theme, of course—in which case, bring on the blitz!). And dial up the copper patina, rather than clean gold, for vintage sophistication.
A divine wedding gown for your upscale celebration? Sabra by Maggie Sottero—glamorous, formfitting, and made for the spotlight. Pair this embroidered style with a cascade of ruby-red peonies to give your wedding palette a shimmery and dramatic effect.
Your Wedding Colors: Retro Pinks + a Sophisticated Neutral
Scheming about pink for your big day? It must be your chic and charismatic personality. There are few things more loveable than a bold and flirty shade of retro pink—be it candy fuchsia, effortless blush, or playful pops of rose.
Here are two fabulous gowns for your rosy disposition: Fernanda by Maggie Sottero (pictured above), a stylish crepe sheath; and Kaysen by Maggie Sottero (pictured below), a gown featuring unique textured lace and sheer detailing in an ultra-flattering silhouette.
Make pink the main attraction with monochromatic bouquets and over-the-top décor, or temper with a sophisticated neutral like latte brown, charcoal black, or violet-y ash. These wedding colors lend well to a soft vintage soiree or 60s-inspired summer party—the perfect combo of romance and whimsy!
Your Wedding Palette: Dark Greens and Pops of Pink and Orange
We'll call your temperament bubbly and citrus-y, because your wedding colors remind us of summer holidays and lakeside picnics. This fresh and breezy party palette starts with natural greens, then plays with pops of pink and orange for a sweet, bright, and delectable finish. Add a dash of deep blue to ground this happy scheme, or throw in peachy and off-white accents to keep everything light as air.
These wedding color schemes call for a dreamy and enchanting wedding dress, á la Marisol by Rebecca Ingram in soft lace and feather-light tulle. Pack this effortless style for an international elopement, or pair it with a statement floral crown and boho-chic jewelry for a dance party at home. (Plus! This fairytale-inspired style is part of our Rebecca Ingram line, which features gorgeous gowns at perfect price points for the budget-conscious bride.)
Your Wedding Color Scheme: Ocean-Inspired Blues, Creams, and Greys
Your serene spirit and natural intellect call for a timeless and sophisticated mono-palette, e.g. a blue spectrum inspired by seaside romance. Combine cool slates and grey azures for a misty and moody feel, or add a touch of hip contrast with lilac and mint accents. If the ocean is your muse, this palette is your dream-come-true!
Look no further for an enchanting wedding gown for your nature-inspired sensibilities. Easton by Sottero and Midgley features exquisitely beaded lace in a lithe and graceful silhouette. Pair this unique style with your blue and grey palette for a chic yet vivid effect.
Your Wedding Palette: Bright Yellows, Dusty Oranges, and Rustic Reds
You've got charm and wanderlust, and your warm wedding colors have us dreaming of desert hideaways and southwest adventures. Consider redrock-inspired hues for a National Park backdrop á la Moab or the Grand Canyon. Then step out in a bold and unconventional wedding dress to match your free-spirited aesthetic.
Milan by Maggie Sottero is a fabulous wedding jumpsuit inspired by all things groovy and sophisticated (think Bianca Jagger circa 1971). It's also perfect for your sunny, chic, and summery desert celebration!
Looking for more wedding color schemes to dazzle and distinguish? Dive into Your Wedding Day Horoscope Inspired by Pantone's Color of the Year to complement your personality with this season's most stylish palettes. And be sure to send us a photo gallery to share your style and personalization with our brides-to-be. Cheers!