Tips and Trends
|
May 11, 2021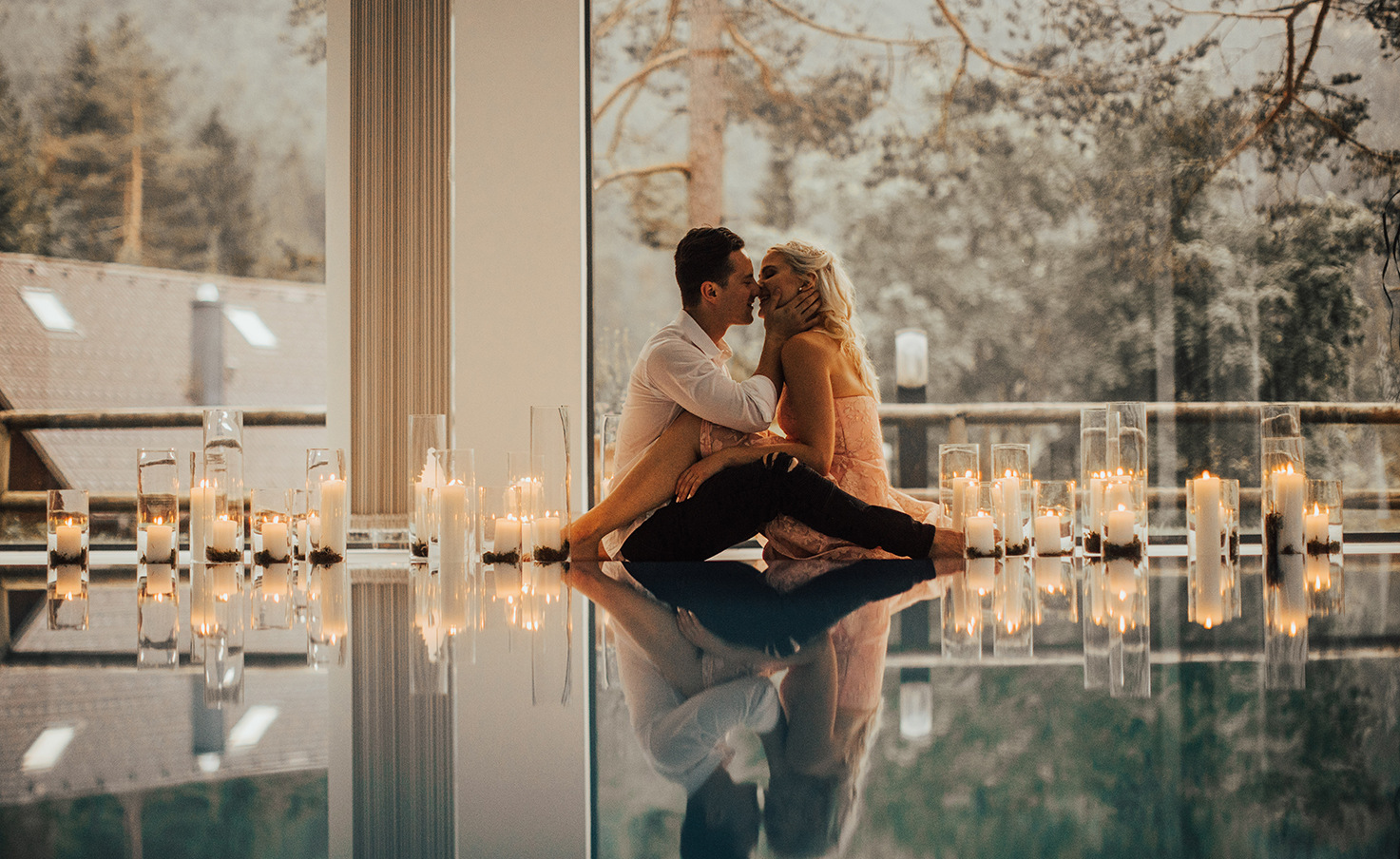 Amidst all the craziness of wedding planning, budgeting, and adjusting to newlywed life, it's important to take time to care for yourself and your relationship. After all, what's the point of having a gorgeous wedding if your personal wellness or relationship isn't flourishing as well? To help you and your sweetheart during one of the most stressful phases of life, we've compiled these mental health and wedding mindfulness tips for couples in 2021. So, keep scrolling!
PC: Brittany Martorella
If 2021 is the year you say "I do," congratulations! By now, you're probably in the depths of wedding planning with many checklist items crossed off and many more to go. With the year well underway and the biggest day of your life just around the corner, the idea of managing your personal health and wellness in 2021 has probably crossed your mind.
Unfortunately, there has always been a trend among couples planning their wedding in feeling the need to push themselves, neglect their mental health, and crash diet in the months leading up to their wedding. But this doesn't need to be the case!
We've listed five tips below to help you turn your current habits into a new long-lasting, balanced, and healthy lifestyle— both physically and mentally!
1. Consume Mindfully
This first tip of wedding mindfulness goes beyond worrying about your wedding dress or suit size (you're perfect just as you are!). Consuming mindfully means making the effort to get a wide range of nutrients in your diet and choosing the unhealthy stuff in moderation.
It's no secret that the more fast food, red meat, dairy, and processed carbs we consume, the more sluggish, bloated, irritated, and tired we feel. Eating this way regularly can be a root cause of stress – and you've already got enough of that with wedding planning!
Try swapping tonight's pizza for a homemade cauliflower crust pizza with lots of veggies and save the leftovers for tomorrow's lunch. Planning ahead with healthier meals might even save you some cash for your wedding budget, too!
PC: Jane and Simon Photography
If both you and your fiancé are new to meal planning and are looking to use your upcoming wedding as motivation to live a more nutritious lifestyle, it may be beneficial to use some of your wedding budget to join an assisted weight loss program that will lead you in the right direction.
2. Reach a Daily Step Goal
If you have a smartwatch or phone that can track your steps, try setting a step goal you can aim to reach each day. Between 7,000 and 10,000 steps is a great place to start!
Not only does this get you moving towards a fitness goal, but it encourages you to take time during your day to get up from your desk, take a nice walk, and clear your mind. Use this time to focus on your breathing and listen to an inspiring podcast or a guided meditation for extra stress relief!
If you feel like you want to take your daily workouts a step further, consider signing up for a gym membership or personal training with your partner. Not only is this a great (non-wedding related) way to spend time together, but it also provides an opportunity to be each other's biggest supporter and cheerleader.
That sense of teamwork may help you and your soon-to-be-spouse feel super close and connected in the weeks leading up to your wedding! Yay to wedding mindfulness!
3. Take Your Vitamins and Drink Lots of Water
Vitamins and natural supplements can be extremely helpful in the months leading up to your wedding, especially if you're looking to grow out your hair, lengthen your lashes, clear your skin, get in some quality sleep, and even prevent a pre-wedding cold.
For clear skin, start drinking the recommended 8 glasses a day, and even more if it's hot out. Supplement that water intake with flax oil and omega-3 oil– both of which will help with hair growth, too! For natural, long lashes, start rubbing castor oil on your lash line each night before you go to bed. It takes a few weeks of using it every night before you will actually start to see a difference, so make sure you take a before and after photo!
And when it comes to warding off those pesky viruses like the cold and flu, start taking vitamins A and C early to prevent getting sick on your big day.
4. Take Care of Your Mental Health
We've discussed how to take care of yourself physically. Now, let's talk about how to take care of your mental health in the months leading up to your wedding. Putting your mental health first is one aspect of wedding planning that often gets overlooked. We've heard too many stories of brides and grooms feeling burnt out, stressed, and anxious during the long and busy months of wedding planning.
To combat this, you and your partner can consider pacing yourselves during wedding planning. Not everything needs to get done at once, so each day, set aside one or two priority items that need to be done, such as making appointments, calling vendors, going shopping, etc.
However, make sure that you and your partner set aside at least one day a week where neither of you do any wedding planning. It might be tempting to keep ticking items off your list, but in the long run, taking mental and emotional breaks throughout the week will help strengthen your mental health and the overall wellness of your relationship.
Taking care of yourself mentally and practicing wedding mindfulness will not only help decrease your stress levels but will also improve the quality of your relationship!
5. Let Go of Comparison
It's true when they say that comparison is the thief of joy. If you find yourself comparing your wedding or your relationship to other people's, even if it's subconsciously, you'll find that it may bring you unnecessary stress.
You may even begin to feel as though your plans aren't good enough or "Pinteresty" enough. Avoid this feeling by focusing on meaningful details and creating moments that are special and unique to you and your fiancé.
PC: Bula Media House
It may also be impactful to create social media boundaries (yes, Pinterest included). It's completely normal to want to scroll the web for ideas and stalk that cousin of a friend's wedding hashtag that you're obsessed with, but once you have made a detail selection, there's no reason to start second-guessing yourself because you came across more photos and ideas.
Make your decisions and then log out of social media before comparison and indecision cause stress-snacking and breakouts. What you have planned is going to be perfect!
We hope these tips have helped give you some ideas on how you and your partner can practice wedding mindfulness and improve your physical well-being, mental health, and overall relationship. Cheers to you and your sweetheart's upcoming best day ever!
Browse Related Content:
Top Wedding Fitness & Wellness Tips for the Everyday Bride
Ask Our #RealBride Dietician: Ten Tips to Get Healthy for the Big Day