Tips and Trends
|
August 31, 2021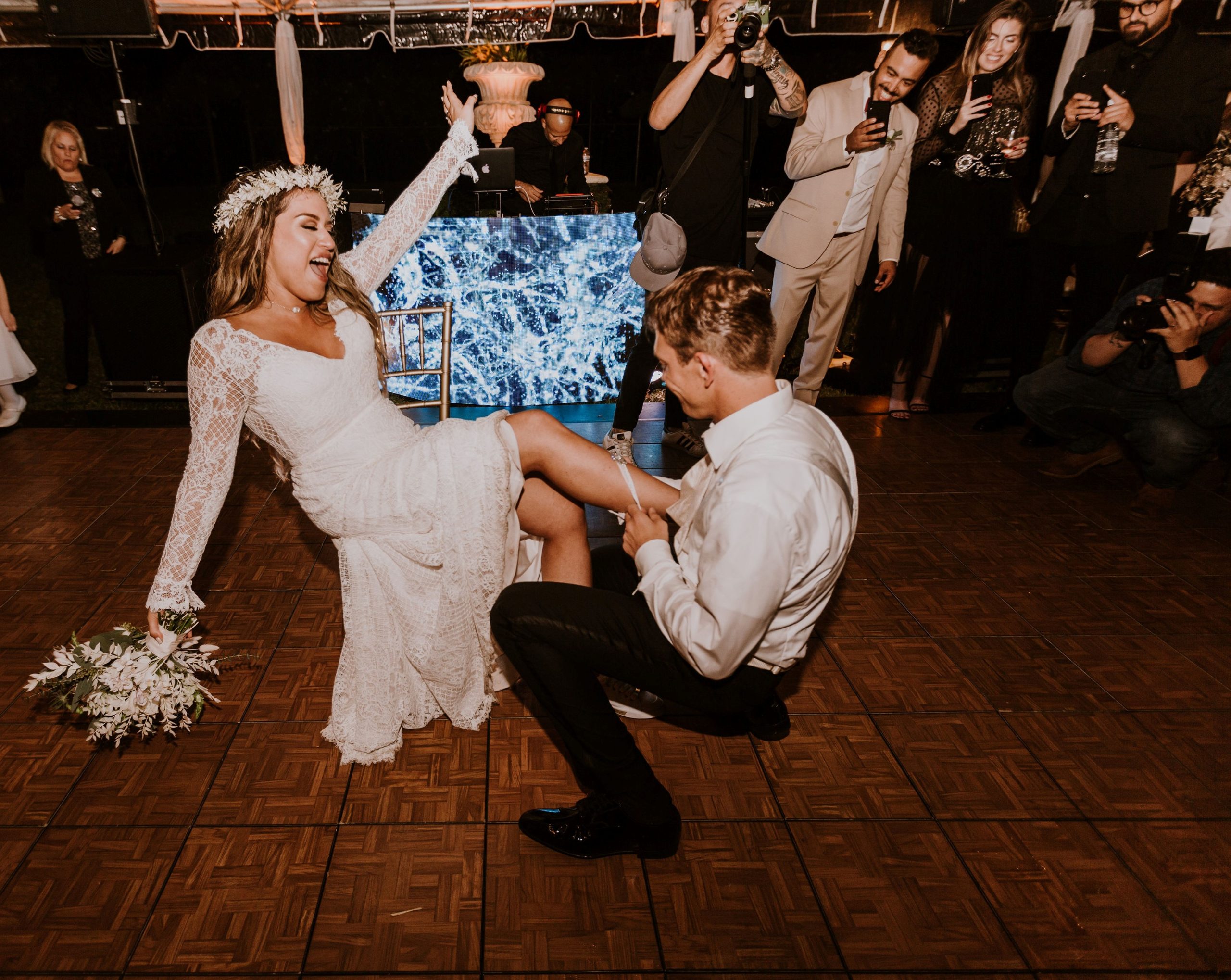 Looking at options for cute wedding traditions to entertain your guests? One standard you're likely familiar with is the garter toss—AKA that high-frenzied moment (likely toward the end of the reception and dancing) when all the eligible bachelors gather to catch a piece of the bride's lingerie. If you're wondering if the wedding garter tradition is right for you and yours, keep reading to find out everything you need about its origins, variations, and alternatives!
What is a Wedding Garter?
A wedding garter is a piece of lingerie typically worn by brides under their bridal gown. Its historical function is to hold stockings up, but nowadays it's more common to wear as a decorative novelty item for the traditional "garter toss."
Modern wedding garters are usually made with lace and embellishments and held in place by elastic. They are worn around mid-thigh for a sensual and seductive effect, and are often used for bridal boudoir shoots and often passed on from generation to generation.
Do All Brides Wear a Garter?
PC: Barclay Studios
A lot of brides wear a wedding garter, but not all. Most brides choose to uphold the tradition as a meaningful part of their celebration, an accessory for wedding photos, a chic heirloom to keep for future generations, or a sexy addition to the wedding night. Others, however, choose to skip the tradition.
Some brides choose not to wear a wedding garter because they don't want to include the garter toss tradition in their reception, they don't feel comfortable with wearing one, or they don't like the aesthetic or style. The most common reasons not to have a garter toss usually have to do with the gendered history behind it; some brides may find it a little antiquated for their celebration.
Who Buys the Wedding Garter?
Anyone can buy the wedding garter; there's no set person. A bride may pick it out for herself to match her wedding dress, her spouse-to-be may purchase it as a gift, or her bridesmaids might make one as a custom design. Brides may also receive a garter from their mother or grandmother as an heirloom or have a custom design made from the fabric of a family wedding dress.
How Much do Wedding Garters Cost?
A single wedding garter can cost anywhere from $10 to $150, depending on the name brand, materials, embellishments, and complexity of the design. The average price is around $20 to $40 for a romantic lace, silk, or chiffon design to complement your wedding dress. If you or someone in your family is crafty with a sewing machine, you could also design your own garter or upcycle an heirloom for the price of materials.
Some brides choose to wear two wedding garters—one to keep and one to toss. If this is your vision, you'll need to budget a bit more for the second design.
What Leg Does the Garter Go On?
PC: Chantel Marie Photography
It's personal preference; there's no right or wrong leg to wear your garter on. A garter is typically worn around mid-thigh to keep it in place, and if you're wearing two garters, they usually go on the same leg. Whatever you decide, just let your partner know beforehand the leg it's on and which one to toss!
Do You Have to Wear the Garter All Day?
Totally up to you! Some brides wear their wedding garter as an all-day tradition; others take it on and off for different parts of the celebration. The two best times to wear the garter are for your "getting ready" or "bridal boudoir" photoshoot before the ceremony, and then later in the reception if you want to host the garter toss. In between those times, some brides opt to keep the garter in their bag or pocket for safekeeping.
What Is the Wedding Garter Tradition?
The wedding garter tradition dates back centuries but has shifted over time. The basic idea is that having a piece of the bride's outfit brings good luck for wedding guests, so the newlyweds will offer a small token (AKA, the garter) to their guests to appease them.
The origin of the wedding garter tradition dates back to the Middle Ages, when newlywed couples would perform a "bedding" ritual to prove they had consummated the marriage. After the ceremony and reception, wedding guests would follow the newlyweds to their chamber to witness the bride's "deflowering" (yeah, creepy!). To get a little privacy, couples would throw out a piece of the bride's outfit to appease their nosy onlookers.
Nowadays, the garter toss ritual is meant to be cheeky fun among the couple and their guests, often taking place during a rowdier part of the evening. The "winner" of the wedding garter toss is said to be next in line for love and marriage, so it's especially popular with the celebration's most eligible bachelors and bachelorettes.
What Does the Wedding Garter Mean or Symbolize?
PC: Chantel Marie Photography
Traditionally, the wedding garter most often symbolizes love and luck. In the Middle Ages it was more tied up with notions of virginity and the consummation of marriage; these days it's more of a fun, lighthearted wedding way to show off the couple's chemistry and interact with their guests. The wedding garter can also be symbolic of family ties and traditions, as they are often made with heirloom materials and passed down as part of a keepsake wedding dress.
The Modern Meaning of the Wedding Garter
Thankfully, the wedding garter is still a symbol of love and luck for your wedding guests—not so much a symbol of losing your virginity or having to be "inspected" by prying friends and family. These days, the modern meaning is much more about fashion, fun, sensuality, and, of course, tradition!
What is the Garter Toss?
In a nutshell, the garter toss is a wedding tradition where the bride's garter is removed and thrown out to a crowd of single men. It's the groom's equivalent of the bouquet toss and is meant to symbolize good luck to the eligible bachelors in attendance.
With all the creativity and diversity of modern weddings, there are tons of ways that the garter toss tradition has been shifted and personalized to fit the needs of nontraditional couples, same-sex couples, and unique wedding visions. We've listed some of these variations and alternatives to the garter toss toward the end of this article!
Who Takes the Garter Off?
PC: Erika Diaz Photography
If you're a bride-groom couple, typically the groom removes the garter from the bride's leg and tosses it to a crowd of male singletons. The ritual goes something like this:
The couple sets a time in their reception to have the garter toss.
The couple or emcee makes an announcement, and the crowd of men gathers around as the bride sits down in a chair. The groom is off to the side.
The groom might dance around and tease the bride to turn up the humor and excitement of the moment.
The groom removes the bride's garter with his hands or maybe his teeth—the moment can be as flirty and raunchy as you feel comfortable with!
The groom tosses the garter into the crowd of male onlookers.
The man who catches the bride's garter is the "winner," i.e., the next one to marry.
Do You Have to Wear a Wedding Garter for Your Wedding?
Absolutely not—there's no reason to wear a wedding garter if you don't want to. Whether it's not your style, you don't feel comfortable with it, or you prefer to set new traditions for your celebration, you can totally pass on the wedding garter tradition with no one (absolutely no one!) to stop you.
Reasons You May Not Want to Do a Garter Toss
The most common reasons that couples skip a garter toss are 1) It feels old-fashioned and too gendered, 2) It's a little too sensual and embarrassing to do in front of the family, 3) It feels awkward to call out the single people in your crowd, and 4) The couple wants to set other traditions for their celebration. If any of these apply to you, by all means, skip it!
Alternatives to the Garter Toss
Skip it entirely.
Toss a garter without the "undressing" ritual. (Just keep the garter in your pocket.)
Just go with the bouquet toss, no garter necessary.
Have a bouquet toss with all genders—no separation of men and women.
Toss the groom's boutonniere along with the bouquet, no garter needed.
Break up your bouquet and give stems to important guests in the crowd.
Host an anniversary dance with all the married couples.
Play a song for the singles to invite all the eligible guests on the dancefloor.
Toss a prize, like a gift card to your favorite restaurant.
Plan a balloon drop.
Pour a champagne tower.
That's it—our complete wedding garter tradition rundown! It's totally up to you and yours to decide if this long-held tradition is right for your celebration. You can use the bridal garter for photos only, change up the details, replace with another tradition, or skip it entirely—your decision. The most important thing is to have fun and make a special moment with your sweetheart. And with that, happy planning and best wishes!
Browse more wedding tips and #wedspo:
Four Traditional Wedding Rules To Break on Your Big Day
The Pros of Doing a First Look for Your Wedding
Tips for Buying an Engagement Ring: How to Choose the Right One