Tips and Trends
|
October 7, 2021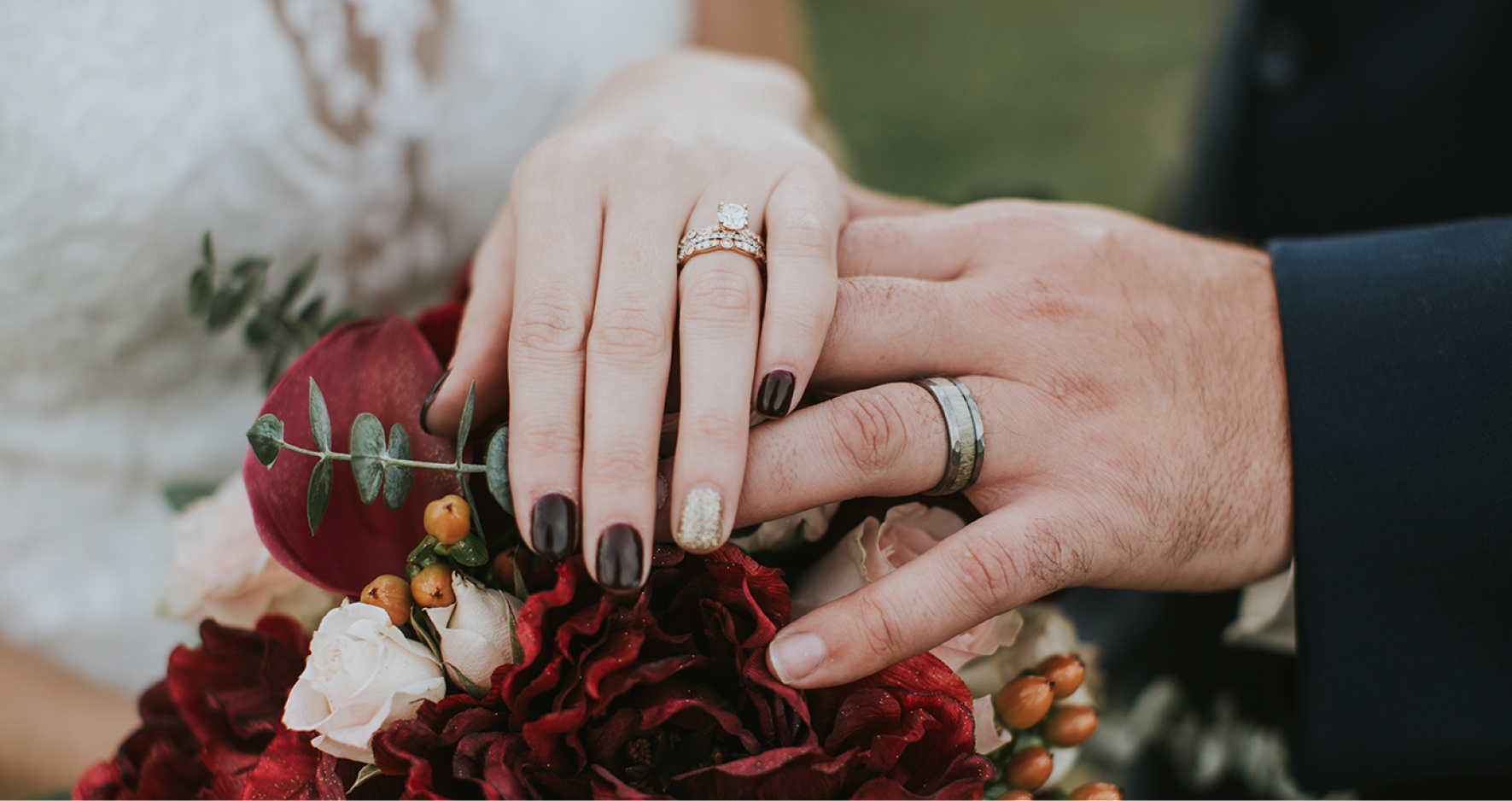 Are you about to be engaged and looking for your meant-to-be engagement ring? First off, congrats! While shopping for a ring can be exciting, it can also feel a bit overwhelming. That's why we've outlined some top tips from our diamond experts. Keep scrolling to see what to consider when buying an engagement ring and wedding band, so you can find a ring that perfectly matches your style, budget, and timeline!
First things first: set your budget.
PC: Myio Okamoto Photography
Are you and your S.O. easily persuaded to go above budget? If so, prepare to be firm while buying an engagement ring. Or, simply plan to spend more than you originally budgeted, as a salesperson will often try to push you to go higher. Factor things like metal, setting, and carat weight into your budget, so you know what things you're willing to sacrifice in order to get the things you truly want in your ring.
Decide if you're buying new or used.
A used engagement ring is nothing to be ashamed of! Unlike what some people say, there's no such thing as "bad ring karma." What matters most is the symbolism of your love story and commitment. Besides, there are major pros to buying a pre-owned or vintage wedding ring.
PC: Abby Grace Photography
Used or pre-owned engagement rings tend to better for your wedding budget, and they help you get more carats and craftsmanship for your cash. Plus, it's more ethical and eco-friendly to go for a diamond that's been in the market before than to buy a new one. For more ideas on antique or used engagement rings, browse our selection of vintage engagement rings!
Decide if you're shopping online or at a brick and mortar jewelry store.
We'll be the first to say that there is no "right" way to shop for an engagement ring. It's easy to compare diamonds on the internet, and you can't beat the selection of online merchants. Plus, you don't have to deal with pushy salespeople. When buying an engagement ring online, however, you won't get to see the diamonds in person, and you won't get to "connect" with your engagement ring before buying.
PC: Sophie Epton Photography
At a jewelry store, you will be guided along by a trained sales associate to help you pick the best engagement ring for your personality. And you'll be able to try on a wider selection of diamonds and compare them in person.
However, if you opt to shop online, start browsing at brick and mortar stores, and then look for an online retailer with a good refund policy. Likewise, make sure to compare the prices of brick and mortar diamond merchants, so you don't get tricked into paying more than a diamond is worth.
Consider your personal vibe and style.
PC: Rachel Laxton Photography
What's your personal style? Is it modern or timeless? Vintage or boho? Decide first on what type of ring style you're looking for, as that will help determine the shape, setting, color, and stone. Then, ask yourself if you want your ring personalized. Keep in mind that at most jewelers, custom wedding rings usually cost more.
Choose your metal.
When it comes to choosing your type of wedding band, the metal counts! While there is no "best" metal for every wedding ring, each metal offers its own advantages and disadvantages, from color to wearability to value. Perhaps the most important thing to consider about the metal band you choose is how it contrasts with the color and aesthetic of your center stone.
PC: Tran Studios Photography
Research the pros and cons of potential metals, and keep in mind factors like durability, budget, and finish. For example, platinum is popular because of its strength and purity (plus, it's hypoallergenic!); gold and rose gold wedding rings come in a beautiful variety of tones; and soft silver or white gold tends to look more classic. For a more comprehensive list of the types of wedding band metals, visit this guide!
Select your ring setting.
When buying an engagement ring, your jeweler will help you choose your ideal ring setting. The setting of a ring refers to the design that sits around your center stone. Some common settings include a prong or solitaire setting, halo setting, three-stone setting, etc. Simple settings like the solitaire setting make your center stone appear larger, while halo settings feature multiple other diamonds around your center stone. Both are gorgeous choices! What is right for you totally depends on personal preference!
PC: Peterson Design and Photography
We're digging the vintage-inspired engagement ring above, which features a round center stone set in an antique-unique silver setting. When choosing your ring setting, keep in mind that having more diamonds on your setting and/or band can raise the price significantly.
Read up on the diamond basics.
Have you ever heard someone tell you that not all diamonds are the same? Well, it's definitely true! A 1 carat diamond can range anywhere from $1,000 to $12,000 depending on certain factors. So, to determine which diamonds are most worth your hard-earned money, it's important to learn the four C's: cut, color, clarity, and carat. Here is a quick summary:
PC: Genesis Imagery
Cut: Many diamond experts agree that cut is the most important aspect of a diamond's quality because the cut is the thing that most affects a diamond's sparkle, beauty, and overall aesthetic. If the cut is too shallow or deep, it wont sparkle and instead appears rather dull.
Color: The color of a diamond actually is determined by how colorless a diamond is. Diamonds are ranked on a spectrum of how yellow to colorless diamond is, with yellow being a lower ranking, and colorless being ideal.
Clarity: The clarity of a diamond depends on how many impurities are in it. Virtually all diamonds have impurities, it's just a matter of whether you can see them or not. Diamond clarity is important but not the most important. Anyone who is not a trained diamond expert won't notice the small impurities in the stone. In fact, many impurities cannot even be seen with the naked eye.
Carat: Often when people hear the term carat weight, they believe it refers to the size of the diamond. In actuality, "carat" refers to the weight of the diamond, not how large the stone is. For example, a 1 carat diamond equals 200 milligrams, or 0.2 grams. Depending on diamond shape and cut, two 1 carat diamonds might be quite different in size.
A diamond's qualifications are mostly based on GIA certifications. For more guidelines on the four C's and GIA certifications, check out this article from Diamonds Pro!
Choose your center stone.
PC: Peterson Design and Photography
Once you have decided on the setting of your engagement ring and have read up on the diamond basics, it's time to choose your center stone! Diamonds are a great choice because they never go out of style and look gorgeous on anyone. One thing to remember about your center stone, however, is that it does not have to be a diamond! If your style is nontraditional, rock a "rock" like the gorgeous sapphire above!
Decide if you want a custom engagement ring.
While shopping for and buying an engagement ring, you might like the stone on one ring but the setting on another. Jewelry retailers anticipate all sorts of indecisions, so don't be afraid to mix and match! Along with this, decide on when you need it by. A ring order can take anywhere from two-six weeks, while custom jobs can take even longer. Give yourself ample time to have the ring ready for a proposal or ceremony.
Shop around and compare engagement ring prices.
PC: Savanna Kathleen Photography
While shopping online or in store, make sure to look at multiple jewelers to compare prices. At the same time, see if you can trade up after buying your engagement ring. Some jewelers accept an engagement ring as partial payment on a grander wedding ring, whether it's for the big day or an anniversary down the line.
Decide if you'd like to purchase a wedding band.
PC: Alex Hussein Photography
The first rule of buying a wedding band is: you don't have to get one! While adding a wedding band to your engagement ring is a tradition and can be a symbol of union for some couples, it's absolutely not necessary. Don't feel obligated to buy wedding bands just for the sake of it. If you and/or your partner aren't into the idea, skip the wedding bands and save the money. Or, invest more money in your engagement ring!
Make sure to get the right diamond certificate.
So your S.O. got an A+ for the ring, but you also want a DNA report. Find an independent gemological association (e.g. The American Gem Society) to catalog the ring's 4 C's, customizations, and dimensions. This ensures you have a verifiable report of the ring's origin, specs, and value. Rounding things off with the right diamond certificate is the last step in buying an engagement ring!
Ready to find the engagement ring you've always dreamed of? We hope these tips on buying an engagement ring and wedding band have helped make your search easier! For tips on how to begin full-on wedding planning, check out our post, Calling All Brides-to-Be! Start Planning Your Dream Wedding Here. Cheers!