Tips and Trends
Wedding Inspo
|
March 31, 2021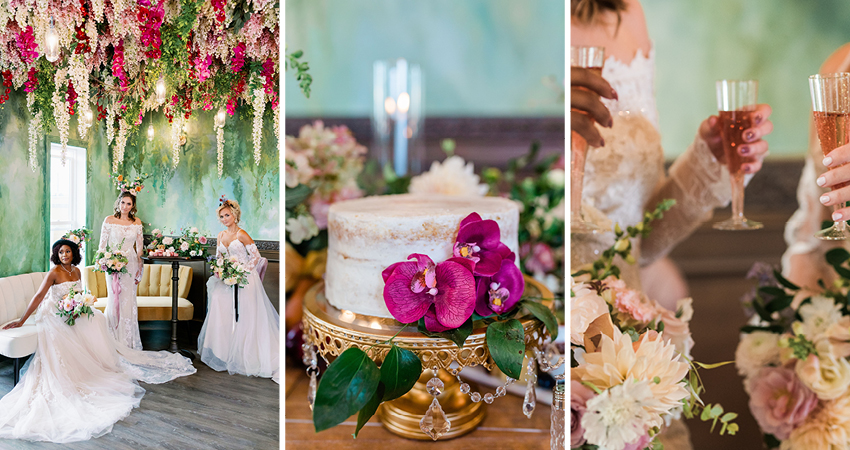 Florals are a wedding staple; this we know. And incorporating those florals into your celebration may seem pretty straightforward. Make a budget, find a florist, and watch as everything falls magically into place, right? If you've got a unique and gorgeous vision for your bouquets, décor, and story, there's actually way more to consider. Without further ado and inspired by our real brides and industry experts, here are 7 ways to elevate all parts of your bridal vision with chic and romantic wedding flowers!
1. Look to the History and Symbolism of Your Favorite Blooms
The bridal bouquet has a long history as an aesthetic and symbolic focal point of a wedding ceremony. For example, according to Brides.com, brides-to-be in Ancient Rome and Egypt would carry fragrant plants like herbs and spices to ward off bad luck, as well as fresh florals to represent rebirth, fertility, and happiness.
This symbolism continued to be popular in Victorian times, when brides primarily based their wedding flowers on specific sentiments and significance to their courtship. Today, couples tend to curate bouquets more on color and design than symbolism, but the personal meaning of individual blooms and greenery continue to be part of the selection and design.
Whether you love the idea of incorporating specific symbolism into your florals or not, the most important sentiment remains. Flowers are romantic, exquisite, and endlessly customizable, and you'd be hard-pressed to find a wedding aesthetic that doesn't utilize their form or function. This is your chance to let your vision and personality "bloom!"
2. Select Wedding Flowers to Match Your Vision and Aesthetic
When mapping out your floral strategy, consider first how your bridal persona guides your selection of colors, patterns, and texture. Here's a quick rundown of romantic bridal styles to get you started on bouquet and wedding flowers:
A classic bridal aesthetic calls for full blooms in a polished and elegant arrangement. If you love this style, look to roses, peonies, baby's breath, and dahlias in palettes like white, blush, gold, and crimson.
A vintage wedding aesthetic is all about romance and artful details. Consider geometric details for a 1920s style, brooch embellishments for 1950s inspo, or loose wildflowers for a 1960s flower-child vibe.
Glamorous bridal styles are all about statement florals and striking palettes. Opt for a maximalist bouquet in a cascading structure and sultry color scheme to achieve this gorgeous aesthetic.
A beach wedding vibe calls for a chic combination of form and function. Look for combos of lilies, orchids, freesia, and palm leaves in bright palettes that (if you're getting married outside) can withstand exposure to wind, sun, and sea.
For a boho bridal aesthetic, deck yourself out in dreamy, whimsical, and distinctive blooms like protea, anemone, bay leaves, rosehips, and heather.
Woodsy-chic wedding elements complement florals like succulents, wildflowers, herbs, and greenery in lush, nature-inspired arrangements.
If you're looking for more of a botanical vibe, check out these gorgeous boho designs to complement six of our dreamiest wedding gowns.
3. Choose a Professional Approach to Wedding Flowers
As you create your floral vision board and palettes, consider your budget and timeline for working with a florist or curating your items DIY-style. If you've got a professional on the books, the first step to achieving your vision is inspiration. Here's what else you'll need for communicating with your florist:
Right off the bat, research florists who specialize in what you love naturally, be it classic arrangements; loose, experimental styles; or bold, statement pieces.
Look for recommendations through word-of-mouth, online testimonials, and local wedding publications. You're looking for someone to match your vision and price range but who is also reliable and easy to work with as you plan your wedding.
Find a florist who can do bouquets, but also complements your other projects. Some florists specialize in reception and ceremony checklists, while others are better suited to a small package for just your bridal and bridesmaid bouquets.
Create a floral budget (typically around 10% of your overall budget, but more for ambitious projects), and ask your florist to account for all setup, breakdown, sourcing, seasonal, venue, and last-minute fees.
Schedule an interview with potential florists to show them your vision, discuss pricing, and play with timelines. If you're seriously considering a specific florist, you can ask them for a "low" and "high" proposal to consider your options.
And finally, sign a formal contract with your chosen florist!
4. Consider a DIY Approach to Your Wedding Florals
If you've got a natural eye for design and help from family and friends, this could certainly save you some cash. Here are a few tips to optimize your efforts:
If you have an ambitious floral vision but limited budget, consider redirecting from your wedding dress costs. Choosing a stylish and affordable wedding dress from our collections can help you save anywhere from $200-$1500, which can then be applied to bouquets and centerpieces.
If you're looking to mix and match your wedding floral budget, you might hire a florist to make your bouquets and curating your décor and centerpiece florals on your own. If you have professional inspiration and a knack for arrangements, you can create beautiful and affordable pieces by sourcing your own flowers and containers.
To DIY successfully, consider seasonality, maintenance, and longevity of wedding flowers. You may not be able to work with every flower you dream of; some may be out of season or difficult to arrange without a professional.
Ask your wedding party for help, and consider attending a floral workshop to get tips from the pros.
Consider which florals will need to be ordered in advance and how much time you'll need to create arrangements before the wedding day (in addition to all your other checklists for getting dressed, setting up the venue, and coordinating vendors!).
5. Incorporate Wedding Flowers into Your Bridal Dress
If you're head-over-heels for a floral wedding theme, consider shopping for a personalized bridal gown featuring romantic nature-inspired motifs. Here are some of our favorite ways to choose a bloom-worthy design:
Browse lace wedding dresses featuring allover florals in motif and illusion.
Opt for subtle floral embellishment in a statement back design, bodice, or illusion train.
Opt for 3D embellishments for a striking and high-style vibe.
Choose beaded floral lace for a regal and luxurious feel.
For a hip and bohemian vibe, look at lace wedding dresses with geometric details or oversized motifs.
The floral wedding gowns featured above from left to right are: Stevie by Maggie Sottero, Emiliano by Maggie Sottero, and Zareen by Maggie Sottero.
6. Use Wedding Flowers as the Ultimate Bridal Accessory
Whether you choose a chic minimalist wedding gown or an over-the-top floral dress design, look next to how you can use wedding florals in your beauty look, accessories, and wedding party. Here is some of our favorite floral inspiration from our real brides:
Add flowers to your hair individually or as a flower crown or fascinator.
For a boho or beachy feel, add flowers to your wrists and ankles.
Ask your HAMU artist to create a makeup look that complements your bouquet's palette and design.
Dress up your wedding party with matching or mismatched bouquets, flower crowns, wreaths, floral-patterned gowns, and boutonnieres.
Add florals to your bridal look with a floral-embellished bridal veil or overskirt.
7. Incorporate Florals into the Ceremony Décor
Florals play a major role in your wedding ceremony, from the symbolism of your bridal bouquet to the look of your venue and décor pieces. For elegant, artful, and personalized floral designs, here are a few ideas to help you set the scene:
Use hanging florals for a romantic indoor feel.
If your budget allows, consider a statement floral arch for stunning photo ops.
For a stylish and minimalist feel, focus on greenery, jumbo blooms in single arrangements, and unique "non-florals" like pampas grass.
For a maximalist feel, play with texture, color, and size within the same arrangements.
Dress up your seating with aisle runners, basket displays, and pew markers.
Dress up your floral arrangements with unique vases, ribbons, column supports, candles, hanging jars, curtains, and signage.
8. Use Florals in Your Reception Décor
As any Pinterest search will show you, wedding flowers are perhaps the best ways to add personality and atmosphere to your reception. Starting with the basics (banquet table bouquets and centerpieces) and moving to the deluxe (floral chandeliers and cake runners), here are a few ways to dress up you most important bash:
For a statement effect, add height to your centerpieces with tall flower stands or columns. This creates a dramatic and ultra-glam vibe for your guests.
If your budget allows, consider a unique floral wall for guest photo ops.
Deck out your banquet spread with a floral table runner, centerpieces, or floating chandelier with embellishment or signage.
Choose a wedding cake with dried florals, watercolor motifs, floral toppers, or fondant embellishments.
Add edible florals like pansies and nasturtiums to your drinks and food.
For easy DIY centerpieces, try arranging flowers in a globe vase. This shape makes it easy to place stems for an elegant and rounded effect. All-greenery is another easy DIY floral option for table runners and banquet displays.
A huge thanks to Becker's Bridal of Michigan for this stunning gallery of wedding flowers! We're totally inspired for the upcoming spring and summer seasons, and can't wait to see more from our real brides and partners.
With floral inspiration in full force, head to an Authorized Retailer to get started on your wedding dress shopping. And check out more of our top wedspo on the blog, from this rustic bohemian shoot (complete with a donkey!), this ultra-luxe royal wedding styled shoot (for elegant vibes), and this whimsical wedding shoot (featuring a spring palette). Happy planning and may all your wedding-floral dreams come true!