Wedding Inspo
|
March 1, 2020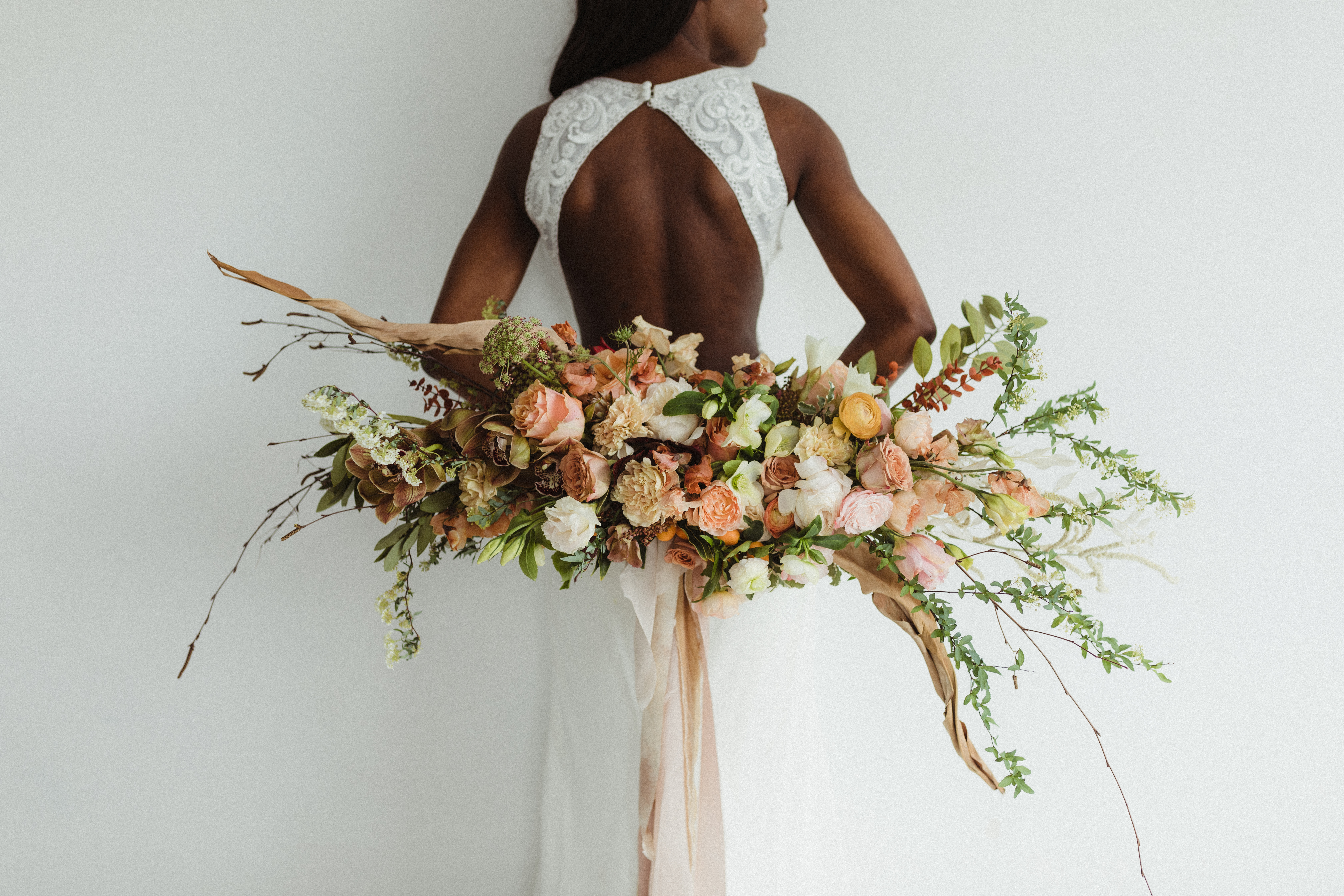 The bridal sphere is flush with budget and styling options, but we've done our research and have the big picture on how to pair the perfect florals with the look and feel of your wedding. And while you need to consider other variables like seasonality and pricing, Maggie Sottero has an abundance of inspiration to help you create the classic, vintage, glamorous, beach, or boho wedding bouquet of your dreams!
Wedding Bouquets for the Classic Bride
You want gorgeous place settings, a blush manicure, a couture gown, and an elegant bouquet to match. Classic bouquets usually feature full-bodied blooms like roses and peonies, but are rounded and clipped into attractive clusters for the bride, her wedding party, and the table centerpieces and accents. This style is timeless, so focus on polish and elegance.
Get inspired: Tuxedos, Breakfast at Tiffany's, architecture, Taylor Swift songs—wherever you turn, "classic" will never go out of style. See our Alice and Cindy gowns by Rebecca Ingram for flirty fabrics and picture-perfect designs!
Blooms to try: Sleek roses, peonies, lilies, tulips, and chrysanthemums.
Flowers for the Vintage Bride
20s art deco, Old Hollywood, 50s rock 'n' roll, 70s couture—whatever decade you evoke, vintage-style wedding bouquets call for romance, whimsy, and exquisite details.
Get inspired: Emulate art-deco or Gatsby-inspired romance with geometric embellishments and opalescent pearls. (You'll love our vintage-inspired Devon and Shiloh Leigh gowns!) Or travel back to vintage Hawaii—fans of Mad Men will love a dazzling display of magnolias and palm leaves. Brigitte Bardot looked like a sweet siren as bride-to-be Juliette in 1956's And God Created Woman with a bouquet of white lace and ribbons. Want to incorporate some lux furs into your wedding? Pair a rockabilly bolero with a bright, girly bouquet of crimson peonies!
Blooms to try: Loose and luxurious greenery and ranunculus are perfect for a Gatsby-inspired bride; a neon bouquet emulates a sixties nostalgia; pastels and blushes turn toward rustic whimsy; tiny rosebuds have an antique feel; and bold sunflowers are a cheery and nostalgic complement to eyelet and scallop-hemmed gowns.
Bridal Bouquets for the Glamorous Bride
"Glamour" is another powerful yet ever-shifting term, but it all comes down to confidence and magnetism. Amp up the drama of your occasion with a sultry sheath or stunning ballgown, paired with a breathtaking wedding bouquet.
Get inspired: Take a look at our Thaddeus and Kaysen wedding gowns, then head to the florist and consider what kind of bouquet you would pair with these beauties.
Blooms to try: Show-stopping bouquets that cascade in jewel tones and blushes, or all-white displays of lilies, orchids, and roses that convey regality and polished femininity. Blush-and-sea-green and blush-and-burgundy palettes are also modern upgrades to classic glamour.
Wedding Blooms for the Beach Bride
You're laidback and sunny, and you've hired an acoustic guitarist to serenade your guests as you walk barefoot down the aisle. Beach brides exude casual glamour and windswept radiance, and their wedding bouquets can withstand exposure to the elements.
Get inspired: Start pinning wedding destinations full of bold colors, glossy greenery, and cascading blooms. And as for gowns, Corrine and Nicole are lightweight and totally gorgeous—perfect for sunsets and turquoise water!
Blooms to try: Classic tropical blooms like lilies, hibiscus, orchids, freesia, palm leaves, Birds of Paradise, and anthurium. If you don't want to go for the obvious, try a muted display of sunflowers or delphinium, or sunny wildflowers for a West-Coast vibe.
Free-Spirited Posies for the Boho Bride
You have a lush, nature-inspired aesthetic and a major romantic streak. You love tea lights and Moroccan-inspired fabrics. You've never met a dreamcatcher you didn't like.
Get inspired: Flowers in your hair, of course, but what about flowers around your wrists and ankles? Stevie Nicks and Sienna Miller could be your go-to style icons for a laidback and whimsical occasion. You'll love our Pamela and Gabriella gowns for a bohemian occasion.
Blooms to try: Delphinium are lovely because of their rare blue tones. Herbs and wildflowers are surefire complements to flowy, sleeved wedding gowns or vintage lace. And a long-stemmed bouquet is a striking alternative to the traditional rounded bunch. Add distinctive shapes with succulents, rosehips, and alliums, and incorporate non-floral elements like pinecones and feathers.
Wedding Florals for the Statement Bride
It's your wedding day—why would you hold back? You love bold colors, dramatic silhouettes, and avant-garde accessories. Your bouquet just adds more "wow" to your wow-factor wedding.
Get inspired: Jaw-dropping bow accessories, killer shoes, unabashedly oversized florals, and statement-back gowns. Check out Audrey Hepburn's hat collection in Charade, and browse through our selection of Sottero and Midgley dresses including our Zinnia Lane and Zander ball gowns.
Blooms to try: Tall or long-stemmed gladiolus, orchids, magnolias, succulents, anemone, and protea are stunning additions to your statement wedding bouquet. Incorporate these into bold, monochromatic, neon, or ombré color schemes, let the blooms cascade in oversized bouquets, and turn up the jewel and feather accents.
Don't forget to take our bridal quiz for more classic, vintage, glamorous, beach, boho, and statement wedding inspiration! Are you feeling the florals this month? Spring brides dream in daisies, so keep an eye on our blog and social media for more beautiful bouquets!
Browse our related content:
12 REASONS NOT TO PASS UP ROSES FOR YOUR BIG DAY