Dresses
Real Weddings
|
April 3, 2020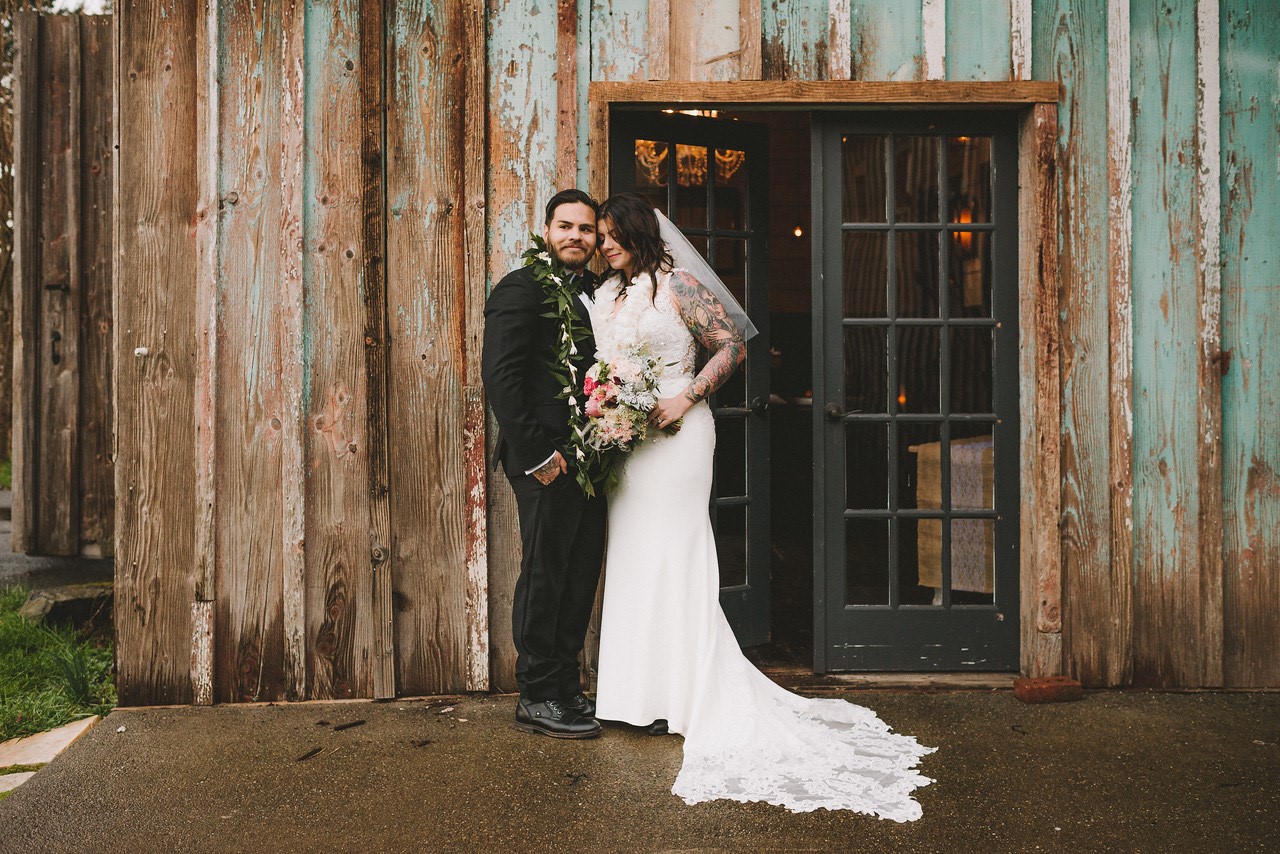 Check out our real bride, Kelcie, and her sweetheart's rustic wedding featuring Hawaiian wedding traditions, DIY décor, and a beaded sheath wedding dress. We're living for this #wedspo! Keep scrolling for some real wedding tips and tricks from Kelcie and Travis.
Picking a Meaningful Wedding Date
When we first started dating, Travis showed me the band, The Avett Brothers, and declared their song "January Wedding" as our own. When choosing our wedding date, we wanted it to be in January. We knew the risks of tying the knot then—how it might rain, or how it might be cold, but that didn't matter to us. And thankfully, just like the song, our wedding day was full of sweet memories.
Making Our Wedding Day Our Own
It was important to us to keep our wedding day traditional but also put our own spin on things. We wanted to DIY, reuse, and be resourceful. We also wanted to bring in the talents of our loved ones and incorporate Hawaiian wedding traditions.
Our guest list also needed to be made up of those we loved and those that knew us both personally as a couple. We left out the guilt when creating our list by going with our hearts and inviting a small group that we knew would cherish our day with us.
Choosing Local Vendors
One of the most special parts about our day was that our vendors were also our friends and guests. For example, we chose our photographer, Taylor Jones, because he is a mutual friend and has a great eye for capturing human connection in photographs.
We chose our venue, The Barn on Jackson, because it is a family business that gives back to children in need. During the whole process, they were extremely kind, helpful and just as excited as we were. We chose our DJ/Caterer, Kelvin Guerroro, because he had a smile that could light up a room and knew how to make our guests feel comfortable.
Our baker was our brother-in law. We loved every minute of personalizing our wedding cake with him. Our officiant was the father of one of our groomsmen's. We had been to his home a few times over the holidays, which made being away from family a little easier. All in all, every vendor we chose was there for us, which was so special.
Getting Resourceful with Reused and DIY Décor
Our wedding theme was rustic romance. We got married in a gorgeous rustic barn. The space was beautiful and had all the natural wood we adored. The best part was that it had an entire shed next to it filled with reusable décor. Everything from burlap to mason jars, including faux greenery, flowers, candles, signs, lace, etc. I also loved the décor because it went perfectly with my beaded sheath wedding dress.
I wanted to DIY/thrift our wedding décor as much as possible. Our venue really alleviated this concern. The day before the wedding, my bridesmaids and close family helped us stage the venue. It was so fun to create those memories together and set up our venue exactly how we wanted. With these final touches, something old and something borrowed was checked off our list.
Finding My Dream Gown: A Beaded Sheath Wedding Dress
Now for my DRESS. In March of 2019, I went dress shopping at a Maggie Sottero pop-up event at 'I Do Bridal' in Seattle. I knew our date wasn't until January 2020, so I had NO intention of buying a wedding dress that day.
I also didn't have any idea what kind of style I wanted. My best friend and I thought it was just going to be a fun girls' day, and my intention was to try on some dresses to get an idea of what I liked. My family lives in Florida, so we Facetimed them as I tried on gowns. As soon as I tried on Alaina by Maggie Sottero, I knew it was "the one".
It was a beaded sheath wedding dress, with a crepe lower half and embroidered lace with pearl embellishment on top. I was instantly obsessed. The sheer lace bodice accented in pearls and Swarovski crystals with an attached beaded belt was just the drama I needed. And I loved the vintage feel of the illusion scoop back and V-neckline.
My best friend cried when she saw me, along with my mom and sister on Facetime. I had tears in my eyes knowing that once Travis saw me on our wedding day, he would tear up too. It was so me and matched my engagement ring perfectly.
Watching Travis' face light up during our first look when he saw me in my wedding gown as we shared our vows is a memory that I will keep forever. And on my wedding day, I still felt as in love with the dress as I had when I first tried it on.
Bringing in Hawaiian Wedding Traditions
Travis is Hawaiian and much of his family currently lives in Hawaii, so we wanted to bring in some of his heritage to the Pacific Northwest. I love the Hawaiian culture—how easy going and loving they are. It just felt right to bring it into our day.
Travis mentioned in the planning stages that he wanted to wear a lei. He said he wanted to put one around my neck as well as on our mothers for the day of. It was a symbol of honor for him, and I loved the sentiment of a man placing celebration on the women in his life. We found our leis from a company in Hawaii and had them shipped to us two days prior. They were still fresh and smelled amazing.
Before the ceremony started, Travis put leis on his mother, my mother, and my stepmother. During our ceremony, we used the leis as a hand binding to symbolize our connection and devotion together.
Our food choice was Hawaiian/Phillipino, which we definitely did not regret! Having pancit, lumpia mac salad, and kahlua pork at our wedding was the perfect complement to our day. Comfort food in the chill of a winter day was something all our guests enjoyed as well.
Tips for Brides-to-Be
During the months leading up to the wedding, Travis and I felt the pressure. But as the days passed, we reminded ourselves that as long as both of us showed up, it would be enough. We let the small things go, like declines to our wedding invites, or not being able to afford a videographer, or even when I forgot to cut Travis' hair before the wedding (oops). All that mattered was us.
I love weddings because they represent who the bride and groom are individually and as a couple. Even though our wedding was somewhat traditional, Travis and I made it our own with personalized touches like my beaded sheath wedding dress and Hawaiian wedding traditions. With all the information out there, it's hard to step away from comparing what you're doing to what someone else did.
I would recommend finding a few Pinterest wedding boards and going off a vibe or feeling. At the end of the day, if you are looking for what your love means to you, your wedding day will be your own modern fairy tale.
We hope you enjoyed this real bride's rustic wedding featuring Hawaiian traditions and a beaded sheath wedding dress. To browse more rustic wedding dresses, visit our post: Our Top Country Wedding Dresses for a Rustic Wedding.
Did we mention our real bride, Kelcie, is a wellness blogger? To see more of her, click here! And for more detailed tips on how to plan a wedding, check out her blog on "how to wedding." Cheers!