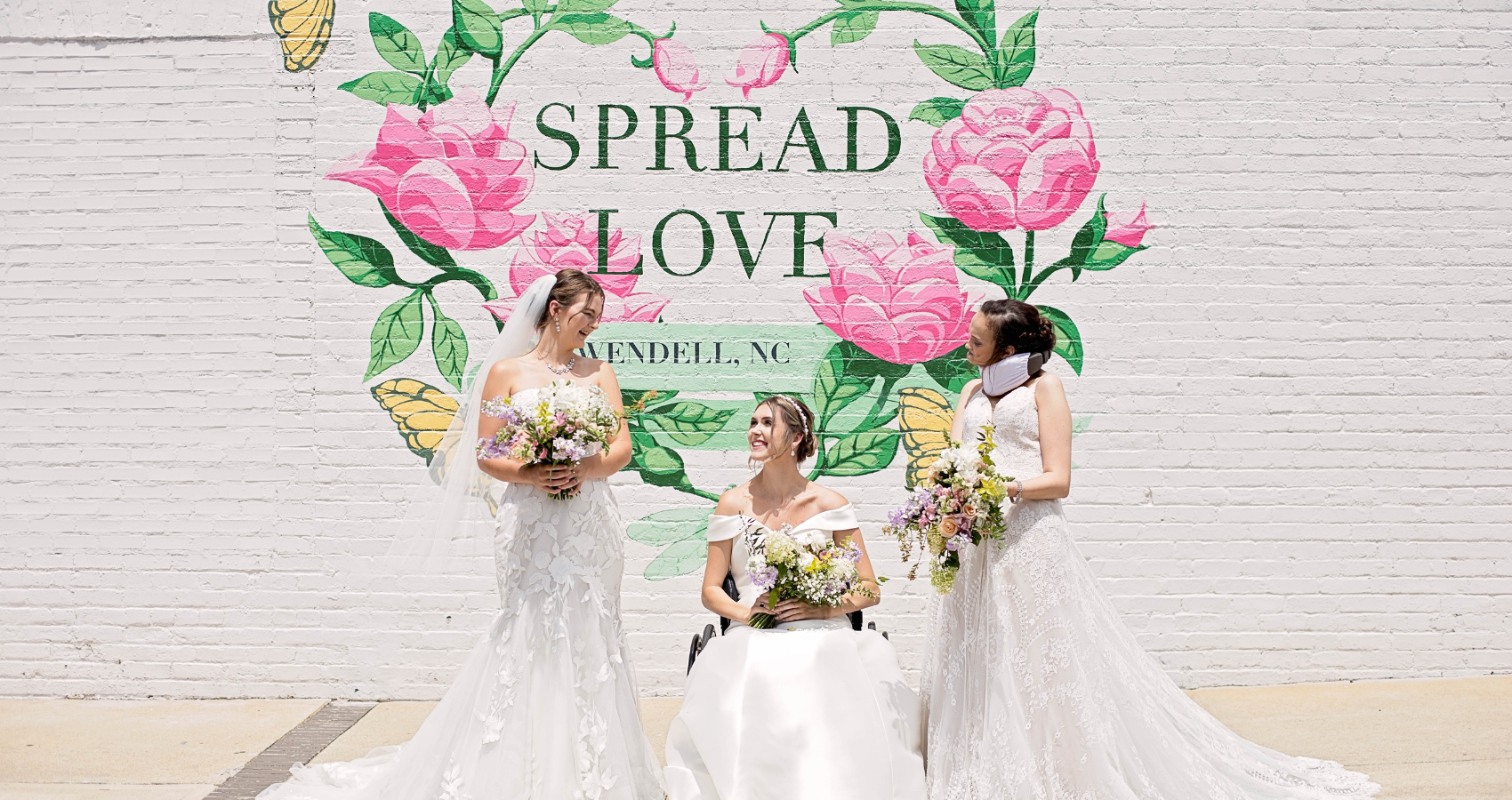 Hi brides! We hope you're enjoying the wedding planning process! At Maggie, we believe inclusivity in fashion is so important. It's something we strive to support whenever and however we can.
We're sharing an incredible partnership with All Bodies, All Brides in line with our commitment to inclusion, accessibility, and diversity in bridal. Before we get started, if you want more tips and tricks, wedding education, and #MaggieInspiration for your big day, make sure to sign up for some exclusive text messages below!
What is Inclusivity in Fashion and All Bodies, All Brides?
All Bodies, All Brides is a company focused on making bridal accessible and inclusive for every bride. Katie Horan, founder of All Bodies, All Brides, said the company began as an advocacy and education initiative to amplify marginalized voices from within the disabled community.
"My older brother, Mark, is on the autism spectrum and I can remember many times from my childhood where people treated him poorly because they believed 'something was wrong with him,'" said Horan. "There is nothing wrong with being a person with a disability, and I decided from a young age I wanted to challenge narratives that had harmed my brother"
Maggie Sottero Designs recently partnered with Simply Blush Bridal and All Bodies, All Brides to put on a styled shoot event featuring brides with disabilities. KStars Photography and OMA Lovely Looks by Olivia Atkinson also took part in the event by providing photography and hair and makeup services.
Horan noted, "I founded ABAB (the acronym for All Bodies, All Brides) to encourage bridal shop owners, designers, stylists, and other industry professionals alike to learn how making their spaces more accessible and inclusive also elevates their exceptionality."
Maggie Sottero's Efforts to Create Inclusivity in Fashion
Maggie Sottero Designs is committed to inclusivity in the bridal space. Vice President of Sales and Marketing Christina Blanchette said, "Maggie Sottero Designs is dedicated to its mission surrounding love and love for all, and with that comes the responsibility to uplift and raise awareness around accessibility in the bridal industry. We strive to use our position in the bridal world to elevate and enhance the experiences of those in marginalized communities."
In the past, Maggie has partnered with Models of Diversity for International Day of People with Disabilities. Models of Diversity is a charity that strives for diversity in fashion, beauty, and media industries. This photoshoot brought our gowns to life by representing every aspect of beauty. Regardless of ability, ethnicity, age, size, or other factor. For more about our partnership with Models of Diversity, check out our blog post!
Not only do we make an effort to share our inclusivity in fashion efforts with our beautiful brides, we pull through these efforts with our authorized retailers through resources like our Diversity in Bridal webinar series. Katie Horan of All Bodies, All Brides will be cohosting one for our retailers soon!
In 2013, we asked brides to share with the world how they love their fit. This vulnerable yet exciting proclamation extended beyond the fit of their dream gown, though! We wanted to know how they loved their family, workplace, friends, community, and their lives in general. Through this campaign, we were able to provide perspective into the societal values of women. We aimed to also help our commitment in promoting diversity in bridal flourish into what it is now! Today, we strive to further inclusivity in fashion. We work to accomplish this by being inclusive in our sizing, as many of our dresses are offered in US sizes 0 to 28.
All Bodies, All Brides Models
The photoshoot featured four models with disabilities including, Emma Bailey, a student at Meredith College with a spinal cord injury. She was delighted to be part of the All Bodies, All Brides styled shoot at Simply Blush Bridal.
"Shopping for a wedding dress can be stressful for anyone. But, especially for someone who has mobility issues or other types of disabilities," said Bailey. "Having bridal shops do these workshops and being informed with how to handle people with disabilities and to help make their experience as comfortable as possible helps ease the anxiety that someone might have walking into that."
When Emma was asked to describe her experience during the styled shoot, she said she felt heard. "I feel like my voice has been heard, whenever I have a request or something like that. I feel confident in all of the dresses I've tried on, and I feel very at ease and peaceful throughout this whole process."
Macy Messer is a blogger, a Meredith College alumna, and a woman with cerebral palsy. Macy was one of the lovely models who played a huge role in the styled shoot.
"Being part of an event like this is something I never thought I'd do," said Messer. "It gives me a lot of hope to get to do it again for my own wedding in the future." She said her experience with All Bodies, All Brides and Maggie Sottero Designs at the event was fun and emotional.
We were so fortunate to also work with Laci Wade who has down syndrome and Ashley Morgan who is autistic . Each of our models were such bright lights during this photoshoot! It was a pleasure to work with them, and their beauty shined through every moment of the event.
At Maggie, we stand for love and love for ALL. We are beyond grateful for the opportunity to spend time with these wonderful women! All Bodies, All Brides seeks to improve inclusivity in fashion bridal space, and we absolutely support this initiative. We believe that all love deserves celebration, and every bride deserves the chance to feel beautiful, confident, and included from the moment they are engaged to the beautiful day when they walk down the aisle.
Want to hear more about weddings and all things Maggie? Sign up for our newsletter:
To learn more about All Bodies, All Brides, visit its website. Check out more of our blog posts if you want to discover more about Maggie's diversity and inclusivity efforts.
Celebrating International Day of Persons with Disabilities (maggiesottero.com)
Who is Maggie Sottero? | Maggie Sottero