Events and Boutiques
Media
|
December 2, 2021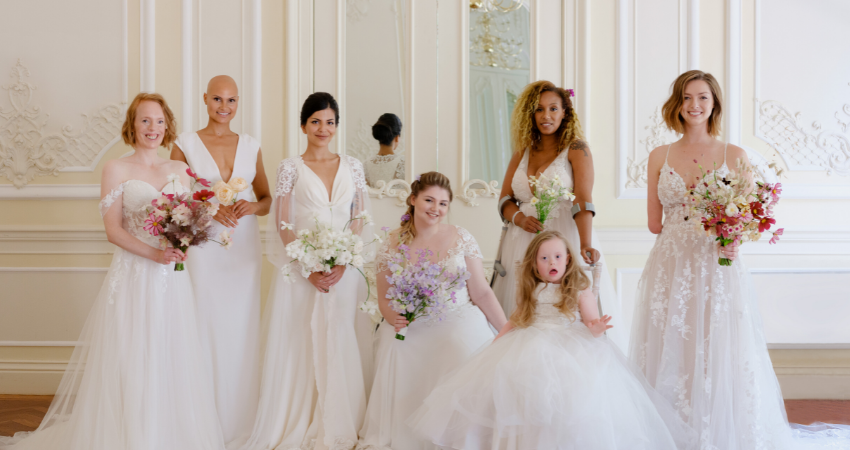 If there's one thing we know for certain here at Maggie Sottero, it's that we stand for love and love for ALL! That's why for International Day of People With Disabilities we partnered with Models of Diversity, "a charity that campaigns for more diversity in the fashion, beauty, and media industry."
Diversity in the fashion, beauty, and media industry strikes a chord with our Maggie family. Since we started this company almost 25 years ago, we have dedicated ourselves to progress – especially when it comes to diversity in bridal! We've worked tirelessly over the years to improve our diversity efforts within our company, and are so excited to present this partnership with Models of Diversity for this International Day of Persons With Disabilities!
Past Diversity Efforts At Maggie Sottero
Here at Maggie, we've always been passionate about improving our diversity efforts and appreciating our beautiful brides! Our Diversity in Bridal Webinar Series is one of the ways we've celebrated our brides in the last few years. Not only do these Webinars spark thoughtful discussions, they've also acted as learning tools for our community. Our goal through these webinars is to help our Authorized Retailers learn about ALL of our bride's experiences and represent them better in our Maggie Family.
Through this series, we've hosted many popular and impactful Bridal Webinars. The "Celebrating Hispanic Love Stories" conference with Alejandra Baca and Migdalia Cavazos has been one of our most recent! Our "Beyond the Dream" webinar series with plus-size supermodel and activist Liris Crosse and the Co-Chairs of the Multicultural Committee for the Bridal Council, Myrna Daramy and Myrdith Leo-McCormack, was also a powerful way to increase our diversity efforts.
Our Love How YOU Fit back in 2013 was another one of the many ways we've worked to improve our diversity efforts over the years! We called brides nationwide to tell the world that "they love how they fit." This proclamation didn't just extend to their clothes though! It also involved their family, workplace, peer group, community, and their own lives. This campaign contributed to a shift in how society values women and served as an important stepping stone in our commitment to promoting diversity in bridal!
Additionally, we've updated how we represent our brides by stepping away from outdated norms of the past! We've worked with a diverse set of models to accurately show how our dresses look on everybody. And if we do say so ourselves, our dresses look even better now!
PC: Diana Vartanova of Still Miracle and The Boutique
Our dedication to diversity in bridal is why we are so excited for our partnership with Models of Diversity for International Day of Persons with Disabilities! These models truly brought our gowns to life during the soft, Versailles-inspired photoshoot by Diana Vartanova. The organization is a pioneer in the beauty industry by representing every aspect of beauty. This organization shows the world that beauty isn't limited to any particular standard, regardless of ability, ethnicity, age, or size!
Models of Diversity put it beautifully when they said, "For too long we've all received similar programming about what a bride looks like, with the mainstream industry often only speaking to an image of bridal beauty based on what society deems beautiful — so what happens when the image of beauty and desirability never looks like you? After speaking to our followers, we found navigating the wedding process without seeing yourself represented can have a damaging effect on self-esteem and, at times, make it incredibly difficult to accept your own body. It became obvious to us that minority groups needed to be represented fairly, rather than being left feeling 'Invisible'."
Navigating the wedding process is stressful enough. However, when you don't see yourself represented it makes it even more overwhelming. That's why we are so excited to show you these stunning and diverse brides who capture the image of beauty. Scroll on to learn more about them!
International Day of Persons With Disabilities Model: Amanda in Olson
PC: Diana Vartanova of Still Miracle and The Boutique
If you can't already tell, Amanda is absolutely ethereal in our soft, lacy A-line gown, Olson. From Canterbury, Kent, Amanda is an advocate for people with disabilities. To start with, she is an ambassador for the charity, Changing Faces. This amazing organization is a leading charity in the UK for people with a scar, mark, or condition and is dedicated to supporting the visible difference community. She is also an active supporter of the Cleft Lip and Palate Association who provides personalized support, education, and resources for people with this disability!
A warrior from day one, Amanda was born with amniotic band syndrome. This condition resulted in a cleft lip and palette, limited vision in one eye, missing fingers, and clubbed feet. That hasn't stopped her from bringing beauty into a new light though. She has worked tirelessly over the years to not only bring awareness to this condition, but also any visible difference!
Disability equality, resilience, body image, and prevailing stereotypes around beauty are focuses that she is passionate about. It's clear as day that she brought this and more when wearing Olson.
Love Olson? Find a similar style Lorraine by Rebecca Ingram.
PC: Diana Vartanova of Still Miracle and The Boutique
Ashley is giving us some SERIOUS forest fairy vibes in our Marlow gown. Don't let this gorgeous photoshoot make you think she's anything less than a warrior though. Ashley is an active sort, listing horse riding, scuba diving, dance, acting, yoga, and crossbow among her interests. She is also a serious advocate for preserving our oceans and the life within them.
Her passions extend to disability advocacy as well! Ashley is an ambassador for the Lucky Fin Project, an organization that exists to raise awareness and celebrate children and individuals born with symbrachydactyly or other limb differences. Ashley has a limb difference of her own. She is a congenital amputee, missing the lower part of her right arm. However, she shows the world that beauty is not limited to a specific number of limbs for International Day of Persons With Disabilities!
International Day of Persons With Disabilities Model: Farrah in Anthony by Sottero and Midgley
PC: Diana Vartanova of Still Miracle and The Boutique
Last but certainly not least, Farrah looks practically royal in our sexy, crepe mermaid gown, Anthony by Sottero and Midgley. Farrah has Ulcerative Colitis, and IBD (inflammatory bowel disease) – a lifelong invisible illness. However, she has a never-ending supply of sunny optimism and beauty when it comes to living life day by day.
Farrah has proven time and time again that she is more than just her disability. She is an artist, dancer, and most importantly, a full-time mother. Her art, whether it's painting, performing, or baking, has made a positive impact on her community.
However, her sickness is still a part of her. Through her art, she has brought more awareness to her condition, other disabilities, and her life overall. Her collaboration with Models of Diversity is also helping her advocate for disabilities! Through her work with the organization, she represents "real" people in the model industry and promotes body positivity!
Maggie Sottero Stands for Love and Love for All
International Day of Persons With Disabilities is an important day, but diversity is celebrated every day at Maggie Sottero! At Maggie Sottero we take creating diversity in bridal seriously because everyone should be represented in the fashion industry.
"We celebrate ALL brides and ALL love stories. It is so important to us that all brides feel seen and represented in our wedding dresses! We are so thrilled to be a part of such a powerful and necessary initiative," said Christina Blanchette, VP of Sales and Marketing at Maggie Sottero.
If you want to know more about International Day of Persons With Disabilities and Models of Diversity, make sure to view their pages in the links.
Want to see more inspiration on diversity in bridal? Check out:
Hispanic Wedding Traditions: Celebrating Our Real Brides for Hispanic Heritage Month
Staying Body Positive While Shopping for Your Wedding Dress
Highlighting One of our Black-Owned Bridal Boutiques
Socially Distanced Elysian Wedding Featuring Black Wedding Vendors.