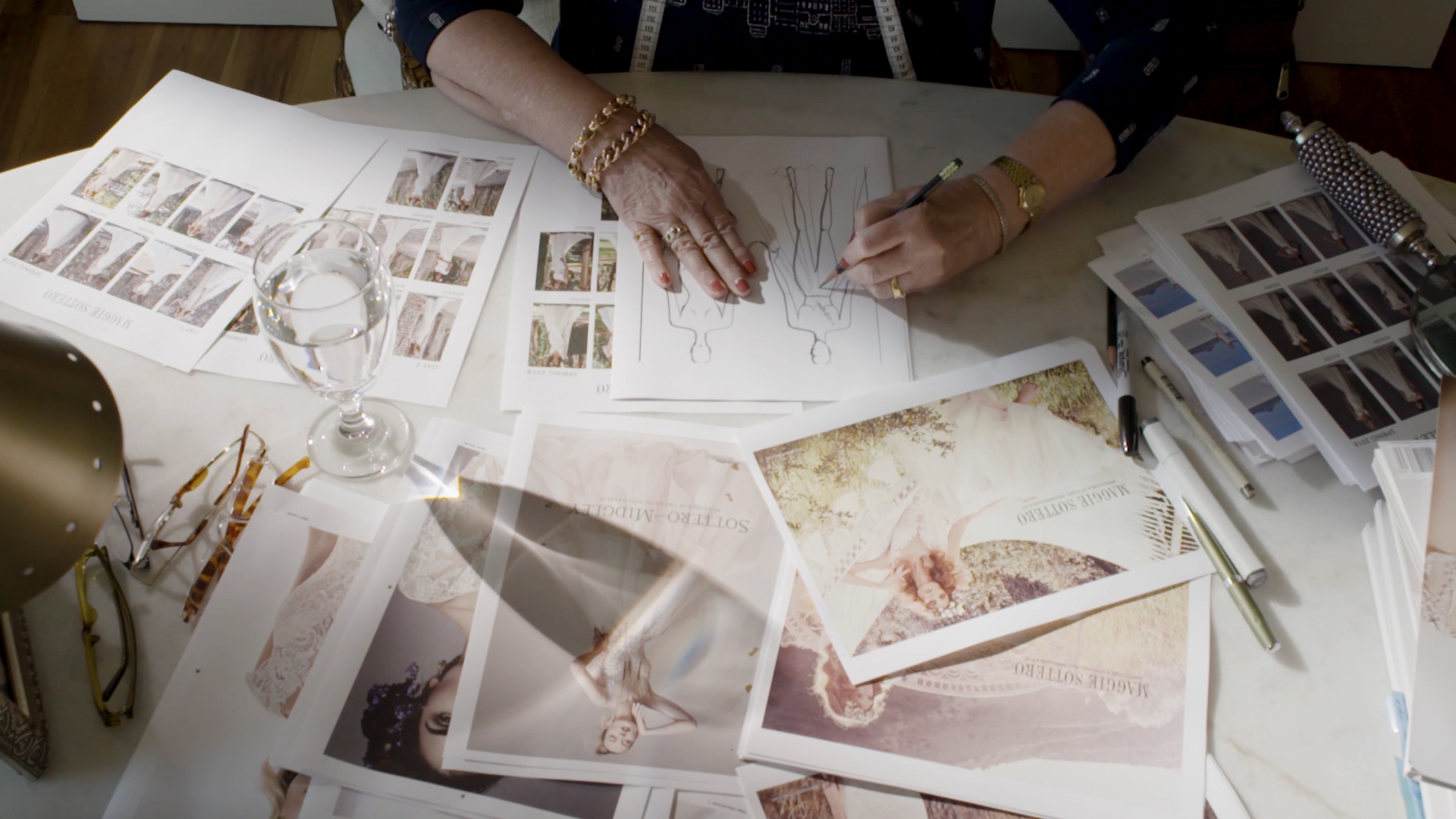 Hello from Maggie Sottero! Since we are celebrating our 25th anniversary (Wow!!), we wanted to take a moment to tell you a little more about who Maggie Sottero is. From the beginning, love and making dreams come true have always been our number one, and we're excited for the many years of helping brides ahead of us.
Before we get into our family history though, make sure to sign up for exclusive #MaggieInspiration text messages to help you be more in-the-know on all things Maggie!
Here are some highlights!
Who is Maggie Sottero?
Our moms and daughters run the show, which makes us especially keen on designing for the diversity of women searching for their perfect wedding gown—something romantic, stylish, and truly comfortable to wear.
"Family-owned" is a rare modifier these days, so we're proud to say we've been true-to-kin and collaboration since Day 1.
We believe every bride deserves to feel exceptional on their big day, whatever their style, budget, and wedding vision.
Fun Fact: We've been in business since 1997! Maggie Sottero has been one of the most recognized and sought-after bridal gown manufacturers in the world, with design studios in Sydney, Australia and Salt Lake City, Utah.
Maggie Sottero History
"In 1997, Maggie Sottero offered a product unlike anything on the market: elegant and affordable wedding dresses with a couture edge," says Kelly Midgley, lead designer and CEO at Maggie Sottero Designs. "Today, in an era of ever-increasing wedding costs, Maggie Sottero upholds its commitment to innovative bridalwear at attainable prices. From initial concept to final touches, each gown embodies the pursuit of perfection."
To date, millions of brides have chosen a Maggie Sottero wedding dress for their wedding day. In 2022, Maggie Sottero celebrated twenty-five years in bridal design and launched a campaign that celebrated the brides that made Maggie, well… Maggie! Check out some of our Real Bride beauties below!
For twenty-five years, Maggie Sottero has been one of the most trendsetting and recognizable global bridal brands in the world! Brides know Maggie Sottero for its inspiring collections and meticulous attention to detail.
Maggie Sottero's mission is to make dreams a reality for brides by delivering innovative styles, superior quality, and best-in-class service through win-win relationships with its retailers, supply chain partners, and service providers. Under the leadership of our CEO, Kelly Midgley, we plan on expanding our universe and letting our starlight shine bright!
Maggie Sottero Brands
We know you have all sorts of questions about Maggie Sottero, so make sure to watch our video below to answer all your frequently asked questions!
What define the different collections under Maggie Sottero though?
Price Range: $1200-$3000
Our Maggie Sottero brand is romantic, covetable, and uniquely yours. They're the dresses for every type of bride. It's inspired by artistry in effortless details and the epitome of femininity.
From boho elegance to unique glam, there's a dress in this collection that is calling your name!
Our gowns Kern, Winter, and Tuscany Royale are great representations of the styles that make Maggie Sottero so unique. With gorgeous, unique laces, impeccable fits, and flattering V-necklines, you're bound to say "yes!" to any of these gowns.  
Price Range: $900-$1500
Simple. Elegant. A gorgeous gown for any bride's budget! Our Rebecca Ingram styles are effortlessly chic with sophisticated designs, affordable styles, and magical designs.
Our most popular Rebecca gowns over the years are wonderful examples of how this brand has touched the hearts of so many of our brides.
Hattie by Rebecca Ingram, Lorraine by Rebecca Ingram, and Emily by Rebecca Ingram are romantic florals, flowy fabrics, and romantic ease. They're immaculate structure, dreamy trains, and opulent fabrics! Find an Authorized Retailer near you to delight in these gowns in person!
Prince Range: $1500-$4500
Sottero and Midgley is our couture brand. Filled with lavish styles, dazzling statements, and modern luxury, in this collection you will find trendsetting styles as sharp as a sword!
Zander by Sottero and Midgley, Valona by Sottero and Midgley, and Kingsley by Sottero and Midgley are amazing examples of these extravagant styles. With luxurious laces, modern and unique designs, and personalizations out of this world, any Sottero and Midgley bride will look like a million bucks on their wedding day!
Don't just take our word for it though! Take a look at some of our gorgeous Real Brides who have worn some of our favorite styles below!
Curious to see how you can join the Maggie family? Make sure to submit some of your photos on our website for an opportunity to tell other brides all about your dream day and look!
Read some of our blogs to learn a little bit about what makes Maggie, Maggie!
Women's History Month: Why We're Proud to Be a Women Led & Women Owned Business
15 Quick Delivery Wedding Dresses For The Soon-To-Be Bride
Celebrating Black History Month: 7 Black Owned Businesses For Brides To Support