Events and Boutiques
|
October 12, 2021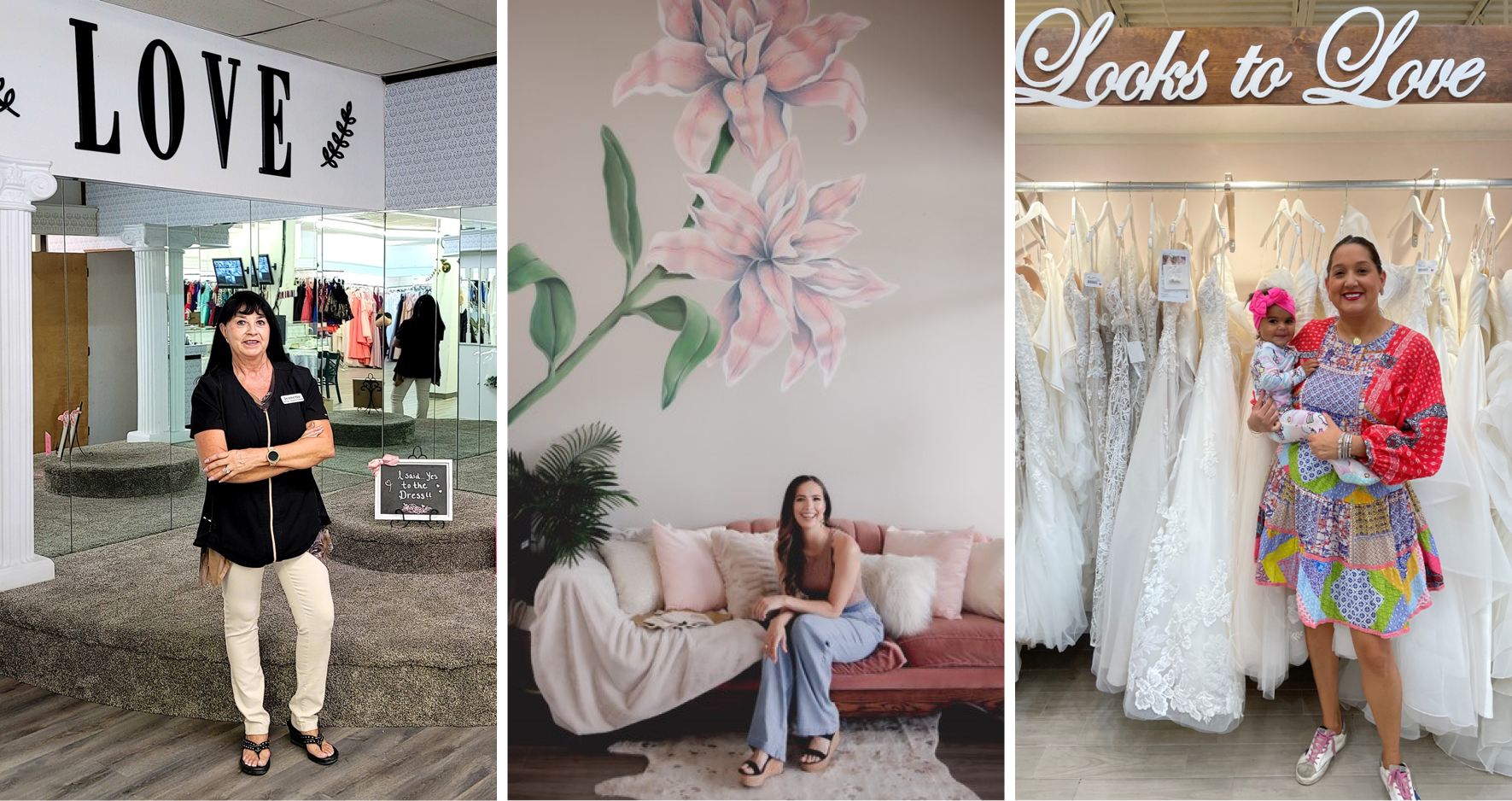 It's no secret: we're big, big fans of our Authorized Retailers. They offer stellar service, ensure unforgettable experiences, and create a welcoming, inclusive environment for our gorgeous Maggie Brides to say YES to their dream dress. Due to it being National Hispanic Heritage Month, we wanted to highlight a few of our retailers who are Hispanic-owned businesses.
In our commitment to standing for love and love for ALL, we love amplifying others' voices so they can share their unique and beautiful stories. We're lucky to have Authorized Retailers from diverse backgrounds, like Latina owned businesses, and their insights are incredibly valuable. We're highlighting a few Hispanic-owned businesses below. We asked these Hispanic business owners about their thoughts on the bridal industry, career advice, how they connect with their brides, and more! Keep scrolling to read all about these Hispanic-owned businesses!
Introductions
First, allow us to introduce you to these amazing women who run these Hispanic-owned businesses!
Elaina Primus from Roselily Bridal in Richland, Washington.
Sophia Adamson from Ella Blu in El Paso, Texas.
Elodia Perches from Bridal Novias in El Paso, Texas.
Jeannette Lopez Salcido from Jae-Geo's Bridal and Tuxedo in Farmington, New Mexico.
How did you get into the bridal industry and become a Hispanic-owned business?
Elaina: "I'm from West Texas who moved to Washington in 2012. I came across a job posting for Amy's Bridal Boutique, and the rest is history. Amy gave me the freedom and space to create, grow, and thrive. Amy's Bridal showed me my place in the world and has filled my heart with more joy and love than I could have ever dreamed of. I have worked towards owning this shop for 9 years and cannot believe my dream has finally become my reality! Now with a fresh new name, Roselily Bridal has an endless amount of growth potential and I have big goals for this ever-growing and amazing shop!"
Sophia: "My mom had her store for 30 plus years, and I wanted to follow in her footsteps!"
Elodia: "I have always been inspired by my father's values, hard work, and confidence. I was a PAN-AM flight attendant when I decided to start my own business with $1000 and a suitcase. My passion for buying products from women in third-world countries led me to India, Africa, and South America. I had a showroom selling products from India when a bridal company representative entered my store. We started talking about introducing a collection of bridal gowns into my boutique. Out of curiosity I looked at the catalog and ended up buying 12 dresses. I fell in love with the first Maggie Sottero lace back collection, and the rest is history!"
Jeannette: My late husband George and I began the business in our garage making bridal bouquets, corsages, boutonniere's, etc. As word of mouth spread, we found ourselves quite busy. We knew it was time to take a big step and open a small boutique. Neither of us had ever been self-employed. Now, I have owned my store for 36 years!
What is your favorite thing about being in the bridal industry?
Elaina: "The WOMEN in this industry! I've never been a part of such a boss babe community until I stepped into the bridal world. Sure, there is lots of glitz, glam, and beauty in bridal, but it is a tough job. I don't think people quite understand everything that goes into running a bridal shop, but I have amazing mentors and women in the industry to look to for support and I couldn't be successful without them as a shining example."
Sophia: "Helping the bride show her identity through her wedding gown and finding the first puzzle piece of her dream wedding!"
Elodia: "After 39 years of creating memories, my favorite thing is that I have the privilege and opportunity of dressing the daughters of brides I have dressed in the past. I have been dressing 3 generations of brides and quinceañeras."
Jeannette: "Being in this industry and being the only Hispanic owned boutique in my area, I have been asked to fit local recording artists and beauty pageant contestants!"
Roselily Bridal
Do you have any career advice for other Hispanic women business owners?
Elaina: "Trust yourself and be confident in what you're doing. I went into this field with zero background, but after years of working in the industry and giving it my all, I felt ready to take it on. We as women tend to look for approval and/or often feel less than capable, but we wouldn't be making the jump to own our own business if we didn't deep down believe in ourselves and what we are doing.
Another great piece of advice is to realize the opportunity we as Hispanic women now have that our past generations didn't. I named the shop partly for my grandmother. I loved that woman. She was fierce and SHE was my biggest cheerleader growing up. My grandmother had a 3rd grade education and worked nearly every day of her life. I remember her taking me out to the cotton fields when I was small and showing me her "world". She never had an ounce of the opportunities I did. It wasn't a reality for her. So here we are ladies, with the world at our fingertips and who are we to not give it our all."
Sophia: "Follow your HEART and DREAM!"
Elodia: "Continue educating yourself, read every business book, and attend seminars and markets. Understand your culture, be present, believe in yourself, and always continue pedaling through the changes."
Jeannette: "We got advice from our friends to help us begin our own business!"
Ella Blu Bridal Boutique
What is it like being a Hispanic-owned bridal boutique?
Elaina: "Honestly it feels AWESOME! Owning your own business in general is so rewarding, but to know that you are in the minority, not the majority, really is something extremely special. I think we can all appreciate our own accomplishments in this life, but it does feel quite honorable to be able to do what I do knowing where I came from. I didn't grow up wealthy, but my mother raised me to work hard and be kind and I hope to do my family and heritage proud."
Sophia: "There are few of us Hispanic business owners and Latina-owned businesses in the industry. I know most of them, and they love to discuss what it's like and what our brides are looking for!"
Elodia: "If I can influence women to believe in themselves, and know they can do it, I will be happy."
Jeannette: "Being a Hispanic owned business has its advantages of being bi-lingual, especially in our community where we have a mix of cultures. Our culture is very family-orientated and welcoming, which means a lot of our customers become our friends. I am also a member of the Las Amigas de Nuevo Mexico organization, which helps promote Hispanic-owned businesses and Latinx-owned businesses and gives me recognition as a female-owned successful business."
How do you connect with your brides?
Elaina: "I'm a hopeless romantic at heart, so connecting with my brides and falling in love with their love stories is such a joy for me. No two brides' stories are the same and each one is an opportunity to make an impact and let them know they are beautiful and loved. I've said it before, but I really am all about women empowerment and I want each one of my brides to feel their absolute best at my shop. I am their biggest cheerleader and cannot wait to be their hype girl at their bridal appointment! I am always so excited to see what they fall in love with at Roselily Bridal."
Sophia: "We connect with a lot of brides at bridal shows! Most importantly, we connect with them through social media and word of mouth!"
Elodia: "I speak their language and always wear a universal smile."
Jeannette: "We connect with our brides through social media, namely Facebook and Instagram!"
Bridal Novias Boutique
What do you want brides to know about your store?
Elaina: "We are a girl gang with mad skills that are incredibly passionate about what we do and who we serve. We are a high-energy and upbeat team that kills it in the bridal and tuxedo game! We are each other's biggest cheerleaders and love to make brides' dreams come true each day. I want your experience to be so elevated and special because that is truly what I think every bride deserves. I want my brides to feel so taken care of and fussed over when they come in here. Here at Roselily Bridal & Tuxedo, we care deeply about your vision and personal style, and cannot wait to help bring your wedding style dreams to life!
I'm just so grateful and honored for this opportunity to share my story. I hope to inspire those around me to go for it and make those dreams a reality! My fellow Hispanic women, you are worthy and so capable in this life. Dream big and shine bright!"
Sophia: "We are the largest bridal boutique in the Southwest, and we carry a large selection of brands and experiences. Once you walk into Ella Blu, you are walking into a family-owned boutique with the best experience! We absolutely love Maggie Sottero!"
Elodia: "We guarantee they will be happy with the gown they choose, or we will exchange it. We believe we stand for their happiness."
Jeannette: "Our customer service is what we are very well known for. We accommodate our customers to the best we possibly can to make their special event memorable. Our store has also won many awards for the best store display window and has been voted #1 Bridal Store in our city."
Jae-Geo's Bridal and Tuxedo
We LOVE Our Authorized Retailers!
THANK YOU so much to the amazing owners of these Hispanic-owned businesses who took the time to give us this valuable insight and tell their stories! You can show some love by supporting your local Latina-owned businesses. Hire local Hispanic-owned businesses for parts of your wedding like caterers, florists, photographers, event planners, musicians, and more!
For more ideas on how to support Latina-owned businesses and how to incorporate Hispanic Heritage into your wedding, click here to read our blog: Hispanic Wedding Traditions: Celebrating Our Real Brides for Hispanic Heritage Month.
Connect with these fabulous boutiques and Latinx-owned businesses in your area on social media:
Roselily Bridal
Instagram: @roselily.bridal.tuxedo
Facebook: @roselilybridal
Ella Blu
Instagram: @ELLABLUEP
Facebook: @ellabluboutique
Bridal Novias
Instagram: @bridalnovias
Facebook: @bridalnovias
Jae-Geo's Bridal and Tuxedo
Instagram: @jaegeosbridalandtuxedo
Facebook: Jae-Geo's Bridal and TUXEDO