Real Weddings
Wedding Inspo
|
October 5, 2021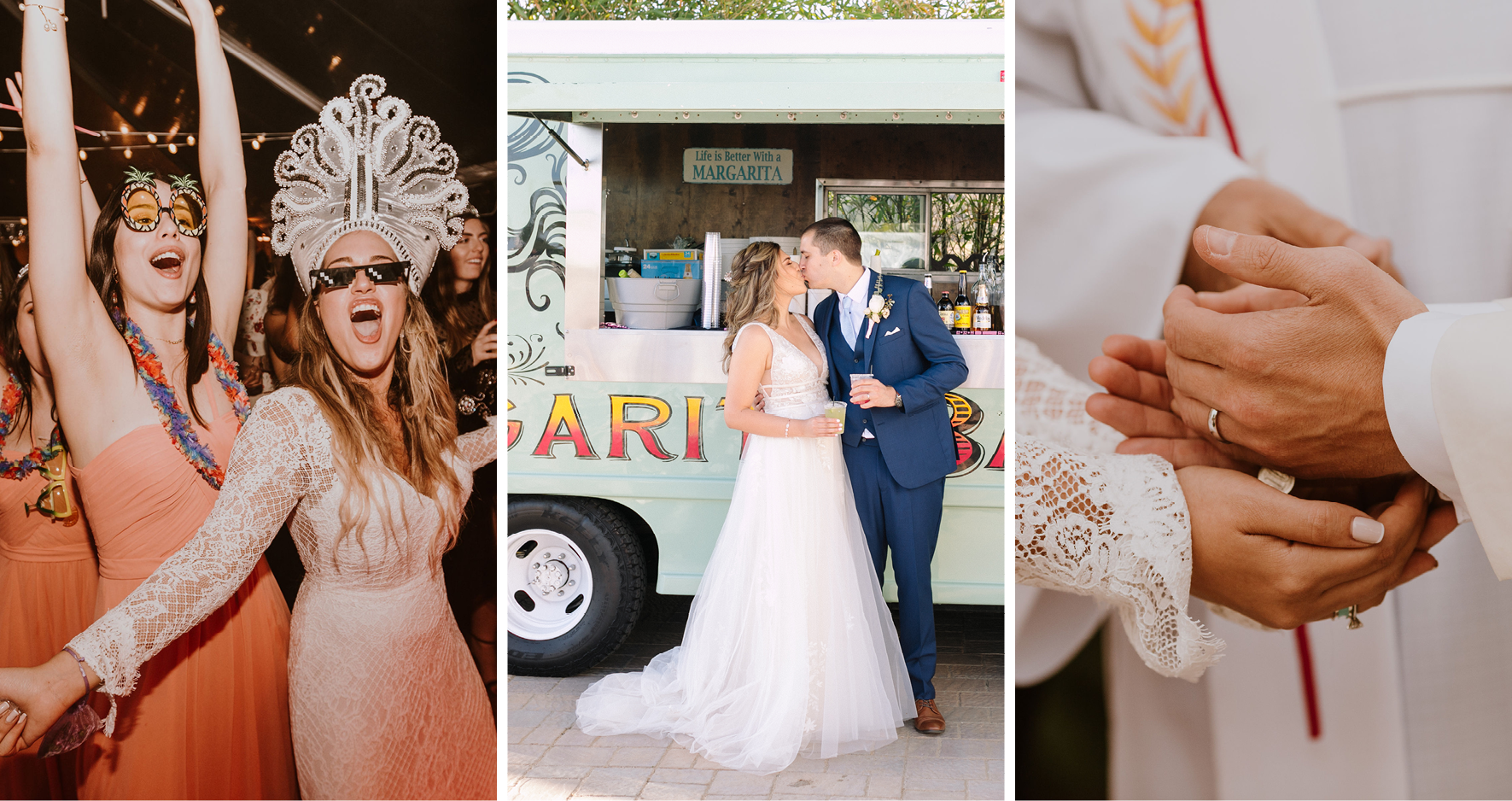 At Maggie, we are SO lucky to see love stories come to life each and every day. We love witnessing brides and their spouses incorporate their culture and traditions into their wedding day. It's a beautiful symbol of how strong love and culture really are. Hispanic Heritage Month is September 15th – October 15th, and we are thrilled to celebrate our Hispanic brides, employees, and partners! We're highlighting Hispanic wedding traditions and our gorgeous Hispanic Maggie brides. Keep scrolling to read about Hispanic traditions for weddings!
Traditional Catholic Wedding Ceremony
PC: Erika Diaz Photography
For some (but not all) brides, religion is an important part of their cultural identity. In a traditional Catholic wedding ceremony, the couple will have their ceremony set during mass in a Catholic Church. Catholic cathedrals are known for their beauty. Picture baroque details, eye-catching domes and arches, wooden beams, and stained glass.
A priest will oversee the ceremony, the exchange of rings, and will bless the couple. Ceremonial traditions like Liturgy of the Eucharist, or communion, take place. These Hispanic wedding traditions are rich in tradition and symbolism.
A Fun Hispanic Wedding Tradition: La Hora Loca
PC: Erika Diaz Photography
With roots in Venezuela and Spain, Hispanic Brides looking to host the biggest party of the decade should consider incorporating La Hora Loca into their wedding planning. With its English translation meaning "the crazy hour", this tradition is all about igniting the party. Surprise and delight guests with this Hispanic wedding tradition. Later in the evening, when things are slowing down and the dance floor crowd is thinning, schedule a live band to play an explosive song, pass out colorful streamers and noisemakers, hire dancers to appear, and instruct guests to get loud!
La Hora Loca brings the energy back into your party! It's one of the many vibrant Hispanic wedding traditions and it's a great way to celebrate in a fun, creative, and traditional way.
Alfajores
PC: Erika Diaz Photography
If you're hungry, you may want to scroll past this section. The tastiest of the Hispanic wedding traditions, Alfajores are a traditional Spanish pastry. This pastry is full of decadent dulce de leche caramel filling between two soft and tender cookies. Hire a local Hispanic baker to make these for your wedding to support a local business! Or, have a fun baking day before the wedding with your family and bridesmaids.
Another idea is to include these delicious treats as the centerpiece of your dessert table. You can personalize them by adding sprinkles of your favorite color. Get ready to share the recipe with your guests. YUM!
Margarita/Tequila Bar
PC: Elizabeth Burgi Photo
Having a margarita/tequila bar is the epitome of an unabashed, over-the-top party! Guests can have fun customizing their drink by choosing flavors, style (would you go for frozen or over ice?), and garnishes like sugar, salt, lime wedges, and even gummy candy. Create a cute sign that says how you and your S.O. would personalize your drinks to give the guests some ideas.
When enjoying your drinks, begin with a traditional Spanish cheer, "¡Arriba (up), abajo (down), al centro (to the center), pa' dentro (to the inside)!"
A More Symbolic Hispanic Tradition for Weddings: Las Arras Matrimoniales
PC: Erika Diaz Photography
Las Arras Matrimoniales is one of the most symbolic Hispanic traditions for weddings. These gold coins are gifted from the wedding godparents (los padrinos y madrinas). The coins are usually presented in an ornate box during the Catholic wedding ceremony. There are 13 coins, 12 gold and 1 platinum, to represent the 12 months of the year. The extra platinum coin is meant to be shared with the less fortunate. The 12 golf coins could also represent Jesus' 12 apostles if the couple would like to show their religious devotion.
The priest then blesses the coins. One spouse presents the coins to the other to symbolize the prosperity of the marriage and the shared responsibility of life and finances. It is one of many Hispanic wedding traditions that holds lots of significance and symbolism.
El Lazo
PC: Tiago Galvao
El Lazo is a beautiful visual representation of the unity of marriage and is one of those most significant Hispanic wedding ceremony traditions. The lasso can take several forms but is typically a double rosary. It can be beaded or jeweled rope, made of silk, or a garland of natural details like flowers. The lasso is a great opportunity to check off "something old" into a wedding. Sometimes, a lasso can serve as a family heirloom and is passed down through generations. How special!
The lasso is usually provided as a wedding gift by the lasso godparents (los padrinos de lazo), which is a married couple that the new spouses appoint as role models for marriage. After the exchange of rings and vows, the couple will typically kneel at the altar. The loop is placed over the head of one spouse, then is crossed before putting the loop over the other spouse, forming an infinity shape. This symbolizes the eternal unity of marriage.
Many couples choose to display their lasso in their home as a gorgeous visualization of their love and commitment to each other. Display your lasso in a custom shadowbox, or drape it on your fireplace amongst pictures from the wedding. This shows how many Hispanic wedding ceremony traditions extend far beyond the wedding day and are a lifelong symbol of the couple's story. This fills our heart!
Los Padrinos
PC: Black Rider Stuidos
As mentioned above, Los Padrinos, or godparents, are an important part of Hispanic wedding traditions. Los Padrinos help sponsor important parts of the wedding like food, decorations, and other more traditional aspects like the lasso and gold coins. Los Padrinos are a strong couple that the engaged couple look up to for advice, guidance, and an example of a strong marriage.
The engaged couples look to their Los Padrinos' marriage as what they want their own relationship to be like. This tradition is an amazing way to incorporate, celebrate, and honor the people who mean the most to you and your beloved. We love how family-oriented Hispanic traditions for weddings are. It's truly beautiful!
The Disappearing Act
PC: Elizabeth Burgi Photo
This Hispanic wedding tradition requires expert-level stealth. The newlywed couple will try to sneak out of their own wedding reception without getting caught by guests. If the Disappearing Act is done successfully, this is meant to be a sign of good luck to the marriage. Also, the first guest who notices the absent couple is said to have good luck as well!
So, make a plan with your spouse on when, where, and how you'll sneak out of the reception. And maybe swap your clanky heels for some soft fuzzy slippers before you do!
The Money Dance Hispanic Wedding Tradition
PC: Black Rider Studios
Get ready to DANCE! This fun Hispanic Wedding tradition is thought to have originated in Spain. Guests will give the newlywed couple money in exchange for a dance. This money is usually used for the honeymoon and the couple's future together. Sometimes, guests will pin the money onto the bride's wedding dress. Time to practice some dance moves and pick a playlist with your love! Do you love traditional Hispanic wedding dresses for the ceremony, but need a casual reception dress that is made for comfortability and dancing? Take a look at our website for some casual wedding dress inspiration.
Take a note from the gorgeous Maggie bride above and get custom fanny packs to easily collect your prizes while dancing! And, have some DIY fun by blinging up your favorite sneakers to match.
Switching the Rings
PC: Erika Diaz Photography
Want to switch things up, literally? Many engaged Hispanic couples, namely in Chile, will wear their wedding rings on their right hand instead of their left hand throughout their engagement.
Then, during the wedding ceremony, they will switch the rings and their wedding bands to their left hand. When your engagement ring is so pretty, why not let both of your hands have their time to shine? We love that this tradition breaks the norm!
It's a very special thing to incorporate your heritage and culture into your wedding day, and there are so many ways to do so! There are delicious desserts, fun party activities, symbolic ceremony traditions, and traditional Hispanic wedding dresses. There are many traditions and each bride's wedding will be wonderfully and uniquely them!
We are honored to celebrate, uplift, and recognize the Hispanic community during Hispanic Heritage Month. The diversity of our Maggie Brides is BEAUTIFUL! Whether you're a Hispanic bride planning your wedding, or someone who wanted to know more about this gorgeous culture and its traditions, we hope you enjoyed this list of Hispanic wedding traditions.
For more inspiration, check out this blog on a Vibrant Mexican Wedding with a Traditional Callejonenada.
Want to see more inspiration from other diverse couples? Check out the 9 Gorgeous Multicultural Weddings That Will Make You Swoon or Pride Wedding Ideas Inspired by LGBTQ Couples blogs.