Tips and Trends
Wedding Inspo
|
April 21, 2022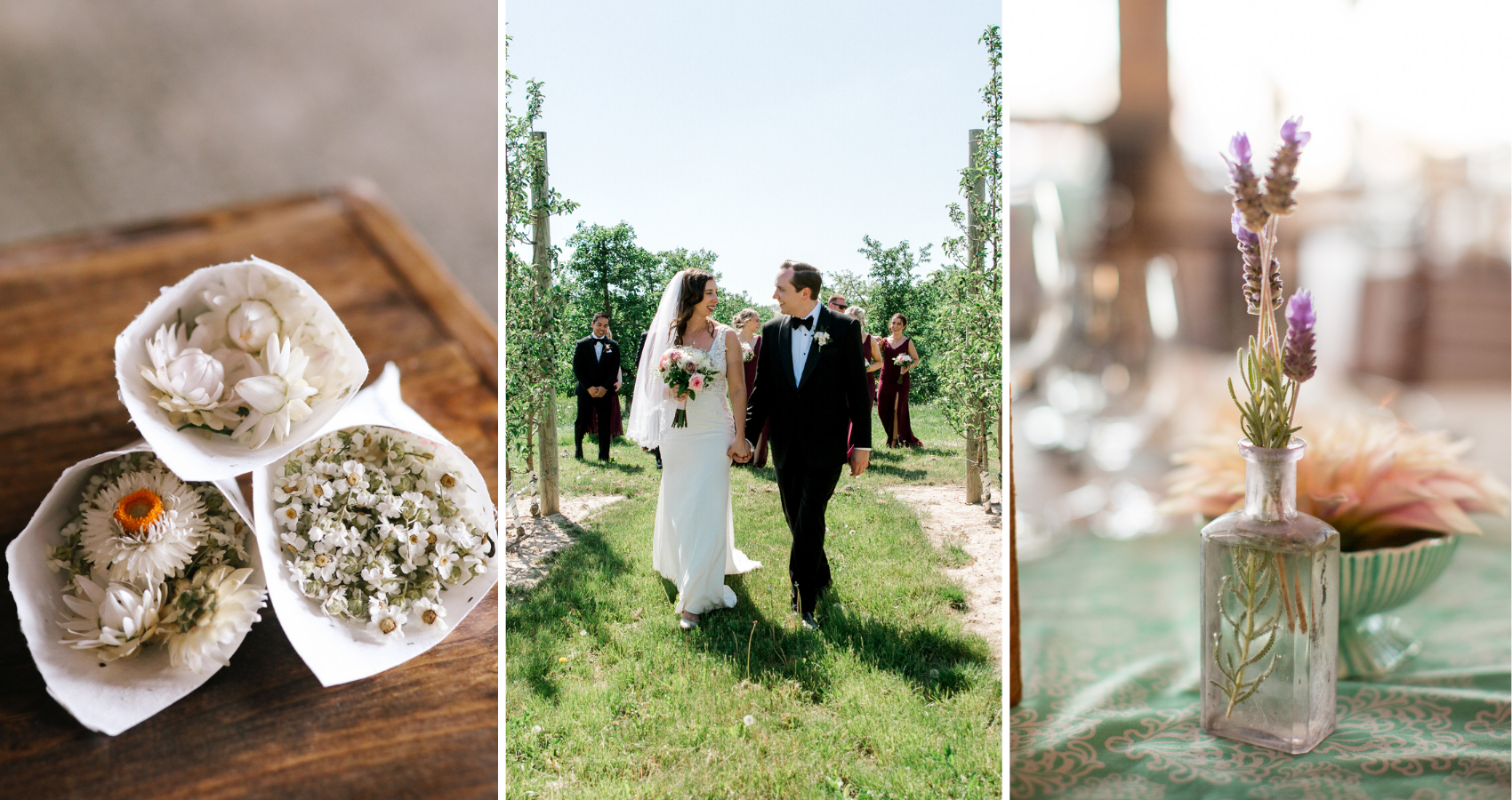 Happy Earth Day! Happy Spring! We're all about the season here at Maggie Sottero Designs… There's nothing like that first breath of warm spring air to get you in full "the hills are alive with the sound of true love" nuptials mode. To celebrate Earth Day and the gorgeous celebrations to come, here are four green wedding ideas inspired by all things bright, blooming, and beautiful. Keep scrolling!
Additionally… if you haven't already, a great place to start planning your wedding vision is our wedding Style Quiz. This helps you narrow down your inspiration and browse wedding gowns for your venue, season, and more.
To start shopping for your bridal dresses for your sustainable wedding, Find An Authorized Retailer. Your boutique stylist is a perfect resource for planning a chic, lightweight, and ultra-feminine bridal look from head to toe. 
If you want more tips and tricks and #MaggieInspiration for your big day, make sure to sign up for some exclusive text messages below!
Choose a Green Wedding Venue
PC: Margan Photography
With more and more couples looking to lessen their wedding environmental impact, sustainability is becoming a major checklist for modern venues. And hey, good call—the physical venue can certainly make or break the amount of waste your party produces.
Here's how to plan ahead:
Book a venue that offers compostable or reusable dishware and utensils. There are plenty of stylish options made from corn, palm leaf, sugarcane, and even cactus.
Ask the venue about recycling and composting options for food waste and trash. They may already have everything you need.
Research energy usage. Many green wedding venues market their carbon offset, renewable energy source, or profit-sharing with fellow environmental organizations.
As for location and transportation, consider the following:
PC: Dreambox Photography
Choose a central location to lighten your guests' travel footprint.
If you opt for travel, decrease your guest count.
Encourage a rideshare plan to the venue.
Choose an airline or credit card that offsets the carbon consumption of your travel.
Hire shuttles to decrease unnecessary emissions from guests' cars.
Inspired by these ideas? Find more green wedding inspo with these ecofriendly wedding ideas for venues from The Knot experts, as well as these beautiful venue ideas from our real brides. 
PC: Bianca Navejar Photography | PC: Sarah Roshan Photography
Shopping for romantic and ethereal bridal gowns for your green wedding? A few of our top picks include:
Green Wedding Décor
PC: Margan Photography | PC: Unknown
Send wedding invites made with recycled paper. Add a soft garden theme to set the tone for your eco-chic celebration.
DIY your centerpieces, décor, embellishments. You can enlist the help of your wedding party and make it a weekend celebration.
Rent your décor instead of buying it. Your venue may have options for furniture, centerpieces, tablecloths, lighting, signage, and banquet table accessories.
Borrow pieces from friends and family. (Then pass it along to the next happy couple!)
Buy used décor off your local classifieds. You can often find once-used centerpieces, arches, photobooth props, and more for half the price.
Continue this recycling after the wedding: Sell, donate, or repurpose your décor instead of trashing it.
Use seasonal florals. This helps decrease your impact on water, transport, and fertilizer.
Embrace your venue's natural light or use a sustainable lighting system. For example, outdoor venues are perfect for a late afternoon party in the summer. And greenhouses and garden centers make naturally luminous indoor options.
Once you've chosen a few top-tier décor items, focus on the venue itself. What built-in backdrops, décor, and architectural details can you utilize to your full advantage? (No need for extra plastic and bunting when the venue already has a full peony garden.)
Gift ecofriendly wedding guest favors. (Edible favors are always a hit!)
Easy décor and equipment to thrift:
Candles, tea lights, and candlesticks.
Vases
Party favors
Baskets
Spray paint for DIY décor projects
Picture frames for a photo wall or table
Diamond confetti
China cups and saucers
Vintage chairs for the happy couple
Wine and champagne glasses
Fairy lights and lanterns
Mismatched tablecloths
Silk flowers and wreaths
Costume jewelry
Photobooth props
Bar essentials: ice buckets, drink dispensers, and chalkboards
Craft materials: bunting, metallic stars, and unique accents
Here are a few sustainable wedding ideas for successful thrifting:
Know what you're looking for when you walk into a Goodwill or flea market. The point of thrifting for a green wedding is to reduce your impact and consumption—not add to junk you already have or don't need.
Scan for color, texture, and intentional mismatching. It's important to be quick yet effective; too much or too little effort won't give you great results.
Start going to thrift stores often before the big day. You won't find everything you need in one shopping run.
Go to several different stores in different areas. It really boils down to a numbers game; you'll find a more complete selection of items by expanding your radius.
PC: Haley McElroy Photography
This gorgeous bridal dress is Burke by Maggie Sottero and is perfect for a botanical wedding them… Think palm fronds, vintage décor, midcentury accents, and industrial-chic backdrops.
Green Wedding Ideas for Food and Drink
PC: Unknown | PC: Nik Nguyen Photography
Purchase biodegradable cutlery and plates, or thrift reusable pieces
Donate or compost leftover food or send guests home with leftovers in compostable containers.
Supply bins for recycle, compost, and trash.
Source organic or local food from ecofriendly vendors.
Serve vegan or vegetarian food to lessen your carbon footprint.
Ditch the plastic water bottles in lieu of refillable drink stations—or invest a little extra catering budget to canned or boxed water.
Sustainable Wedding Ceremony and Reception Ideas
PC: Lucy Cuneo
Stage a green exit with biodegradable or natural confetti like hole punch leaves, dried herbs, popcorn, bird seed, bubbles, cake sprinkles, and flower petals. (Rice is bad for birds! If you choose rice, make sure you do it inside the venue and sweep up after.)
Other biodegradable confetti alternatives are streamers, balloons, glow sticks, or ribbon wands that guests hold onto instead of throwing. This minimizes trash but still makes for a fabulous photo op. (And they're perfect wedding favors for kids.)
Source cruelty-free makeup and hair products, or products with minimal packaging and delivery distance. Additionally, you can reduce purchases by using makeup and jewelry you already own.
Make your place cards and signage biodegradable or reusable, or skip them entirely.  
PC: Margan Photography | PC: Unknown
Arrange for guests to gift sustainably. For example, you could ask them to donate to a climate organization, wildlife fund, or social justice fund in lieu of gifts. You can also choose products from a likeminded organization, or you could also ask for secondhand gifts. There's also monetary contributions to an eco-project like solar panels, a waterwise garden, an electric car, or an eco honeymoon.
Eco honeymoons are a lovely option for environmentally conscious couples. For example, you might choose an airline that offsets your carbon emissions (or donate to an organization who will on your behalf). You could also head to a destination with unique environmental wedding activities for couples… Think wildlife activism, charity work, or a public works project. 
Love this bride's look? This shimmery ball gown wedding dress is Kimora by Sottero and Midgley.
We hope you love our gallery of ecofriendly wedding ideas!
Again, if you're ready to shop wedding dresses, we have the perfect place to start. Find A Boutique Near You to book your appointment to find the dress of your dreams!
You can also check out more inspiration from real brides on our gallery page: Share Your Wedding | Maggie Sottero
Sign up for our Newsletter:
Explore the blogs before for more wedding dress trends in a variety of styles:
Spring Wedding Colors, including inspiration for bridesmaid gowns, décor, florals, venues, invites, and more.
Wedding Horoscope Inspiration, as inspired by Pantone's color of the year. Perfect for the chic, artsy, or cottagecore bride.
Your 12-Month Beauty and Health Plan to help you get wellness, beauty, activity, and mental well-being on track for your best day ever.
Happy Earth Day from Maggie Sottero Designs! May your green wedding be as chic, sweet, and beautiful as all your favorite places in nature. Best wishes!