Wedding Inspo
|
January 29, 2023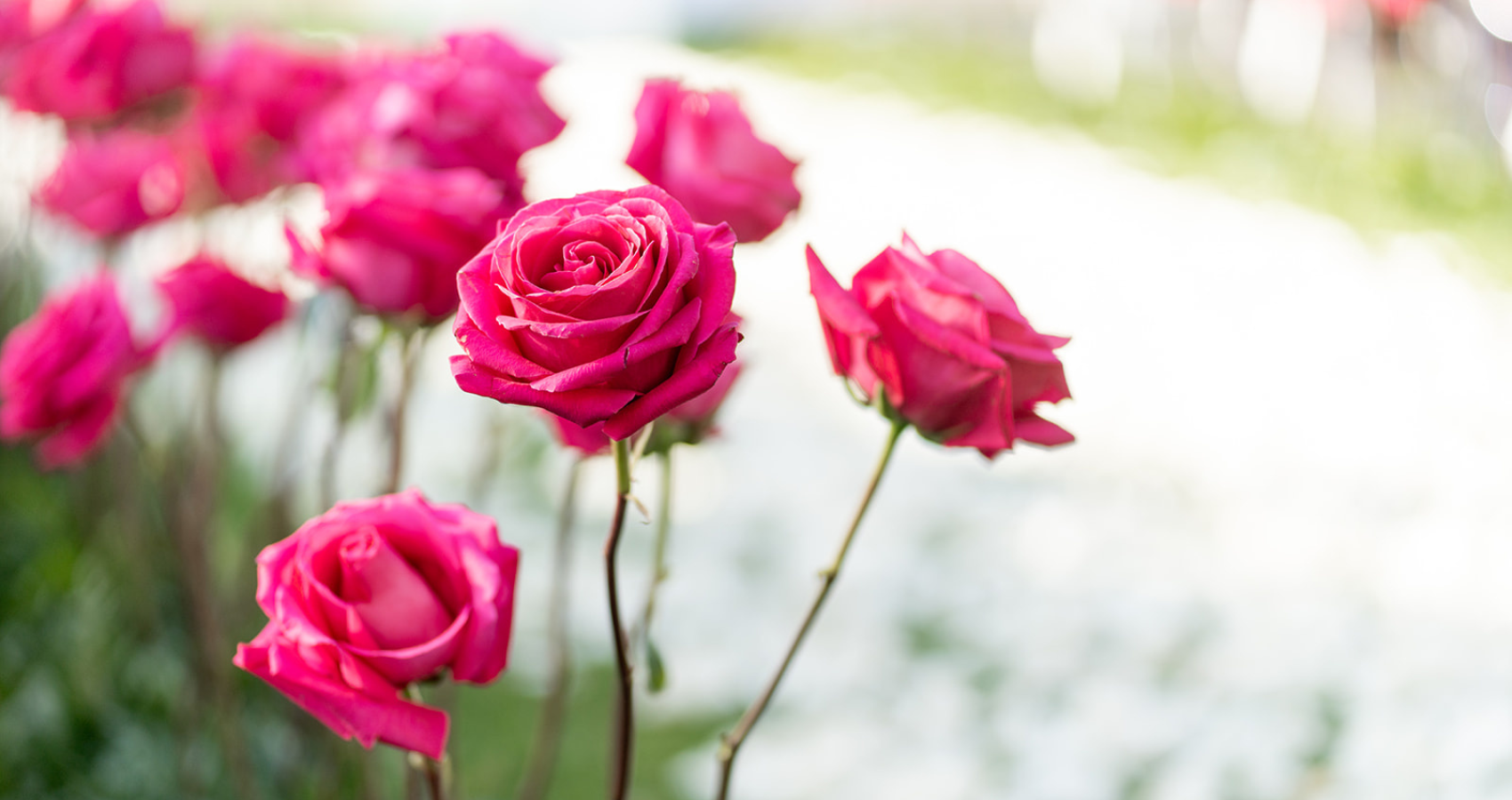 As we welcome in the new year, we are also happy to welcome in the Pantone Color of the Year, Viva Magenta! With its vibrant red color and subtle pink undertones, Viva Magenta inspires optimism – AKA, the perfect inspiration for your wedding!
In honor of this color of the year, we've compiled a gorgeous gallery of magenta-inspired wedding décor, aesthetic, and wedding gowns to help create the red-hued wedding of your dreams! Keep reading for all the wedding inspo, and to get started on your wedding planning journey make sure to take our wedding dress quiz below to find your dream gown based on price, style, and must-haves.
The Pantone Color for 2023, Viva Magenta 18-1750, is brave, fearless, and full of new strength. It represents a joyous and optimistic celebration that carves the way for a new narrative for your life! What could be a better inspiration for your upcoming nuptials?
Not only can you incorporate variations of this color into your wedding décor, but you can also take inspiration behind the meaning of Viva Magenta for other elements for your wedding day with its fearlessness, and nature-inspired rebellious spirit.
First up on your list of Pantone-inspired wedding décor? Florals!
Pantone Color of the Year Florals
PC: Margan Photography | PC: Melissa Shorts Photography
Florals are the perfect way to showcase this gorgeous magenta color! From putting red-hued colors into your bridal bouquet to incorporating this color into your floral decorations, you have a ton of options to choose from!
Consider these beautiful blooms to include in your bridal formals to get that must-have pop of pink!:
Love Parade: These wildflowers are small and delicate in appearance – the perfect subtle addition to your bridal bouquet.
Arcado Pink: Truly a show-stopping flower with striking height and dramatic blooms! Psst… it's also edible if you are looking for a flower to add to your wedding cake!
Peruvian Lily: Lilies are some of the most popular additions to a bouquet for a reason! With waxy leaves and eye-catching petal designs, your guests will be anxious to catch your bouquet at the end of the night!
Snapdragon: Calling all cottagecore brides! If you're looking for a unique, wild-looking floral look no further. With thick petals and vibrant magenta color, you can't get more boho than this wildflower in your bouquet.
Peonies and Roses: You can't go wrong with a bouquet of timeless peonies and roses! This gorgeous floral is popular with many brides due to its vibrant color, and durability. Plus, you can find them in many different colors including Viva Magenta!
Viva Magenta Beauty & Accessories
With this striking shade of magenta, there's no better way to incorporate this Pantone Color of the Year into your wedding than through your beauty and accessories for yourself, your bridal party, and even your groom!
Beauty
PC: Lucy Cuneo
First up, consider adding this stunning color to your bridal beauty! There are many ways to subtly pay homage to this color without going overboard. Consider painting your nails in this shade (imagine how amazing your ring will look with it!) or using one of the many magenta shades out there for your lipstick to add an Old-Hollywood touch to your bridal look.
Psst… love this beauty inspiration? Make sure to read our blogs on wedding makeup and wedding nails for more inspo!
An alternative way to use the color of the year in your wedding look is to include it in your accessories! Get yourself a pair of Pantone Colored pumps, a sweet pink hair accessory, or some magenta-colored jewelry to tie your bridal look together!
Bridesmaids
PC: Margan Photography | PC: Jose Alvarado Photography | PC: Lindsey Maree Photography |
Make sure to get your bridesmaids in on the Pantone Color fun! Include Viva Magenta into your bridesmaid's looks in the following ways:
Magenta robes to get ready in with you in a white robe!
Magenta-inspired bridesmaid dresses in the Viva Magenta, or different shades of magenta.
Bridesmaid bouquets with magenta flowers.
Groom
Last, but certainly not least, include your groom (because real men wear pink!). While we love a good magenta-colored suit, there are much more subtle ways to include this daring color in your groom's look if you don't want them to steal the spotlight from you!:
Spread those magenta florals around by making their boutonniere in the magenta shade.
Make their tie or bowtie in a shade of magenta.
Have a peep of pink by giving them magenta socks to wear on the big day.
Psst… Does your groom need some inspo on what to wear? Send them our expert blog on grooms' for them to read!
Viva Magenta Decorations
PC: Eddie Sadiwa Photography
Décor is by far the easiest way to include the Pantone Color of the Year into your wedding day! There are many fun ways to incorporate the color of the year into your decorations in a striking, yet classic, way:
Table Centers: From florals to candles, there are many fun ways to use magenta in your wedding decorations. Consider having magenta-hued wine glasses, cute magenta escort cards (traditional or non-traditional), striking magenta candles in shades of pink and red, and magenta-colored place settings.
Ceremony Décor: There are romantic and floral ways to include shades of red and pink in your ceremonial decorations. Whether you want to go above and beyond and line your aisle with vibrant magenta florals, or you task your flower person with scattering magenta petals before you walk down the aisle, you can't go wrong!
PC: Black Rider Photography
Other fun ways to incorporate this Pantone color into your wedding day details is by having magenta-colored lights like our beautiful bride in Nikki by Maggie Sottero, creating a beautiful magenta-colored backdrop for you and your guests to enjoy, and making your invites a striking magenta color to make them memorable for your guests!
Pantone Color of the Year-Inspired Wedding Dresses
What's the "vibe" that you want your wedding dress to have? Do you want it to be absolutely individual? Fearless? A statement look? If so, you're in the right place. We have many wedding gowns that emulate the meaning behind the Pantone Color of the Year for you to choose from. Just keep reading!
First up is Scarlet by Maggie Sottero. Chosen for obvious reasons, Scarlet is a Viva Magenta-inspired wedding dress for more than its color! It has many of the same elements that the Pantone color has as well. With its striking satin fabric and daring low back, this wedding dress is full of passion and a fearless choice for your wedding day.
Next up is Aspen by Sottero and Midgley. While this gown doesn't come in a daring red colorway, it does come in an ice-pink one! This couture wedding dress is another gown that is bold, stand-out, and statement just like Viva Magenta. With a thigh-high slit and added bridal cape (sold separately), you can't go wrong.
Hayes by Maggie Sottero is another statement wedding dress with its illusion lace back and oh-so-sexy silhouette. Just like Viva Magenta, this stunning wedding gown is electrifying and boundless in style. If you love this gown, make sure to take find it at an Authorized Retailer near you!
If you love an audacious gown that has a rebellious spirit, look no further than Bailey by Sottero and Midgley! This dreamy style has everything a bride like you loves! Sexy silhouette? Check! Nature-inspired lace? Check! Personalization options to match your gown to your love story? Double check!
Viva Magenta is all about joyous moments, new chapters, self-expression, and stand-out statements. We couldn't have chosen a better color to inspire our upcoming brides in their wedding planning journey! To find more inspo like this, make sure to take a look at our Socials below and read more blogs like this:
More Blogs Like This:
What Wedding Dress You Should Wear Based on Your Zodiac Sign
Finding a Wedding Dress for Your Body Type to Promote Body Positivity