Dresses
|
August 17, 2021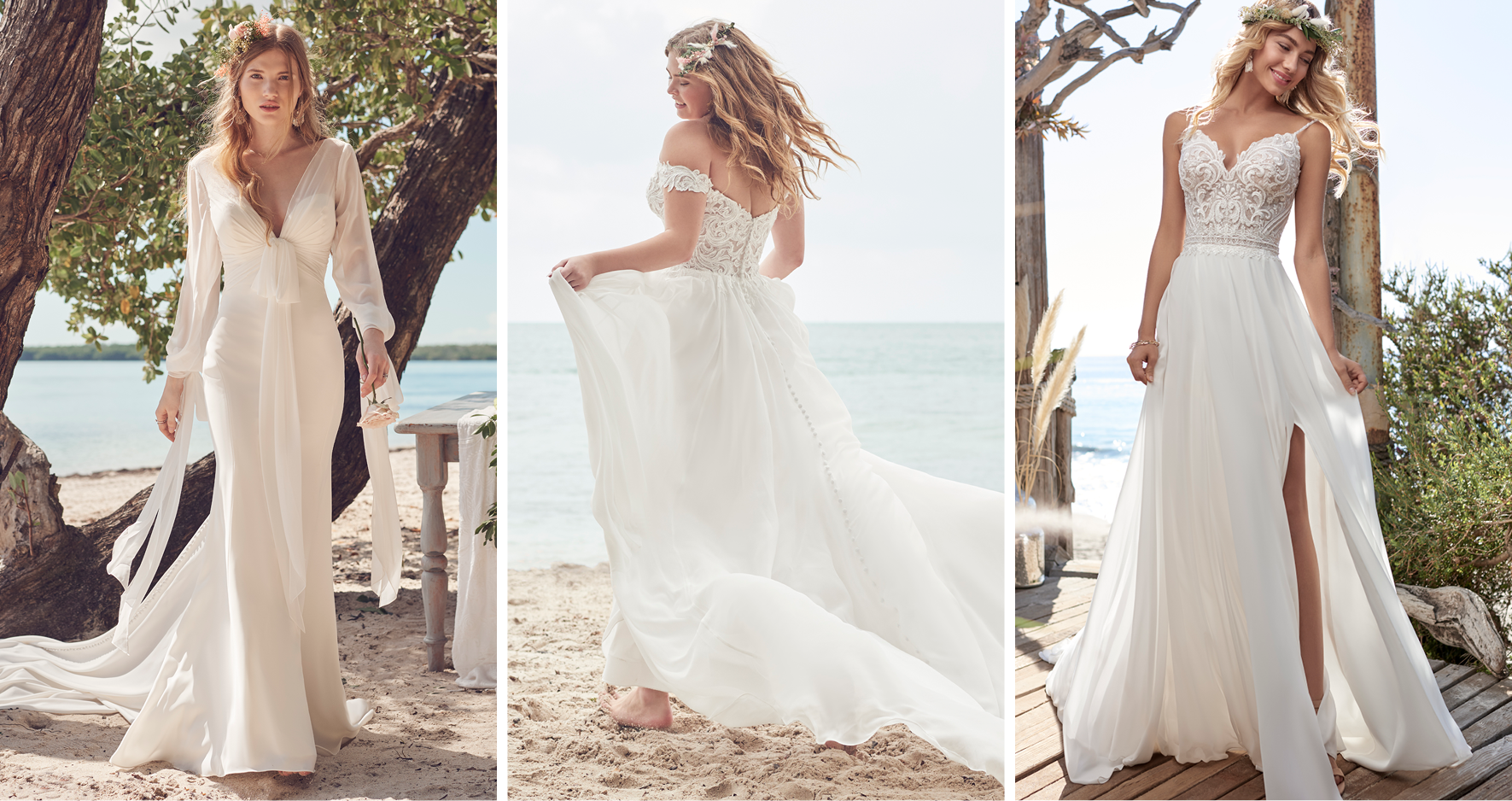 Chiffon wedding gowns are trending, and we're obsessed! The perfect choice for beach celebrations and outdoor soirees, chiffon makes a stunning statement in line, movement, and softness. Between chic minimalism, Grecian-inspired classics, and lightweight silhouettes with soft shimmer, here are the new chiffon beach wedding dresses to inspire your sweet and breezy aesthetic. Keep scrolling for inspo and how to find your perfect bridal style!
First of All, What is Chiffon?
Chiffon is a light, sheer, and gossamer-like fabric often used for wedding dresses, bridal veils, eveningwear, blouses, scarves, and negligees. It can be made of silk, polyester, rayon, cotton, or nylon blends—simple weaves that can be embellished with texture, beading, and breezy motifs (if not too heavy). Chiffon is a lovely layering fabric with a silky sheen to complement ultra-feminine designs.
Is Chiffon Breathable for Outdoor Weddings? Are Chiffon Wedding Dresses Beach Appropriate?
Yes, chiffon is a very breathable fabric suited for summer temps and lightweight designs. It's a popular choice for warm-season weddings, seaside locales, garden celebrations, and romantic reception aesthetics. The fabric often evokes the soft draping of Grecian-inspired designs and graceful vintage silhouettes, lending perfectly to a relaxed wedding vibe and nature-inspired venue. So long story short, the answer to "Are chiffon wedding dresses beach ready?" is a resounding "YES!"
Are Chiffon Wedding Dresses Expensive?
Chiffon is a perfect choice for price-conscious brides: It looks and feels expensive but is widely available and affordable for a range of budgets, aesthetics, and seasons. We're especially smitten with the variety of beach chiffon wedding dresses available from our budget-friendly Rebecca Ingram line, several of which we've listed below.
What Silhouette is Best for Chiffon Wedding Dresses, Beach or Otherwise?
The slinky, lightweight structure of chiffon make it ideal for slim A-lines and sheath gowns. It doesn't have quite enough structure for a full ball gown silhouette (tulle and satin are more common) or a mermaid design (it's not quite strong enough for a formfitting cut), but can be used for embellishments, florals, accessories, and motifs on virtually any fabric or silhouette. You can also find chiffon in bridal veils, capes, overskirts, and trains. (Most of which look gorgeous at outdoor weddings; the structure and texture are perfect for breezy and sunny conditions. Your photos will be stunning!)
Are Chiffon Beach Wedding Dresses Flattering?
Yes, chiffon beach wedding dresses are ultra flattering! Since chiffon is soft and silky, it drapes and hangs beautifully on the figure. As we mentioned above, it's especially suited for A-lines and sheath silhouettes—relaxed and comfortable bridal gowns that complement your natural figure and frame. (For example, chiffon feels beautiful to wear on the hips, booty, and thighs—so comfy!) Our only caveat: if you're looking for a wedding dress with more support, you may want to skip chiffon for a more structured fabric (think satin or tulle) to create a fitted, polished, and formal silhouette.
First up: if you love simple chiffon but you're hoping for some soft details, get inspired with Heather by Rebecca Ingram. We love this bridal style for its lightweight and effortless tailoring.
It's easy enough to wear outside for a beach or garden wedding, yet it has the perfect amount of embellishment to mark your occasion. (Not to mention shimmer! This bodice looks amazing in outdoor light.)
It's all about draping, ruching, and layers in Bobbi by Rebecca Ingram—a classic and ultra-feminine wedding dress that proves even centuries-old artistry will never go out of style. Wear this timeless design with a flower crown for Aphrodite-by-the-sea vibes, add sophisticated polish with a sleek updo and antique-inspired jewelry.
Or, go modern muse with statement earrings and long, textured tresses—all divine details for your goddess within!
Looking for a unique chiffon wedding gown design? Margery by Maggie Sottero features a unique pleating effect in the skirt—a timeless yet unexpected twist on a beach-ready bridal gown.
The other beautiful highlight of this style is the shimmery bodice: A plunging sweetheart neckline, shimmery beading, and delicate spaghetti straps to accent your shoulders and collar bones. Find this style at a Rebecca Ingram boutique near you!
Shopping for something light and breathable, simple and chic? Picture yourself in Lorraine by Rebecca Ingram, an irresistible A-line bridal gown featuring beautiful beading and an impeccably layered skirt. This wedding dress is perfect for a lakeside or ocean-view wedding: It's unbelievably comfortable, super flattering, and effortless to accessorize.
You'll definitely want to experience this gorgeous chiffon in person to get a feel for fit, flow, and styling. Head to an Authorized Retailer near you to check out your options!
Featuring a deep V-neck bodice and comfy jersey lining, Breanne by Rebecca Ingram is a divine choice for beach brides and effortless celebrations. This lightweight skirt feels silky and luxurious with just the right amount of movement and softness. It's dreamy and cloudlike, and there's nothing like it for walking barefoot in the sand.
Looking to accessorize your beachy chiffon bridal gown for photos and aisle walk? Check out breezy veils, lightweight overskirts, and fluttery sleeve options on our bridal accessories page!
Chiffon beach wedding dresses are all about the swishy skirt treatment, which just so happens to make a gorgeous complement to beaded tops, lace necklines, and delicate sleeve treatments.
June by Maggie Sottero is an ideal balance of simplicity and embellishment, showcasing a long, silky A-line skirt, an exquisite bodice, and shimmery beading. You'll delight in every inch of it for your beachy celebration.
This uniquely sexy wedding dress feels absolutely incredible for an outdoor wedding; the chiffon skirt is silky and swishy, and the illusion lace bodice is both effortless and flattering. Add boho charm with a flower crown and oversized jewelry—it's pretty much impossible to not feel like a fairy princess for your best day ever.
Want to explore more fabric options for an A-line silhouette? Get inspired with these romantic styles in lace, tulle, chiffon, and illusion in the link. You can shop all these dreamy designs at an Authorized Retailer near you.
It only takes a couple of twirls in Jolie by Rebecca Ingram to realize it's perfect for outdoor conditions; it's one of our favorite chiffon beach wedding dresses inspired by sunshine, waves, and wildflower meadows. The charm of this style is all in the details.
A crisscross ribbon ties up the sides, subtle tassels add an "undone" flourish to the shoulders, and delicate lace trim completes the hemline. You'll love all your angles in this chic and fabulous silhouette!
If you love beach chiffon wedding dresses with deep necklines, check out the bodice on Nicole by Rebecca Ingram. This soft yet sexy style gives you the perfect dose of lace and embellishment while complementing your laidback wedding vision—a whimsical choice for your beachside bash.
If you're totally smitten with the "seaside goddess" look of a beach chiffon wedding gown, head to our selection of bridal crowns and vintage-inspired earrings. These golden tiaras, Art Deco embellishments, and pearly accents make the perfect accessories for a mermaid-couture bridal aesthetic!
One of the most magical combinations on beach chiffon wedding dresses is illusion with sleeves—a soft yet regal combination that's still perfectly suited for the sunshine. Madilyn by Maggie Sottero is all about these lace and illusion details along the bodice, neckline, and sleeves. It's romantic and sophisticated, ultra-flattering, and timeless in design.
Excited to plan your ultimate beach wedding? Once you've narrowed down the perfect chiffon wedding dress for your outdoor venue, head to our post on beach wedding ideas from one of our favorite styled shoots—from dreamy invites to lush florals, tablescapes, and delicate accessories. We've also put together a stunning beach wedding spotlight with one of our real brides wearing Elsie by Rebecca Ingram (check it out in the link!) featuring a boutique hotel venue, moody seascapes, elegant florals, and an intimate micro ceremony.
As always, check out our Store Locator page to find an Authorized Retailer near you! Book your appointment to shop chiffon beach wedding dresses, breezy accessories, jewelry, and tiaras this weekend, and be sure to send us your gorgeous bridal gallery after your big day to be featured. Happy planning and best wishes!