Dresses
Wedding Inspo
|
October 10, 2023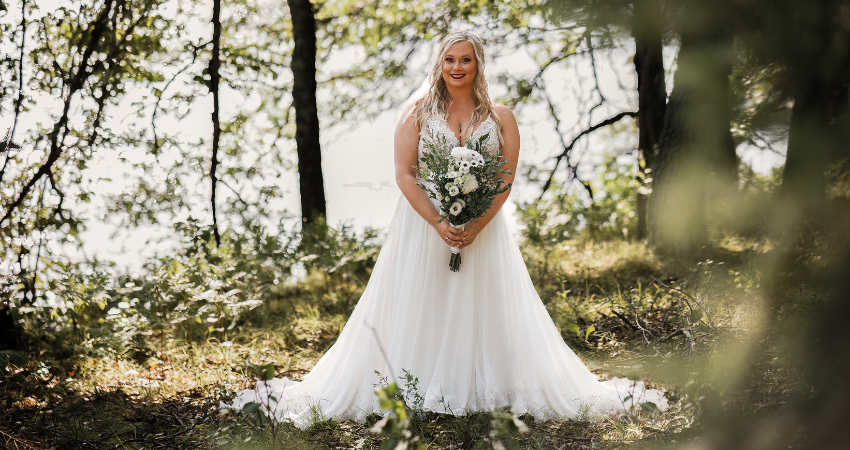 We design lots of pretty wedding dresses here at Maggie Sottero — this is true. We get inspired, we find gorgeous details, we make something new and fabulous, we make more… and then when one of our wedding gowns proves to be especially popular and enchanting, we create new ways for brides to Personalize It! This gallery is all about one dreamy style capsule in particular: the Lorraine by Rebecca Ingram collection, AKA boho-chic wedding dresses featuring lace, chiffon, and effortless details for a relaxed, free-spirited celebration. Keep scrolling for our style highlights and inspo! 
What Are Our Lorraine Wedding Dress Styles?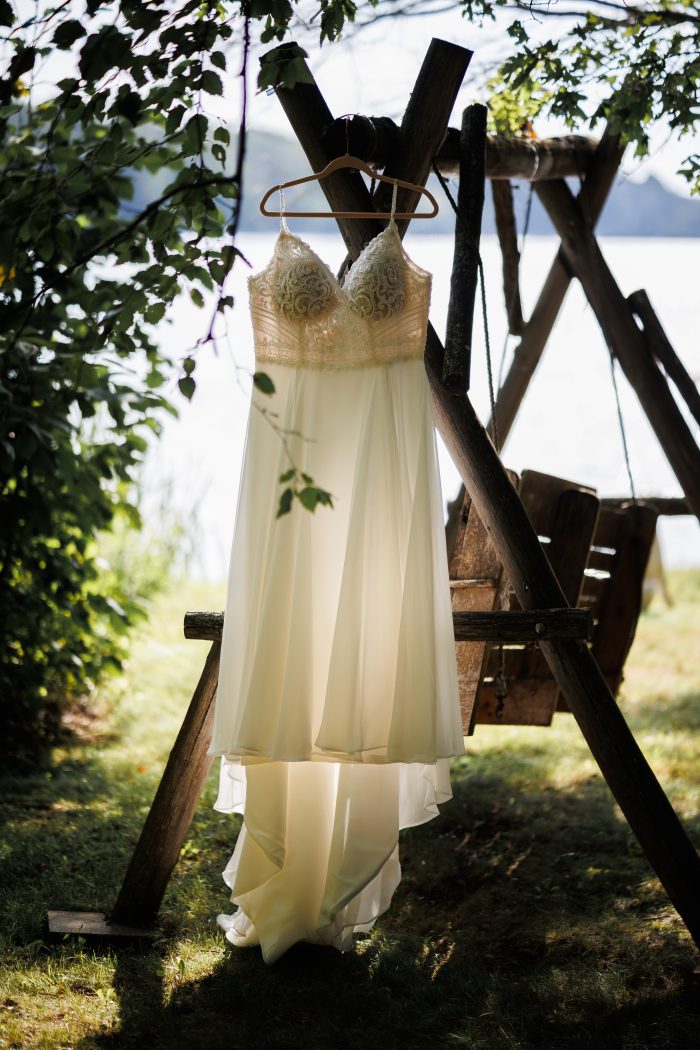 PC: Melissa Bell Photography
The "Lorraine" capsule started with its namesake classic: Lorraine by Rebecca Ingram. This soft, beachy, and elegant style is all about easy-breezy details — a perfect combination of effortless and romantic flourishes. 
Another fabulous highlight about the Lorraine gowns? These are part of our Rebecca Ingram line, AKA classic and flirty gowns at exceptional prices… meaning they are affordable options for brides planning a low-key, timeless, and intimate celebration. Many of these variations are also Quick Ship styles, meaning they can be ordered for shorter delivery windows than typical boutique styles. 
The rest of the Lorraine collection plays with that balance, offering boho-chic wedding dresses on Lorraine's lace, silhouette, and bodice. We love each sister style to pair with your venue, personal aesthetic, season, and desired coverage… These are all the ways to make one of these styles your own!
Boho-Chic Wedding Dresses: The Lorraine Collection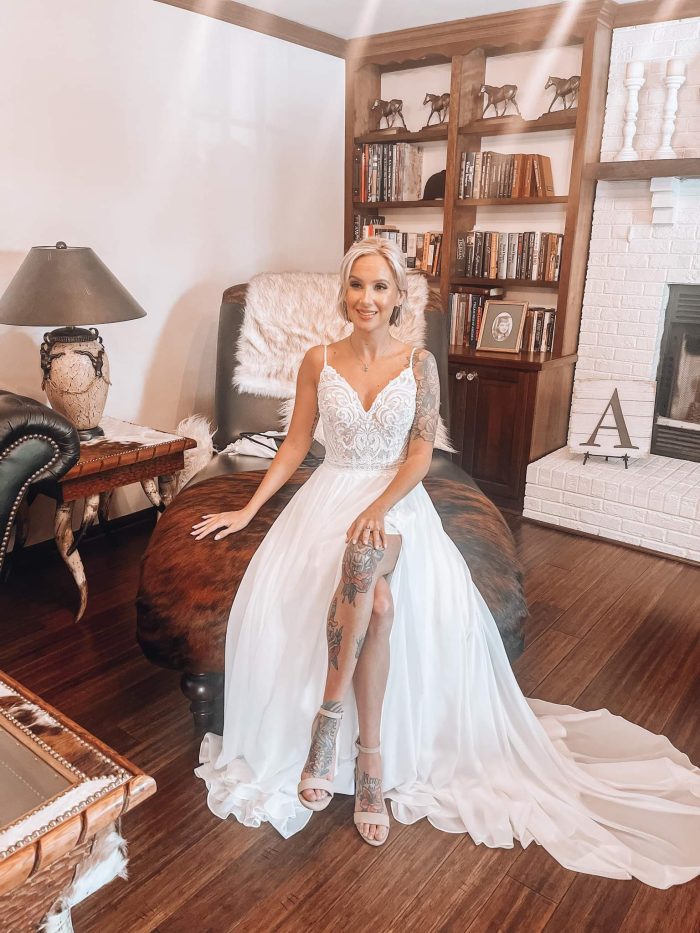 PC: Simply Blessed Photography
Lorraine by Rebecca Ingram is the style that started it all. This beachy boho A-line wedding dress features a lovely fusion of lace and chiffon fabric, with beaded flourishes in the bodice and a luxe, soft skirt with a thigh-high slit. This style is summery, figure-enhancing, and easy to style for a variety of venues, seasons, and wedding vibes! 
A few ways to personalize Lorraine:
Style with an illusion jacket or bolero
Add a cape or overskirt for more layers
Pair with a simple or deluxe bridal veil
Get inspired with reviews from our real brides:
"I knew before I zipped up the dress that it was 'the one!' I got married on a cruise so I wanted something light and comfortable but still elegant. This dress checked all the boxes and I loved how it looked on my body." — Jill
"I felt like the most beautiful bride. It supported me, flattered my body shape and was so comfortable! It made a plus size bride feel absolutely beautiful! It was the first dress I tried on and I had to have it!" — Kelsey
"I felt like a princess, such a beautiful dress. Light and elegant for a hot summer's day." — Selena
Lorraine is also a Quick Ship wedding gown, which means it can typically arrive for fast-approaching wear dates! Speak with your Authorized Retailer for details. 
Lorraine Dawn by Rebecca Ingram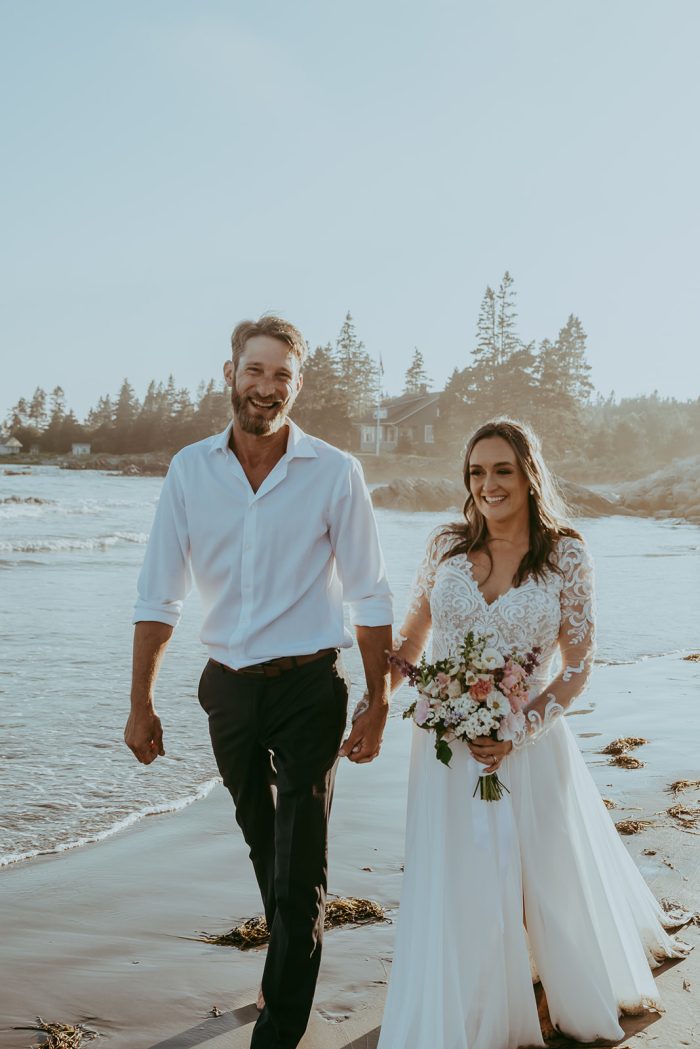 PC: Janette Downie Photo
Our next variation: sleeves! One of the most popular ways to personalize the Lorraine look is with Lorraine Dawn, an illusion sleeved wedding dress with gorgeous details. This boho-chic wedding dress still has that effortlessly romantic, long-walks-on-the-beach vibe, but offers a tad more support and coverage with its long illusion sleeves. This style is perfect for a fall or winter wedding with cooler temps.
A few reviews from our real brides:
"The top was so supportive and detailed and beautiful and the bottom was so flowy and comfortable!" — Jessica
"I felt beautiful, elegant and confident! I truly found my perfect dress." — Stephanie
Personalize Lorraine Dawn by adding a unique accessory like a veil, overskirt, or bridal tiara. Dive into more beautiful sleeve wedding dresses like this in our gallery of trends!
Lorraine Lane by Maggie Sottero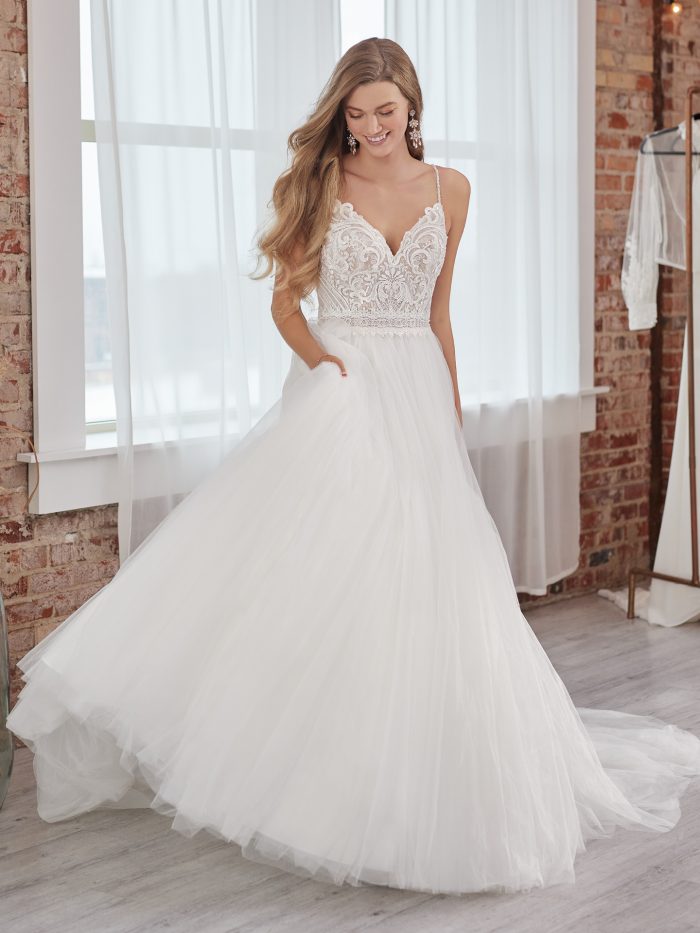 If you love the spaghetti strap bodice on the original Lorraine gown, be sure to peruse your options for skirt fabric and style to go with it!
The original Lorraine silhouette was designed with a svelte crepe skirt with a thigh-high slit. For more of a "regal chic" vibe, get inspired with Lorraine Lane — a princess silhouette featuring frothy layers of tulle. This lush skirt is so chic and ballerina-esque, the perfect choice for an enchanted fairytale venue.
To personalize Lorraine Lane:
Add a bridal veil
Style with a cape, jacket, or bolero
Add a shrug for soft coverage
Pair with long vintage gloves
Add sparkle with a bridal tiara
For more regal ballgowns and princess-y silhouettes, get inspired with our latest trends.
Lorraine Anne by Rebecca Ingram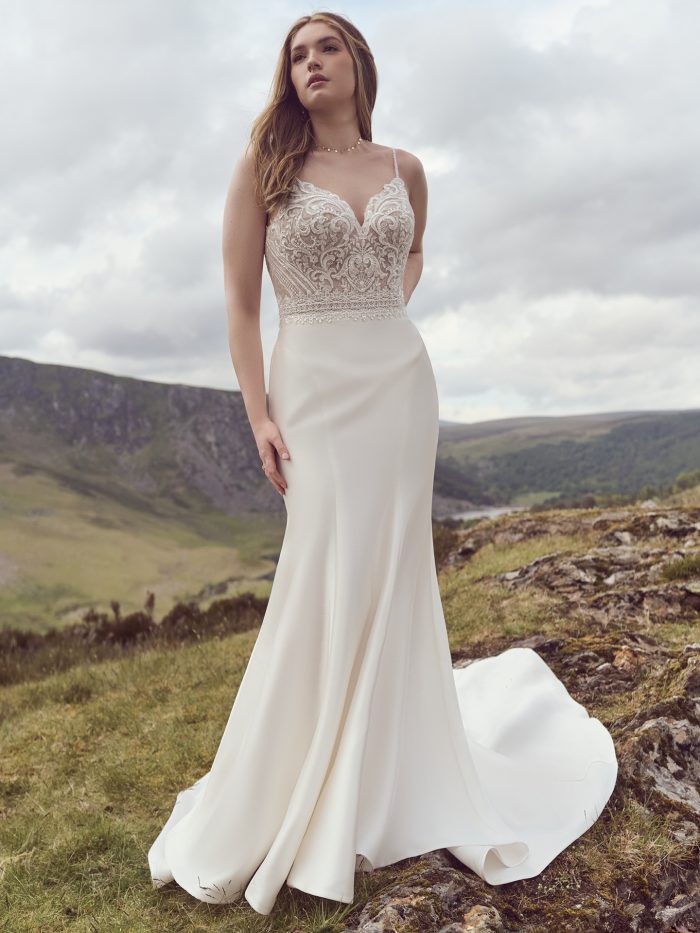 Our next boho-chic wedding dress variation is Lorraine Anne by Rebecca Ingram, a relaxed fit-and-flare with effortless details. This style is perfect for our curvy brides — the silhouette is designed to show off your favorite features while offering support and structure. 
Lorraine Anne is very similar to our Lorraine style but with a few subtle upgrades:
A tad more coverage in the beaded bodice
A slightly raised neckline
A gorgeous V-back
A Mikado skirt instead of chiffon or crepe, offering a little more structure
No thigh-high slit in the skirt
Personalize this gorgeous wedding dress by adding an elegant accessory like a bridal veil, flower crown, illusion jacket, or cape. If you love this open back style, dive into similar silhouettes from our latest collections! 
Another gorgeous choice for plus-size brides, Lorraine Dawn Lynette offers a combination of both effortless and formal features to complement your romantic wedding vision. It's a little regal, a little boho, and perfect for a range of venues and seasons. Dress highlights include:
Illusion sleeves embellished with soft lace
A lovely V-back
A stunning beaded bodice with additional lining
A statement illusion and lace back
A luxe chiffon skirt with thigh-high slit
Lorraine Lane Marie by Rebecca Ingram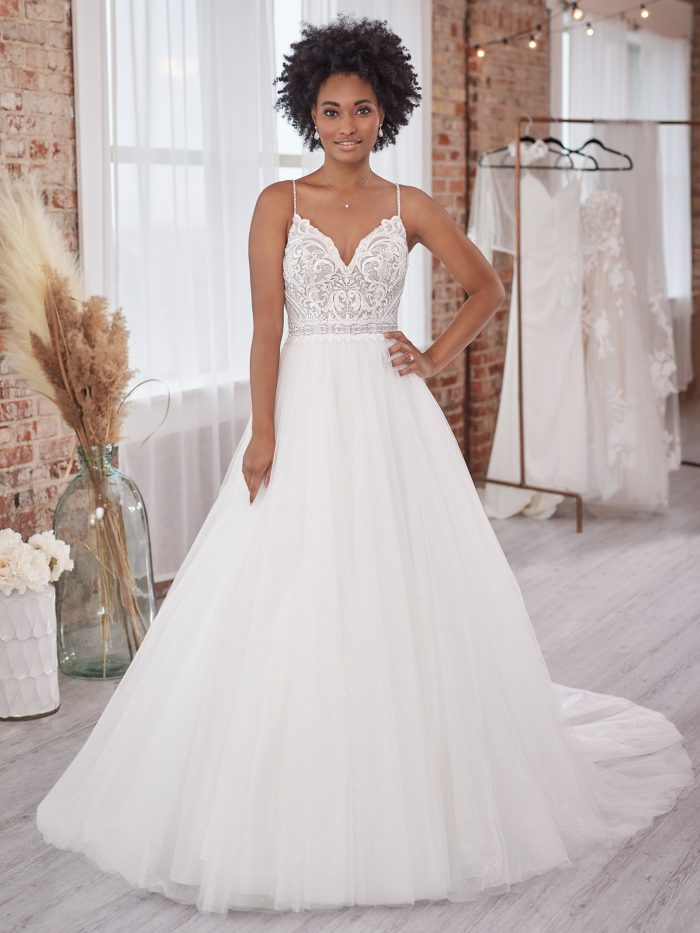 If you've got your heart set on the ballgown variations in the Lorraine collection, you also have a choice of fabric details. For a little more light and shimmer, look to Lorraine Lane Marie, a princess silhouette featuring sparkle tulle in the skirt. This boho-chic wedding dress style is super playful and feminine — perfect for summery celebrations and whimsical wedding themes.
Personalize Lorraine Lane Marie by adding covered buttons down the skirt. You can also pair with an elegant accessory like a bridal veil, jacket, or overskirt.
Accessories & Styling Tips for Lorraine Wedding Dress Styles
When styling and accessorizing any of the Lorraine style variations, look to effortless ways to play up the romance (effortlessly). First, let the gorgeous bodice lace be your guide… It's the perfect inspiration for veil, jacket, overskirt, and jewelry aesthetics, from chic and simple to lush and embellished.
Next, consider ways to play up your chosen silhouette. For example, a long bridal veil is an excellent way to frame a fit-and-flare, but also adds dimension and light to your ballgown skirt. A finger-tip veil makes a beautiful choice for fuller silhouettes, as the length glides effortlessly into the layers and train.
We've curated specific accessories from our latest collections for shopping inspo:
Hairstyles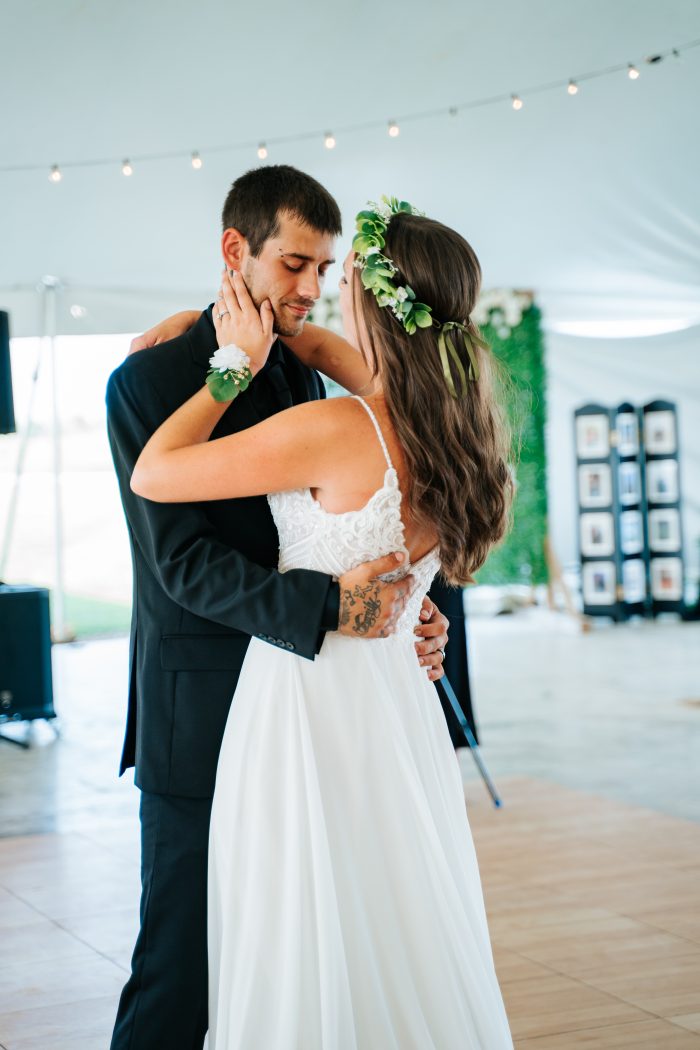 PC: Taylor Snowman Photography
A soft low bun complements any of the Lorraine boho-chic wedding dresses beautifully.
Soft waves match a breezy, beachy vibe.
A chic half up, half down style looks ultra-feminine. All the Lorraine styles are romantic and boho so you probably want your hair to reflect that!
Consider adding cute and subtle hair clips or a flower crown for a relaxed, nature-inspired vibe.
Shoes & Jewelry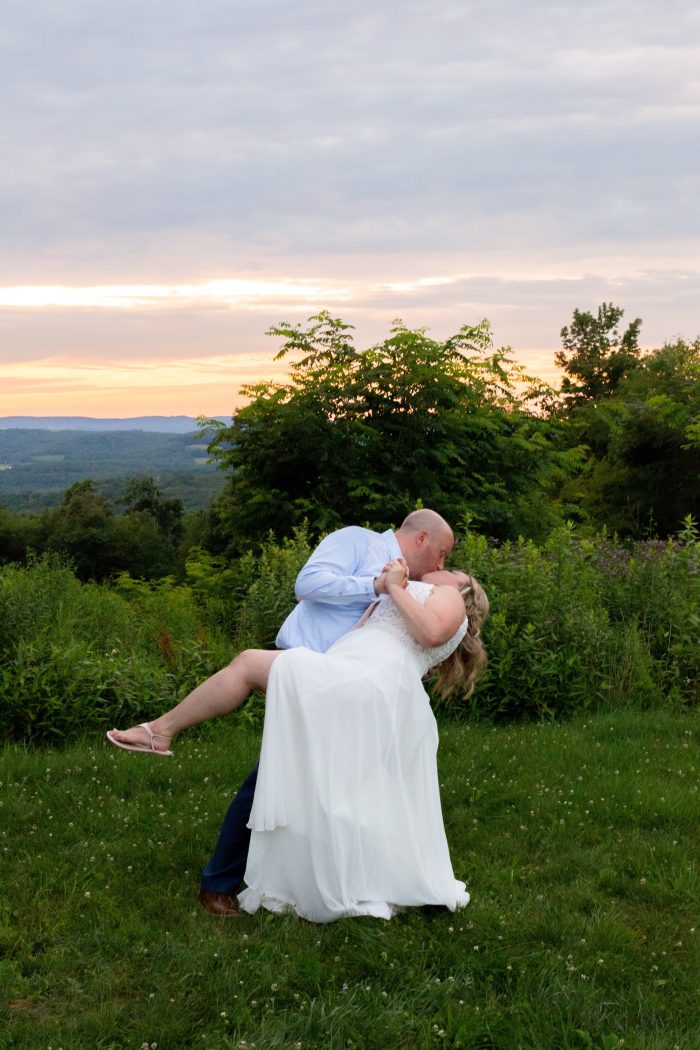 PC: Amy Shubilla
The Lorraine collection features several gowns with thigh-high slits. If you love this look, it's the perfect way to show off a fabulous pair of shoes. We think this gown is perfect for chic heels in a nude, ivory, or blush color, or (if you're feeling extra groovy) a pair of statement platforms with vintage boho flourishes. For a beach celebration, opt for a pair of simple sandals, or just go barefoot with a fresh pedicure!
Jewelry-wise, we recommend choosing pieces with long, organic lines and delicate shimmer. Compliment your V-neckline with a layered long necklace, pendant, or delicate rope piece. Most earrings will look gorgeous with this versatile silhouette… Choose studs or minimalist drop earrings for a more simple look, or choose long chandelier earrings for a statement vibe.
Love these style photos curated from our real brides? Add your own gallery and gown feedback in our reviews page! 
More blogs like this:
Everything To Know About The Tuscany Bridal Collection
The Official Hattie Wedding Dress Collection For The Rebecca Ingram Brides
The Best Bridal Accessories and Jewelry Styling for Maggie Brides
Happy shopping and best wishes!