Events and Boutiques
|
January 5, 2020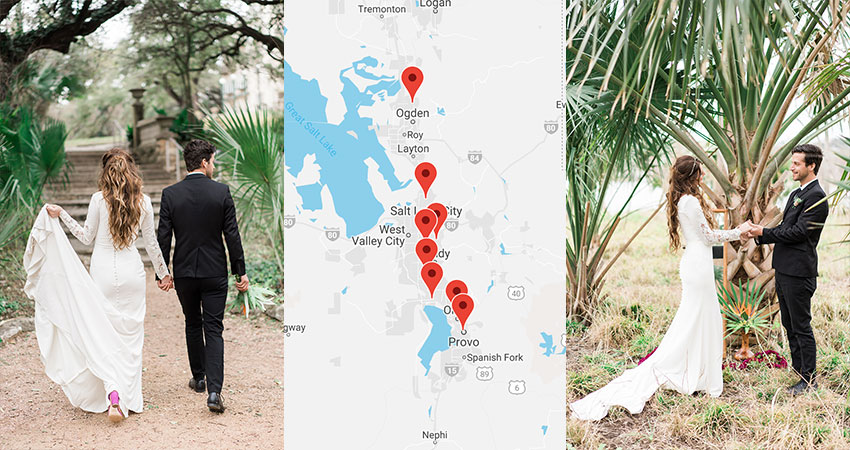 Searching "wedding dresses near me" in Salt Lake City? Maggie Sottero Designs has a variety of classic, chic, modern, trend-setting and glamorous designs available in the southwest and Rocky Mountain areas! Keep scrolling for Utah wedding inspiration and a selection of our favorite styles available near you.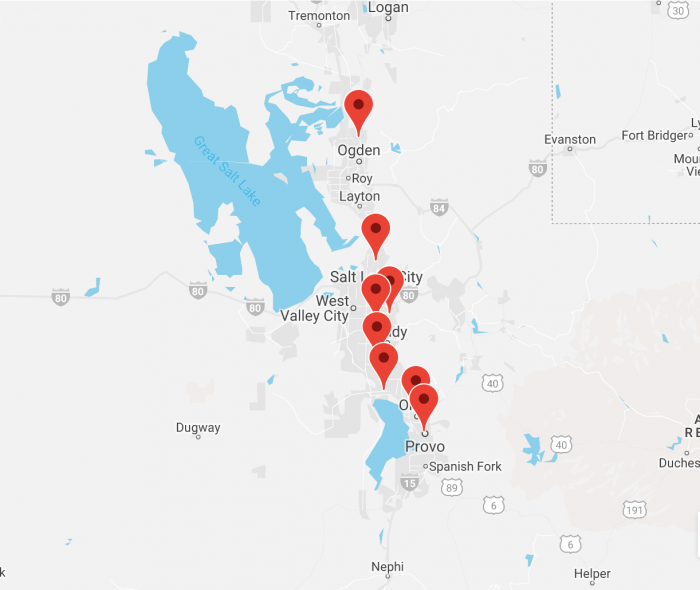 Living in SLC, you've likely gotten a feel for the kinds of gowns available in the area. Many Utah brides are looking for modest wedding dresses, but don't want to compromise on style, comfort, or romance for coverage. Other brides are looking for lightweight wearability—something chic and lovely to complement a desert or mountain celebration. Holiday brides are certainly in the market for a comfortable and winter-ready gown, while summer brides can beat the heat in an elegant and breathable design.
If you haven't explored our collections yet, take a moment to get to know the lines available in and around Salt Lake City.
Our core line, Maggie Sottero, features timeless wedding dresses with captivating details. As the stars of our signature collections, these gowns feature chic and feminine silhouettes, premium fabrications, delicate motifs, and shimmery embellishments. They're designed for gorgeous bridal portraits (nothing you'll regret in twenty years, we promise!), and elegantly styled events.
Above all, the Maggie Sottero line represents our commitment to incomparable fit and construction. We design each gown with each bride's unique figure and wedding vision in mind, giving particular attention to how finishing touches help to highlight and complement your favorite features. So whether you're on the hunt for a relaxed sheath or corseted princess ballgown in the SLC area, Maggie Sottero can offer an impeccably constructed style to complement your body type and aesthetic.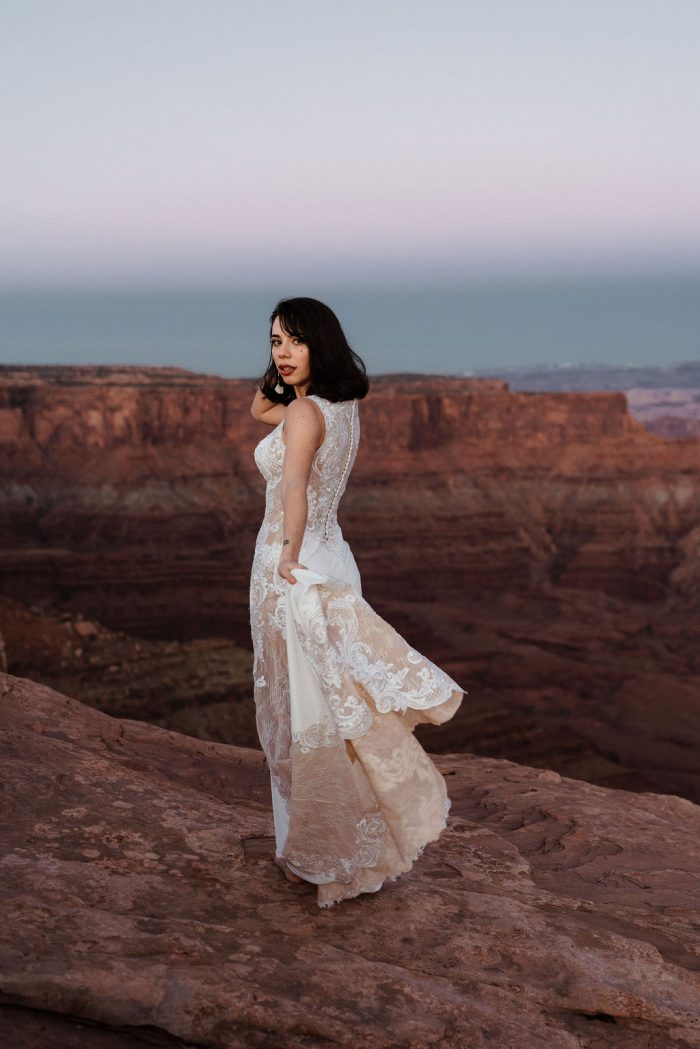 For the ultra-glamorous bride with an eye for statement bridal, our Sottero and Midgley line features couture wedding dresses with modern silhouettes and one-of-a-kind embellishments. Utah brides love Sottero and Midgley for its selection of unique and stylish gowns—all the glamour and sophistication of big-city bridalwear with the personalized service of your local boutique.
The latest collections from Sottero and Midgley feature a dazzling selection of vintage beaded gowns, sexy styles with plunging necklines and ultra-low backs, statement princess designs with ballgown skirts and shimmery embellishments, and super-chic boho gowns in formfitting silhouettes. Sottero and Midgley is no stranger to off-the-shoulder necklines, layered lace, nude bodices, and Swarovski crystals—bold and sexy style elements to elevate your Utah celebration.
Our Affordable and Flirty Line: Rebecca Ingram
If you're a Utah bride in the market for a budget-friendly gown, check out Rebecca Ingram—our line of affordable wedding dresses with zero compromises, aka stylish silhouettes, elegant fabrications, and flirty embellishments. These simple, classic, and covetable gowns are designed to complement your timeless wedding vision without sacrificing your budget, with most gowns falling within the $800-$1200 MSD price range.
Our budget-friendly Rebecca Ingram gowns are available in several boutiques in the Salt Lake City area. Book your appointment with an Authorized Retailer to start your shopping today. In the meantime, check out some of our favorites from all three labels by Maggie Sottero Designs below.
Find dramatic lace ballgown Zander at a store near you.
"Drama" might be an understatement when it comes to this ballgown wedding dress—Zander is a truly exceptional choice for the Salt Lake City bride! This long sleeve wedding gown comes in both ivory and black colorways, featuring a nude bodice adorned in bold lace motifs that dance over a plunging neckline and V-back. The long sleeves accented in bold lace motifs are elegant yet dramatic, while the full ballgown skirt adds glamour and sophistication to any formal wedding aesthetic.
If you're not quite convinced that a black wedding dress is meant to be, check out Zander in ivory, featuring the romantic lace in sheer long sleeves, nude bodice, and full ballgown skirt—albeit in a more traditionally bridal colorway. SLC brides love this exquisite long sleeve wedding dress for couture winter celebrations, desert-chic getaways, and fairytale-inspired ballroom parties.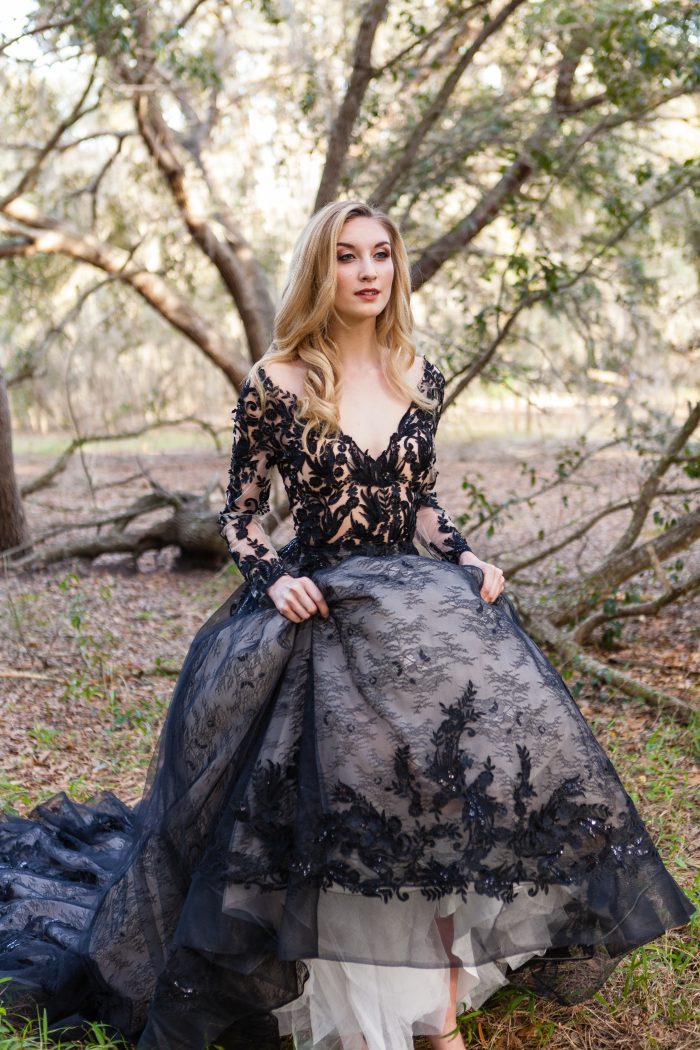 It goes without saying that the black colorway of Zander evokes a kind of gothic-chic aesthetic for the glamorous bride. It's reminiscent of Victorian-era intrigue and picture-perfect for your nontraditional or vintage-inspired wedding. It's the road less traveled, but if you're planning a Halloween celebration (hooray for autumn leaves in Utah!), Zander is sure to steal the show. Pair this gorgeous gown with your groom's crimson suit or bride's ivory wedding dress for a theatrical and devilishly delightful aesthetic.
For a more subtle effect, long sleeve wedding dress Zander (black or ivory) can also be styled for a laidback bohemian flair. Jewel-toned florals and naturally styled hair give this sleeved gown an effortless feel, while pretty pastels and a nature-inspired venue create an enchanting and other-wordly atmosphere for your Utah wedding.
Find sexy sheath wedding dress Bradford at a store near you.
There's something uniquely sensual about a velvet wedding dress (in a formfitting sheath silhouette no less!). So if you're a Salt Lake City bride with a penchant for red-carpet glamour, velvet-and-lace style Bradford just might be your kind of perfect.
If you've been searching for a unique wedding dress in Utah this past year, it's hard not to come across the variety of choices in fabrication, from traditional lace and satin to stylish crepe and chiffon. If you're loving the idea of an alternative fabrication, consider Bradford in velvet or Bradford Rose in crepe—both divine choices for a sexy and sophisticated bridal look. Paired with a jersey lining, these fabrications are especially suited for a formfitting silhouette (sheath or soft fit-and-flare) designed to smooth and accentuate your curves.
This unique wedding dress is a gorgeous choice for the boho bride, as the velvet and lace pairing creates a rock-n-roll, inspired-by-Bowie kind of look. Pair this style with strappy platform heels and a pair of statement earrings to give your Utah wedding a chic festival vibe. (A red-rock desert backdrop doesn't hurt either!)
Find Long Sleeve Wedding Dress Mallory Dawn at a store near you.
We're crushing hard on this gorgeous boho ballgown! Featuring a sparkly, illusion-lace, sleeved bodice with plunging back and neckline, Mallory Dawn is the chicest fusion of romance and sophistication. It's a little sexy and a little sweet, super comfy to wear, and looks incredible in photos. Basically it's everything you want for a stylish SLC wedding.
It's no secret that the Maggie Sottero line loves a princess wedding dress, but by no means does that limit our designs to restrictive silhouettes and cumbersome fabrications. Subtle keyhole details, airy tulle, and an illusion bodice on Mallory Dawn ensure this royal-ready ballgown is anything but stuffy—the perfect choice for an outdoor Utah wedding.
Salt Lake City, find modest wedding dresses at a store near you!
If you're like a lot of brides in the market for a modest wedding dress, you may think you don't have a lot of designer choices. Lucky for Utah brides, Maggie Sottero Designs is headquartered in Salt Lake City, which means we get to cater a portion of each couture collection (across the Maggie Sottero, Sottero and Midgley, and Rebecca Ingram lines) to the Utah demographic! Each season, we create new styles for the modest bride that feature cap or long sleeves, jewel and bateau necklines, and full bodice and skirt linings.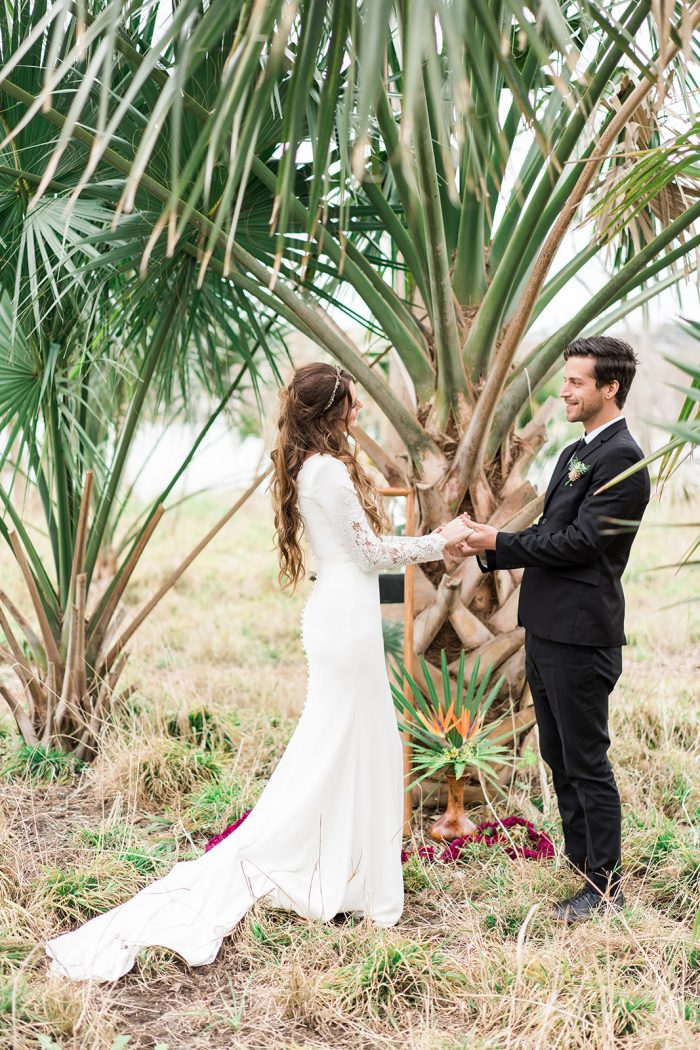 If you're a modest bride planning a Utah wedding, consider our full-coverage options designed for comfort and wearability. A stretch crepe style like Olyssia features a chic silhouette in a stretch crepe, a luxurious fabrication that smooths and slenderizes your figure while complementing your modest style. (Pro tip: a minimalist design is a great way to elevate the impact of your style. There's something oh-so-couture about an ultra-clean fabrication with elegant lines—a major statement for your big day!)
There's no need to compromise trends or style for a modest design—Maggie Sottero Designs offers an array of demure wedding dresses to suit your unique bridal aesthetic. So whether you're shopping for an LDS or other religious ceremony or simply love the look of a demure wedding gown, Maggie Sottero Designs has you covered for your Utah wedding.
Finding a wedding dress near you has never been easier!
Have you browsed our website lately? You may have noticed Maggie Sottero Designs has a unique "Maggie's Closet" feature that helps you locate gown samples in the Salt Lake City area! If you see a gown you love from the Maggie Sottero, Sottero and Midgley, or Rebecca Ingram lines, simply head to its "Style Details" page and click "Try On This Gown." Follow the prompts to enter your country and zip code, then check out the retailers near you with a sample.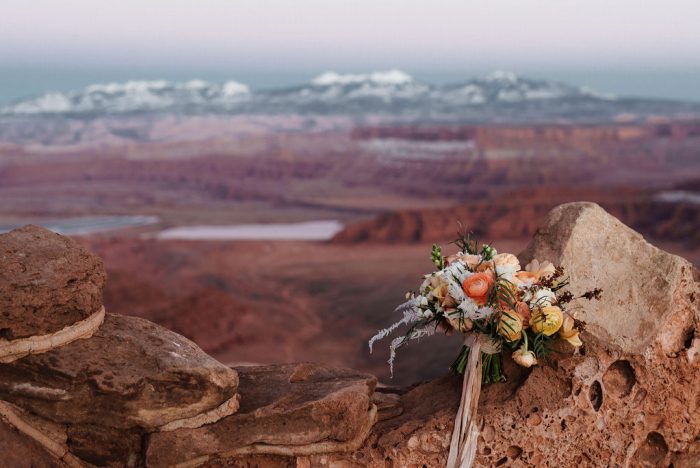 Our website also allows guests to "favorite" styles and create an account to catalogue your browsing. Check out the "My Maggie's Closet" feature to kickstart your online search, then use your account or our "Store Locator" feature to find a Utah boutique near you. Every Authorized Retailer of Maggie Sottero Designs is committed to providing brides with an elegant, enjoyable, and personalized boutique service to find the dress of their dreams. Utah brides love the variety of classic, unique, boho, romantic, affordable, and modest wedding dresses available at our local Salt Lake City boutiques. So whatever your wedding vision and style preferences, Maggie Sottero Designs has the gown for you. Get started on your search this week and best wishes for your big day!