Tips and Trends
|
December 10, 2019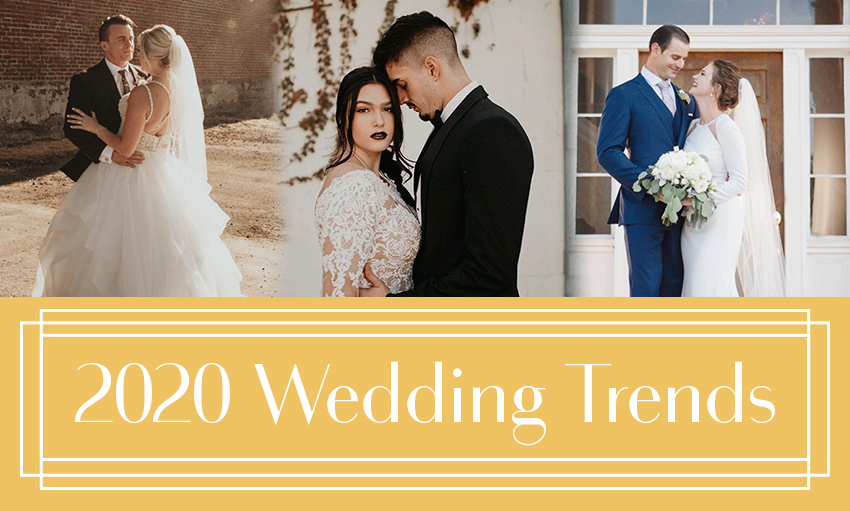 Wedding dress trends for 2020 are lighting up our pinboards! Take a look at our favorite new statements to get the inspiration rolling.
Statement Sleeve Wedding Dress Trends
A sleeve wedding dress is a fabulous and beautiful thing to behold, and we're pleased to report 2020's trends are more exceptional than ever.
For the bride with a boho streak and glamorous taste: bishop sleeve wedding gown Aberdeen by Maggie Sottero is a standout choice, featuring daring lines and a minimalist crepe fabrication. It's a little sweet, a little sexy, and undeniably romantic (which, in our opinion, is pretty much everything a modern bride could ask for, right?).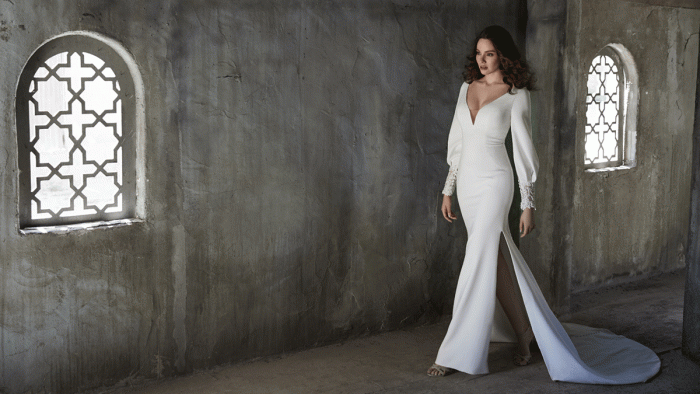 Go full-tilt on texture and illusion with a unique lace sleeve wedding dress, á la Dakota by Sottero and Midgley. This chic and sexy style is a gorgeous choice for a fall or winter wedding, as the motifs offer coverage without cramping your style.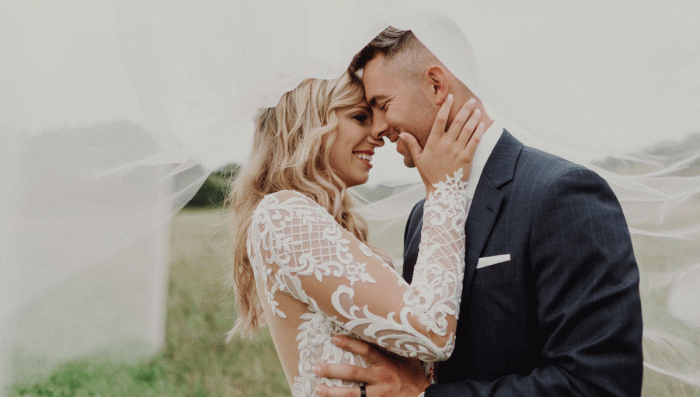 Shimmery Wedding Dress Trends—Beading, Sequins, and Sparkle
You're a dancing queen, so why deny yourself a shimmery wedding dress to light up the evening?
If you have a vintage soul and girly-glam taste, sparkly bridal gown Jarret by Sottero and Midgley may catch your eye. This textured tulle and decadent beading reminds us of stars and galaxies—an enchanting choice for a romantic evening soiree!
Beading never had it better than in Allen by Sottero and Midgley, a shimmery ballgown wedding dress with a gorgeous Old Hollywood vibe. The bodice features allover shimmer in a bateau neckline, three-quarter sleeves, and a sexy low back. You'll feel thoroughly modern with this 2020 trend, and yet oh-so-timeless.
Love the spotlight? Looking to show off your figure? Turn up the feminine charm in the Brinkley by Maggie Sottero, a beaded mermaid wedding gown with glam to spare. We're especially fond of how the crystal motifs are designed complement your natural curves.
Bold and Backless Wedding Dress Trends
You heard it here first—fortune favors the bold bride in a backless wedding dress. These 2020 wedding dresses are designed to flaunt your assets and create a stunning statement from any angle.
First up in backless wedding gown styles—Wyatt by Sottero and Midgley, featuring a one-of-a-kind lace pattern and (you guessed it!) an illusion plunging back. This intriguing gown is both effortless and glamorous, soft and sexy, and fresh and elegant for a 2020 bridal aesthetic.
Another covetable trend for the new year, Winifred by Sottero and Midgley features a plunging V-back trimmed in lace and illusion. This low-back style adapts to a variety of chic wedding aesthetics, from backyard boho to modern industrial and international elopement.
Barely There and Feeling Fabulous: Illusion and Nude
Thank the bridalwear goddesses—at some point in the 90s we all embraced the lovely potential of the sexy wedding dress. (Buh-bye, gigantic puffy-sleeve cupcake gowns. Hello, flirty slip styles.) Our favorite daring wedding gown trends for 2020? Nude details and intriguing illusion, from "tattoo" lace motifs to unique cutouts and luxe sleeves.
Ok, fair warning—for a "barely there" gown, Tuscany Lynette has a lot of gorgeous lace fabulousness going on. This sheer bodice gown shows off your waistline and décolletage while showcasing unique layers of shimmer, lace, illusion, and textured tulle.
Here's a trend for the stylish and sophisticated bride: a sexy velvet wedding dress featuring sheer body-con lace panels along the sides. We picture Bradford by Sottero and Midgley at a glamorous black-tie celebration with luxurious details, statement florals, and all-night dancing.
Illusion lace and silky chiffon make an ideal pairing in Madilyn, a sexy long-sleeve wedding gown for the boho-inspired bride. We think this style is a win-win choice for a fall or winter wedding, as it offers coverage without weighing you down in lace and layers.
Have you chatted with your inner couture goddess lately? She's dying to wear this sexy Zander wedding dress that also comes in black—a standout choice for the nontraditional and sophisticated bride. We promise you'll feel like red-carpet royalty with this bold 2020 trend.
Simple Wedding Dresses—Very Sophisticated, Very Sexy
Simple wedding dresses are by no means a new concept, so their appearance on a 2020 wedding dress trends rundown is a testament to their enduring and undeniable loveliness. Here's our selection of fresh, eye-catching, and graceful styles to set a new standard for the season.
Arleigh by Sottero and Midgley is 90% simple wedding gown, 10% bedazzled fabulousness. Think of the crystal-embellished neckline and statement back as statement jewelry, no add-on purchase necessary.
Amidst all the madness of planning a wedding, a sophisticated and simple vintage wedding gown is just what you need to feel confident and powerful. (Ahem, McCall by Sottero and Midgley is "McCalling" your name.)
For a little dose of sexy, consider a simple crepe wedding gown with illusion cutouts. Evangelina by Maggie Sottero features panels on the back embellished in shimmery lace motifs—perfect for showing off your curves while keeping things classy and sophisticated.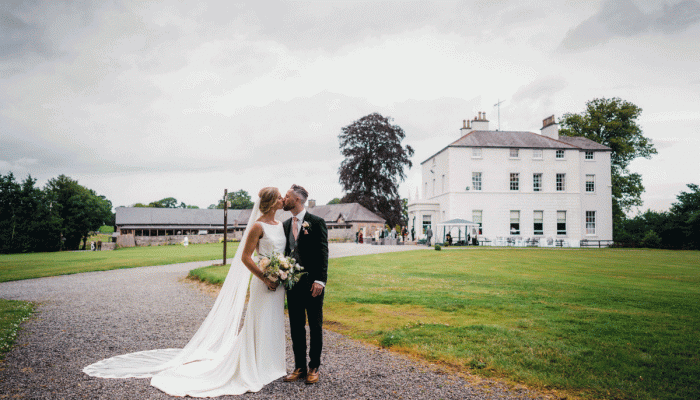 The Ruffled Wedding Dress Trend—More Elegant than Ever Before
"Ruffled wedding dress" may conjure images of poor bridesmaid gown choices and 5th grade school portraits. But fear not, this girly-glam trend is prettier than anything you can imagine for 2020.
Micah by Sottero and Midgley is the ballgown-iest of ruffled ballgowns, featuring a lovely tiered tulle skirt and a crystal-beaded bodice. We promise major dancing mania in this whimsical and glamorous style.
Fancy a golden ballgown with ruffled layers? Love royal trends but nothing too on-the-nose? Amélie by Sottero and Midgley is a captivating choice for stylish princess brides, featuring tiered layers and delicate beading in an ultra-flattering silhouette.
And finally, take your ruffled wedding gown to the third dimension with Raquelle by Sottero and Midgley—a stunning combo of shimmer, structure, and unique fabrication. You'll be the star of the show in this one-of-a-kind design.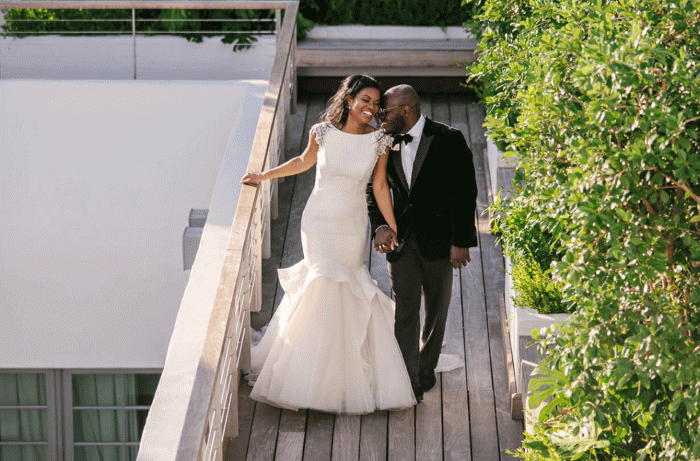 We hope you've fallen in love with one (or more… maybe all?!) of these wedding dress trends for 2020! Dive in to more fresh and romantic style inspiration on our Find Your Style page, featuring gowns at perfect price points and unique aesthetics across our Maggie Sottero, Sottero and Midgley, and Rebecca Ingram lines. Cheers to your best day ever!