Events and Boutiques
Tips and Trends
|
May 9, 2020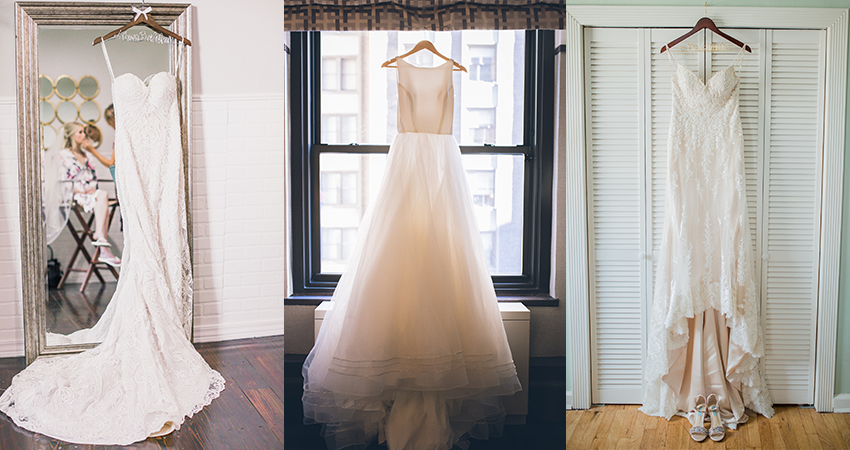 We are pleased to report that despite social distancing, there are still fun and creative shopping options for brides who are ready to buy your dream wedding dress! In response to the COVID-19 pandemic, many of our bridal boutiques are now offering virtual appointments and some of these appointments may even allow you to try on wedding dresses at home.
These virtual wedding dress appointments are perfect for brides getting married in late 2020 and early 2021. However, if your wedding is before then, you can still order one of our in-stock wedding dresses. Browse our quick-delivery wedding dresses here!
Here's How a Virtual Wedding Dress Appointment Works
Wondering how a no-contact bridal consultation happens? Our fabulous retailers have made special accommodations to help you find your perfect wedding dress without having to leave your home!
For example, take a look at this video from Ellynne Bridal in Lincoln, Nebraska. The video outlines their virtual wedding dress appointment and digital consultation, shipping methods, and try-on options from start to finish. Generally, the process goes something like this:
First, Have Your Consultation Appointment
Many boutiques start a virtual bridal appointment with a digital consultation. This is when bridal consultants meet with you over Skype, FaceTime, or Zoom to help you browse gowns and narrow your styles for eventual delivery.
They may have you pre-select your favorites from a digital gallery or Pinterest page, and then use that digital appointment to show you styles worn on a bridal consultant or mannequin, or displayed on the rack in-store. (Check out the website for Ava's Bridal in Fort Worth, Texas, as another example of this process.)
Next, Provide Your Measurements So Your Boutique Can Send You Wedding Dress Picks
Once you've browsed wedding dresses and picked your favorites virtually, your boutique may ask you for measurements. This helps to match gown samples to your actual sizing. For example, Brides of Florida (offering virtual appointments for brides in and around Miami) can send many of their gown samples in different sizes to help brides best visualize the fit and measurements of their delivered gown. Perfection!
Wondering how to take measurements at home? Check out Mary's Designer Bridal's page (a Maggie Sottero Designs boutique located in Annapolis, MD) for step-by-step instructions!
The Fun Part: Try On Wedding Dresses at Home
After browsing, narrowing your selection, and taking measurements, you're ready to try on wedding dresses at home! Having wedding dresses delivered to your residence is the perfect option to allow you to continue your wedding planning while adhering to social distancing guidelines. And the best part? It's also low cost (usually varying from $70 to $300).
These boutiques are especially careful with safety measures (e.g., conducting rigorous in-shop cleaning and wedding dress sanitation between appointments), so the shipping and try-on process is designed with your safety as top priority.
Have Your Virtual "Say Yes!" Moment
Whether you're alone in your apartment surrounded by gorgeous lace and dreamy satin or live-streaming the party with your bridesmaids online, you are now set to find your meant-to-be wedding dress!
When you've received your At-Home Bridal Box, you'll have a designated window to try on your wedding dresses, take pictures, and find your winning style. Your bridal stylist will be standing by to answer any questions, help you return samples, and (of course!) place your final gown order.
Easily Find Boutiques with Virtual Appointments on Our Website
Great news! Our main website now features icons on our dress details and Store Locator pages to help you find retailers offering virtual bridal consultations in your area. Look for the little "computer" icon to narrow your search and contact retailers directly from our website.
Good to Know—Many of Our Retailers are Extending Sales and Special Offers
In response to the economic uncertainty of COVID-19, many bridal boutiques are offering special gown sales with curbside pickup and/or home delivery. So, if you're ready to find your dream wedding dress at a great price (including take-home sample styles or quick-delivery options), now is the time to support small businesses while also staying safe.
Remember, Don't Settle or Risk Buying Your Wedding Dress Online
Don't risk buying your wedding dress from an online seller. Always work with a local bridal boutique who can guide you to find your perfect wedding dress.
Buying a wedding dress is one of the most special purchases you'll ever make so don't feel like you have to sacrifice a personalized and fun experience for a cheaper style online. Plus, ordering a wedding dress online comes with its own risks and added stress.
Expert consultation, personalized service, and a beautifully fitted wedding dress at the right price (and even with a short delivery date!) are totally attainable through virtual bridal appointments! Head to your local retailers' website for more information about these appointments.
Looking for more information on virtual wedding dress shopping? Head to our post about Wedding Dress Shopping While Social Distancing for more on our boutique's responses to local and national health guidelines, safety and sanitation measures, and other questions you may have for buying a gown in the coming weeks.
And if you're ready try on wedding dresses at home, click on our Store Locator to find boutiques in your area offering virtual appointments, as marked by our special "computer" icon. Stay safe and happy shopping!