Wedding Inspo
|
April 6, 2020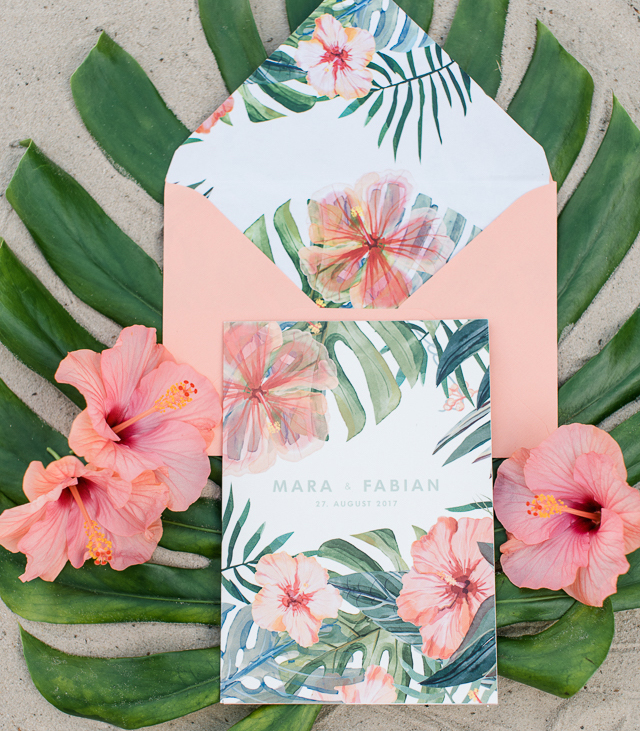 Let's talk about a super fabulous and personalize-able part of your engagement: wedding invitations! Whether you're reaching out to far-flung friends and family or your local dream team, your save-the-dates and wedding invites are a great way to set the mood, introduce theme, and give guests a first taste for your once-in-a-lifetime celebration. Get inspired by our 10 dreamy themes for wedding invitations below!
Invites for an Ocean or Beach-Themed Wedding
A beach-themed wedding is romantic and adventurous, but the aesthetic can look a little scrapbook-y if you're not careful. Keep your wedding invites simple and sophisticated with relaxing hues like blue, silver, and gold.
PC: Claire Elizabeth Photography
And add a touch of delicate coral to evoke natural elements and a breezy atmosphere. Get inspired with this watercolor-blue wedding stationery (courtesy of Bridal Musings) for a fresh and timeless feel.
Unique Transparent Wedding Invitations
Want to wow your guests when they open their mail? Check out these transparent wedding invites embossed in matte white lettering. They're a chic and minimalist take on the acrylic wedding décor trend.
PC: Amy Lynn Parmar
And the see-through style is perfect for an edgy wedding, an industrial or metropolitan vibe, or even a modernized take on the Roaring Twenties themes. Perfection!
Rustic Wedding Invites
PC: Kellianne Korthof Photography
Curating an rustic-chic feel for your big day? Check out these rustic wedding invites accented with natural wood and greenery. The aesthetic is simple, yet adaptable to a unique array of embellishments, such as the hints of gold and pastel in this display of wedding stationery and accessories. What's not to love?
Woodland Floral Wedding Invitations
PC: Lauren Rae Photography
If you're inspired by all things woodsy, natural, lush, and blooming, these woodland floral wedding invitations could be your kind of dreamy. Opt for jewel-toned hues for a romantic and artistic feel, and utilize both script and minimalist fonts for an elegant yet modern combo.
Gray Wedding Invites with Greenery
PC: Judy Pak Photography
For a fresh and modern feel, opt for lush emerald motifs with gold and white neutrals. These gray wedding invites with green and red accents offer the perfect balance of romance and elegance—perfect for a summer woodland celebration, botanical greenhouse party, or garden soiree.
Navy Blue and Blush Wedding Invitations
Navy blue and blush are a classic combo for your wedding invite colors. This theme balances timeless tones and delicate accents with a chic and trendy flair.
PC: Maura Jane Photography
Or deepen the blue and saturate the pink for a bold and grounded aesthetic. These colors work especially well for spring and summer dates, or can be dialed toward rustic and metallic spectrums for a fall or winter celebration. Voilá!
Pastel Spring Wedding Invitations
PC: Rachel Laxton Photography
For a spring wedding, opt for watercolors and pastels. This subtle yet distinctive wedding stationery offers the perfect blend of personality and style. And the best part? This sweet and breezy palette matches perfectly with spring-inspired shoes!
Industrial-Chic Wedding Invitations
If you're planning a city wedding in a warehouse, rooftop, or urban space, use your wedding invites to convey your sense of style, intrigue, and sophistication.
PC: Lauren Rae Photography
This chic wedding stationery features a unique green, white, and gold color scheme, with organic lines and loose calligraphy to evoke romance and occasion. It's a perfect balance of elegance and design!
Romantic Wedding Invitations in Blue and Coral
Another gorgeous blue-and-pink combo, these wedding invites feature dusty blue calligraphy and gold and coral neutrals for an elegant and versatile aesthetic. To achieve this romantic effect, start with a monochromatic base in soft and earthy pinks.
PC: Lucy Munoz Photography
Then add shimmer and embellishment with gold or metallic neutrals and, lastly, subtle contrast with deep grey-blue or sea green. This display was designed for a beachy aesthetic, but could be easily adapted to a classy manor wedding or vintage-themed celebration.
Pink Wedding Invitations
PC: Lauren Rae Photography
Love pink? We say embrace it! These pink wedding invitations feature deep red calligraphy and warm rosy accents—a classic yet striking palette for a sultry and romantic vibe. Dial up the vintage romance with satin and shimmery accents. Or you can temper with matte fabrications and soft greenery for the rustic and earthy combo pictured here.
Country-Rustic Wedding Invites
Finally, check out this theme if you have a country heart and a chic flair. Start with a simple and sophisticated base in grey, silver, and matte gold, then play with dainty wildflowers and craftsman accents for a homespun, antique-y kind of magic. We're especially fond of the horseshoe addition for good luck and happily-ever-after vibes.
PC: Kristina Curtis Photography
Ready to get pinning? We've got plenty of pins to browse on our Wedding Stationery Pinterest Board. Also be sure to keep up with our daily inspiration on social media, which can found on our blog post, Wedding Inspiration from Our Instagram.
And as always, keep us in the know with your own wedding-planning adventures by tagging @maggiesotterodesigns on social media, and adding the hashtag #Maggiebride, #Midgleybride, or #Rebeccabride. We love to see our real brides' dream weddings come together, from proposal to invites, dress shopping to DIY projects, and beauty and fitness timelines to "I do!" Happy planning and best wishes for your best day ever!