Dresses
Wedding Inspo
|
March 3, 2020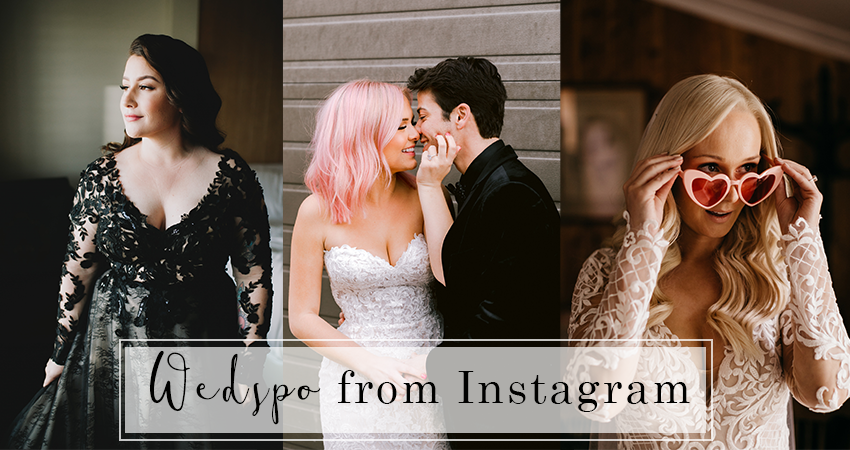 At Maggie Sottero, we're inspired by modern romantics, big adventures, and happy surprises. And we love seeing all this magic on our Instagram page. To give our brides more #wedspo, we're looking back at photos of some of our most beautiful wedding inspiration from Instagram.
Our posts range from gown spotlights to runway photos to images of our gorgeous #MaggieBrides and their swoon-worthy weddings. Whether you've found some wedding inspiration or your dream wedding dress with us, we want to thank all of our brides, followers, photographers, and media partners for letting us be a part of so many love stories! Now let's get scrolling.
Inspiration for Finding the Perfect Dress
Wanting to find the perfect wedding dress for your body type? We've got you covered! Whether you're tall, petite, hourglass, pear-shaped, or somewhere in between, with our Instagram wedding inspiration, we can help you find the wedding dress that will fit you like a dream.
Wedding dress fabrics can be confusing, especially if you're new to wedding dress shopping. So if you're searching for the right fabric for your wedding style, personality, and season, we have the line up for you in our All in One Guide to Wedding Dress Fabric.
If you're in the market for some #realbride Instagram wedding inspiration from our Maggie brides' gorgeous real weddings, we have just the thing. Check out this post that features several of our real brides who rock that curve aspect, as well as their curvy wedding gowns! Everything about their special days has us swooning!
Think pink for your wedding day with some girly and glitzy wedding inspiration! To see more of these adorable wedding photos, check out our Styled Shoot Inspo for a Pink Wedding blog that features gowns like Kaysen (pictured below), Chad, and Fernanda. We'll even let you in on a little secret: all of these gowns go great with pink hair!
Everything from Wedding Details to Accessories
Wedding veils come in various lengths, patterns, colorways, and lace. Sound like a lot to remember? Don't worry, we give you a run down of how to choose the perfect veil for your bridal style with this Instagram wedding inspiration!
Even though we love all that dreamy dress stuff, we don't just help you find your perfect dress! We can also help you navigate your wedding party, give you tips on how to choose your Maid of Honor, and provide you with some gorgeous wedding inspo along the way.
Instagram Wedding Inspiration from Real Weddings
Our real bride influencer, Libby Vilner, recently got married in a civil ceremony while wearing our Milan jumpsuit. to see the other wedding gowns she tried on and loved, check out our Elopement Wedding Dresses for a Casual Ceremony blog.
Instagram videos are perfect for showing how our gowns look and move in real life. Check out this gorgeous video of a bride wearing our Pamela gown by Maggie Sottero. We can't get enough of that sparkle, or those sleeves!
Instagram wedding inspiration comes in all styles and vibes, and this particular wedding inspo comes to us from a romantic bohemian perspective. Click here to see our Favorite Boho Brides and Wedding Dresses!
There you have it! We hope all this beautiful wedding inspiration from Instagram has sparked some ideas for your upcoming wedding! For more wedding planning tips and ideas, visit our Love, Maggie Blog. To be featured on our Instagram, don't forget tag us at @maggiesotterodesigns, and put #MaggieBride in your post. Happy wedding planning!