Dresses
Wedding Inspo
|
November 10, 2023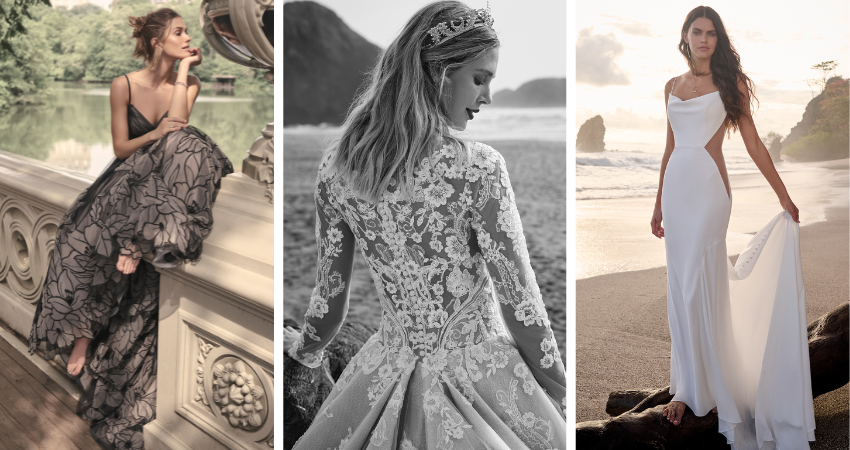 Okay, full disclosure: We might be a little more excited about the new The Hunger Games installment than we anticipated… We've spent all week nerding out on themed wedding dress inspo for the districts! If you're a huge fan of the franchise and want to channel something extra edgy, creative, and whimsical for your big day, find your perfect movie dress ideas below…
Capitol Themed Wedding Dresses
Let's start with the style headliner: the Capitol! This district is the perfect inspo for wild, out-of-the-box styles, fashion-forward statements, and unorthodox details. If you have a couture aesthetic and love to take creative risks, this category theme is for you.
Style highlights of a Capitol-esque wedding look include architectural fabrics, dramatic draping, volume, and luxurious embellishments. Think fabulous party wear meets futuristic whimsy, and plenty of attention-grabbing, personalizable details along the way.
A few "more is more" themed wedding dresses for your consideration:
Vercille Lane by Sottero and Midgley: A dramatic, high-impact ballgown featuring a sexy silhouette, elegant lace flourishes, and a detachable overskirt with tiered satin and oversized bow (sold separately). Imagine this look with a bridal crown and statement earrings… The vibes are immaculate!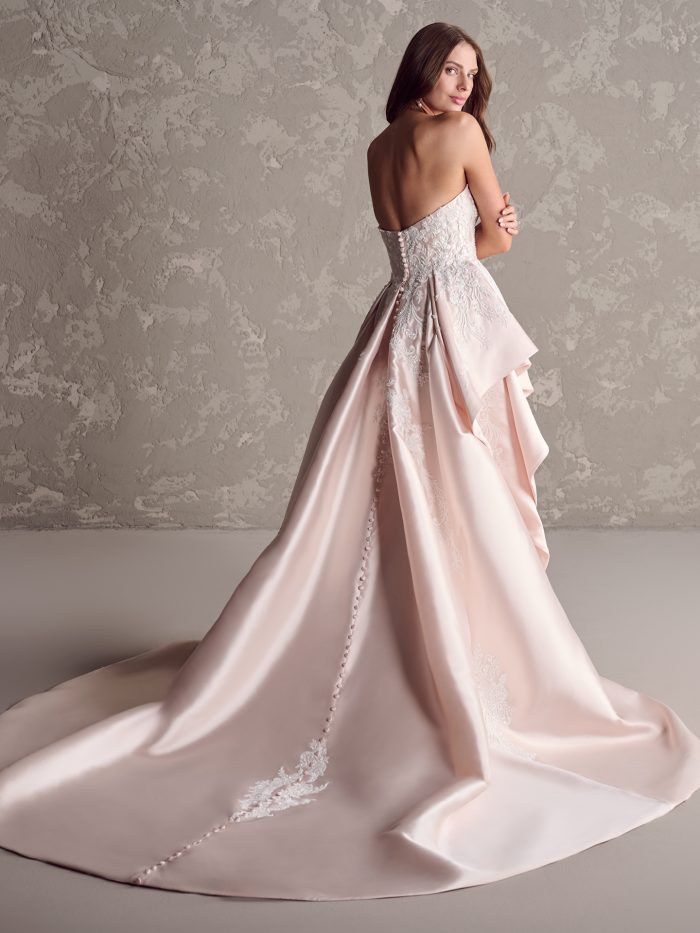 Carter by Sottero and Midgley: This two-piece corset wedding gown is all about the sparkle and volume. It's sexy, chic, and ultra-modern… You'll feel like an absolute style queen when you put it all together.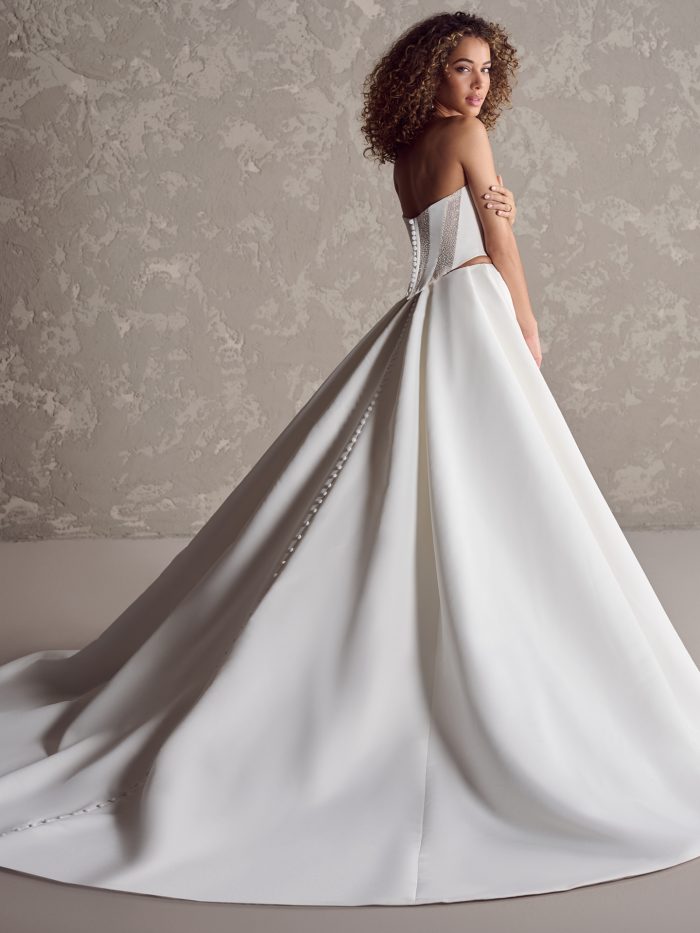 Zoe by Rebecca Ingram: If you want to buck tradition and make a playful fashion statement, get inspired with this mini wedding dress with fabulous accessories. Personalize with a short or finger-tip veil, detachable off-the-shoulder train, or elbow-length bridal gloves. The accessory options are endless!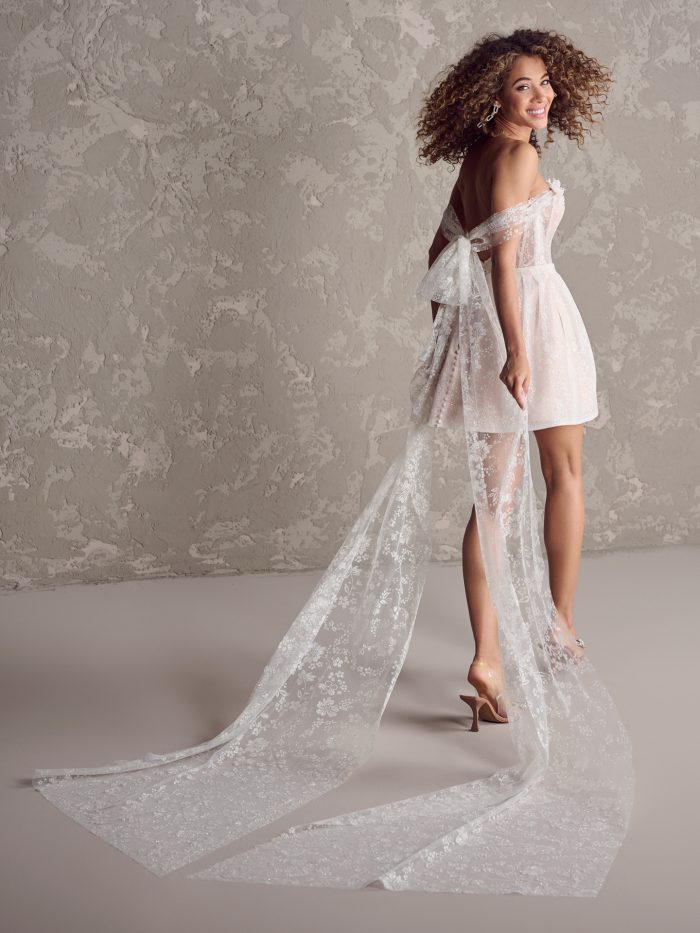 Mercury by Sottero and Midgley: For a sexy, ultra-luxe statement, opt for this structured ballgown with a dramatic neckline. This liquid satin is so luxe it almost glows…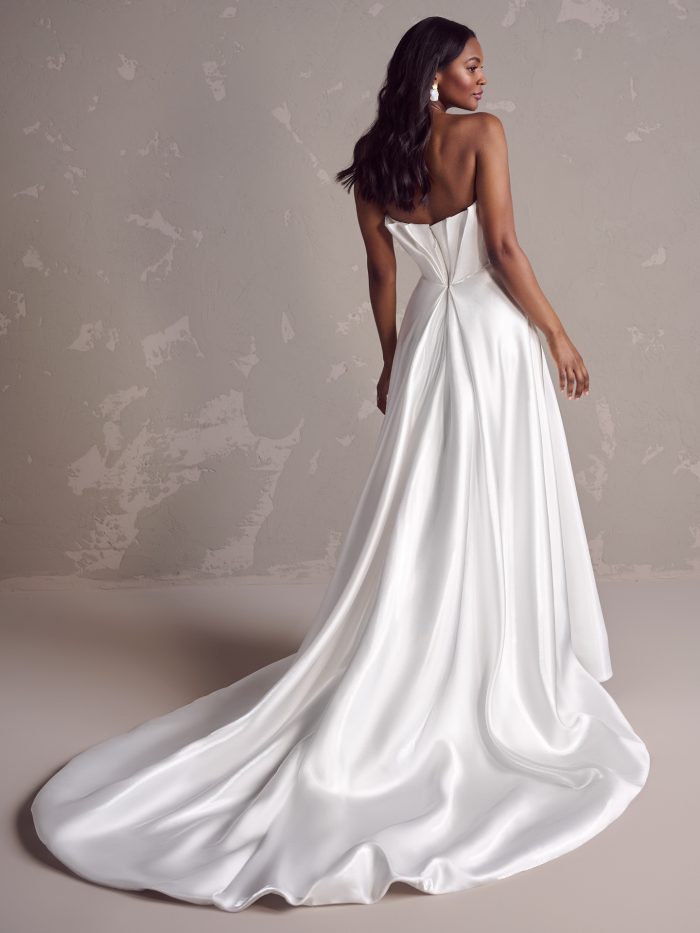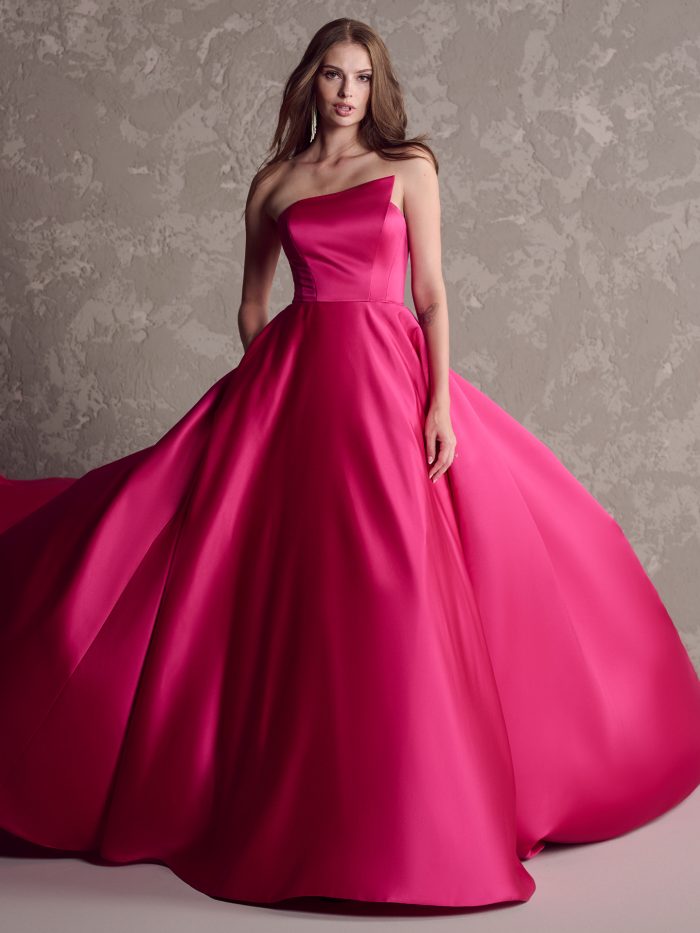 Alera by Sottero and Midgley: A stunning statement for a regal, poised bridal aesthetic. The deep red hue is especially bold and extravagant.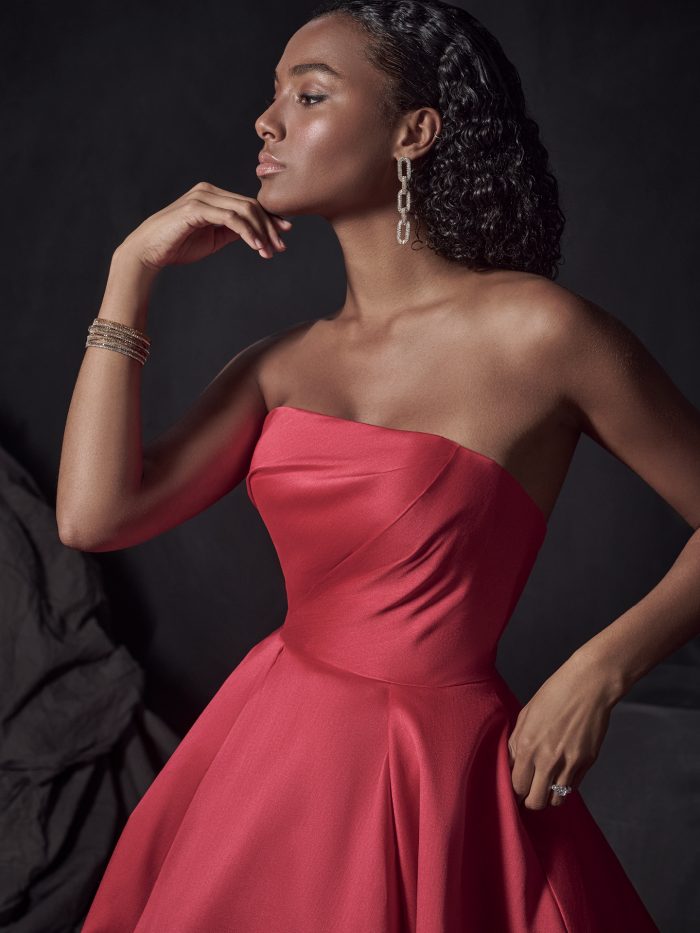 District 1 Wedding Dress
Next up, District 1: a wealthy district known for its skilled craftsmanship and luxury goods production. According to The Hunger Games' world-building, District 1 created the items used to decorate the Capitol. True to this opportunity and amibition, tributes from this area are called "Careers" because they train for years before competing.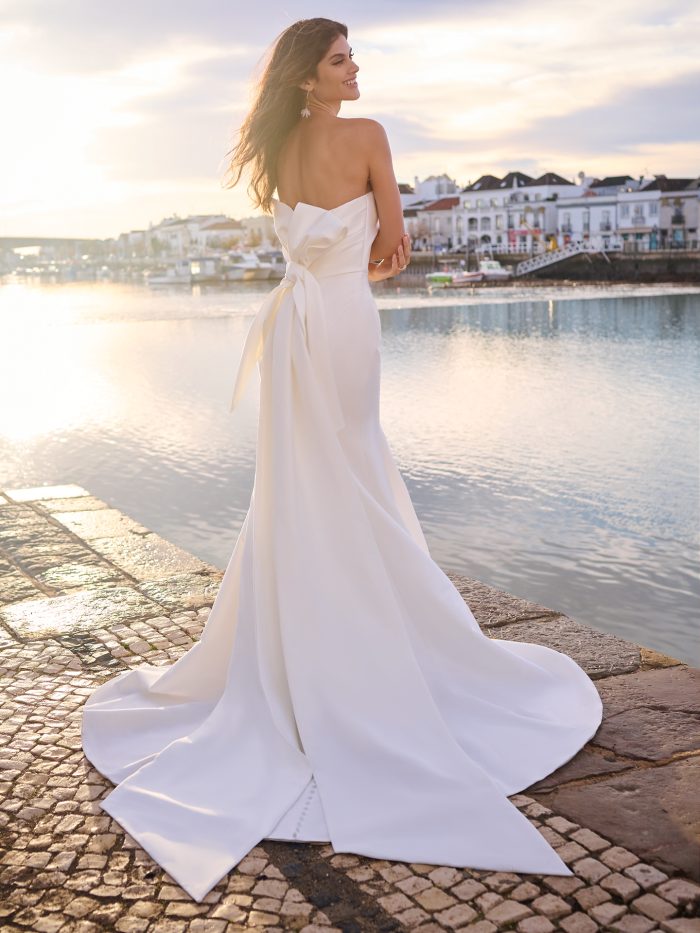 The themed wedding dress we've chosen to represent District 1 is Marilyn by Sottero and Midgley, an asymmetrical satin wedding dress with gorgeous bodice details. Just like District 1's tributes, Marilyn is poised, calculated, and ultra-confident. She's unphased by glamor, but still knows how to use it to her advantage. She's a lethal package all tied up in a chic bow.
District 2 Themed Wedding Dresses
On to District 2! Located in the Rocky Mountains, District 2 was one of the largest communities in Panem. Its wealthy citizens forged a positive relationship with the Capitol and developed an industry of masonry and weapons manufacturing. It's revealed that the Capitol's army of Peacekeepers trained in District 2 in Mockingjay.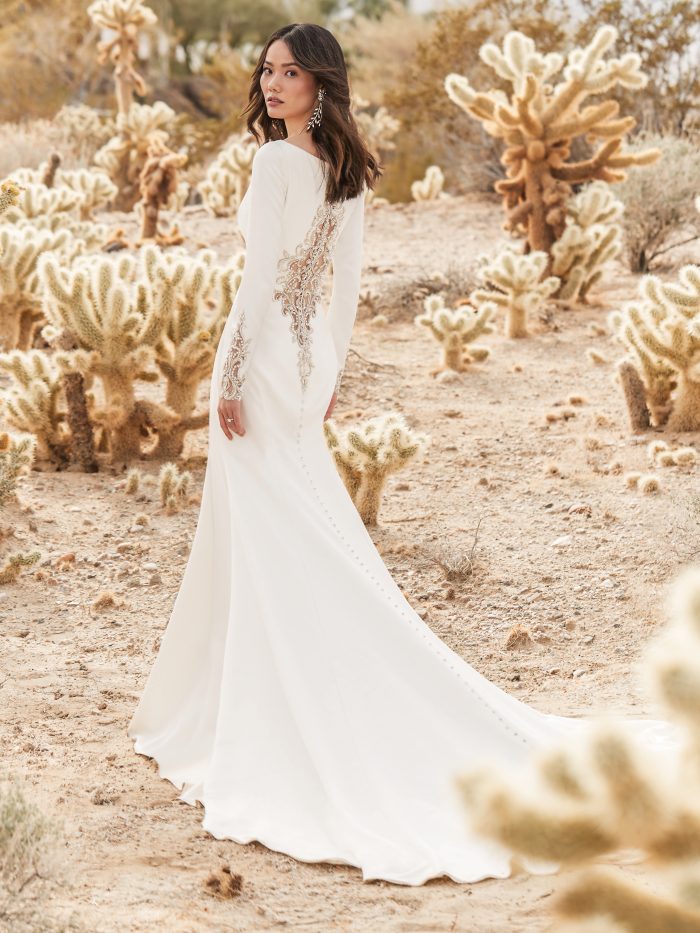 The perfect dress for District 2? Aston by Sottero and Midgley, a chic and shimmery design with uniquely edgy details. The bejeweled details on the back and sleeves remind us of a warrior's armor, and the sleek silhouette symbolizes the District's streamlined weapons manufacturing.
Themed Wedding Dress: District 3
A technology-centric industry, District 3 produced computers, televisions, and electronics as their primary goods. This District is significantly poorer than other districts — and in the series, Katniss notices they are one of the happiest to see her, reflecting their rebellious spirit and history of class uprising.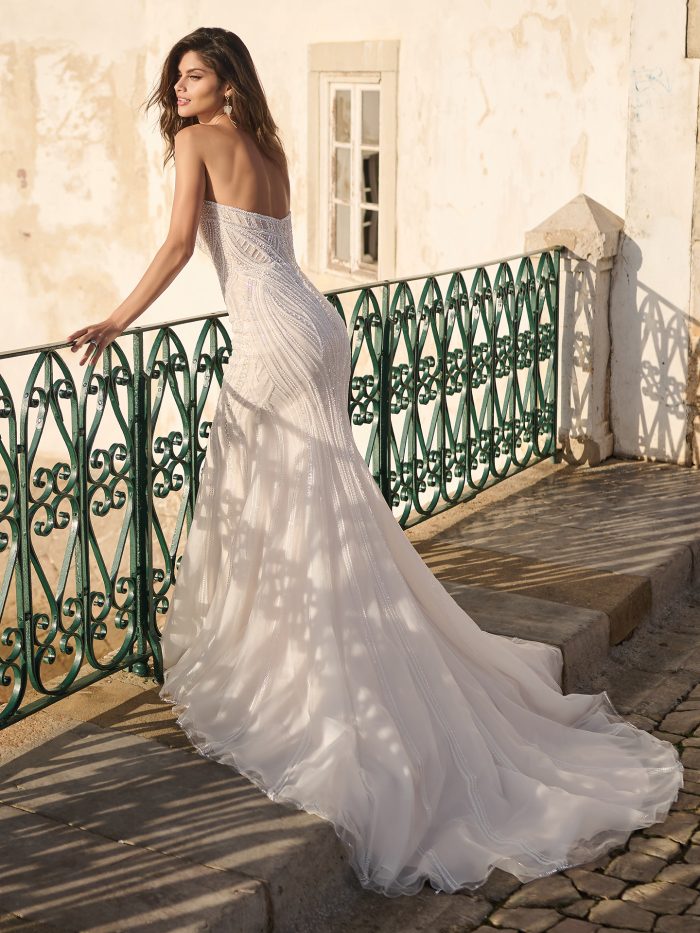 To honor these tech-minded citizens, we chose Positano by Sottero and Midgley. This futuristic wedding gown reminds us of District 3's technical skills with wire-like lines of beading. The shimmery embellishments bring to mind the television stars like past tributes produced by the Capitol's media broadcasts.
A few options to customize Positano:
Extend the train for added drama, or remove the train through special request
Add crystal buttons down the back
Add the beaded embroidery off-the-shoulder puff long sleeves, sold separately
Style with the detachable train with beaded embroidery, sold separately
District 4
Next is District 4, a fishing-based economy with wealthy, attractive citizens and "Careers"-level training. The most notable members of District 4 were Finnick Odair and Mags Flanagan.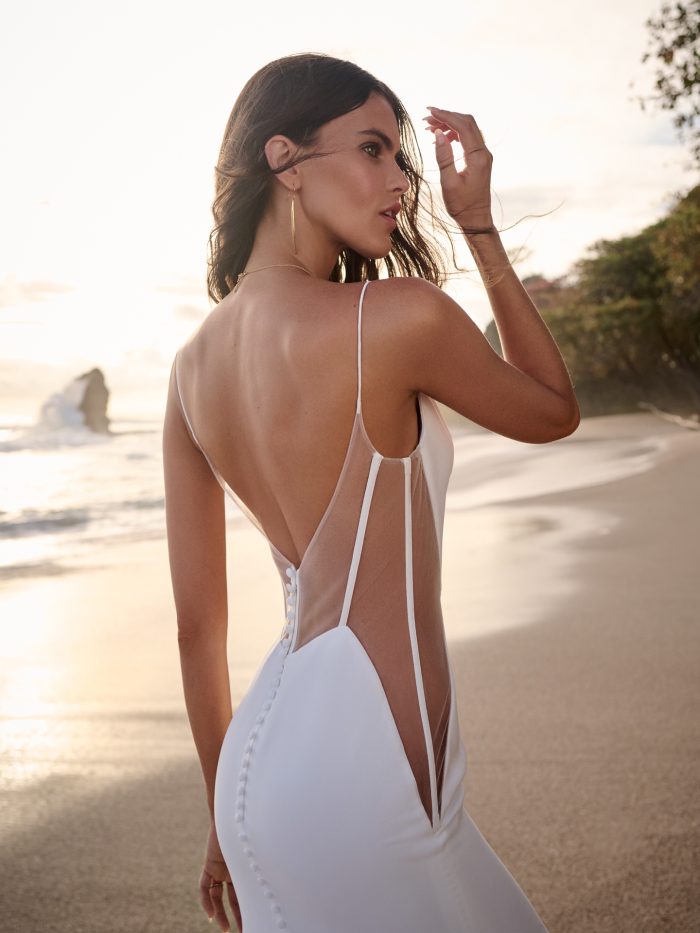 The wedding gown we've chosen for District 4 is Apolline by Sottero and Midgley, a sexy, siren-like fit-and-flare with gorgeous illusion details. This design is an effortless yet sophisticated head-turner — clinging to the skin like water to match the District's industry inspo.
District 5 Themed Wedding Dress
This next district was responsible for electricity to power all of Panem. District 5 housed a hydroelectric dam, where many of the citizens worked, and it's suggested to be one of the wealthier districts of the batch.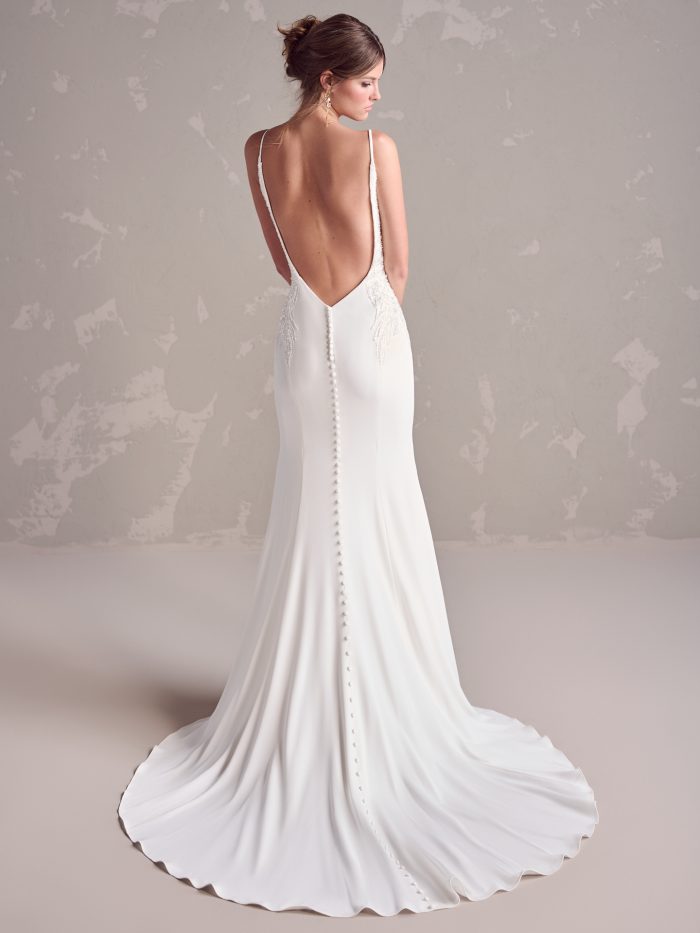 Storm by Rebecca Ingram is the movie dress we chose to represent District 5. It is powerful in its simplicity — full of light, movement, and energy. It's also sexy, confident, and ultra-versatile, a gorgeous themed wedding dress for your aesthetic. The beading on the bodice reminds us of crackling electricity and the low back serves as a quiet power-move for the daring bride.
A few ways to personalize Storm for your movie theme:
Opt to shorten the train
Also available with no beaded lace motifs
Add a lovely bridal veil, cape, or overskirt
Wedding Dress for District 6
This next District's core industry is transportation, serving as the hub for all of Panem's network. It's said in the series that tributes from District 6 have little experience with weaponry, but they learn fast during training for the Hunger Games.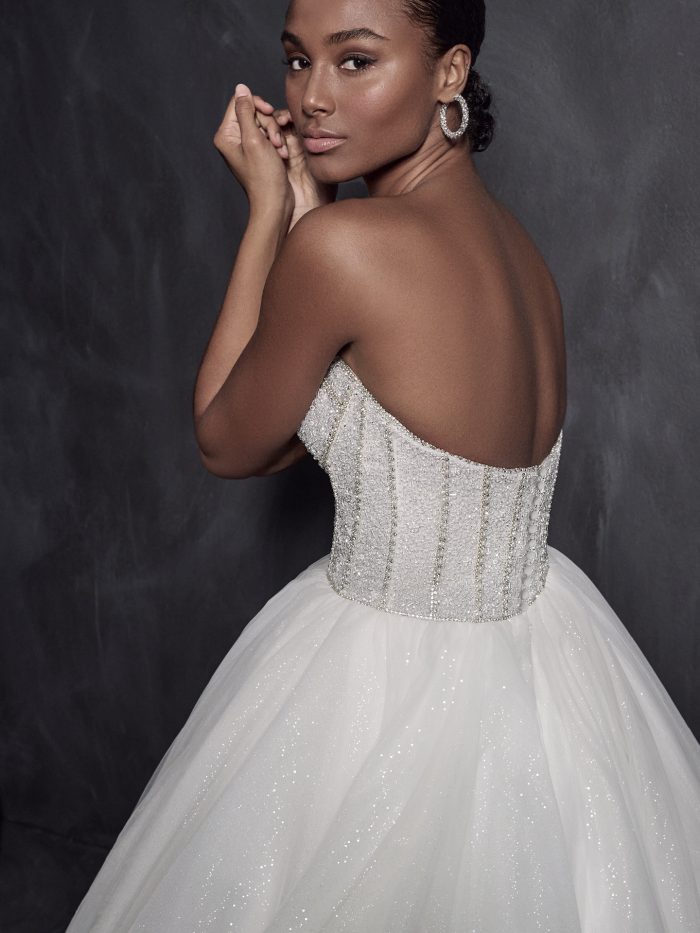 We chose movie dress Elton by Sottero and Midgley to represent the bustle and movement of District 6. This glitzy ballgown is "the moment" — she's glitsy, she's going places, and she knows all the right people.
District 7 Themed Wedding Dresses
On to 7! This District's industry supplied Panem with copious supplies of lumber, as the area was said to be surrounded mostly by thick forests. The most noteworthy member of District 7 was Johanna Mason, a victor who used the District's signature weapon: the ax.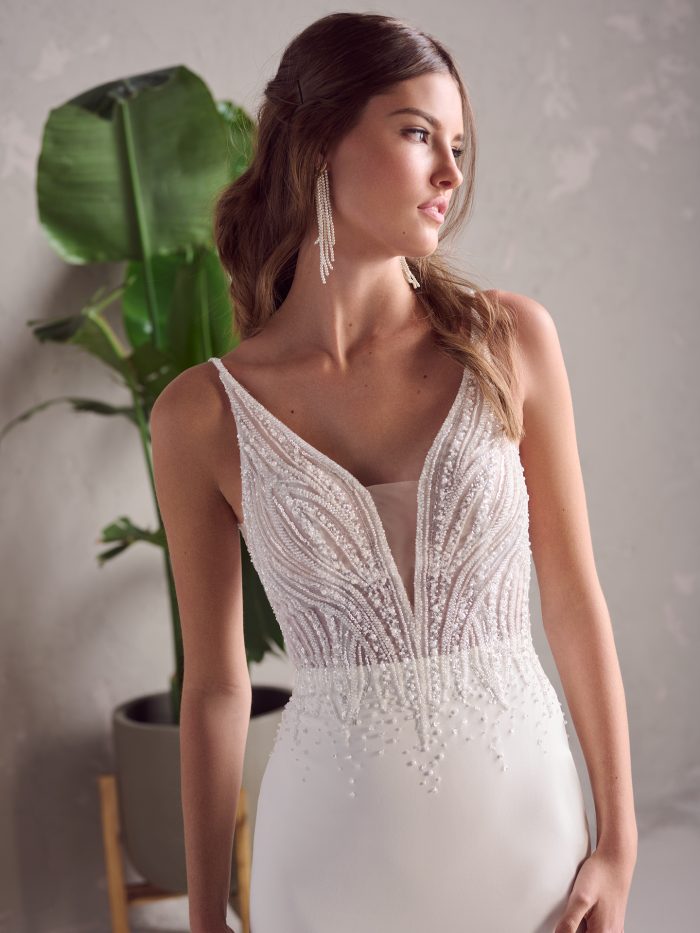 We love the nature-inspired wedding gown Jenrose by Rebecca Ingram to represent District 7. It's soft, organic, and beautifully relaxed. The beading on the bodice reminds us of the texture and natural beauty of tree bark, and the minimalist crepe evokes the purity and grace of a forest.
Themed Wedding Dresses: District 8
District 8 built its industry in textile work… One of their factories, for example, produces the uniforms used by the Peacekeepers.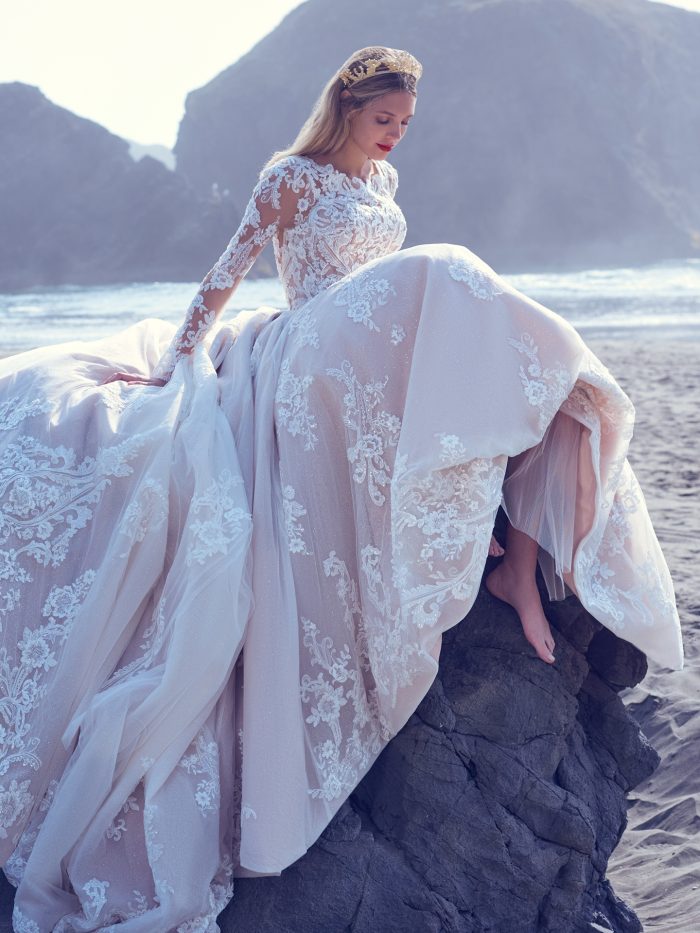 To honor this District's work in fabric and design, we've chosen themed wedding dress Norvinia Lynette by Sottero and Midgley. This over-the-top ballgown is all about layers, lace, and illusion — a celebration of couture fabric and tailoring!
Norvinia Lynette also features several options to personalize:
Extend the train
Add covered buttons
Order as strapless variation Norvinia
Order as fit-and-flare silhouette Norvinia Lane
District 9
Next up is District 9, a center for grain production. Not much is known about this district and its victors in the series.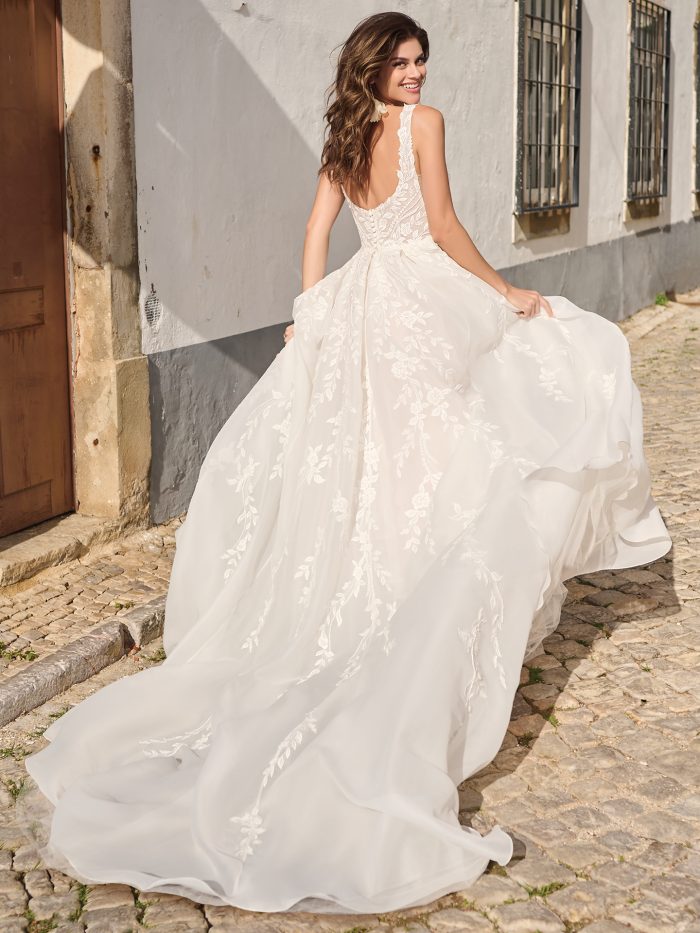 We chose Maddox by Sottero and Midgley to represent District 9. The lace pattern evokes a harvest-themed nature scene, and the lush A-line is all about the cotttagecore vibes.
District 10
Moving along with District 10 — this is Panem's center for livestock production. Their population's main jobs were raising cattle and supplying meat for the Capitol.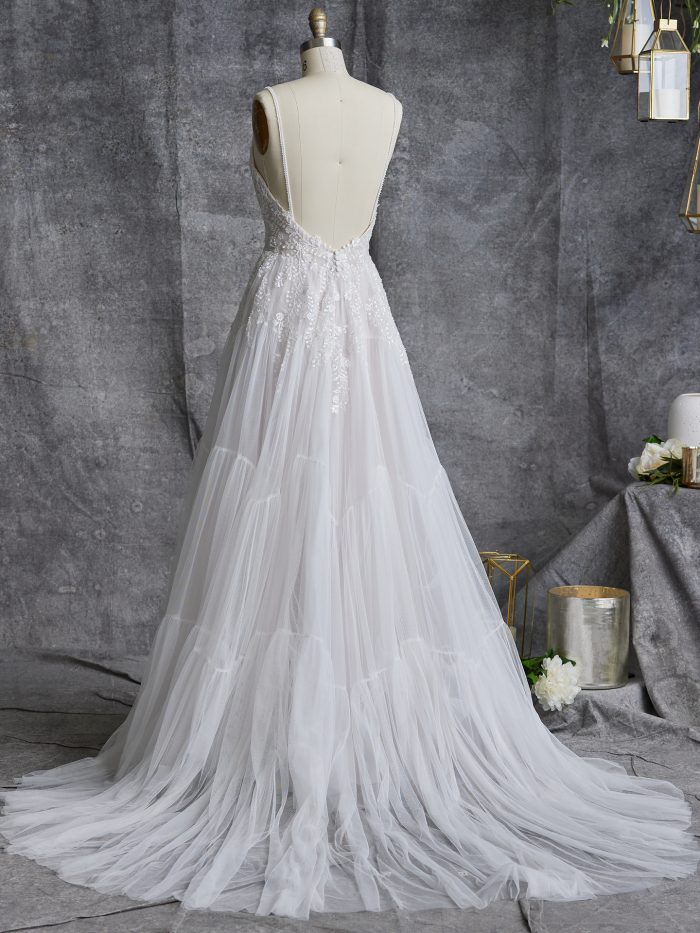 Harriet by Rebecca Ingram channels a free-spirited, bohemian, and milkmaid-esque dress theme. We love the effortless silhouette and dainty details for a gorgeous backyard wedding or barn venue.
Themed Wedding Dress for District 11
District 11 is another farming-based industry. It houses orchards, crop fields, and cattle farms. As introduced in Book 1 of The Hunger Games, Rue was one of the most notable citizens who came out of District 11.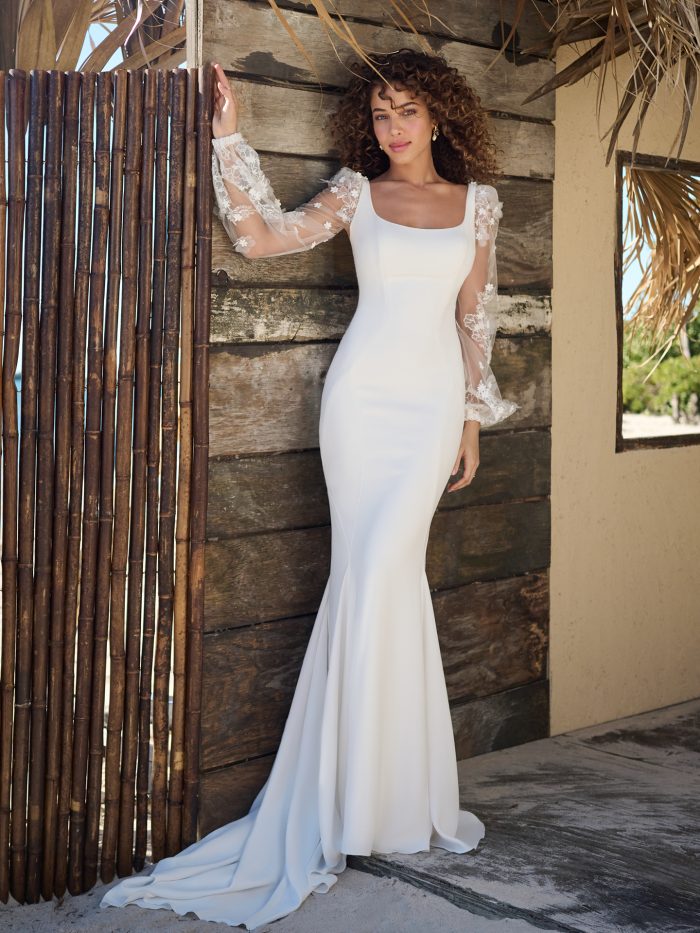 Joy by Rebecca Ingram represents the orchard flowers and quiet fields of District 11. It also evokes a sense of youth and innocence associated with Rue, one of the most important side characters of the series!
District 12
Our final themed wedding dress zone is District 12, home of main characters Katniss Everdeen, Peeta, Gale, and Haymitch. Located in Appalachia, this was the smallest district in Panem, with a primary industry in coal mining and a humble market for trading and selling goods.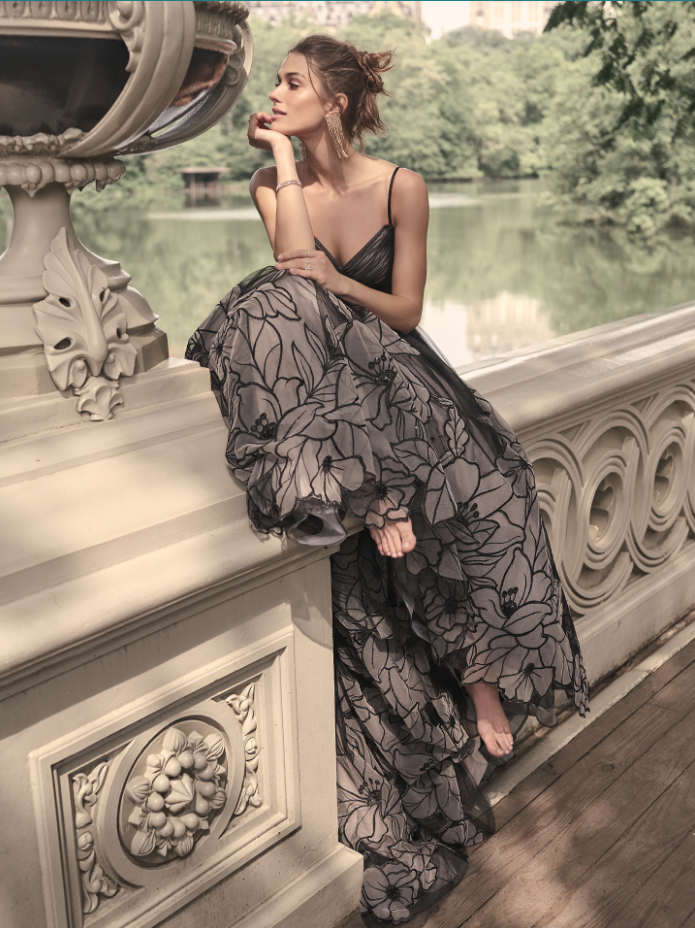 Our pick for District 12 is Watson by Maggie Sottero. We're inspired by the gorgeous black hue to honor Katniss's coal miner heritage — very similar to her "Girl on Fire" vibes during the first Hunger Games. It's a simple but striking silhouette with a gorgeous lace treatment along the hemline and train — almost like the flames rising up in Katniss's pyrotechnic gown.
Accessory-wise, you can't go wrong with the luxe veil for Watson, a long tulle style with matching lace motifs along the train.
Ready to shop for your gorgeous themed wedding dress? Head to an Authorized Retailer to get started on your head-to-toe vision!
May the odds be ever in your favor!
More blogs like this:
10 Wedding Dress Trends to Watch For in Our New Collections
Trend Alert: Barbiecore Wedding Dresses and Inspo