Dresses
Tips and Trends
Wedding Inspo
|
November 4, 2020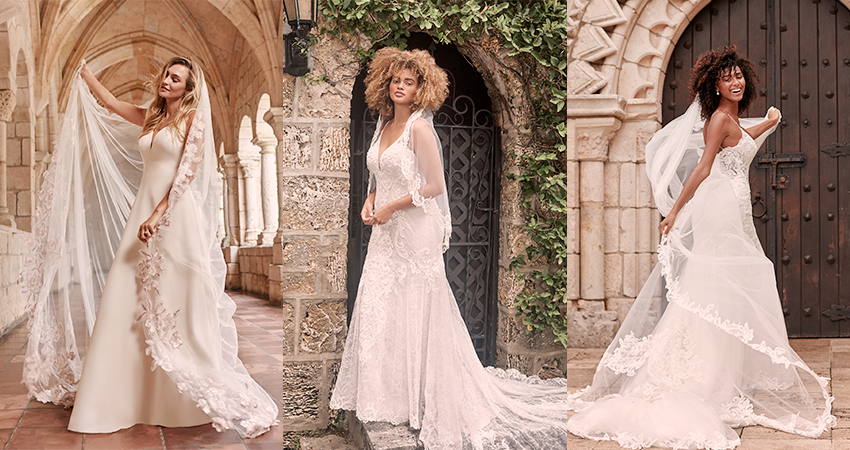 What makes for a truly timeless wedding vibe, you may ask? We say look to decades past for classically gorgeous style inspiration! A chic vintage wedding veil is the perfect topper for your timelessly vintage-inspired bridal gown, be it a Gatsby-inspired stunner, 50s tea-length style, or sexy bohemian gown in eyelet lace. Feeling this bygone-era bridal vibe? Keep scrolling for gorgeous vintage wedding veils to complete your impeccably classic aesthetic!
When it comes to shopping for vintage wedding veils and stylish bridal accessories, there's simply no reason to pass up a gorgeous statement in color. Get inspired with flirty red and blush florals on Josephine by Maggie Sottero.
These pink and red lace wedding veils are the dreamiest way to personalize and elevate your vintage-inspired bridal look! (Next step: the perfect bouquet palette to complement your gorgeous veil motifs!)
If you've chosen a minimalist wedding dress like Bayler, you'll love this sweet tulle veil accented in 3-D lace flowers. It's a dazzling accessory for your chicest happily-ever-after!
To see more gorgeous wedding veils like this one, visit our Veils Trends page!
Big lace makes a bold statement for your big day! This fingertip heirloom-worthy bridal veil is inspired by our gorgeous Tuscany wedding gown variations. And it complements a variety of chic, feminine, and vintage-inspired bridal styles.
For a distinct and dramatic wedding veil look, opt for length! This cathedral length vintage wedding veil is one of our favorite looks from our newest collections. Featuring romantic lace and tulle, it's true to form for its classic styling, vintage charm, and longest and loveliest of lengths. Wowza!
The vintage lace on Esther by Maggie Sottero is a class of bloom and flourish unto itself! Choose this easy-breezy fingertip length for versatile styling. And be sure to highlight that gorgeous lace pattern in your dreamy bridal portraits.
The best way to play up a shimmery mermaid wedding dress? An over-the-top lace bridal veil! This cathedral vintage wedding veil offers a gorgeous way to show off Halle's mermaid silhouette, as the length frames and extends the gown without adding a visual break in the fit-and-flare lines. Gorgeous!
To complete the whimsy and magic of a couture wedding dress like Reeve by Sottero and Midgley, consider a matching lace veil with a long and luscious sweep. This bridal accessory is truly timeless, yet perfectly on trend for this season's chic and covetable new gown selections.
What's black and white and fabulous all over? This vintage wedding veil edged in gothic-chic black lace, of course! (If you love this style but want to stay more traditional, you can opt for classic ivory and champagne colorways.)
Yet, you must admit the black is irresistibly decadent for the nontraditional bride. So chic!
Do you have a flair for feminine drama? Love the idea of a sexy, show-stopping accessory? Look no further than the Emiliano tulle wedding veil by Maggie Sottero, inspired by our chic off-the-shoulder Emiliano bridal gown.
This chapel-length wedding veil is perfect for gorgeous photo ops, show-stopping ceremony entrances, and a one-of-a-kind flourish on the dance floor!
Vintage bridal veils are inherently classic, but that doesn't mean you can't have a little fun with the embellishments! For a standout and whimsical vintage wedding veil vibe, consider the Coretta accessory by Maggie Sottero—a luxe, decadent, and thoroughly modern take on beaded lace and shimmery illusion.
Match this veil style with the Coretta bridal dress to complement its geometric-inspired lines. Or use the this vintage bridal veil to contrast soft floral motifs, a minimalist fabrication, or delicate layers in any of our other one-of-a-kind gowns!
It's all about the shimmer in this simple vintage wedding veil. An elegant and versatile accessory for your minimalist dress style, its classic lace design is perfect for a minimalist wedding dress or decadent bridal ball gown.
You'd be hard-pressed to find a bridal veil more perfectly suited for your elegant vintage wedding look!
In case shimmery sequins aren't enough to appease your vintage-inspired bridal aesthetic, why not add lace edging to your train and hemline? The Rooney-style wedding veil is a choice complement to your Old Hollywood-inspired silhouette—decadent, glamorous, and divine!
For a short-and-sweet take on vintage wedding veils, opt for a fingertip-length style in sparkle tulle and layered illusion. This unique veil adds dimension and embellishment to your bridal look without the extra material of a long (i.e. potentially cumbersome) bridal veil accessory.
The Erin Marie veil is everything we love about dramatic bridal looks, sans the hassle!
Looking to save a little moolah with your vintage bridal look? Get inspired with our selection of Rebecca Ingram wedding dresses and veils, featuring classically gorgeous styles with easy-breezy price tags.
This affordable wedding veil is girly and elegant, featuring oversized lace to match the fabulous florals on mermaid bridal gown Hattie. Irresistible!
Both classy and classic, the Milena wedding veil is designed for an elegant bridal look with a vintage flair. This chapel length wedding veil is a little dramatic and a whole lot sophisticated. It's also embroidered lace is designed to complement your chic, shimmery, and perfectly tailored wedding dress. Perfection from head to toe!
To match a vintage bridal crown, tiara, or earring to your classic veil look, check out our lineup of bridal jewelry here!
If you're planning to add a vintage wedding veil to your bridal ensemble, head to an Authorized Retailer near you to shop available styles, delivery options, and ways to personalize your wedding vision.
Keep in mind that Maggie Sottero also offers individual lace and bead packages for brides hoping to create a totally customized bridal embellishment—be it a one-of-a-kind veil accessory, shimmery train design, or statement back or neckline.
Before you book your boutique appointment, check out our guide to wedding veil lengths and accessory options to cull your inspiration—from vintage birdcage styles to dramatic cathedral designs and everything in between. You'll also be smitten with these vintage lace wedding dresses to curate your bygone-era bridal ensemble, or any of these vintage-inspired bridal trends from our latest collections. Cheers to your magical vintage aesthetic!