Dresses
Wedding Inspo
|
February 26, 2021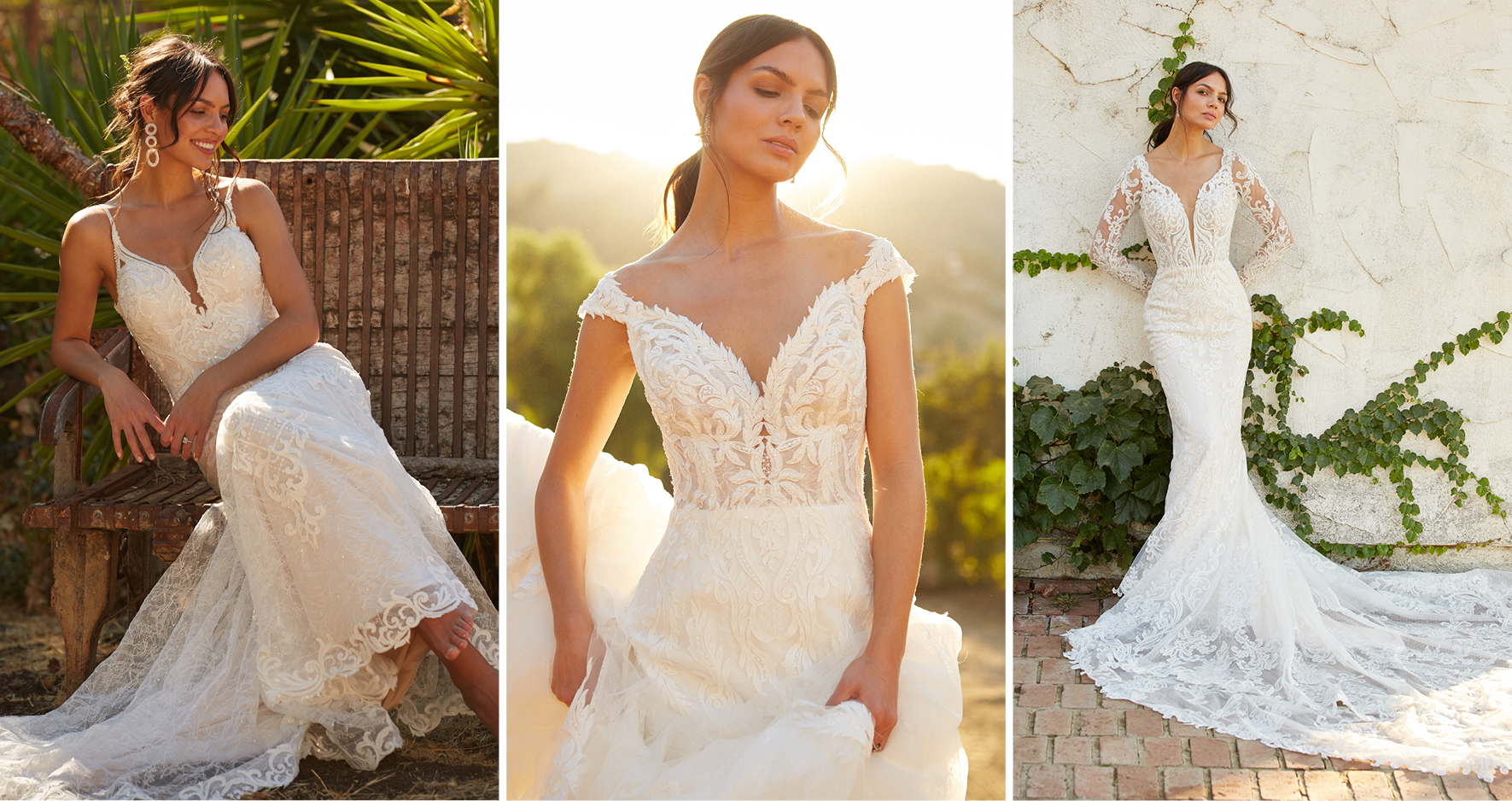 This week we have something extra special: a Spanish-inspired wedding gallery of chic bridalwear in a dreamy California backdrop. This styled shoot features romantic bridal gowns from our Maggie Sottero, Sottero and Midgley, and Rebecca Ingram lines. All set in sunny Malibu Canyon Ranch, CA, and staged and curated by creative agency The Gold Horse. The result is a fresh, airy, and ultra-chic wedding gallery featuring some of the year's more irresistible trends.
COVID or no COVID, the era of the super stylish, super elevated jewel-box wedding is upon us. Even before the pandemic arrived, trends show that a lot of modern brides are ditching overstuffed, overpriced, and overwhelming weddings. They prefer smaller, chicer, and more intimate celebrations of love. This doesn't necessarily mean spending is going down; couples are just more likely to budget more per guest. Smaller crowds mean posher accommodations, unique add-ons, and gorgeous attire—everything you need for a luxe and unforgettable celebration.
The highlight of any small but elevated wedding is, of course, an effortless bridal gown with couture details. And if you take the venue outdoors for a European-villa vibe, you've got fit and breathability to think about. Considering all these factors, here are 11 divine dress styles to consider for an intimate Spanish-inspired wedding. Each featuring a relaxed silhouette, sensual embellishments, and super stylish embellishments. Scroll on to find your perfect design!
A Chic Lace Wedding Gown at a Budget-Friendly Price: Aubrey by Rebecca Ingram
Our first design for a Spanish-inspired wedding is Aubrey by Rebecca Ingram. A flattering and feminine fit-and-flare with a chic bodice and shimmery embellishments. Stretch crepe gives this style a clean and elegant silhouette.
While delicate lace adds soft and romantic detail to the sweetheart bodice and spaghetti strap neckline. Finally, subtle boning and lace embellishments complete the illusion scoop back. A perfect dose of "ooh la la" in this timeless and elegant design.
The beauty of this wedding dress design is its endless potential for styling and accessories. On the relaxed end of the spectrum, this simple silhouette is perfect for a romantic elopement or garden soiree. For more of a glam treatment, add statement earrings, a deluxe updo, and a shimmery pair of heels. An elevated ensemble for a villa, castle, or manor venue.
Looking to shop more Rebecca Ingram designs? These budget-friendly wedding gowns are available at an Authorized Retailer near you!
For another relaxed silhouette but with more detail and layers, consider this lace fit-and-flare wedding dress by Sottero and Midgley. Bryan features a sexy formfitting silhouette, a deep plunging neckline, and a stylish petal-shaped train.
Romantic lace motifs dance over the bodice, skirt, and hemline, creating an organic and nature-inspired feel. It's a divine choice for a European-style wedding with couture details.
This wedding dress is also designed to play up a variety of body types. Apple-shaped brides love the flattering waist and bust line; pear-shaped brides favor the hip-smoothing silhouette; and curvy brides favor its comfortable and supportive construction.
If you love the silhouette on Bryan and are looking for a unique add-on, consider the illusion flutter sleeves. Simply snap them in for a dreamy and whimsical change-up… Other personalization options include an extended train, an illusion scalloped train, and different layered combinations of glitter, tulle, and shimmer. Inquire with your Authorized Retailer for details!
Lush layers of lace make for a romantic fairytale aesthetic in Charmaine by Maggie Sottero. A timeless yet captivating design for a nature backdrop or vintage venue. Add the lace-trimmed tulle veil for a dose of drama (and dreamy bridal portraits).
And choose from four different colorways to complement your style and palette. For a Spanish-inspired wedding filled with greenery and architecture, what more could you need?
Looking for a classic wedding dress with subtle yet captivating details? Neckline, side, and back illusion makes Ellen by Rebecca Ingram an exceptional package for the price. Pair with a gold or floral crown to emulate this Spanish wedding aesthetic. Or keep it chic and elevated with statement earrings and a simple bouquet. Bottom line, you'll love how you feel!
For an embellished back treatment, check out the lines and embellishments on Esther by Maggie Sottero. A sexy mermaid style with illusion, texture, and shimmer to spare. This silhouette is effortless to wear and style. And classic but distinctive details (including that double-tiered lace veil accessory) give it an undeniably romantic vibe. If you love lace layers, this wedding gown could be your meant-to-be!
If you're getting married in Europe, it totally makes sense to choose a wedding gown with romantic Grecian-inspired details. Flora by Rebecca Ingram features crisscross bodice ruching and delicate cascades of beaded lace. A flattering and romantic combo for classic goddess vibes. We're smitten!
Like many of our gowns, Flora can be personalized with a few accessory and fabric options. Opt for off-the-shoulder sleeves as a romantic "undone" look, or go strapless for a classic and summery feel. The train can also be shortened or extended. And several of our gorgeous lace veils pair easily with this timeless silhouette. Talk to your Authorized Retailer about options!
Shimmery beaded lace looks utterly magical on Geneva by Maggie Sottero. A unique and feminine bridal gown that pairs effortlessly with garden backdrops and mountain vistas (i.e., an outdoor Spanish wedding). This A-line skirt is also uniquely captivating. It gives your figure a little definition in the waist and hips. Yet fans out beautifully like a traditional ball gown. Romance is in the details!
Stretch jersey and bold lace motifs combine for a relaxed and modern look in Hamilton by Sottero and Midgley. An ultra-chic choice for your Spanish-inspired wedding vibe. This unique lace pattern adds striking flourishes along this sheer bodice and plunging neckline. While a long and graceful train gives you plenty of drama for your bridal portraits and ceremony entrance. In a word, irresistible!
Hamilton has several personalization options to fit your wedding vibe, including variations of sleeve, fabric, accessory, and train. First, there's summer-ready in sleeveless: an easy-breezy bodice design that feels effortless to wear. Next, you might add long fitted sleeves in illusion and lace… These create a regal and sophisticated vibe without losing the gown's laidback charm.
For a coverage option with a little more bohemian flair, consider adding the illusion puff sleeves. These make for a unique and whimsical silhouette—perfectly vintage-inspired for your European venue. You'll look dreamy and alluring in this Renaissance-like silhouette!
Hamilton can also be shortened or lengthened in the train depending on your desired "formal" factor. A shorter train is perfect for international travel, while a long train makes for a gorgeous ceremony entrance. There's also a lace train option for extra volume and drama—just attach at the waistline to complement your chosen hem length.
You can also change up the fabric in Hamilton: choose soft textured lace for a lowkey vibe or sparkle tulle for extra wow factor. All sleeve and train options are available in these fabric variations as well.
Finally, if you love Hamilton but would like a bit more coverage and support, check out Hamilton Lynette. This is a gorgeous choice for curvy brides and features all the style and personalization options as Hamilton—divinely yours from top to toe!
This styled shoot features several gorgeous relaxed bridal gowns, so here's an ultra-luxe mermaid design to up the red-carpet factor! This curvaceous style Joss starts with a formfitting silhouette to show off your bust, waistline, and hips, then fans out into a gorgeous flounce of lace, tulle, and horsehair.
The sheer bodice features a unique sweetheart neckline with delicate lace trim. Complete with sexy off-the-shoulder sleeves to frame your portrait visage and décolletage. Finally, check out that statement back treatment: a luxe and detailed finish to a one-of-a-kind design.
Add some fairytale to your Spanish-inspired wedding with this floral lace bridal gown in a ballroom-ready silhouette. Orlanda by Maggie Sottero is made with shimmery lace and layered illusion.
The perfect choice for enchanted venues and magical garden backdrops. This A-line silhouette is also super flattering. It gives you definition in the bust and waist while lush-ifying the skirt and train.
Orlanda's personalization options are all about the accessories and fabric. Add delicate cap sleeves for a little flourish, or go full drama with long illusion sleeves in a sexy off-the-shoulder neckline.
You can also add more sparkle to the tulle and lace by personalizing your fabric selection. Finally, consider adding a veil for feminine sophistication; the long, embellished train looks incredible in photos!
The final wedding dress in this Spanish-inspired wedding styled shoot is Presley by Sottero and Midgley. A glitzy A-line with a showstopping lace treatment. Every turn and flourish in this style is comprised of sparkly sequin—meticulously crafted for head-to-toe shimmer and texture. Pockets make for a fabulous yet practical feature, and the extended petal-shaped train is truly exceptional… Head to an Authorized Retailer to experience all the details IRL.
We're absolutely smitten with this Europe-meets-California styled shoot featuring some of our top wedding gowns! Are you curating a Spanish wedding aesthetic with relaxed styling and outdoor venue? You can find these romantic styles and accessories at a boutique near you.
Maggie Sottero is thrilled to offer a ton of personalization options for most wedding gowns. These include variations in train and hemline length; accessories like veils, detachable trains, and overskirts; attached and detachable sleeve options, depending on the style and how you order it; and order customizations in fabric, shimmer, and embellishment.
Looking for more inspiration?
Many of our personalization options are complimentary, but most have additional charges. Talk with your Authorized Retailer to find your perfect style for your budget and timeline. They can also advise on further customization and alterations. As well as how to personalize your order to create multiple looks for your wedding day.
Many brides use our personalization and accessory options as a way to change up their wedding dress. Between ceremony and reception, add or remove sleeves or showcase a new veil or overskirt. In other words, you've got some fabulous options. 
Love this Spanish-inspired wedding aesthetic from The Gold Horse? Find more inspiration in the gallery for this modern Italian styled shoot. It features chic Tuscan details, a rustic villa backdrop, and sultry color palettes. We love how the Old World charm meets chic modern styling in this shoot.
Then, explore this royal and elegant styled shoot for sophisticated brides, featuring princess wedding gowns, whimsical florals, and an extravagant manor back drop set in Washington D.C.
Finally, dive into six irresistible wedding dresses in this manor styled shoot with bohemian details. This gallery was inspired by lush colors, feminine styling, and dreamy florals. It showcases a variety of soft and romantic bridalwear in lace, chiffon, shimmer, and tulle. Any of these bridal dresses would also look divine for an intimate Spanish-inspired wedding aesthetic with ultra-romantic details.
Be sure to tag us on Instagram with your completed look from Maggie Sottero Designs! Best wishes for the year ahead and happy shopping, from our team to yours.