Dresses
Tips and Trends
|
May 4, 2017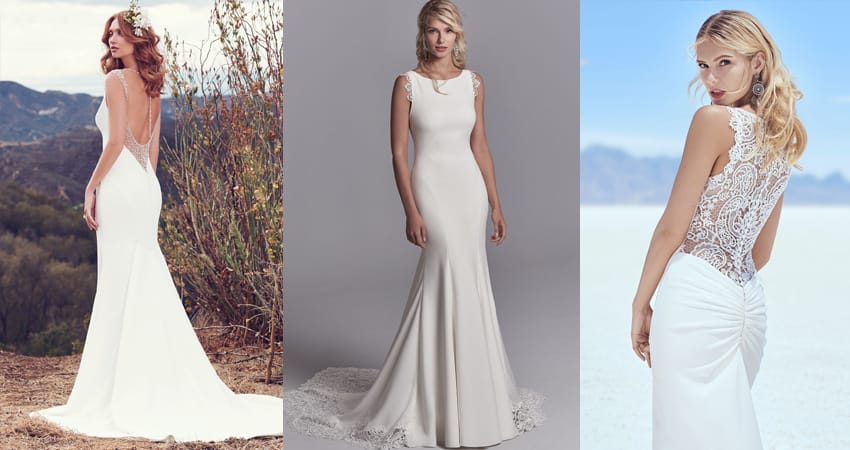 Let Loose:
These Slip Style Wedding Dresses For Chic And Relaxed Brides Are Made To Be Caj
We've always been proud of our signature corset closure, but there's nothing like a relaxed satin or jersey lining to make you feel like total luxury on your big day. Check out our favorite slip style wedding dresses for chic and relaxed brides by Maggie Sottero, Sottero and Midgley, and Rebecca Ingram below—perfect for your beach wedding, destination elopement, or summer nuptials in 2018! Dig a little deeper… Besides fabric and silhouette, there's a lot that goes into a Maggie Sottero bridal gown. Click here to learn the anatomy of a wedding dress!
The Classic Slip Style Wedding Dress
Estelle by Maggie Sottero
Beachy Vibes
Diana by Rebecca Ingram
Unique Lace
Narissa by Sottero and Midgley
A Little Crepe
Kai and Elliot by Sottero and Midgley
Satin + Embellishments
Dominique by Sottero and Midgley
The Glam Rocker Chic
Evangelina and Fabienne by Maggie Sottero
Time to Accessorize!
Octavia by Rebecca Ingram
Charm and Elegance
Drew by Rebecca Ingram
Head to an Authorized Retailer to find your favorite today!