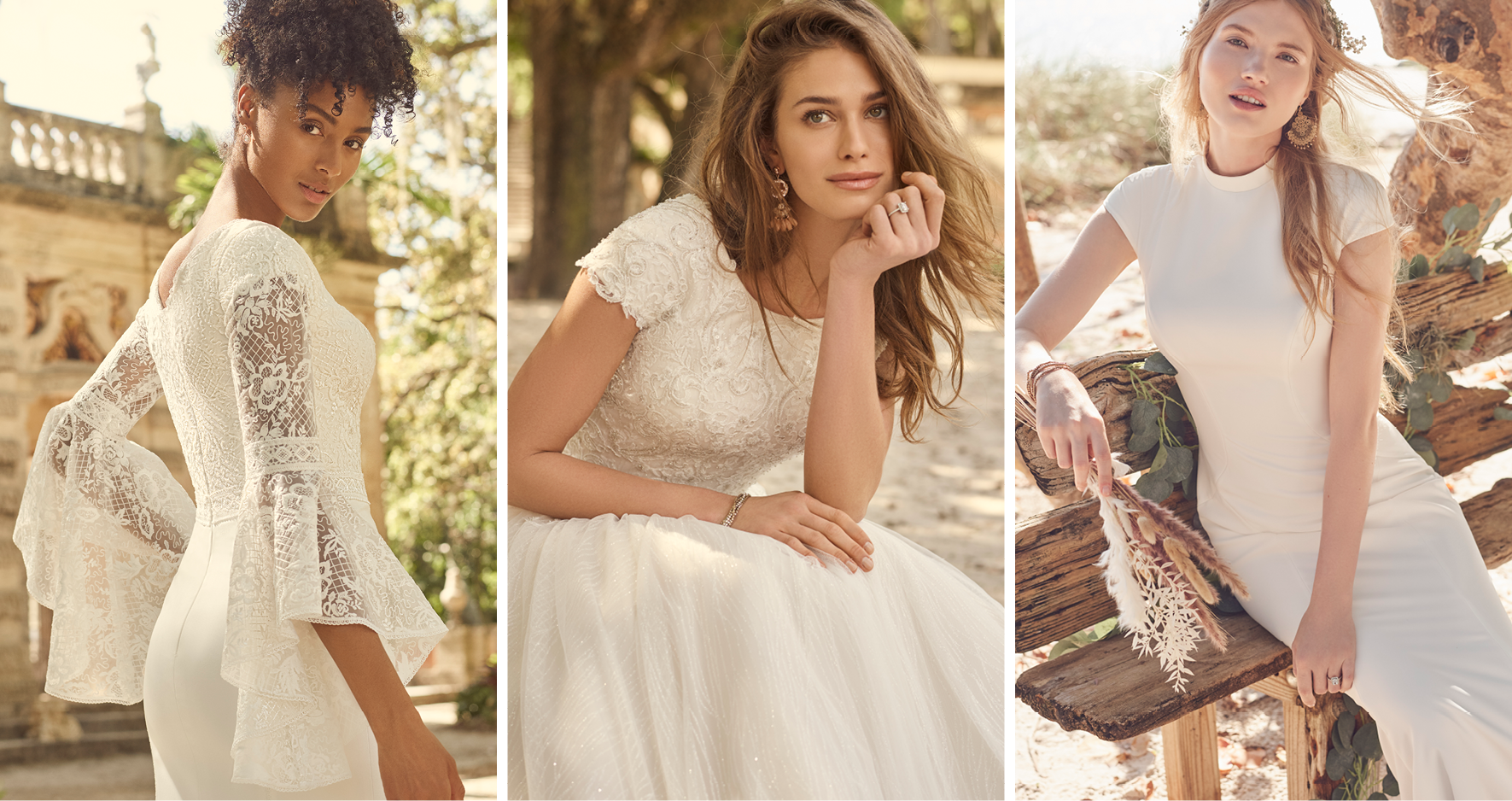 We're here to put the "mod" in modest wedding dress. Because if you're in the market for a bit more coverage, there's not one single reason in the world to compromise on style, comfort, perfect tailoring, flirty gorgeousness, unique details, general happy vibes… (you get the picture). And with modest bridal gowns as a fabulously unexpected trend for 2021, your selection for your upcoming wedding is bigger and better than ever. Keep scrolling to see 10 of our top styles from Maggie Sottero, Sottero and Midgley, and Rebecca Ingram!
First up on the "unique details" front is chic and demure wedding gown Azarliah by Maggie Sottero, featuring vintage-inspired bishop sleeves and a fit-and-flare silhouette in relaxed, stretchy, and ultra-gorgeous crepe. This vintage-chic wedding dress offers coverage for a fall or winter wedding. But it also easily adapts for warmer seasons with its minimalist silhouette and lightweight construction.
This modest wedding dress would look STUNNING with an embellished wedding veil or flower crown. The simple fabrication and effortless silhouette make it virtually foolproof to style and accessorize.
Planning a royal celebration for your best day ever? Get inspired with Pearson by Maggie Sottero, the latest in our lineage of princess wedding ball gown wedding dresses worthy of Duchess Kate Middleton and Princess Grace Kelly.
We promise every single generation on your guest list will adore this classic yet captivating style. The bodice offers plenty of coverage and support, but the shimmer and silhouette are showstoppers in themselves.
Feeling the easy-breezy persuasion for your best day ever? Hoping to show off your high-style aesthetic? Look to modest wedding dresses with minimalist fabrics and ultra-covetable embellishments, á la our dreamy Carole Leigh by Rebecca Ingram. Pair this illusion back motif with a soft crepe silhouette. Then, add a flower crown or statement bridal veil, and you have a summer-ready celebration in itself!
This exceptional design comes from our Rebecca Ingram collection, which features classic and romantic wedding dresses at exceptional price points. Our latest collections feature modest plus-size wedding dresses, classic and demure silhouettes, and full-coverage variations of our most popular styles. You can find a gorgeous selection of these budget-friendly bridal designs at an Authorized Rebecca Ingram Retailer near you.
It goes without saying that your wedding is a day to flaunt your style and captivate the camera. The "fab runway muse" effect is strong in Garnett by Maggie Sottero—a romantic modest bridal gown featuring figure-hugging stretch jersey under beaded lace and illusion overlay.
This chic bohemian design offers all the coverage you need in a comfy silhouette and zero weigh-down factor. Perfection!
You're a runway goddess. You're drawn to minimalist silhouettes and sleek lines. You've got a killer eye for detail. (All of which is sometimes difficult to achieve without the right coverage.) Austin Leigh by Sottero and Midgley, a couture modest wedding gown with subtle cutouts and a vintage-inspired silhouette, is calling your name.
Psst… the pearl details on Austin would make a stunning complement to an embellished accessory like Pierce. This vintage-inspired veil features delicate pearls over soft illusion tulle. It's a classic yet unique look that would pair perfectly with the vintage styling of Austin Leigh. (Head to an Authorized Retailer to personalize your wedding dress with more unique accessories, from bridal crowns and veils to overskirts and trains.)
It's all about the lace and illusion in this classic modest wedding dress—a timeless sleeved bridal dress to complement your most elegant wedding vision. Carrie Leigh by Rebecca Ingram is one of our favorite modest wedding dresses for a regal and ultra-feminine aesthetic.
With that figure-flattering silhouette and featherlight styling, you'll be loving your bridal portraits for decades to come!
For your wanderlust soul and an effortless glow, we present Dalton by Maggie Sottero. Say hello to one of our most popular modest boho wedding dresses in lace, crepe, and illusion.
This demure design features pretty floral motifs over a relaxed fit-and-flare silhouette—an effortless choice for a variety of body types, seasons, and boho-chic aesthetics. (We're currently picturing it among wildflowers and soft candlelight for a spring or summer celebration.)
A chic standout in modest vintage wedding dresses is Adele by Maggie Sottero, a striking fit-and-flare with unique flutter sleeves and simple embellishments. Stretch jersey and a gorgeous silhouette make this comfortable and full-coverage design a perfect choice for curvy brides.
Shopping for modest plus-size wedding dresses? Head to an Authorized Retailer to experience our gorgeous collections IRL! Your bridal stylist and alterations expert can help you find your dream wedding dress, personalize it with accessory and design options, and create your perfect fit.
For an airy and romantic bridal dress that still offers coverage, look to modest fairytale wedding dresses with soft shimmer and delicate beading.
Styles like Pamela Leigh by Maggie Sottero are designed to look lightweight and ethereal. This particular fairytale wedding gown transitions effortlessly between illusion layers, modest cap sleeves, and a demure neckline.
For a luxe modest wedding dress with couture details, head to our Sottero and Midgley line. This Kevyn Leigh wedding gown showcases unique lace embellishments and illusion trim without losing the demure charm of a modest wedding dress.
This is another ultra-flattering silhouette for plus-size brides. The vertical lace placement helps to add height and enhance your perfect curves. It's a one-of-a-kind balance of style and sophistication!
More Modest Wedding Dress Inspo
Ready to get shopping for your head-to-toe bridal look? When accessorizing a modest wedding dress, pay attention to how pieces like jewelry, flower crowns, veils, shrugs, and shoes elevate the demure charm of your look. For example, a gorgeous pair of statement earrings adds a contemporary flair to a simple and slimming modest style. However, they may clash with a voluminous princess silhouette or textured lace gown.
Likewise, a veil or shrug can give your look an air of formality and occasion, but the wrong piece can add bulk and unwanted clutter. Modest bridal gowns are timeless and classic, so it's important to choose details that both distinguish and balance.
There you have it—our top trending modest wedding dresses with demure styling and gorgeous details! Whether you're shopping for modest wedding gowns for religious or cultural reasons, or simply love the look and feel of full coverage, Maggie Sottero has the perfect style for your 2021 or 2022 celebration!
Looking for more inspo? Check out one of our favorite modest boho wedding dresses, Tuscany Leigh by Maggie Sottero, in this rustic winter celebration. (Tuscany Leigh also has several popular sister styles, including another modest variation, Tuscany Lane Leigh.)
And when you're ready to experience your favorite styles in person, get in touch with the Authorized Retailers near you—many of which may specialize in modest bridal styles and alterations in your area. Happy shopping and best wishes for your best day ever!